Wexford Food and nightlife not to be missed
Wexford food and nightlife scene is as diverse as the landscape in which it lies, offering an extremely wide variety of choice in Irish specialities, hidden delights, and a taste of the unexpected.
County Wexford boasts a rich culinary heritage, hence being known as the Model county reflecting our superlative agricultural and food scene dating back thousands of years. Taste Wexford is the initiative to bring people on a journey of growing & making food through experiences, to build the community and develop Wexford as an immersive food destination.
Stemming from this culture, County Wexford is home to some of the country's finest local, food and drink producers and businesses.
Such products can be found in the menus of our many restaurants, cafés and accommodation providers as well as on the shelves of the speciality grocers scattered across the county.
Or maybe you would prefer to visit the producers and farmers themselves at a food festival or one of the #TasteWexford food and drink trails or experiences.
Regardless of your dining preferences, the diverse food and drink scene is sure to leave you with a lasting impression and make you reimagine county Wexford as a food and drink destination.
For tea visit one of the many Cafés & Delis offering delicious treats around Gorey, New Ross, Enniscorthy or Wexford Town.
Wexford also offers a great variety of pubs and nightclubs to enjoy nightlife after a delicious dinner. Expect to find loads of live music, cherish crowds and lovely chats with locals. 
This is the place for making Wexford Memories
Come and enjoy Wexford food and nightlife this summer
#ThisIsThePlace #WexfordMemories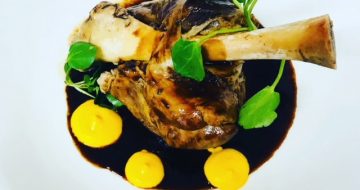 Table Forty One
Table Forty One is the newest addition to the Gorey restaurant scene. Owned and run by chef Andrew Duncan, Andrew strives to find the best local ingredients of the season and prepares them to the highest standards in a relaxed, approachable atmosphere- giving his guests a fine dining experience without the "fine dining" pretentiousness. Andrew […]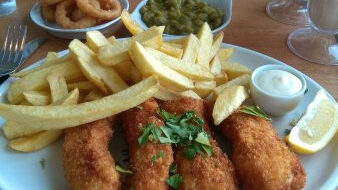 The Little Saltee Restaurant & Takeaway
Offering both takeaway and sit down food, we are situated in the heart of Kilmore Quay. Renowned for our freshly prepared fish and homemade chips, we only use the best quality locally sourced produce. Awarded as: BEST FISH & CHIPS – IRELAND YesChef Irish Takeaway Awards 2019 IRISH TAKEAWAY OF THE YEAR YesChef Irish Takeaway […]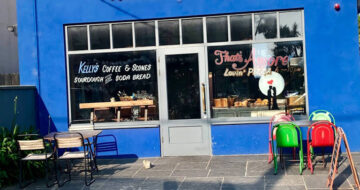 Kelly's Deli Rosslare
Situated in the village of Rosslare, this cosy Deli offers scones and other pastries & coffee,  as well as take-way pizzas and salads. The delicious lunch menu including Superfood Wrap, Salmon Roulade with Two Salads or the Soup of the day.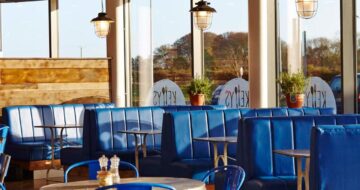 Kelly's Cafe
The café is located on the outskirts of Wexford town, approximately 10 min drive from the hotel and is one of Wexford's finest cafés. The café offers an array of homemade dishes, oven-baked pizzas, tasty salads using the finest local produce at affordable prices. This Wexford Café is very spacious with each corner cleverly designed […]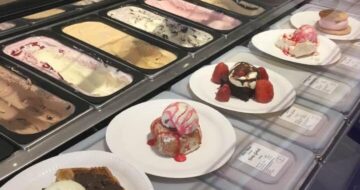 Lick'd Ice Cream Parlour
Kilmore Quay is home to Lick'd Ice Cream Parlour, Home-made Wexford Ice Cream with diary & gluten-free options. Award-winning flavours, the best Sundaes toppings and sauces galore!  In season, we serve ice creams with Wexford Strawberries, Sweet Treats… try our Belgian waffles!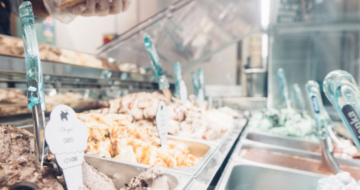 Izmoo Gelateria Rosslare Strand
Izmoo has received the international award for 'BEST NEW GELATERIA' at the biggest gelato trade exhibition in the world.  Our gelato has lower fat content than traditional store-bought ice cream and is made fresh daily on our premises. It's a fantastic treat with wonderfully friendly staff and overall enjoyable experience. Don't miss our specials: The […]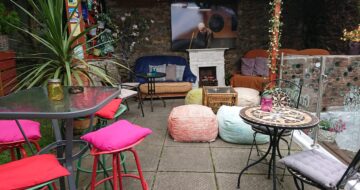 William Gaynor & Sons Ltd. Bar
Friendly, family-run bar, lounge and beer garden. The Orchard Beer Garden is the largest authentic beer garden in Wexford. Off-Licence is also available, offering Spirits, Beers, Ciders and Wines.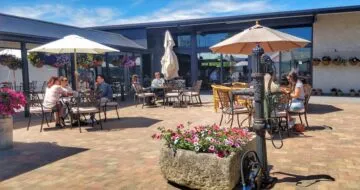 The Village at Wheelocks
The Wheelocks have been growing fruit at the family farm since the 1950s. Now we are delighted to welcome you to our farm to experience the Village at Wheelocks! Our newly developed 17-acre site is in a beautiful rural setting just outside Enniscorthy and easily accessed from the M11 motorway between Dublin and Wexford. […]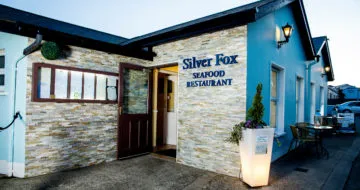 The Silver Fox Seafood Restaurant
The Silver Fox Seafood Restaurant established in 1991 has built up an enviable reputation for the quality of their culinary delights and hospitality. Nestled in the picturesque seaside fishing village of Kilmore Quay, the Silver Fox was originally a sandstone beach stone cottage. The restaurant retains part of the original building, in a space now […]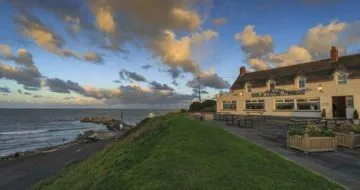 The Strand Cahore
The Strand Cahore is in a unique position overlooking the safe swimming beach and pier at Cahore Point with sweeping views over the sea to Wicklow Head. Our passion for food is translated in our menu, focusing on freshness, flavours and colours. We are a young, family run business and our ethos is simple, traditional, […]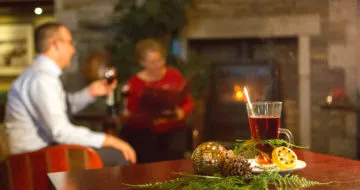 Dining at The Farmer's Kitchen Hotel
Be it for business or leisure, The Farmers Kitchen Hotel is renowned for its convenient location and friendly service. Our highly trained and helpful staff are on hand to ensure you experience the highest standard of hospitality Wexford has to offer. The Farmers Kitchen Hotel is contemporary in design but retains a traditional feel. We […]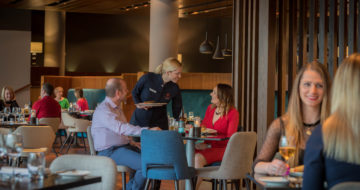 The Terrace Restaurant at Clayton Whites Hotel
The Terrace Restaurant at Clayton Whites Hotel in the heart of Wexford town is located on the ground floor overlooking the beautiful courtyard in the heart of Clayton Whites Hotel. Our Wexford restaurant is renowned for offering wonderful cuisine and a fine dining experience using the freshest locally sourced ingredients. Advance booking is required for […]