Family Fun in Wexford
Find out about the family-friendly and children's events Wexford will be hosting in 2020.
Wells House and Gardens is a particularly excellent venue to enjoy some family fun. This year events include the Mad Hatters Tea Party or Wild Child Day. Johnstown Castle also offers family-oriented events. 
Wexford and Enniscorthy Arts Centres host multiple family-friendly shows, activities and workshops for children all year round, so make sure to check them out.
The Spiegeltent in October is full of children's shows that the little ones will surely enjoy.
Wexford is the perfect destination for a family staycation, with a wide range of children's events. Book now your accommodation and 
Visit Wexford
#BestForFun #BestForSun
Rathangan Country Fair
Sat 1st October - Sun 2nd October
Rathangan Country Fair is planned as a weekend of culture, fun and charity and will have something on offer for all, young and old.   Saturday evening will see a parade of steam engines, classic cars & tractors enter the village. The two Showman's steam engines lit up will be a sight to behold as […]
Halloween at Ballycross Apple Farm
Sat 1st October - Sun 6th November
Bring your ghosts and goblins down to Ballycross Apple Farm this October for some Halloween fun! Upon entry pick up a Ballycross Apple, take a short walk to the Spooktacular Witches Village and meet the resident Ballycross Witch, pick your own pumpkin in our patch (pumpkins sold separately, prices vary by size) and take a […]
Ballet Ireland Nutcracker Sweeties
Sat 26th November - Sat 26th November
This holiday season, the curtain rises on Ballet Ireland's Nutcracker Sweeties, a re-telling of one of the world's favourite Christmas ballets. It's a magical Christmas Eve.  Ciara and her brother Fionn are on a shopping trip to a famous department store in Dublin. They wander off from their parents and the magic of Nutcracker […]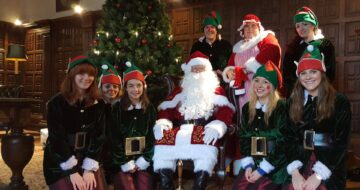 Rediscover the Magic of Christmas at Wells
Wells Christmas Experience This year your Christmas Visit to Santa at Wells will be magical! – Visit the North Pole Workshop to meet with Mrs Claus & the elves as they prepare for their busiest time of year. – Climb aboard the Wells Express Train and enjoy a magical train journey through the woodlands at […]
Art & Create Classes for 5 – 10yrs
Sat 10th September - Sat 15th October
New 6 week term of Art & Create classes are starting this September 10th. For children aged 5-10 years. Come along for inspiring artist led studio classes full of colour, imagination, stories & visual language. Class- Saturday 9.30-11am drop & go.
The Teddy, The Witch, And The Pumpkin!
Fri 4th November - Fri 4th November
The Teddy, The Witch, & The Pumpkin  The Presentation Arts Centre Friday November 4th at 12pm Find the perfect Halloween events and fun for children aged 6 and under, and their families.  Sammy Ragdoll manages to persuade her best friend Eddy The Teddy to go out "trick or treating" for Halloween. He doesn't […]
The Legend Of Sleepy Hollow
Fri 4th November - Fri 4th November
The Legend Of Sleepy Hollow The Presentation Arts Centre Friday November 4th at 2pm Find the perfect Halloween shows for kids in Wexford. A Halloween theatre treat for children aged 5 – 10 years old and their families. The Legend Of Sleepy Hollow is a classic Gothic story by American author Washington Irving, […]