Family Fun in Wexford
Find out about the family-friendly and children's events Wexford will be hosting in 2020.
Wells House and Gardens is a particularly excellent venue to enjoy some family fun. This year events include the Mad Hatters Tea Party or Wild Child Day. Johnstown Castle also offers family-oriented events. 
Wexford and Enniscorthy Arts Centres host multiple family-friendly shows, activities and workshops for children all year round, so make sure to check them out.
The Spiegeltent in October is full of children's shows that the little ones will surely enjoy.
Wexford is the perfect destination for a family staycation, with a wide range of children's events. Book now your accommodation and 
Visit Wexford
#BestForFun #BestForSun
Superstars Stage Academy presents "Let There Be Colour"
Sun 11th June - Sun 11th June
Superstars Stage Academy presents "Let There Be Colour" written and directed by Sharon Clancy and Starring the Superstars Stage Academy Kids. This is a heartfelt family show full of fun, singing, dancing and acting with toe tapping and sing along hits!  The Empress Enya, of Vantablack, can only see in monochrome due to a rare […]
"My Wonderland-Oceania" Artistic Show by Urszula Kaczor
Fri 16th June - Fri 16th June
"My Wonderland-Oceania" is an exceptional project created by Urszula Kaczor, combining artistic creations and music. Urszula Kaczor is an artist who has developed the "My Wonderland" project, blending photography, creative makeup, video, and clothing designs. Since 2018, she has been presenting a new collection during a fashion show vernissage each year. This time, her project […]
The Bannow and Rathangan Show
Thu 13th July - Thu 13th July
The Bannow and Rathangan show celebrates its 72nd show on the 13th July at Killag, Duncormick, Co. Wexford. This year we have a host of new competitions and classes. In the sheep area, we have an exhibition of sheep shearing. We are delighted to welcome the Sheep Dog Trials competition for the first time and for the […]
Gorey Agriculture show
Sat 17th June - Sat 17th June
This years Gorey Agriculture show is being held at Ashton, Ballycanew, Gorey, Wexford. The show is taking place on the 17th of June and plans are well under way to ensure this years shows surpasses last years. The Gorey Agriculture show prides themselves in providing the perfect family day out with equestrian classes, cattle & […]
Saint Bernard Club of Ireland Championship Show – Wells House & Gardens
Sun 2nd July - Sun 2nd July
The Saint Bernard Club of Ireland Championship Show to the grounds of Wells House & Gardens on Sunday the 2nd July! If you are a dog lover then this is the perfect day out for you, where you get to meet these beautiful dogs from puppies to golden oldies and chat with the owners to […]
Rosslare Strand SummerFest 2023
Sun 30th July - Sun 30th July
SummerFest is a highlight of our Summer calendar here at Rosslare Strand.  A day for all the family to experience  the very best of what the area has to offer. Come and enjoy a wide variety of stalls offering jewellery, art, crafts, delicious food and drinks; the children are spoilt for choice with rides, […]
Classic Car Show At Wells House and Gardens
Sun 18th June - Sun 18th June
When planning our 2023 diary we were so excited to see the return of our Classic Car Show & what better date to plan it than Father's Day on Sunday 18th June?   We have a super day planned and are looking forward to seeing so many cars both Vintage & Classic on our roundabout […]
Mini Maestros
Wed 19th April - Wed 28th June
Mini Maestros Music Generation Wexford is excited to be back with Mini Maestros.Mini Maestros is an Early Years interactive music workshop with Aileen Donohoe and Peter McCamley for parents and toddlers at the Wexford Arts Centre. This workshop offers a wonderful opportunity for parents to join their child in the discovery of music, rhythm and singing. […]
Pick your own strawberries at The Village at Wheelocks
Sun 4th June - Sun 15th October
The Village at Wheelock's is one of the few fruit farms in Ireland where you can pick your own Strawberries. This practice is an activity which has died out over the years, so we are proud to keep the tradition alive. It is a fun experience for both children and grown-ups – and an added […]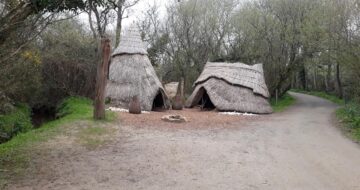 Heritage Park Junior Parkrun
Join in on the fun of the Heritage Park Junior Park Run that takes place every Sunday! Enjoy a free weekly timed 2k walk/jog/run and make new friends, have fun and take in all at the Irish National Heritage Park  Open to ages 4-14 and all abilities. Organised entirely by volunteers.  You're welcome […]