Family Fun in Wexford
Find out about the family-friendly and children's events Wexford will be hosting in 2020.
Wells House and Gardens is a particularly excellent venue to enjoy some family fun. This year events include the Mad Hatters Tea Party or Wild Child Day. Johnstown Castle also offers family-oriented events. 
Wexford and Enniscorthy Arts Centres host multiple family-friendly shows, activities and workshops for children all year round, so make sure to check them out.
The Spiegeltent in October is full of children's shows that the little ones will surely enjoy.
Wexford is the perfect destination for a family staycation, with a wide range of children's events. Book now your accommodation and 
Visit Wexford
#BestForFun #BestForSun
Santa's Wonderland at the Coal Bunker, Drinagh
Sun 10th December - Sun 17th December
Drinagh – 10th – 17th December 🎅✨ SANTA'S COMING TO THE COAL BUNKER. Come join us at his magical grotto. Fun and activities while you wait to see him! We know you're going to love it!! 🥰🎁🎅🎄❤️ 💰€10 per child! Adults FREE! 💰 Every child receives a present! 🎁  📅 December 10th & […]
The Grinch and Cindy Lou
Sat 25th November - Sun 17th December
Clonroche – 25th November – 17th December Mr.Grinch will be roaming around Secret Valley Wildlife Park, along with Miss Cindy Lou Who,  making sure he's on his best behaviour! (Don't forget, we need your help to keep him under control…)   We have a great selection of Christmas activities on including: – Animal Handling (reptile […]
St Iberius NS Christmas Market
Sun 10th December - Sun 10th December
St Iberius National School – 10th December St. Iberius National School invites you to our annual Christmas Market, a fun filled fair with festive markets for crafts and gifts, relax in our school cafe with home-baked treats while being served tea and coffee. Chance your luck at our holiday raffle. Bring your family and friends, […]
The Big Christmas Sing Concert
Sun 17th December - Sun 17th December
Wexford Arts Centre – 17th December  Come along for some festive cheer and join in the fun with the Big Christmas singing group celebrating the end of series of workshops for our annual Big Christmas Sing Concert with a range of old, new and wacky seasonal favourites all led by Elizabeth Drwal. 
Rediscover The Magic Of Christmas At Wells
Sat 25th November - Sat 23rd December
Wells House & Gardens – 25th November – 23rd December A visit to the North Pole Workshop to meet with Mrs Claus & the elves as they prepare for their busiest time of year. Climb aboard the Wells Express Train and enjoy a magical train journey through the woodlands at Wells guided by a Head […]
Magical Christmas Experience At Kia Ora Mini Farm
Sat 25th November - Sat 23rd December
Gorey – 25th November – 23rd December Visit Santa in Gorey, Wexford at his Kia Ora Mini Farm Magical Christmas Experience Santa Claus is delighted to announce his return to the Wexford Winter Wonderland that is Kia Ora Mini Farm. Come visit the animals, see Santa's cosy home and view in amazement our enchanting musical […]
Santa's North Pole Experience
Thu 30th November - Sat 23rd December
Wexford Quay – 30th November – 23rd December Santa's North Pole Experience is a captivating and immersive adventure that brings the magic of Christmas to Wexford Quay, and it's back this Christmas season! Santa Claus, Mrs. Claus and their hardest-working elves are returning from the North Pole to meet all the boys and girls once […]
Wheelocks Christmas Experience
Sat 2nd December - Sat 23rd December
The Village at Wheelocks, Enniscorthy – 2nd – 23rd December Welcome to 2023's Magical Christmas Experience at The Village At Wheelock's. This year marks our 5th year of festive fun, featuring a jolly journey on our Woodland train through the enchanting tunnel of lights, followed by a trip through The North Pole Christmas Adventure Land […]
Santa's Enchanted Christmas
Sat 25th November - Sat 23rd December
Enniscorthy – 25th November – 23rd December Get ready to embark on a magical journey filled with joy, wonder, and unforgettable memories. Santa's Enchanted Christmas is back and better than ever!   General Booking Opens Online: Monday 25th September @ 10am Location: The National 1798 Rebellion Centre, Enniscorthy Meet Santa, Mrs Claus, The gnomes and […]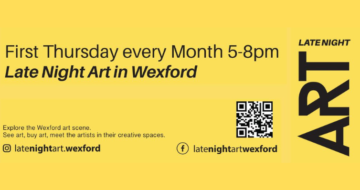 Late Night Art Wexford
Late Night Art Wexford – First Thursdays The first Thursday of every month from 5pm – 8pm  First Thursdays Late Night Art is all about exploring the Wexford art scene. See art, buy art, get the opportunity to speak to the artist, step into their creative spaces. Taking inspiration from New York, Belfast, Dublin, […]
Santa Claus – An Enchanted Christmas at Johnstown Castle
Fri 1st December - Sat 23rd December
Johnstown Castle – December 1st – 23rd We invite you to be apart of something really special this Christmas at our Enchanted Johnstown Castle in Wexford. On this traditional experience, all of our guests will enjoy festive activities with our team of merry elves inside the fairy-tale castle. Your group will enjoy a special […]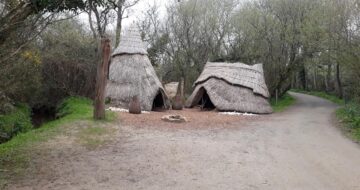 Heritage Park Junior Parkrun
Join in on the fun of the Heritage Park Junior Park Run that takes place every Sunday! Enjoy a free weekly timed 2k walk/jog/run and make new friends, have fun and take in all at the Irish National Heritage Park  Open to ages 4-14 and all abilities. Organised entirely by volunteers.  You're welcome […]