Live music, concerts and music festivals 
Live music sessions in Wexford are found at the heart of the County's entertainment scene. 
Find the best traditional music Wexford has on offer, but there are also plenty of events hosting Rock 'n' Roll, Jazz, Blues, Pop, Country and Acoustic sessions in pubs, bars or the Arts Centres. 
It's also worth noting that it isn't out of the ordinary to come across a spontaneous sing-song in smaller, rural pubs at any given time. 
The Spiegeltent festival brings every October since 2012 the top Irish bands to Wexford and The Crown Bar host multiple tribute bands that will delight live music fans.
And if you want more, check out other events, comedy shows, or art exhibitions happening in Wexford.
Find now your accommodation in Wexford and come to enjoy music.
Visit Wexford
#BestForSun #BestForFun
Wallis Bird
Sat 12th November - Sat 12th November
Wallis Bird returns to Wexford this November! Wallis Bird has been enrapturing audiences for over a decade, playing over 1000 shows in that time worldwide. She has won multiple international awards including two Irish Meteor Awards, and has also received a nomination for the Irish Choice Music Prize. Her irrepressible energy on stage is one […]
Ryan McMullan
Sat 24th September - Sat 24th September
Ryan McMullan // Saturday 24th September 2022 // Crown Live Hailing from Portaferry, a small seaside town in Co. Down, Northern Ireland, – "where everybody knows your name," Ryan McMullan is a fresh new talent on the singer/songwriter scene. The young Ryan abandoned his youthful passion for hurling in favour of music. These days, he's […]
The Coronas – Park Live
Sat 20th August - Sat 20th August
The Coronas play Park Live at Min Ryan Park Wexford   Following four sold out shows in the Wexford Spiegeltent Festival, The Coronas are sure to knock it out of the park when they take to the stage at Park Live. The Coronas' journey as a band has definitely been unique. Initially an indie success […]
Rock 'N' Roll To The Rescue!
Mon 8th August - Fri 12th August
Elvis and The Big Bopper Return In Rock 'N' Roll To The Rescue A Musical By Adrienne Murphy Are you ready for a night of live music that will have you rockin' in the aisles in aid of Pieta House? Well, here it is folks, the brand new Rock 'N' Roll show that tells […]
The Bjorn Identity- A Tribute to Abba
Fri 5th August - Fri 5th August
The Bjorn Identity- A Tribute to Abba Playing at Crown Live Wexford Town on Friday the 5th of August Doors open at 9pm and show starts at 9:30pm till 11:45pm. 
Gorey Market House Festival
Fri 29th July - Sun 31st July
2022 Gorey Market House Festival Gorey Market House Festival August Bank Holiday Weekend 2022   A fun-filled weekend with lots to see and do. Music, Family Fun-Day, exhibitions & much more!!   FRIDAY 29th JULY Qween Dave Clark (David Clark) SATURDAY 30th JULY Zooropa – Dublin U2 Tribute Tan & Sober Gentleman (USA) The Tan […]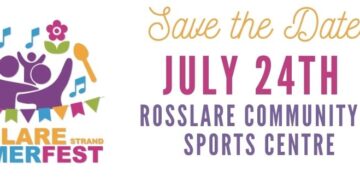 Rosslare SummerFest
Having been away for 2 years, we're back with a bang! Blending all the best traditions of the original field day, with a new emphasis on the area's creative and artistic talents, this year's SummerFest promises to be a fun-filled day for all the family – four-legged members included. All the favourites will […]
71st Wexford Festival Opera ~ Magic & Music
Fri 21st October - Sun 6th November
The programme for 2022 is built around the theme of Magic & Music and will feature three main stage operas, La Tempesta, Lalla Roukh and Armida;  two Pocket Opera | Opera beag: The Master based on the book by Colm Tóibín and The Spectre Knight by Alfred Cellier; a newly commissioned opera by our 2022 Artist-in-Residence Conor Mitchell, an exciting series of Pop-Up events; III° […]
Wexford Strings
Sun 26th June - Sun 26th June
Music for Wexford and Musici Ireland present: Wexford Strings combining professional musicians and young talent from around Ireland, at the County Hall. Leader: Mia Cooper Conductor: Liam Bates Artistic Director: Beth McNinch The programme is: Bach: Brandenburg Concerto No.3 Vaughan Williams: Fantasia on a theme by Thomas Tallis Piazzolla: Oblivion Liam Bates:  Vivo Grieg: […]
Social Dancing in Camross Hall
Fri 1st July - Fri 2nd September
Enjoy a wonderful evening of Music and Dancing in Camross Hall! Dates July 1st – music by the incredible Stuart Moyles August 5th – music by the incredible Olivia Douglas September 2nd – music by the incredible Michael Collins From 9.30pm – 12:00 Midnight €10 incl. Tea to be paid on the door  […]
Larry Kirwan at The Crown Live
Thu 13th October - Thu 13th October
Larry Kirwan will perform at The Crown Live as part of his annual Irish Tour.  He'll be accompanied by two busloads of American and Canadian fans. Kirwan was raised in nearby George's Street and played his first gigs with The Johnny Reck Showband at the Arts Center (then Wexford Town Hall). He performed with Pierce […]
Enniscorthy Rockin' Food & Fruit Festival
Fri 29th July - Mon 1st August
The Rockin' Food & Fruit Festival brings the very best in local food and fruit producers, family entertainment and as always, the best of Rock 'n' Roll. The 2022 festival will have lots of new events running throughout the weekend as well as welcoming back some festival favourites. The Artisan Food, Drink and Crafts Market […]