Pubs & Bars in Wexford
Check out the top bars and pubs in Wexford from all over the County, including the many in Wexford Town.
There's an atmosphere to suit everyone and maybe you'll even find some sessions, storytelling and live music. Meet with friends and enjoy good music in The Crown, or if you prefer a quiet reunion, try one of the bars available in most high-rated hotels. 
Fancy a summer night in one of the beer gardens, like the ones at William Gaynor & Sons or the Sky and the Ground.
If you want to find the best spot to suit your needs, this is the best place for you to start.
Visit Wexford
#BestForFun #BestForSun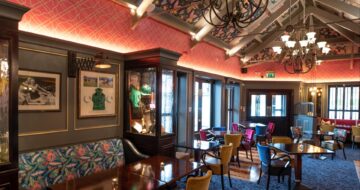 Forthside Bar Bistro
Forthside Bar Bistro at Whitford House Hotel Enjoy the Buzz of the vibrant Forthside Bar Bistro located at New Line Road Wexford, just 4km from medieval Wexford town. Renowned for food and customer care the Bar Bistro menu offers a wide selection of mouth-watering dishes such as Sizzling Dishes & Succulent Steaks, not forgetting of […]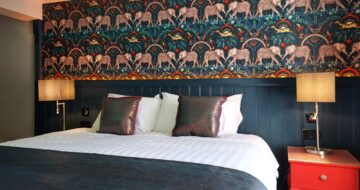 Crown Quarter
Crown Quarter located on the vibrant, energetic Monck Street in the heart of Wexford Town, giving you access to Wexford's nightlife, shopping and restaurants. At weekends the street comes alive with people having fun, listening to music, and enjoying the best of Wexford's nightlife. Midweek enjoy a little more relaxed atmosphere, a quite meal […]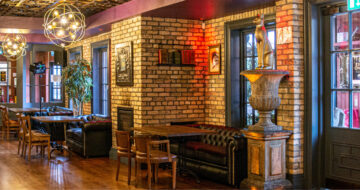 Crown Bar
The Crown Bar is located in Wexford's sunny south east with access to the some of the best food producers in Ireland and at the Crown Bar we take full advantage of this with our locally sourced Wexford food produce. Traditional comfort bar food with a modern twist. Our head chef has a huge passion for […]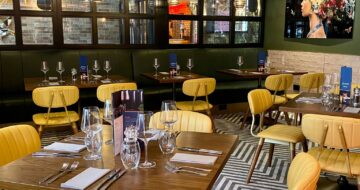 Jasper's
Jasper's located on Monck Street in the electric Crown Quarter is a vibrant all-day bistro with indoor and outdoor seating. This modern and stylish open kitchen serves beautifully prepared dishes from locally sourced Wexford produce. The new restaurant is built with your comfort in mind; the bistro is open plan with large windows, private round […]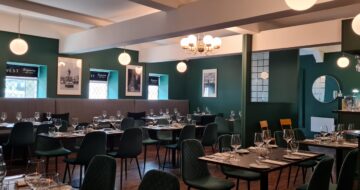 10 West
A premium Food & Beverage venue in the heart of Wexford Town. Committed to delivering a best-in-class standard of Food, Beverage and Service and offering our guests a variety of Wine & Dine experiences. Brunch? Lunch? Dinner? Or – the complete night out. Come for dinner – Stay for cocktails.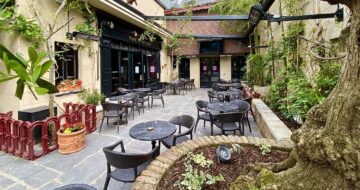 T. Morris Bar
T-Morris, Traditional Irish Pub, located in Monck St. in Wexford Town. Steeped in history, and very popular with the locals, the new owners lovingly restored the entire property and have created a new vibrant bar offering many options to its customers.  Whether it's a quiet drink or an executive meeting, the beautifully appointed Snug in […]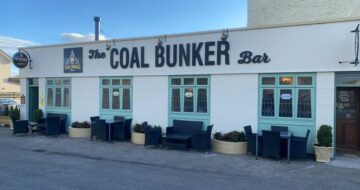 The Coal Bunker
The Coal Bunker is a local bar in Ballykelly, Wexford with bar food served all day, outside dining, an extensive beer, whiskey and gin menu and all the TVs and sports you could want.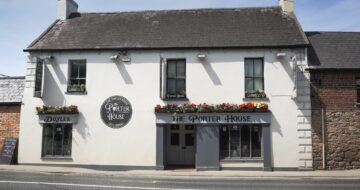 The Porter House Castlebridge
Since June 2012 The Porter House has been managed by Myles & Sharon Doyle. Born and reared in Castlebridge, this was a particularly proud moment for Myles. The Porter House has been a pub in the village for over 100 years and is an integral part of the community. One of our beliefs is that […]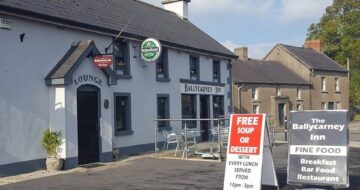 Ballycarney Inn
SItuated on the main route from Bunclody to Enniscorthy The Ballycarney Inn has been a long time favorite with travelers, in particular, those pulling caravans or driving motor homes due to its large open car park.  Inside you'll find welcoming staff and an extensive menu showcasing the best in traditional homecooked foods We've plenty of […]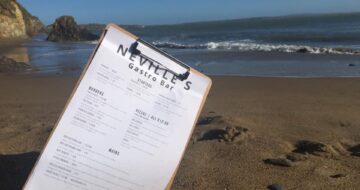 Nevilles Bar & Grill
Located on the Hook Peninsula, minutes from the picturesque beaches of Baginbun & Carnivan and only 15 minutes from Hook Light House. ​ Opening our doors in Late February 2020 we aim to bring a fresh twist to Gastro Food and serve great dishes using local fresh ingredients. Situated on the Main Street of the […]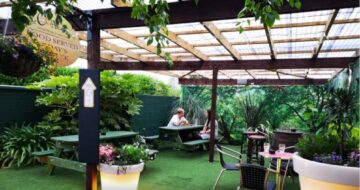 The Coach House Gorey
For the best in gastro pub dining in the south east, a large selection of craft beer, good fun and great craic visit the newly refurbished Coach House in the heart of Gorey town Boasting a large bar serving a new menu of gastro-style food downstairs, function room for parties and conferences, newly designed open […]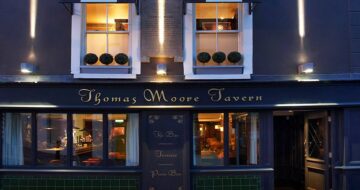 Thomas Moore Tavern
Thomas Moore Tavern Located on Cornmarket, in the Heart of Wexford Town, the Thomas Moore Tavern is one of Wexfords oldest bars. Beautifully restored, the Thomas Moore Tavern uses the very best of local and seasonal ingredients and serves lunch and evening meals in stylish surroundings. Enjoy delicious food served daily in the ground floor […]