Wexford Literary Festival
Thu 4th July - Sun 7th July
The Wexford Literary Festival was first founded in 2012 as the Focal Festival, with Focal in Irish meaning "Word".  The festival was re-branded as the Wexford Literary Festival in 2014. The Festival commenced  its literary Awards programme sponsored by Community Development, Wexford County Council, to include the Colm Tóibín  International Short Story Award, Anthony Cronin […]
WellWex Festival
Sun 21st July - Sun 21st July
Come and 'Find Your Well' in the sunny south east! WellWex is Wexford's newest wellbeing festival. This is an unmissable experience for anyone interested in boosting their physical, mental and emotional health. The full day, interactive programme boasts diverse, fun workouts, inspiring talks, motivational panel discussions, delicious local food, creativity workshops and a chill out […]
Family Fun Day – PolsakaEire Festival
Sun 9th June - Sun 9th June
Enjoy this family Fun Day with a Polish BBQ, Pierogi  & other Polish food specialities, activities for children and the whole family, music and PolskaEire market fair. There is also a raffle on the day with great prizes to be won. This event is a part of PolskaEire Festival.
Strawberry, Street Rhythms & Roots Festival
Fri 31st May - Sun 2nd June
The Strawberry, Street Rhythms & Roots festival will be on the June Bank Holiday weekend,running from Friday 31st of May to Monday June the 3rd in Enniscorthy Co. Wexford.  It's the 52nd year of the Strawberry Fair, which is the second longest running festival in the country after the 'Rose of Tralee'.  The opening night kicks off […]
Viking Fire Festival 2019
Sat 28th September - Sun 29th September
This event will be run between the Irish National Heritage Park and Wexford Quay front. More details to follow.
The Gap Arts Festival
Fri 9th August - Sun 11th August
 The Gap Arts Festival  August 9 -11th, bringing the arts to parts they wouldn't otherwise reach. Nominated for a Rural Inspiration Award 2019 by the European Network for Rural Development, the Gap Arts Festival is a family-friendly, multi-discipline arts festival, with an open-arms welcome for audiences young and old, and for participants in a wide range of […]
Write by the Sea Festival
Fri 27th September - Sun 29th September
Celebrating its 4th year, Write by the Sea takes place in the stunning setting of Kilmore Quay with the theme of the 2018 festival being "Coastlines". This literary festival is a must for all authors, poets, writers, artists or anyone with a keen interest or ambition in literature. Festival attendees can look forward to a […]
Wexford Maritime Festival
Sat 29th June - Sun 30th June
Wexford Maritime Festival Discover the Maritime Gateway at the Wexford Maritime Festival. The annual festival celebrates Wexford's long and rich maritime history from the Vikings to Commodore John Barry, Father of the American Navy. A family fun festival with lots to do and see for all ages. The festival takes place on Wexford Quay, with an […]
Streams of Bunclody
Fri 19th July - Sun 21st July
Streams of Bunclody Festival, July 19th – 21st 2019 Opening at 8pm on Friday 19th July Parade, to celebrate the Festival's theme, 'Irish Myths and Legends', Finishing with a Celtic fire dance. Saturday, 20th Carrigduff Children's festival (11.00 to 2.30pm.) Street Entertainers and Puppetry Workshops followed by Performances. Mean while in the Market […]
Enniscorthy Rockin' Food Festival 2019
Fri 2nd August - Mon 5th August
Rockin' Food Festival 2019 – 2nd – 5th August After a hugely successful 2018 Festival, we are delighted to announce that #rockinfood2019 will be taking over the streets of Enniscorthy, Co. Wexford once again from August 2nd -5th 2019. Wexford's ultimate Summer festival blends the perfect mix of the things we love most about […]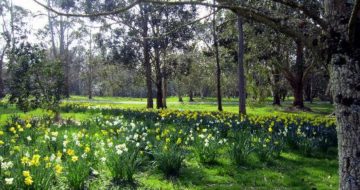 JFK Arboretum
Dedicated to the memory of U.S President John F. Kennedy, the John F. Kennedy Memorial Park stretches across 623 acres, near New Ross in County Wexford. This tranquil arboretum features over 500 different rhododendron and azaleas and an internationally important collection of over 4,500 different trees and shrubs, some of which are very rare. A […]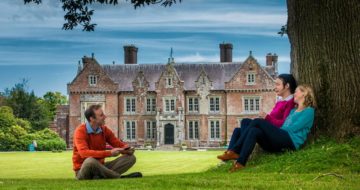 Wells House & Gardens
Waiting to be explored is Wells House & Gardens, a Great Victorian House and Gardens in the heart of Wexford, delivering the promise of Ireland's Ancient East. With two enchanted, interactive woodland walks, a living house tour, craft courtyard, terrace gardens, archery, clay pigeon shooting, falconry, an adventure playground and animal farm with falconry centre […]