Things to do in Wexford with families in County Wexford this summer
Wexford is one of Ireland's top 3 places that visitors to the Emerald Isle most often take a holiday in during the long summer months. Explore the abundance of fun and fantastic family-friendly things you can get up to when you visit our corner of Ireland's Ancient East as you keep discovering Ireland. Explore one of many beaches along our 250km coastline for a day out with the kids or to find the best spots for adventurous water activities like surfing, kitesurfing or kayaking. Are you brave enough? Discover our Blue Flag and Green Coast awarded beaches. Be safe and have fun in the water this summer. 
Take a peaceful walk around one of Wexford's many beautiful gardens, perfect all year round but magical during the summer months when the colours of flowers, plants and overall stature of the surroundings are in full bloom. With more than 10 fabulous gardens surrounding castles and Victorian houses, they are a must to any visit with your other half to County Wexford. Enjoy some of the many festivals, events and experiences that take place across County Wexford during the summer months. With live music and comedy, to family, crafting and workshops and other events taking place across the county this summer.
Come and enjoy Wexford's see and do this summer
Book early and plan your summer adventure at VisitWexford.ie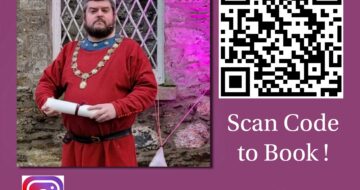 WexWalks
Take a vivid journey through the historical streets and winding lanes of Wexford Town, an ancient viking city. Explore the worlds of medieval ports, bullrings, bloody insurrections, ghostly graveyards and cavernous churches. Hear about local characters, from monstrous murderers to vicious vikings to Oliver Cromwell himself. Join local actor and history buff, Paul Walsh, as […]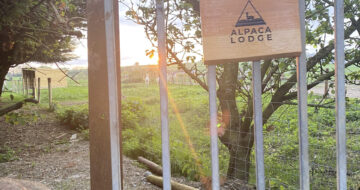 Alpaca Lodge
Enjoy a unique alpaca trekking experience set in the countryside of Co. Wexford. The trek is one kilometre in distance, 2km round trip. On the trek, you will be walking on the trail through our family working farm where they can embrace the country scenery of Wexford with the alpacas. The trail is located […]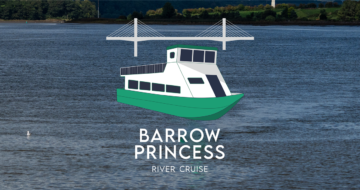 The Barrow Princess River Cruise
Sit back, relax, and enjoy some of the most beautiful scenery in Ireland. Departing from New Ross, the Barrow Princess cruises along the river to Waterford and then makes the return journey later in the day.  View the landscape from a unique perspective, including landmarks like the magnificent Rose Fitzgerald Kennedy Bridge and Barrow Bridge. […]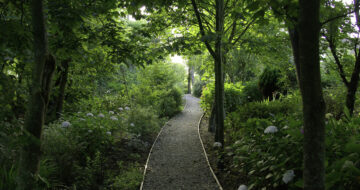 Rosslare Harbour Village Park and Gardens
A hidden Gem set in 4.4 acres of beautifully maintained community park consisting of five discreet areas interconnected and characterised by attractive formal gardens with informal biodiverse areas that are a delight to explore. The gardens were developed from reclaimed lands by local volunteers. A small Sensory Garden with mosaic seating leads to the Memorial […]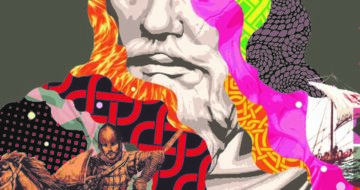 Medieval Ferns Experience
Looking for something to see and do in Wexford? Check out our newest visitor attraction – the Medieval Ferns Experience tells the story of our medieval past in an engaging and fun way using a range of media including virtual reality and audio visual. Before the Normans arrived in Wexford, Gaelic kings dominated – and […]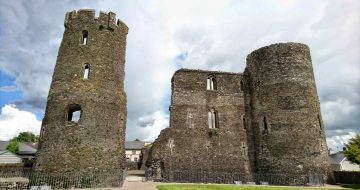 Ferns Castle
Before the coming of the Normans, Ferns was the political base of Diarmait Mac Murchada, king of Leinster. William, Earl Marshall built the castle around 1200. Since then, it has had many owners, of diverse political and military colours. Originally, the castle formed a square, with large corner towers. Only half of the castle now […]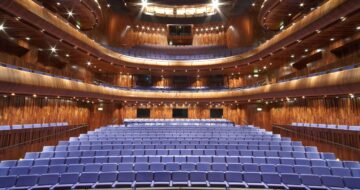 National Opera House
The stunning landmark building is nestled into the heart of the beautiful harbour town of Wexford and offers two diverse performance spaces, the O'Reilly Theatre and the Jerome Hynes Theatre, as well as numerous meeting and hospitality facilities including a number of bars and dining spaces that are available for private functions. Just […]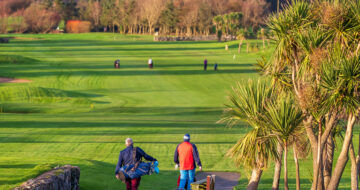 St. Helen's Bay Golf Resort
St. Helen's Bay Golf Resort is one of Wexford's Golf Club's that maintain an amazing 18 Hole Parkland Golf Course with 2 signature cliff edge challenging holes. Nestled in the Bay of St. Helen's this course is a must for any golfer with the course portraying a combination of Parkland and Links terrain. The final […]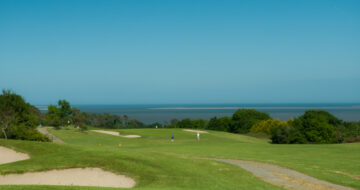 Wexford Golf Club
Founded in 1961 and affiliated to the GUI in 1966, it is an 18 hole parkland course, situated on the slopes of Mulgannon Hill on the outskirts of Wexford town. Visitors to the club will enjoy a challenging round of golf on the newly developed Jeff Howes course, and the variety of spectacular views from […]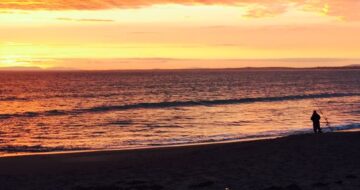 Angling in Kilmore Quay
Sitting south in our beautiful Model County, Kilmore Quay is home to a huge variety of fishing opportunities in the sunny south east. With charter boats boasting every wave on the quay, why not book in with one of the local charter boats available on the quay and fish for your freshest catch yet. […]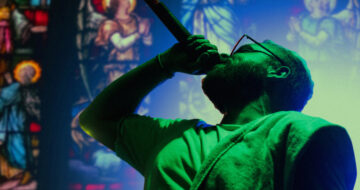 The Presentation Arts Centre
The Presentation Arts Centre is a fully accessible and multi-use art gallery and historic theatre in the heart of Enniscorthy, Co. Wexford. We host exhibitions, theatre shows, live music gigs, creative workshops for adults and children and so much more. Our converted chapel theatre is the star of our venue, with a dazzling stained […]