Viking Fire Festival 2019
Sat 28th September - Sun 29th September
This event will be run between the Irish National Heritage Park and Wexford Quay front. More details to follow.
The Gap Arts Festival
Fri 9th August - Sun 11th August
 The Gap Arts Festival  August 9 -11th, bringing the arts to parts they wouldn't otherwise reach. Nominated for a Rural Inspiration Award 2019 by the European Network for Rural Development, the Gap Arts Festival is a family-friendly, multi-discipline arts festival, with an open-arms welcome for audiences young and old, and for participants in a wide range of […]
Write by the Sea Festival
Fri 27th September - Sun 29th September
Celebrating its 4th year, Write by the Sea takes place in the stunning setting of Kilmore Quay with the theme this year's festival being "Drawn To The Sea".  The programme for Write By The Sea 2019 includes a stimulating mix of talks, readings, interviews and workshops. Contributors will include Kit de Waal, Mike McCormack, Paula Meehan, Sara […]
Wexford Maritime Festival
Sat 29th June - Sun 30th June
Wexford Maritime Festival Discover the Maritime Gateway at the Wexford Maritime Festival. The annual festival celebrates Wexford's long and rich maritime history from the Vikings to Commodore John Barry, Father of the American Navy. A family fun festival with lots to do and see for all ages. The festival takes place on Wexford Quay, with an […]
Streams of Bunclody
Fri 19th July - Sun 21st July
Streams of Bunclody Festival, July 19th – 21st 2019 Opening at 8pm on Friday 19th July Parade, to celebrate the Festival's theme, 'Irish Myths and Legends', Finishing with a Celtic fire dance. Saturday, 20th Carrigduff Children's festival (11.00 to 2.30pm.) Street Entertainers and Puppetry Workshops followed by Performances. Mean while in the Market […]
Enniscorthy Rockin' Food Festival 2019
Fri 2nd August - Mon 5th August
Rockin' Food Festival 2019 – 2nd – 5th August After a hugely successful 2018 Festival, we are delighted to announce that #rockinfood2019 will be taking over the streets of Enniscorthy, Co. Wexford once again from August 2nd -5th 2019. Wexford's ultimate Summer festival blends the perfect mix of the things we love most about […]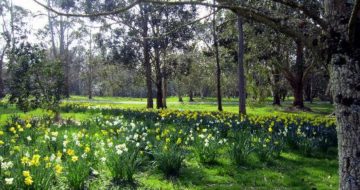 JFK Arboretum
Dedicated to the memory of U.S President John F. Kennedy, the John F. Kennedy Memorial Park stretches across 623 acres, near New Ross in County Wexford. This tranquil arboretum features over 500 different rhododendron and azaleas and an internationally important collection of over 4,500 different trees and shrubs, some of which are very rare. A […]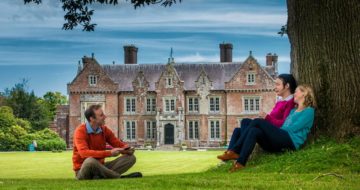 Wells House & Gardens
Waiting to be explored is Wells House & Gardens, a Great Victorian House and Gardens in the heart of Wexford, delivering the promise of Ireland's Ancient East. With two enchanted, interactive woodland walks, a living house tour, craft courtyard, terrace gardens, archery, clay pigeon shooting, falconry, an adventure playground and animal farm with falconry centre […]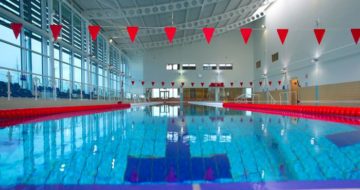 The Apex: Sports, Health & Leisure Centre
The Apex: Sports, Health & Leisure Centre is New Ross's premier fitness centre. It encompasses all the facilities necessary for your journey into fitness and better health. The Apex consists of A 25m Swimming pool A kiddies fun pool and a learner swimming pool Health Suite that includes a sauna, steam room & […]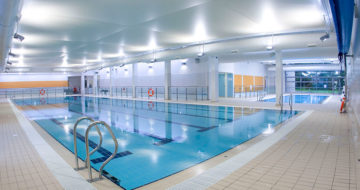 Wexford Swimming Pool and Leisure
Wexford Swimming Pool and Leisure is a public pay as you go facility in Wexford.  It is the  25m long and 1.8m  with a separate learner pool and meets all your swimming needs. It features the first pool pod accessibility platform in Ireland and has a sauna and steamroll on deck. Enjoy a workout in […]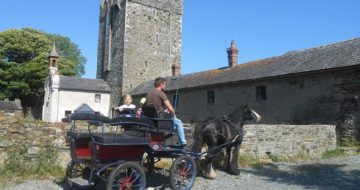 The Norman Way Carriage Trails
 Discover the Norman Way in a horse drawn carriage This trip gives you the chance to go back in time and see various medieval sites along the route, taking in the stunning scenery and landscape on the way. Discover the Norman Way in a horse drawn carriage This trip gives you the chance to go […]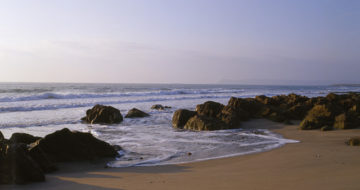 Duncannon Beach
Duncannon Beach is great for families as there is a designated bathing area of approximately a mile long for optimum safety.. There are stunning views of Hook Head from the area and also views of Waterford from the coastline. Just a short stroll from the beach is Duncannon Fort.