Wexford's food and drink scene is as diverse as the landscape in which it lies; offering an extremely wide variety of choice in Irish specialties, hidden delights, and a taste of the unexpected. Wexford boasts a rich culinary heritage, hence being known as the Model county reflecting our superlative agricultural and food scene dating back thousands of years. Stemming from this culture, county Wexford is home to some of the country's finest local, food and drink producers and businesses. Such products can be found in the menus of our many restaurants, cafes and accommodation providers as well as on the shelves of the speciality grocers scattered across the county. Or maybe you would prefer to visit the producers and farmers themselves at a food festival or one of the #TasteWexford food and drink trails or experiences. Regardless of your dining preferences, the diverse food and drink scene is sure to leave you with a lasting impression and make you reimagine county Wexford as a food destination.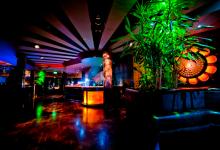 The Centenary Stores
The Centenary Stores The number one fully facilitated venue in Wexford for Nightlife and Corporate nights-out. Of all the qualities The Backroom has to offer, it's the atmosphere that will keep you coming back night after night. The BackRoom at The Stores has been designed to the highest possible standards using only […]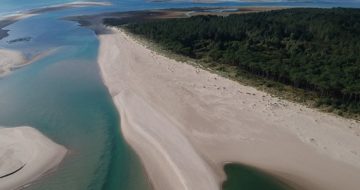 Blake Restaurant at Hotel Curracloe
After a refreshing walk on the beach, or a lovely stroll through the Parable Gardens, located just five minutes away , Hotel Curacloe's Blake Restaurant offers customers great value, locally sourced and good hearty food. Our Sunday Carvery has an array of dishes, one of the largest in the South-East, with up to 500 people […]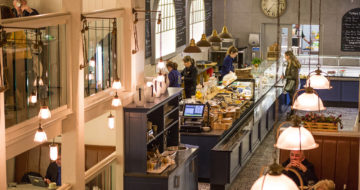 Restaurant at Westgate Design Centre
A unique Shopping, Casual Dining & Take-Out Cafe Experience in the Heart of Wexford's Main St. Our concept offers you a Design Centre showcasing the best in Irish and international giftware and design, a Restaurant and Cafe featuring fresh quality food prepared daily in our kitchens, specialising in healthy food choices and selections for Vegans […]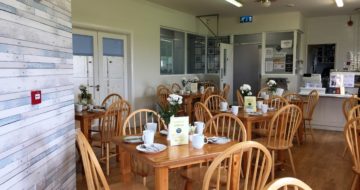 The Centre Coffee Shop at Stella Maris Centre
" The Centre" Café & Restaurant is a unique offering in our community centre. Initially manned by volunteers, the Café now operates as part of a Pobal scheme providing employment for four people. Locally renowned, we have just the breakfast to start your day. From a traditional fry-up to scrambled eggs or a hearty pancake […]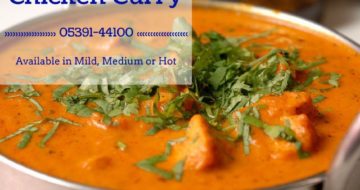 The Holy Grail
Renowned for it's curry dishes, the Holy Grail is a wonderful restaruant in the heart of Wexford Town. The Holy Grail also offers other internationally-inspired cuisine at a reasonable price. Opening Times: Open 7 days a week from 12.00noon to 10.00pm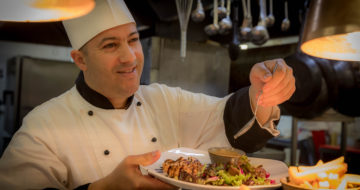 Grain and Grill Restaurant at the Maldron Hotel
Grain & Grill Restaurant is the perfect setting for your dining needs while visiting Wexford. Serving our famous Vitality breakfast and a choice of dinner menus 7 days a week. Dine in modern and contemporary settings where our friendly and professional team are on hand to welcome you. Our team of chefs have carefully selected […]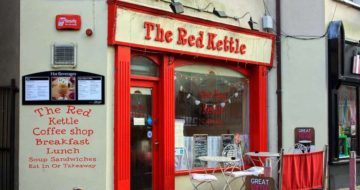 The Red Kettle
The Red Kettle cafe is situated on Mallin Street, across from Rowe Street car park. The Red Kettle serves breakfast and lunch. More often than not, it will have a small seating area on the outside of the premises (obviously, this sort of arrangement is weather-permitting).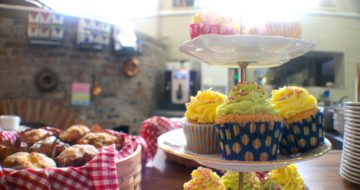 Mrs Stone's Restaurant
Waiting to be explored is Wells House & Gardens, a Great Victorian House and Gardens in the heart of Wexford. This Daniel Robertson designed house boasts a history of over 400 years and offers something for all generations to enjoy such as; two enchanted woodland walks and its magical creatures waiting to be discovered, a living […]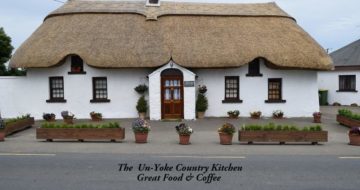 The Unyoke Country Kitchen
The Unyoke Country Kitchen is a Coffee Shop, Bar, and Restuarant.  The premises itself is there since pre-1798 and it has been done up keeping  all of its original features. The history of the Unyoke Country Kitchen is as follows: The Real Unyoke has been in the Murphy Family for five generations and was […]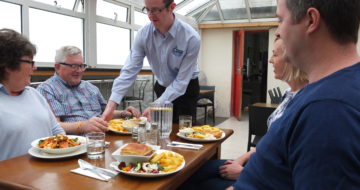 The Hook Lighthouse Visitor Centre Cafe
The Hook Lighthouse Visitor Centre Café is located in the former keepers houses, it includes a first class gift shop and café and bakery, where friendly staff are happy to help with any tourist information you require. Here, you can relax by the sea with a coffee and homemade scone, lunch or dinner and keep […]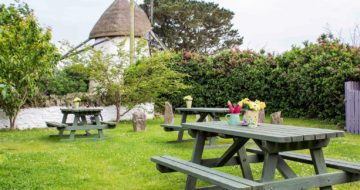 The Millhouse Bar & Restaurant
At the Millhouse Bar & Restaurant we pride ourselves on serving quality home-cooked food at reasonable prices. The relaxed atmosphere, friendly and courteous service combined with tasty food will make for a truly enjoyable experience. Locally caught fish and standard family favourites feature on the traditional menu. The Peking Asian Street Food Menu provides an […]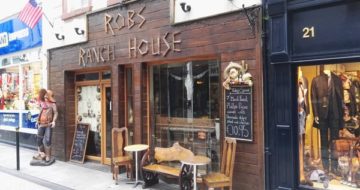 Rob's Ranch House Restaurant
Rob's Ranch House is located right in the heart of Wexford Town… so if your looking for somewhere to eat before you hit the town head on down to us!! Enjoy a laid back friendly atmosphere in our Western Cowboy Style Restaurant where we serve a wide range of dishes like Pastas, Steaks, Pizzas, Fajitas […]