Wexford Food and nightlife not to be missed
Wexford food and nightlife scene is as diverse as the landscape in which it lies, offering an extremely wide variety of choice in Irish specialities, hidden delights, and a taste of the unexpected.
County Wexford boasts a rich culinary heritage, hence being known as the Model county reflecting our superlative agricultural and food scene dating back thousands of years. Taste Wexford is the initiative to bring people on a journey of growing & making food through experiences, to build the community and develop Wexford as an immersive food destination
Stemming from this culture, County Wexford is home to some of the country's finest local, food and drink producers and businesses.
Such products can be found in the menus of our many restaurants, cafés and accommodation providers as well as on the shelves of the speciality grocers scattered across the county.
Or maybe you would prefer to visit the producers and farmers themselves at a food festival or one of the #TasteWexford food and drink trails or experiences.
Regardless of your dining preferences, the diverse food and drink scene is sure to leave you with a lasting impression and make you reimagine county Wexford as a food and drink destination.
For tea visit one of the many Cafés & Delis offering delicious treats around Gorey, New Ross, Enniscorthy or Wexford Town.
Wexford also offers a great variety of pubs and nightclubs to enjoy nightlife after a delicious dinner. Expect to find loads of live music, cherish crowds and lovely chats with locals. 
Come and enjoy Wexford Food and Nightlife
Visit Wexford
#bestforfun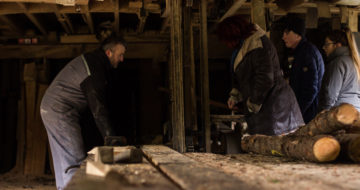 Ballyminane Mills
Take a step back in time and visit Ireland's only authentic water-powered mill, Est. 1832 and home to its unique Stoneground Wholemeal flour.  Meet with the Miller, John Murphy who will take you on the tour of the three mills while giving you a demonstration on the traditional milling process that is still been used […]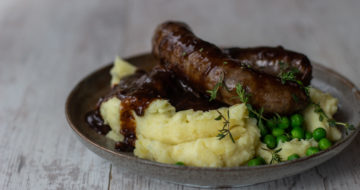 Taste Wexford Food and Drink Experiences
If you haven't already seen the amazing experiences on offer over on TasteWexford.ie, you need to check them out. You can try your hand at pretty much anything from jam making, strawberry picking, chocolate making and so much more. Our local producers welcome visitors with open arms and are delighted to have the opportunity to […]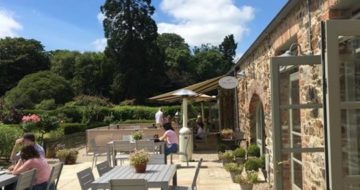 The Duck Terrace Restaurant at Marlfield House
The Duck Restaurant has restored courtyard buildings including a coach house, potting shed and gardener's tool shed situated on the grounds of Marlfield House. The restaurant is located in a long stone building with French doors opening onto a sandstone terrace overlooking the kitchen garden filled with vegetables, soft fruits, a plethora of herbs and […]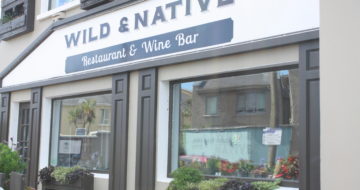 Wild and Native Seafood Restaurant
Multi-award-winning restaurant serving the freshest of local produce   Jodie & Fergal Dempsey bring the freshest of local produce to their Seafood Restaurant. Whether it has been caught in the Wexford sea, providing the finest of Wexford meats or fresh vegetables picked from Wexford farms we have you covered. We specialise in the freshest […]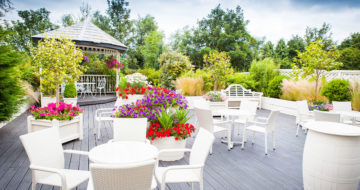 Ivy Bar and Cafe at Ashdown Park Hotel
The Ivy Bar & Cafe serves up a delicious breakfast, lunch, carvery and bar food menu in the luxurious surroundings of the Ashdown Park Hotel Gorey Wexford.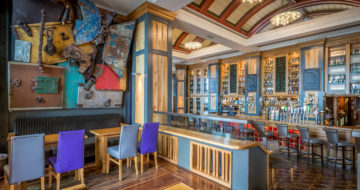 Ballast Bank Bar and Grill at Talbot Hotel Wexford
Southern Comforts  The Ballast Bank is a rather curious man-made island in Wexford Harbour opposite the Talbot Hotel Wexford. It was erected to provide a place for loading and unloading ballast, which was essential to stabilise ships sailing without cargo. Both the Talbot Hotel and the Ballast Bank were constructed in 1905 and so it […]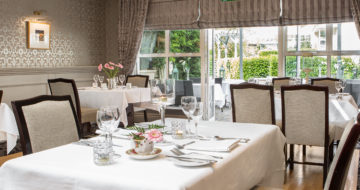 Seasons Restaurant at Whitford House Hotel
At the elegant and multi-award winning Seasons Restaurant, the food is excellent and the choice is varied, catering to all types of palates. This Wexford restaurant offers a wide range of seasonal menus to reflect the availability of fresh local artisan producers and is renowned for its warm welcome and professional service. Seasons Restaurant is open Friday […]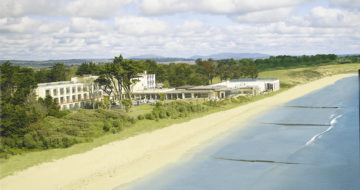 La Marine Bistro at Kelly's Resort Hotel
The informal and casual atmosphere of La Marine Bistro at Kelly's Resort Hotel Wexford, offers a unique and alternative dining experience. The food is full of flavour and simply executed offering guests the best French Bar/Bistro in Wexford.  The restaurant seats 70 people and is opened 7 days a week for Lunch and dinner. LUNCH: 12.30pm […]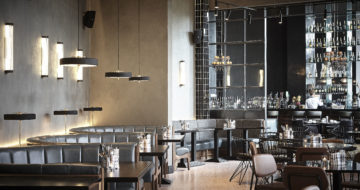 Village Bar and Grill at Seafield Hotel
Who are we? We are Village Bar & Grill and we are more than just a casual dining restaurant. Quality local produce, diversely delicious menus, unique atmosphere, live sports and entertainment, ornate stylistic features, an open view of the kitchen, dedicated and friendly staff all combine seamlessly to create a distinctive dining experience. Village is […]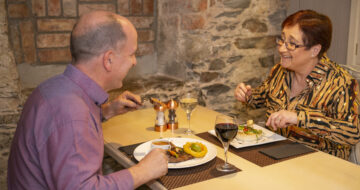 The Alamo Steakhouse at the Riverside Park Hotel
* Please Note: Booking in advance is highly advisable, especially on weekend nights.  You can make a reservation by calling us on +353 (0)53 9237800 or by booking online. https://www.riversideparkhotel.com/the-alamo-steakhouse.html Situated in the old woollen mill dating back to the 1700s, it is the ideal setting for this exciting and lively steakhouse and old-world charm […]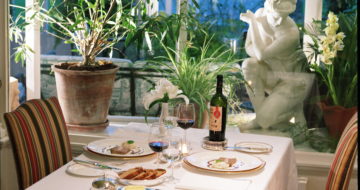 The Conservatory Restaurant at Marlfield House
The Conservatory Restaurant at Marlfield House is long renowned for its elegance, wonderful cuisine and impeccable service. Overlooking the gardens and using many ingredients from its extensive kitchen gardens, the food is best described as classical with French and modern influence. Housed in the Turner style conservatory and with its frescoed walls, sparkling silver, flickering […]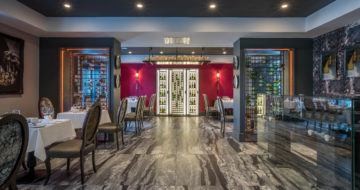 The Oyster Lane Restaurant at Talbot Hotel Wexford
Superb Food, Fine Wines and Superior Service! The award-winning Oyster Lane Restaurant offers guests an intimate dining experience for just €32 per person, with our four-course Table d'Hote Menu including tea or coffee. Our Executive Head Chef Nigel Corbett is renowned for creating imaginative and mouth-watering dishes – specialising in the best local produce and […]