Header image: Norma Quinsey
Norma Quinsey on North Wexford
Click here to check out LoveGorey.ie 
Feel inspired with LoveGorey.ie as you visit North Wexford this Autumn!
For quite some time at Visit Wexford, we've featured members of the tourism and hospitality industry in Wexford as well as bloggers and photographers that promote our county so perfectly to take part in our guest blogger series. This series allows them to share their insider knowledge with us, giving our locals and visitors to County Wexford some nice tips, suggestions and recommendations when in the area. 
As part of the series this time, we've invited Norma Quinsey of LoveGorey.ie to talk to us all about North Wexford and what you can see & do, eat & drink, and attend & enjoy in Gorey this Autumn!
Our #TravelTuesday Tip: Make sure to plan ahead with VisitWexford.ie and LoveGorey.ie to ensure you make the most of your trip to Wexford this season with plenty of #WexfordMemories to be made as you #FallInLoveWithWexford.
---
Having just featured in The Irish Times Top 20 Places to Live in Ireland, Gorey town's history as a busy market town is echoed in a modern day's reincarnation of a bustling town with plenty of independently owned shops, boutiques, restaurants, and cafes.  With its young, professional generation adding to the arts and culture of the town, and genuine welcome all combine to make Gorey & North Wexford the ideal break away this Autumn.
Breakfast brunches have become a specialty of Gorey with an array of cafes and restaurants, all eager to welcome visitors back and do what they do best. Personal recommendations in Gorey town are Partridges Bistro, Hungry Bear & The Book Café. All independently with a passion for service & standards, warm welcomes and great coffee to boot. The perfect revival from a day's shopping.
Gorey increased its profile during lockdown and further grew its reputation as a shopping destination with it's many high-profile boutiques & specialist retail shops taking to social media during the darker days of COVID.  With restrictions lifted these shops are more than happy to welcome customers back through their doors and while the videos of shops like La Crème Boutique, Fifth Avenue and Contra continue there's not quite like a little bit of retail therapy to lift spirits.
Andrew Duncan is a Gorey native who has returned home having gained over 20 years experience in many top restaurants during his travels to open Table Forty One, which now boasts a Michelin Gourmand Bib and sits proudly on Gorey's Main Sreet. With a seasonal menu inspired by his local foraging adventures this really is a treat for visiting and local foodies adore seeing produce from the region headline his menus.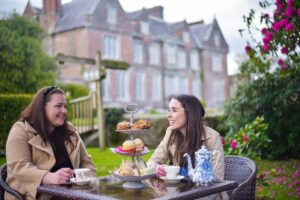 For families, there are so many options for short winter breaks with national award-winning attractions in the area like Kia Ora Mini Farm, (who doesn't want to drive a real digger, yes a real digger?) and recently voted one of Ireland's Top Fairy Trail attractions, Wells House & Gardens with so many characters on their woodland walk. There's also the amazing and fun Seal Rescue Ireland, located in Courtown where you can learn more about the rescue and release work of this team. There's also the new Ferns Medieval Experience where visitors learn the colourful history of Ferns in an engaging and fun way using a range of media including virtual reality and audiovisual.  Welcome to modern-day Ferns Diarmait MacMurrough! 
For midterm breaks in North Wexford, there's so much family-focused choice. Key attractions like Wells House & Gardens are running a series of spooktacular events like a Ghostly Trail & fun seasonal workshops, while Kia Ora Mini Farm reimagines itself as a Spooky Farm with plenty of scares and delights. Seal Rescue Ireland have transformed their Seal Feed and Enrichment Experience, there's Drive-In Cinema options and of course The Amber Train turns spooky too. Gorey becomes gory but in the most family-friendly and entertaining of ways. See 'What's On in Wexford' this Halloween here.
A new arrival to the North Wexford offering this October is the Land of Light in Wells House and Gardens. This offering from Rowe Events sees the beloved fairy walk of the Wells estate transform into an outdoor light show like no other.  This event runs from 22nd October through to 19th December and perfect for all generations of a family to enjoy.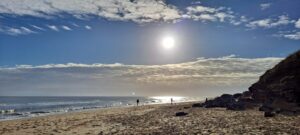 Over the past 18 months, we all have rediscovered the benefits of a long walk and the picturesque backdrop of both rural countryside, and coastal walks available in North Wexford are unrivaled. We love to head to Cahore point which is often featured on social media by Amy Huberman. Weather allowing, we enjoy some crab fishing off the pier before we complete the 5km loop, hitting it at sunset with the view of the amber skies as you approach Cahore South – it's magical!  Tara Hill Walk from Wexford Walking Trails is another walk that offers stunning views of the coast over Ballymoney and Courtown while also awarding views of Gorey town and the rolling county landscape with relics of our past to be explored also.
 'We promise you, on your first visit you will only scratch the surface on what's on offer here in North Wexford!'
We'd like to thank Norma for taking her time to contribute to our guest blog series at VisitWexford.ie and providing us with a lovely look into North Wexford as one of Wexford's many fantastic districts still waiting to be discovered during these Autumn and Winter seasons that lie ahead.
Make #WexfordMemories this Autumn as you
#FallInLoveWithWexford
Plan your adventure ahead at VisitWexford.ie