County Wexford is the ideal destination for those who love the outdoors. The diversity of the county's landscape means there is such a variety of activities and attractions on offer for all ages, interests, budgets and fitness levels.
So, get ready to explore the great outdoors of county Wexford, taking in the breath taking scenery and all it has to offer.
One of the most popular and enjoyable things you can do in the Sunny South East is to explore the diverse landscape by foot. You're sure to discover a route that is perfect for you from sandy beaches, lush green meadows, breathtaking mountains or colourful gardens. Wexford Walking Trails have a range of quality, way marked walking trips across county Wexford that you can choose from. Or if you are more of an explorer feel free to discover your own walking trail. One thing is for sure, the views and surrounding scenery will blow you away no matter what. There is also a lot of trails and routes you can cycle if you prefer to travel by bike, check out some of Wexford's Cycling Trails.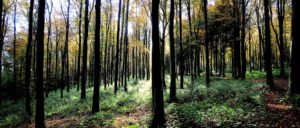 Another way to travel while getting some fresh air is by horse back. Wexford has a variety of equestrian centres and schools so it doesn't matter if you're a professional or if its your very first time riding a horse.
You can check out  Ballycanew Riding School , Old Court Stables or Kingsford Equestrian Centre to name just a few. Whether you're in a group or riding solo, you can rest assured you'll be in good hands.
Golfing is another popular pastime here in county Wexford and thankfully, there's no shortage of fantastic fairways. Scrub up your golf shoes and practice your swing all while taking in the gorgeous surroundings. You can choose from a variety of golf courses listed here Wexford Golf Courses. There is also a fantastic annual golf event that runs in September, now known as the Taste Wexford Golf Experience where you can experience county Wexford through its stunning fairways and world class food culture while dining in true Taste Wexford style.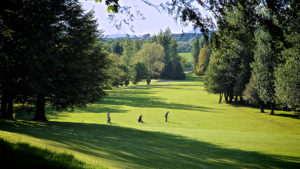 Head to the quaint town of New Ross where you can step on board the Dunbrody Famine Ship. Not only is this a fabulous way to take in the New Ross quayside, it is an insightful tour all about the famine emigrant experience. The ship is a replica of an 1840's emigrant vessel and is boarded by characters in full costume who relive and tell the stories of those who travelled on the vessel. There is also a lovely Riverview restaurant once you have finished your on ship experience.
County Wexford is a culture and heritage rich destination so what better place to visit than the Irish National Heritage Park. This outdoor museum takes you on a time travelling tour where you will relive 9,000 years worth of history. Visit homesteads, places of ritual and burial as well as ruins once forgotten. The Heritage Park also hosts a variety of traditional outdoor craft and skill workshops such as basket weaving, mounted combat training, Celtic carving, stone cobbling and more. There is also an opportunity to spend the night in a replica Viking House which is suitable for families and individuals. The Ringfort Stayover is such a unique and wonderful experience to top off your visit to County Wexford.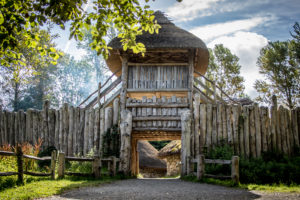 As mentioned earlier, County Wexford has a diversity of landscapes including coast lines and beaches.
Therefore, making it the ideal spot for some exhilarating water sports. Enjoy a Sea Cave Kayaking Experience with The Irish Experience, a truly unique and exhilarating way to explore this magical and visually stunning coastline steeped in jaw dropping historical stories with rich heritage and diverse wildlife. You can also try your hand at kayaking, stand up paddle boarding, sailing, surfing and rafting with the The Irish Experience, International Outdoor Activity Centre, Surf Shack, Shielbaggan Outdoor Centre and Go Paddle to name just a few of the water sport providers in county Wexford.
Another outdoor activity you can get up to in county Wexford is fishing or angling. Shore Angling Wexford offer shore angling for beginners and more experienced fishers alike. A relaxing pastime where you can appreciate the beautiful coastal surroundings and enjoy a little time to yourself or in small, intimate groups.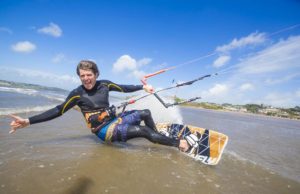 Another stunning site to take in the coastal views and listen to the ocean is at Hook Lighthouse. Hook Lighthouse is the oldest, original and functional lighthouse in the world. The stunning Hook Peninsula is a gem and must-see destination to visit when in Wexford. Visitors are welcome to explore the peninsula at their own leisure or there are a variety of tours available such as the Ring of Hook Tour and the Hook Lighthouse Bus Tour.
We've got one for the thrill seekers now with Quad Adventure – an all weather, cross country quad bike racing facility. Suitable for age 6+, choose between a gentle trek or a thrilling cross country adventure with the scenic Blackstairs Mountains as your backdrop. You are guaranteed fun no matter what age, experience or weather!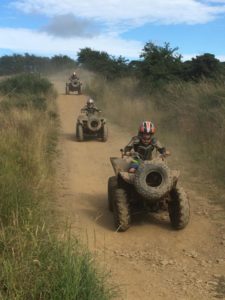 If you cannot decide on just one Wexford destination to visit, whey not take a tour? Gallivanting Food & Heritage Tours is a truly incredible way to visit a number of Wexford's hidden gems. There is such a range of Story Tours, Food Tours and Cultural Tours on offer. Lorraine, local guide and owner of Gallivanting Tours, knows all sorts of everything about the destinations she visits on her tours. Experience the food, people, heritage and culture of the authentic county Wexford with Lorraine's stories and the memories of her tours which are sure to last a life time.