Wexford Cycle Routes | Header Photo: Elaine Walsh
Best Cycling Routes for Bike Lovers
Enthusiastic to find the perfect place to cycle while in Wexford?
Whether you are looking for a quiet scenic route or maybe a more challenging one, County Wexford has it all – from gentle road routes to mountain biking for those craving an adrenaline rush. So why not bring your bike to County Wexford and take a spin around Wexford's most loved cycling routes!
Our #TravelTuesday tip: As always remember safety first – make sure you have a helmet and protective gear for more challenging routes. Be wary of other road users where routes take you along busier stretches of road. Reflective gear is also a must!
For this week's #TravelTuesday post, we have compiled two fantastic routes perfect for bikers to cycle all year round, along with some places to stop to stay along the way:
The Eurovelo Cycling Route through South County Wexford is a scenic cycling route that takes you along some of the county's lesser-known highways and byways from Rosslare Harbour in the East to New Ross in the West.
The Eurovelo1 Atlantic Coast Route is a cycling route that stretches over 9,100 km from Nordkap in Norway around the Atlantic Coast to Sagres in Portugal. The segment through County Wexford is 120 km long. There are 15 different Eurovelo routes marked throughout Europe.

Where to stay:
As one of Ireland's top 4-star luxury resort hotels, Kelly's Resort Hotel & Spa in County Wexford uniquely boasts its space by Rosslare's white, sandy beach. It offers extensive leisure facilities including a spa, 2 pools and tennis courts. Book Now!
The 4-star Brandon House Hotel and Solas Croí Eco Spa is a Country Manor House conveniently situated on the N25 in historical New Ross, with an art-filled restaurant, live entertainment on the weekends, an indoor pool, sauna and steam room is the perfect stop in your Eurovelo Cycling route. Book Now!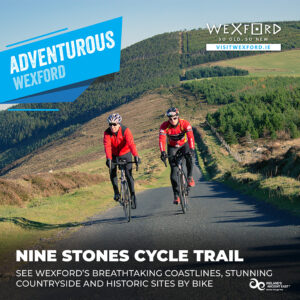 The Nine Stones Cycling Loop Trail traverses County Wexford for the most part but also enters parts of County Carlow and County Wicklow. The cycle loop is a total of 118 km of signposted cycle route across some of the most breathtaking scenery that you'll find in Ireland. Cyclists will encounter 1600 metres of climbing but will be rewarded with some fabulous scenery and stunning views – most notably Sliabh Bhuí and the Nine Stones (at the summit of Mount Leinster).
This Nine Stones Cycling Loop Trail is on public roads and there are several villages along the way where cyclists can take a well-earned break.
Where to Stay:
Located in Gorey, this 4-star hotel offers spacious rooms, an award-winning restaurant, a full-sized swimming pool and a stunning rooftop garden. Book Now!
A 4-star hotel offering luxury accommodation, full leisure club with an 18-metre swimming pool, hydrotherapy, a fitness studio and an award-winning Spa is the perfect accommodation for the cycling trip around the Nine Stones Cycling Loop Trail. Book Now!
It's time for a memorable cycling trip across County Wexford!
Time for new adventures and fresh trails at

VisitWexford.ie
#BestForFun #WexfordMemories