Taste the Island
Taste Wexford Events
Taste the Island is an all-island showcase and celebration of the world-class food and drinks found across the island of Ireland. Visitors, both domestic and overseas, will have access to a bountiful calendar of authentic food and drink events and experiences during the 12-week celebration which takes place in September, October and November. 
Explore the incredible food and drink culture of Ireland through locally inspired dishes and ingredients; touring distilleries and breweries; enjoying traditional hands-on experiences; discovering food trails and food festivals; visiting food producing farms and meeting the makers behind the world class food and drink.
Taste Wexford is the experiential side of Wexford's food and drinks offering and we are delighted to be at the forefront of this International campaign. Taste Wexford has created an incredible calendar of events for Taste the Island with events and experiences such as: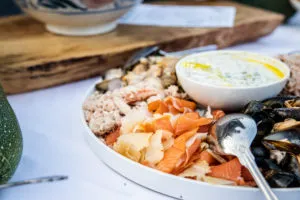 Taste Wexford Taste the Island Events
Dark Shadow Supper Club at Loftus Hall
Enjoy a private after-hours three-floor tour of Ireland's most haunted house, Loftus Hall, followed by a decadent meal in the candle-lit dining room.
Let Seanacai and Celtic Witch Lorraine of Gallivanting Tours guide you through Ireland's most haunted house, Loftus Hall. The guided tour starts on the ground floor where you will receive a welcome Jackford Gin on arrival. You will then move on from the beautifully tiled reception area and immerse yourself in the rest of the tour which includes the famous Card Room and Room 13.
Lorraine will then lead the tour to the Dining Hall where you will enjoy a decadent supper prepared with the best of local Wexford ingredients while also enjoying Wexford Craft Beer and goblets of wine. 
Do you dare dine with us?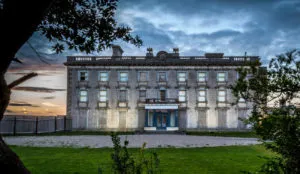 Sea & Soil Day Tour with Gallivanting Tours
Join local guide Lorraine of Gallivanting Tours on a full day excursion around Wexford's coastlines and agricultural lands. Visit some of the Model county's local food producers and farmers that are inspired by their surroundings.
The tour includes a trip to Ballyminane Mill, Ireland's oldest functioning watermill where you will meet Miller John Murphy, tour the mill and its grounds as well as receiving your own bag of freshly ground flour.
Next up is a visit to Ireland's oldest walled gardens, the stunning Colclough Walled Gardens which are 200 years old. These gardens produce a wide variety of fruit and vegetables annually which is grabbed up by locals and visitors alike. Meet Gardener Alan who will tell you stories of the Georgian gardening practices that have kept the gardens alive.
A quick stop for a Wexford lunch at an award-winning maritime pub and then on to the final destination of the day, Ballyhack Smokehouse. Meet Michael Walsh, owner of the award-winning smokehouse, who will show you the process of how the fish is selected, salted and smoked in his 80-year-old smokehouse.
Return to Enniscorthy with a head of newfound Wexford knowledge and arms full of Wexford goodies.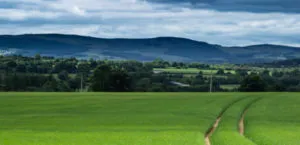 Johnstown Castle Festival of Honey
Come on down to Johnstown Castle for a celebratory festival of honey and bees. Learn how you can play your part in protecting these incredible creatures and why they are so important. Check out the demonstration hives and meet and chat with the local beekeepers, taste delicious honey and the food it sweetens in the gorgeous cafe.
The festival appeals to the growing interest in biodiversity, sustainability and food heritage, and creates links between Wexford's landscape and the purity of the food on visitors' plates. The festival's programming is closely aligned with Ireland's Ancient East, the Norman Way and the Celtic Roots Project and visitors will literally get a flavour of a thousand years of honey production at Johnstown Castle.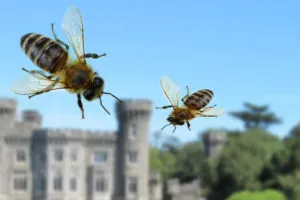 Sunset Experience at Hook Lighthouse
Watch the sunset from the balcony of the tower at the World's oldest, original operating lighthouse.
The experience includes a welcome coattail or tea/coffee on arrival. You then get to set out on a guided tour of Hook Lighthouse where you will reach the tower to witness the spectacular sunset. Once the sun has set, return to the watch room where you will get to enjoy some delicious Wexford canapés and more delicious cocktails.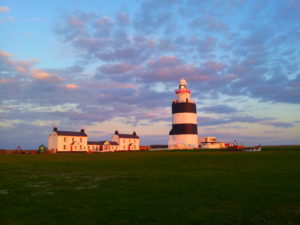 Halloween Supper at Wilton Castle
A celebration of Samhain, the end of the harvest season.
This harvest celebration will take place in Wilton Castle, one of Ireland's hidden castles nestled in the middle of a working dairy farm just outside Enniscorthy town. The supper will begin outside along the Boro River with a warm autumnal drink from Anthony O'Toole with stories from Lorraine O'Dwyer, an enchanting storyteller and a Celtic witch of Wexford. Then, a feast will take place inside the castle celebrating all the foods gathered from the final harvest of the year.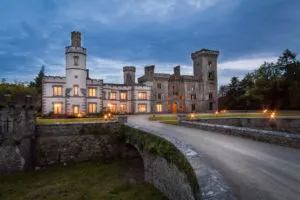 With many more celebratory fringe events happening across the Model county.
County Wexford boasts amazing landscapes from coastal and mountainous to lush green meadows and forestry. Located in the cornerstone of Ireland's Ancient East, Wexford is known for its exceptional farming and culinary heritage dating back thousands of years and is therefore known as the Model county.
In recent years, local Wexford food producers, farmers and brewers have opened their farm gates and kitchen doors to allow you to enjoy the authentic experience of meeting the maker. You are warmly welcomed and invited to get hands-on by meeting the animals, joining a workshop or touring the brewery, and most importantly sampling the end product.
Taste the Island is a fantastic opportunity for visitors to experience everything that is special and unique about our world-class food and drink culture. So, be sure to check out the calendar of events, grab some friends and family and make memories to cherish for a lifetime through immersive stories, incredible flavours and adventurous food experiences this Autumn.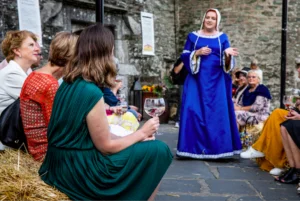 To learn more about Wexford's food story, visit TasteWexford.ie.