Best Beaches in County Wexford
County Wexford is the proud home to some of the best beaches in Ireland. Wexford boasts a series of stretched, sandy beaches which are ideal for building sandcastles, for water-sports enthusiasts, for swimming in rock pools or collecting shells and simply enjoying the sand between your toes. So breathtaking, even Hollywood has visited them.
Of course, no trip to Wexford is complete without jump into the car for a drive, to soak up the salty spray of the ocean at one of many viewpoints where you can capture the perfect family photo set against the backdrop of Wexford's sandy coastline.
Wexford has over 250 km of coastline, much of which is made up of beautiful wide-open sandy beaches. Take a tour of the stunning beaches along the coast of the Sunny South East.
Seven Wexford beaches have been awarded a Blue Flag:
Courtown
Morriscastle
Rosslare Strand
Ballinasker
Curracloe
Ballymoney 
Carne
And two marinas:
And thirteen are Green Coast beaches:
Cahore
Old Bawn/Newtown
Culleton's Gap
St. Helen's Bay
Ballyhealy
Booley Bay

Grange
Baginbun
Cullenstown
Culleton's Gap
Fethard
St Helen's 
If it's surfing, kite-surfing, a sand-castle making session or a secluded coastal walk, Wexford is a perfect location for all. For a fun-filled family beach day, a visit to Courtown, Kilmore or Rosslare Strand is a must or be delighted the almost exotic white soft sands of Morriscastle Strand or Curracloe Beach. For a surfing adventure take a trip to Carnivan or for a secluded picnic discover Dollar Bay and many more 'not so secret' spots!
You can also enjoy all the following beaches for a relaxing stroll on the golden sands:
Arthurstown
Ballinoulart
Ballagh
Ballyconniger

Ballyduboy

Ballygrangans
Ballynaclash
Ballynamona
Ballyteigue
Ballytrent
Ballyvaldon
Ballyvaloo
Bing
Blackhall
Bridges Chamber
Carnivan
Carnsore Point
Chour
Churchtown
Clammers Point
Clones Lower
Clones Upper
Dollar Bay
Donaghmore
Glascarrig

Glennaglogh
Glen (Salt Rock)
Grange (Wood Village)
Ingard Point
Lady's Island
Kilgorman
Kilpatrick
Kilmore Quay Little Beach
Knocknasillogue
Lumsdirs bay
Pollshone
Roney Point
Rosslare Point
Rosslare Harbour
Rostoonstown
Sandeel
Saview
Shilmore/Nethertown
Slade
St Margarets
St Vogues
Tacumshin
Tinnaberna
Kildermot - Saleen Lane 1.3km
Featured photo credit: wexfordrone
Visit Wexford
#BestForSun #BestForFun #BestForTrails #GetLostInWexford
To find the best beaches in Wexford to suit your tastes, start browsing through some many options listed below.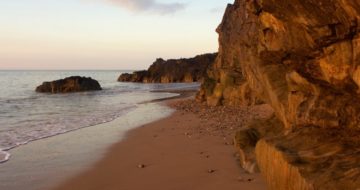 Ballymoney Beach
Ballymoney consists of two of the counties most popular sandy beaches. Ballmoney North Beach has been awarded Blue Flag Beach and the other beach has been awarded the Green Coast Award for the level of cleanliness and quality of the beach. With nearby parking and a lifeguard service during the Summer, this spot is an […]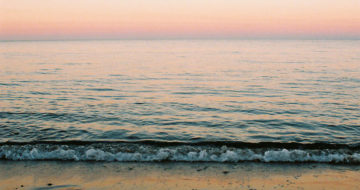 Curracloe Beach (Ballinesker)
Curracloe Beach is on the east coast of County Wexford, 5 miles north of Wexford Town and has been awarded the Blue Flag Beach 2019. The Beach is a beautiful stretch of sand along the coastline extending from the Special Area of Conservation at the Raven Point to Ballyconniger Head, which is approximately 10 miles […]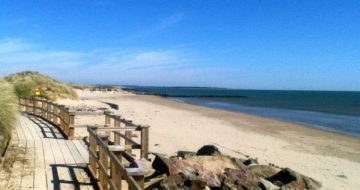 Rosslare Strand
Rosslare Beach Wexford is one of the most popular beaches in the county with the strand being located next to Rosslare Village, at the southern end of Wexford Harbour. This Blue Flag beach is a 'go-to' destination for swimming (lifeguard on duty during the Summer months), strolling and families of all ages. The name 'The […]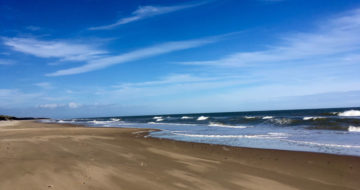 Morriscastle Beach
Morriscastle is another Blue Flag awarded beach in Wexford with a long stretch of natural dunes. Here, you'll find miles of soft sand to ramble on, safe water to swim & splash in and plenty of space for children of all ages to play & build sandcastles.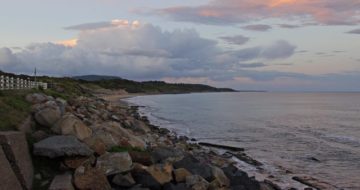 Courtown Beach
Courtown beach is located approximately 6 kilometres south east of Gorey. This lovely beach is made up of fine sand and has extensive coastal protection works all along the boundary between the dunes/woodland and the beach itself. The village of Courtown is located around a harbour and canal system making for a nice spot to […]