Photograph by: @thomashorvat_
Find your Joy in Wexford!
Visit Wexford in any weather
While Wexford is at the heart of the sunny south east, there's no doubt that it still rains in our corner of Ireland's Ancient East but that's not to say you've got to stop having fun in County Wexford. Our county still has so much to discover even when it does rain! #KeepDiscovering Wexford this autumn with an abundance of the best things to do on a rainy day in Wexford. From escape rooms, arcades and historical venues to events, festivals and so much more indoor activities!
Now that autumn is here and rainy days are a factor in Ireland to consider, when making plans for indoor activities, just note that everyone else will have the same idea so we advise you book early to avoid disappointment. We also suggest checking the opening hours of the location you may be visiting to ensure you make the most of your plans in Wexford. And as always, remember to feel the spirit of Wexford along the way during your stay.
So, you know when people 'save it for a rainy day,' now is your perfect opportunity to do so! We've compiled a list of places to visit and things to do on a rainy day in Wexford:

While Wexford has an array of things to do when the weather isn't on your side during time in Wexford, our events and festivals directory has your back! From live music, comedy, arts, crafts and a huge variety of family fun over the year, there's no doubt you'll find something to fill your time in Wexford…even if it does rain during your stay. For more of 'What's On' in Wexford, click this link! Wexford is #BestForSun but even when it's not, it's always #BestForFun!
Book >>here<<
The Presentation Arts Centre provides an ideal spot for those looking to make the most of a rainy day. They offer a diverse range of activities and events that cater to various tastes and interests. From music, to creativity, and drama, there's something for everyone under its roof. One of the standout features of the Presentation Arts Centre is its calendar of regular events. Whether you're in the mood for an evening of a hands-on workshop to nurture your artistic skills, or the thrill of a live theatrical performance, this cultural hub has you covered.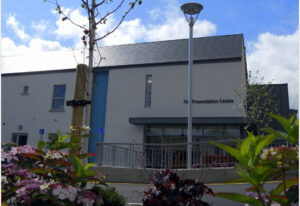 Book >>here<< 
Pirates Cove is a family-run, family fun attraction in North Wexford's seaside village of Courtown. While some of Pirate Cove's activities are based outside and can be caught during breaks in the rain, there's plenty to do inside of the establishment. From games arcades, a casino and bowling alley to so much more, Pirate's Cove has it all. Whether it's a family day out or a fun night with friends, there's sure to be fun made without worrying if the weather has an impact on your plans.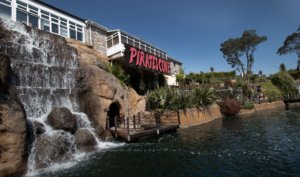 Book >>here<<
EscapeRooms.ie is one of Wexford's funnest activities located in Leisure Max in South Wexford. Try escape a locked room with friends or family on a time limit. Unlock your Sherlock Holmes in Wexford as you work as a team to figure out the puzzles in front of you with clues and storylines that will guide your escape. This is a great team bonding experience and would be a great fun with your work family, friends or colleagues while in Wexford!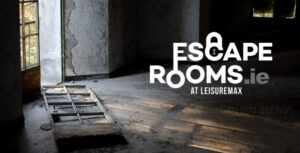 Book >>here<<
Enniscorthy Castle is the perfect place to explore on a rainy day in Wexford as it gives you the opportunity to discover the rich historical heritage that gives Enniscorthy its story. The castle stands proud as it overlooks the River Slaney at the heart of the town having been built in the 13th century. Since then, it has been restored and remains an important part of Irish history, now offering a visitor experience to those who visit our wonderful County Wexford. If you make it to the roof when the rain cloud breaks, you'll overlook the most stunning views of Enniscorthy, its countryside and other historic landmarks like Vinegar Hill.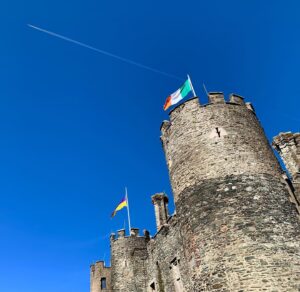 Book >>here<<
If you're someone who admires the story behind Irish history, then the National 1798 Rebellion Centre is the idyllic spot for you to discover so much more of Enniscorthy and Wexford's history. Engross yourself in the heritage of the Revolution, the events of 1798 and so much more that is etched in Irish history forever. Stimulating stories re-told by those in the 1798 centre is an experience not to be missed and upon visiting, meet key figures from the rebellion, participate in the 4D battle of Vinegar Hill Experience, and learn how weapons were used way back in 1798!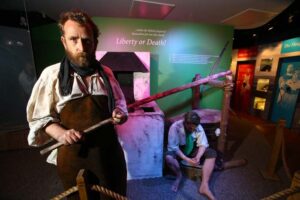 Book >>here<<
On a rainy day, even the beautiful Hook Lighthouse has a lot to offer. Take a guided tour of the oldest operating lighthouse in the world. Climb the 115 worn-out steps of the lighthouse and engross yourself in the rich history and storytelling that takes place by members of the friendly team. Meet a life sized hologram of St. Dubhán, a monk who tells the stories of the perishing nights spent with fellow monks in the 5th century warning against the dangers with a beacon they kept alight on the headland. We don't want to ruin the experience for those enthusiastic to visit but there's so much more to discover and more!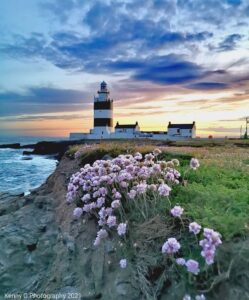 Book >>here<<
While we cant predict the weather we can tell you all about this years Spiegeltent festival. You will see acts like The Corona's, Jenny Greene, The Waterboys, and Green Road perform while John Bishop will light the tent with laughter and Keith Barry performs Mind Games. If that's not enough, hilarious duo Ellie Kelly and Charleen Murphy will take the stage with their Live Hold My Drink podcast and Neil Delamere craics everyone up with his show Neil by Mouth. That's not it, there's so much more!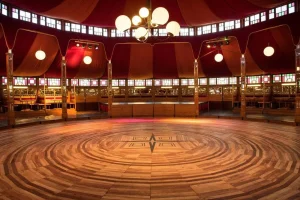 Book >>here<<
No matter the weather, take a tour of the Dunbrody Famine ship above or below deck. Based in New Ross, this is one of the historical monuments in the county that you do not want to miss out on. It is a reproduction of the 1840's emigrant vessel, providing a world class interpretation of an emigrant experience. The tour is wheelchair and buggy accessible, as well as pet-friendly. The Dunbrody Visitor Centre houses a charming river-view restaurant and the Irish America Hall of Fame where you'll transport back to that harrowing time in the 1840's. It's definitely an experience not to be missed out on a rainy day!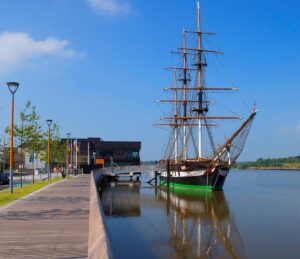 Book >>here<<
When the rain pours, Johnstown Castle has you covered. Head inside the Georgian mansion for a professional and informative visit. Take a guided tour, check out the educational exhibits, and grab a bite at the Peacock Tea Room – all without getting wet. Rain or shine, Johnstown Castle offers a seamless and well-organized visitor experience, blending history and comfort in the heart of the Irish countryside.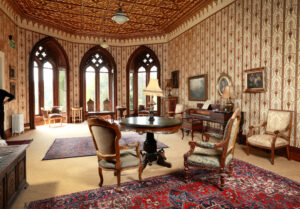 Book >>here<<
On a rainy day, the Kennedy Homestead offers visitors a unique and educational indoor experience. Explore the fascinating history of the Kennedy family, including the life of President John F. Kennedy's ancestors, through informative exhibits and engaging multimedia presentations. The visitor center provides a comfortable and sheltered environment to delve into the legacy of this iconic American family. With interactive displays, historical artifacts, and gripping storytelling, the Kennedy Homestead ensures an enriching and dry visit, making it an ideal destination for those seeking to learn about the remarkable heritage of the Kennedys, even when the weather is less than ideal.
Book >>here<<
Solas Croi Eco Spa is all about offering visitors a peaceful escape for relaxation. Located in New Ross, this spa has a variety of treatments, from massages to facials, to help you unwind and feel refreshed. They've created a calming atmosphere, complete with a salt grotto and cozy relaxation rooms, all designed to promote wellness and relaxation. With a commitment to being eco-friendly and a strong connection to nature, Solas Croi Eco Spa is a great place to recharge and find some tranquility.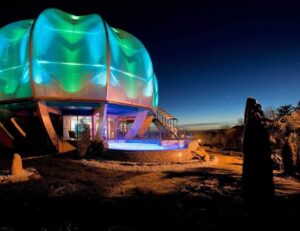 Book >>here<<
When the weather takes a turn for the worse, Movies @ Gorey becomes your haven of entertainment. Inside, you'll find all the ingredients for a relaxing and enjoyable time. They've got the latest films on top-notch screens, comfy seats, and a number of options to choose from. They offer a variety of deals for tickets and snacks. What more could you ask for?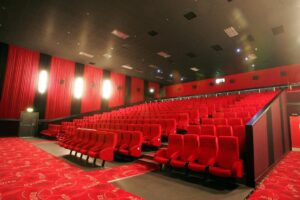 Book >>here<<
Wexford Arts Centre is a lively cultural hub located in Wexford Town. It's a place where people come together to enjoy and engage with various forms of art and creativity. The center hosts a wide range of events, including art exhibitions, live performances, and workshops. Whether you're an art lover, a theater enthusiast, or just looking for some cultural experiences, Wexford Arts Centre is a welcoming space where you can immerse yourself in the local arts scene and explore your creative side.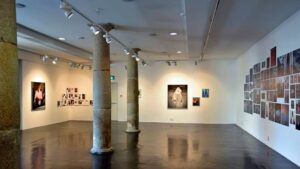 Book >>here<<
Playzone in Wexford is a lively and family-friendly indoor play and activity center. It offers a fun-filled and safe environment where children can let their imaginations run wild and burn off energy through a variety of exciting play structures, slides, climbing walls, and more. With dedicated play zones for different age groups, Playzone caters to both younger children and older kids, ensuring that everyone has a fantastic time. Parents can relax in the on-site cafe while keeping an eye on their little ones. It's the perfect place for your children to spend a rainy day!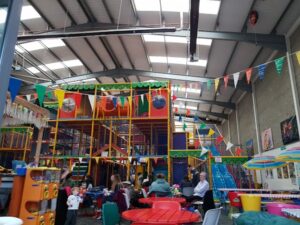 So, what are you waiting for? 
No matter what the weather, Wexford is still the place to make memories this autumn!
Check out more of what you can do in Wexford on the following links:
Click here to see where you can eat & drink when in Wexford
Click here to see where you can stay when in Wexford
Click here to see more of 'What's On' when in Wexford
Feel the spirit of Wexford this autumn
#FindyourJoy