Self-catering Breaks, Glamping Wexford & Camping Breaks
Making #WexfordMemories with Self-Catering Breaks
Looking to make some #WexfordMemories?
If so, get away with loved ones and #KeepDiscovering our corner of Ireland's Ancient East with a self-catering getaway to remember! 
This week's #TravelTuesday Tip: Some things certainly worth bringing on your next self-catering or camping stay include fun board games, challenging puzzles, a cocktail shaker perhaps, and those all important tea bags that will also come in handy for the perfect cup of tea!  Always check what your accommodation offers before your trip to ensure you don't leave the house unprepared!
We've gathered a list of the best self-catering, glamping and camping options in County Wexford waiting to be discovered. So, make #WexfordMemories this Autumn and see what the sunny south east has to offer with VisitWexford.ie
Book >>here<<
There's no doubt that Brambles is the perfect spot for an autumn break this year to take in all of Wexford has to offer in its rustic blanket. Brambles is a self contained unit that is just as charming as its name suggests. Their self catering accommodation is a popular choice for those seeking family or friend breaks in Ireland, or wedding guests in the area.
This unique home away from home offers you the perfect space to enjoy a family staycation or is ideal when attending a local wedding or event. Brambles self-catering option is a delightful four bedroom accommodation that can sleep up to a maximum of eight guests. With a private lawn area and courtyard perfect for alfresco dining, this accommodation provides an alternate option to enjoy with family, friends and loved ones.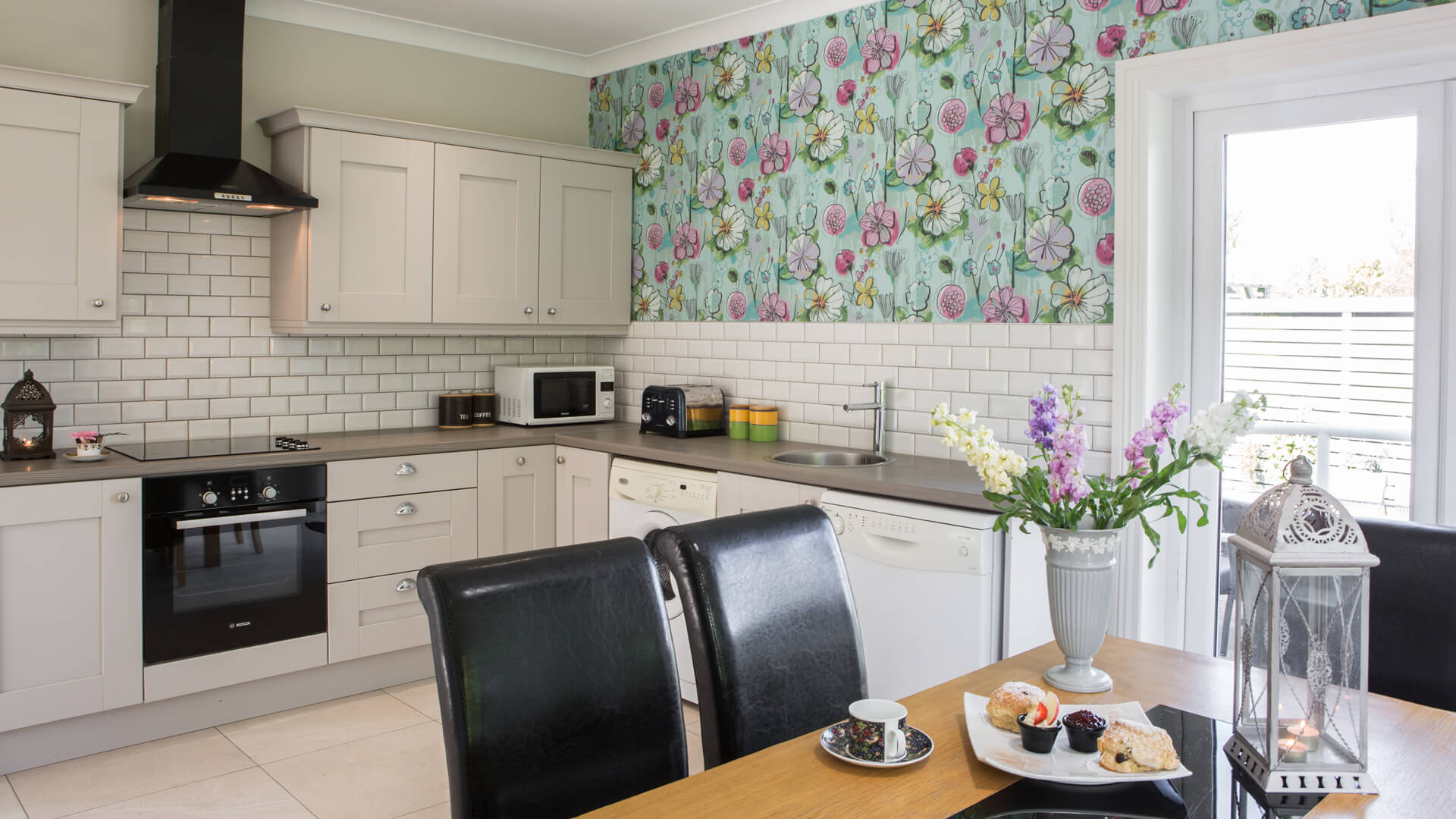 © Brambles Self Catering
Book >>here<<
Upton Court's tastefully decorated, spacious, Fáilte Ireland approved 4-Star holiday cottages are just minutes from Morriscastle beach and a short distance from a range of discounted amenities which is ideally situated for your break in Wexford this autumn. Located in the landscaped gardens of the Upton Court Hotel and Seán Óg's Traditional Irish Bar, you can enjoy a fully furnished self-catering 'home away from home' experience with the luxury of tasty food, drinks, live music and children's entertainment on your doorstep. There's 7 or 9 pax cottages available for your autumnal self-catering stay away this year.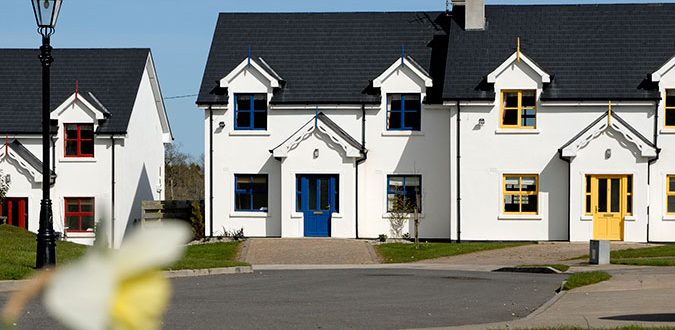 © Upton Court Hotel Cottages
Book >>here<<
Talbot Suites at Stonebridge is the sixth addition to The Talbot Collection and the only self-catering property located in the heart of Wexford Town, 100 metres from the Talbot Hotel Wexford, located in the cornerstone of Ireland's Ancient East. It's centred in the heart of Wexford's history and heritage, activities and adventures and so much more to get you through your autumn getaway this year.
Talbot Suites at Stonebridge is a unique property featuring 69 self-catering apartments ideal for luxury family holiday breaks, couples getaways executive stays or season getaways. It features a mixture of one, two and three bedroom apartments over 4 floors in a town centre location with a choice of sea views over the stunning River Slaney or internal courtyard views. Guests will also have direct access to complimentary secure car parking. Each of our self-catering apartments are finished to the highest standard and include floor to ceiling windows, a high-gloss fully equipped kitchen, TVs in all living areas and bedrooms, access to its own balcony, gas central heating and complimentary WiFi.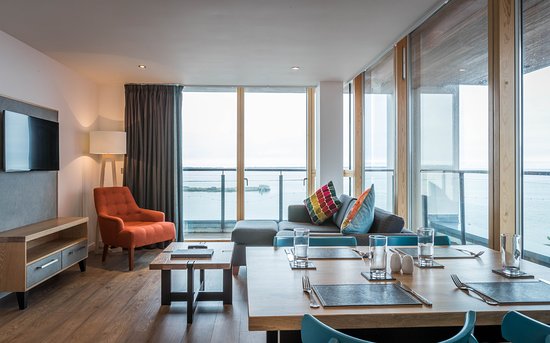 © Tripadvisor
Book >>here<<
Set on the amazing Hook Peninsula, the anchor of Ireland's Ancient East, Hookless Holiday Homes are the perfect location to explore the very best that Ireland has to offer during these cooler autumn, winter months.  Within minutes of Hook Lighthouse and Loftus Hall, it is only 2 hours from Dublin and within 1 hour of Wexford, Waterford & Kilkenny where you will find Viking & Norman heritage everywhere, you look.
The Hook Peninsula is also perfect for the more adventurous this autumn with sea kayaking, kite surfing and coasteering to name just a few of the many activities on our doorstep. Boasting panoramic sea views, Hookless Self-Catering Holiday Homes in the South East are the perfect location for your family, group, or intimate break away as you make #WexfordMemories. Situated on a private 5-acre site, they offer seclusion while being in a village setting.  Only a short walk from Sandeel bay where you can take a dip in the sea, explore the rock pools or simply enjoy the peace & tranquility of one of Ireland's best kept secret beaches as the autumn breeze makes you feel cosy and grateful for Ireland in every season.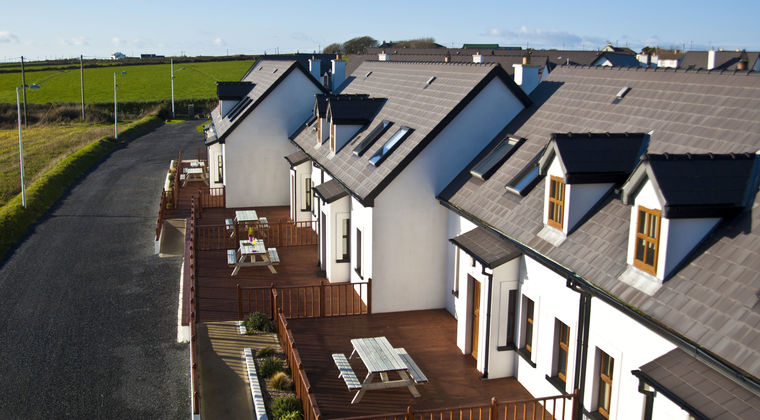 © Hookless Holiday Homes
Book >>here<<
This pretty Georgian house at Kilmokea House & Gardens overlooks a stunning walled garden and on to the river Barrow and beyond. The perfect destination for an autumn getaway as Wexford becomes painted in it's beautiful autumn blanket. Kilmokea offers a slice of Heaven in the heart of County Wexford's countryside.
The Coach House accommodates 9 guests, while the ground floor contains a large drawing room/kitchen with a wonderfully high vaulted ceiling housing the Minstrel's Gallery. It has a modern kitchen which is equipped to the highest standards with electric cooker, microwave, dishwasher, fridge/freezer, washing machine and tumble dryer. Upstairs there's two large bedrooms, the 'Orchard' room with a double bed and two single beds, an en-suite bath and shower room and 'the Tulip Suite' a large master bedroom with a king-size double bed and en-suite bath and shower room. A set of double doors leads you into a triple bedroom looking out over the walled gardens. 
The Garden Suite converted from the original Granary, accommodates 4 guests and offers guests an attractive first-floor self-catering apartment with views of the Italianette Garden through a large rose window, the perfect spot this autumn. The apartment has a large Kitchen/Dining, Drawing room with a high beamed ceiling. The kitchen is modern, equipped to the highest standards with electric cooker, microwave, dishwasher and fridge/freezer. Two individually styled bedrooms with bath and shower ensuite offer attractive views of the Walled Gardens at Kilmokea. The 'Iris' master bedroom has a bay window looking out over the Iris and Rose quarter garden. The 'Clemitis' twin room looks out towards the 'Peacock Topiary' at the top of the main drive.
When renting either the Coach House or Garden Suite you can all use the indoor heated pool from April, tennis court, croquet lawn and Gym complementarily as part of your rental.
You have private use of the Orchard for your barbecue and access to seven acres of heritage gardens. You also have the opportunity of reserving a table for dinner in the dining room of the main house or lunch in the garden conservatory during your stay.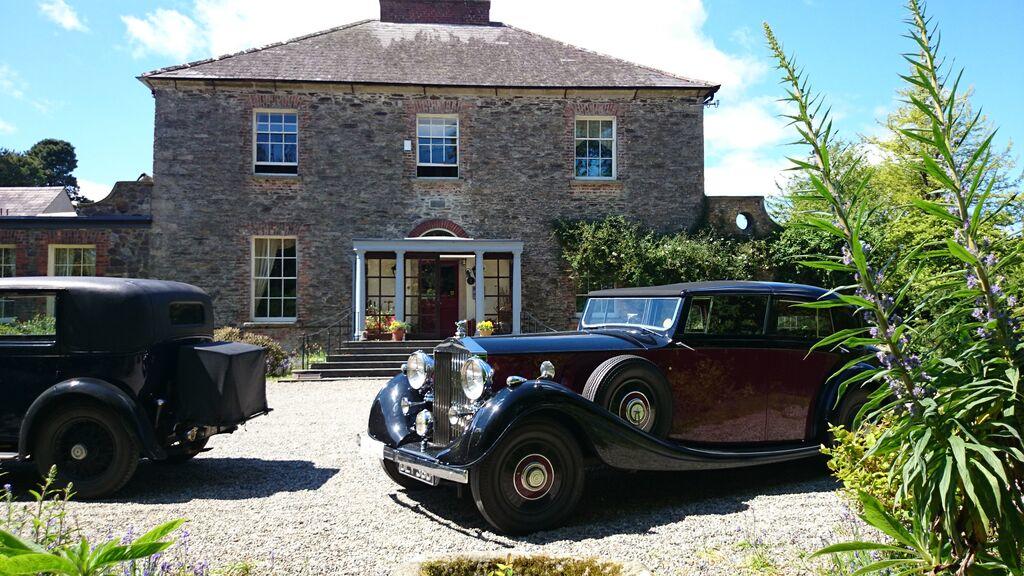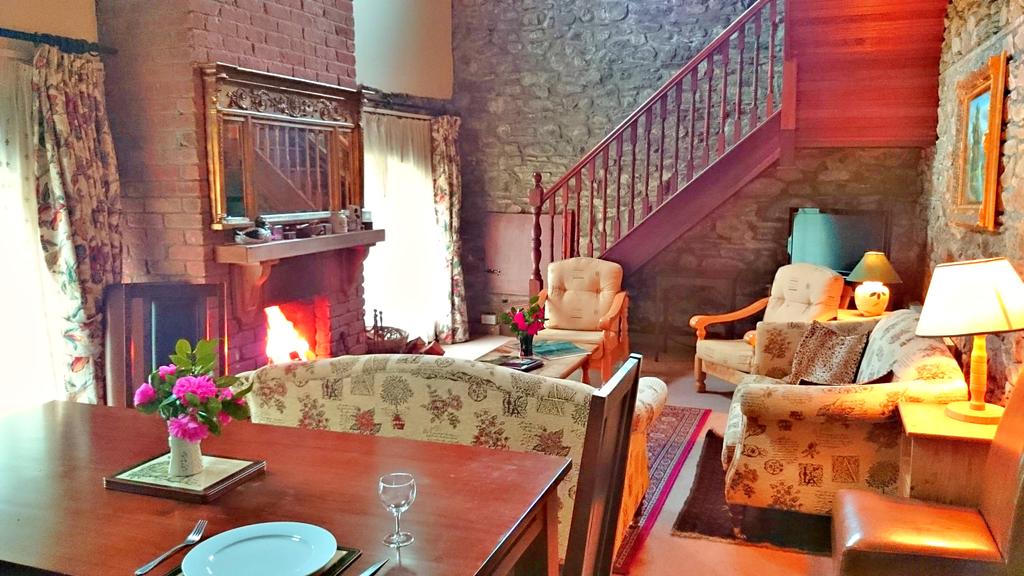 Book >>here<<
Looking for a warm welcome and a comfortable stay in a traditional Irish cottage setting our quaint cottages at the Old Deanery is the venue for your group. In the courtyard of The Old Deanery we have converted the original stone stables to cosy country cottages.
The enchanting cottages in Wexford recapture the charm of bygone days of Ireland with a farmyard theme.
All holiday cottages at  The Old Deanery Estate have open plan living / kitchen area, fully equipped with cooker, fridge, microwave, dishwasher etc., TV, oil fired central heating and open log fires. All accommodation is non-smoking and child friendly. One cottage is wheelchair friendly. Sorry, no pet policy.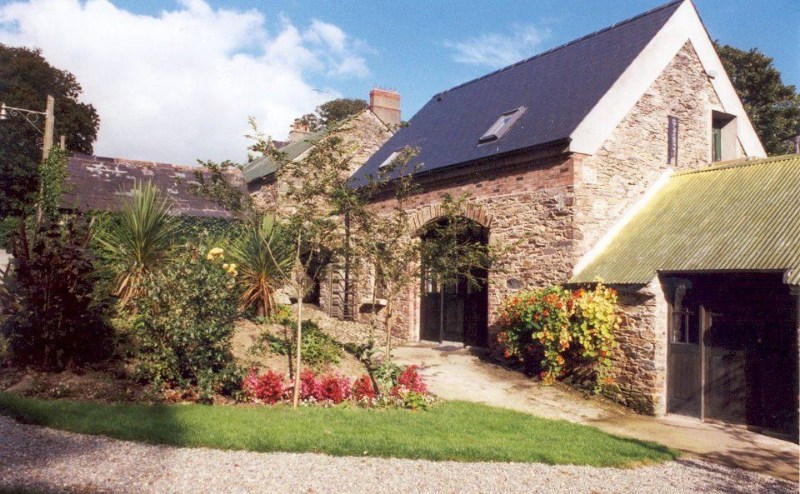 © Fivestar.ie
Book >>here<<
Within the Wells House estate is a cosy courtyard, built in the 1600s. This accommodation is quaint with character and an abundance of history, they have now opened the once, working yard as self-catering cottages to continue its story. 
The accommodation consists of four  cottages; The Pump House, The Dairy, Molly's & Mogue's are named after their original uses and tenants from the 1800s. They have been restored to deliver an authentic, country feel with wood-burning stoves, loft bedrooms and self-catering kitchens.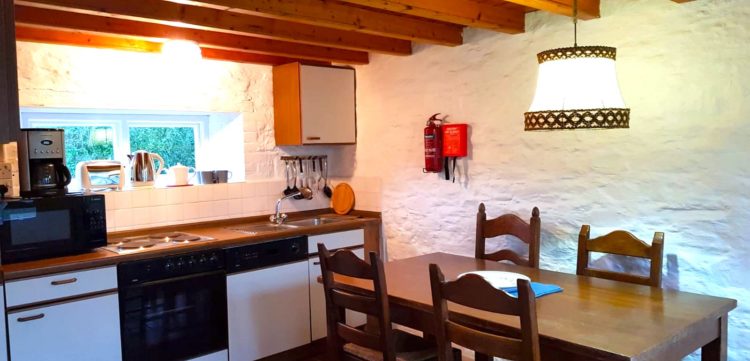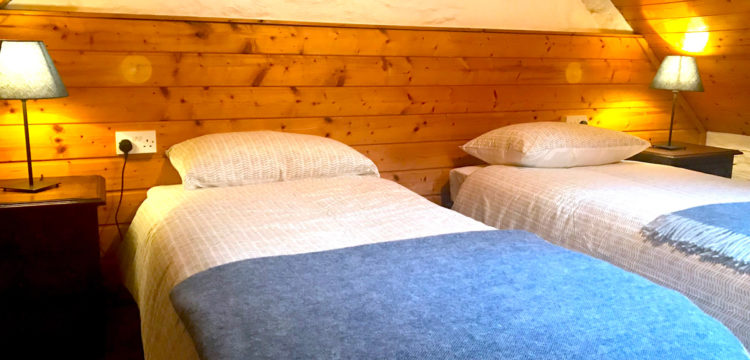 © The Courtyard at Wells
Book >>here<<
Relax and unwind in a luxury self-catering cottage in Rosegarland Estate. The cottages, which were newly opened in 2014 are located in converted stone cut farm buildings in a picturesque court yard in the main farmyard. All the cottages are registered with Failte Ireland (the Irish Tourist Board) and have been awarded a 4 star rating. Old world Victorian charm has been combined with modern day luxury.
There is a large enclosed patio area to the rear of each house with garden furniture. An enclosed childrens' play area can be accessed from the patio areas. Younger visitors will also enjoy the fairy village in the woods.  Guests can also sit in the main garden in the Court Yard which features an old stone well in the centre. Barbeques can be enjoyed in the main Courtyard garden.
Visitors have the choice of cooking for themselves in the superbly equipped bespoke kitchen or ordering a cordon bleu meal from our chef. A wide variety of organic vegetables and fruit grown in the estate's garden are available for purchase. A welcome pack of seasonal produce is provided for guests on arrival. Visitors can enjoy a game of pool, rings or darts in the games room. A boot house is also provided for guests to leave their boots to dry in. There is a strict no smoking policy for all the cottages and no pets are allowed as this is a working farm.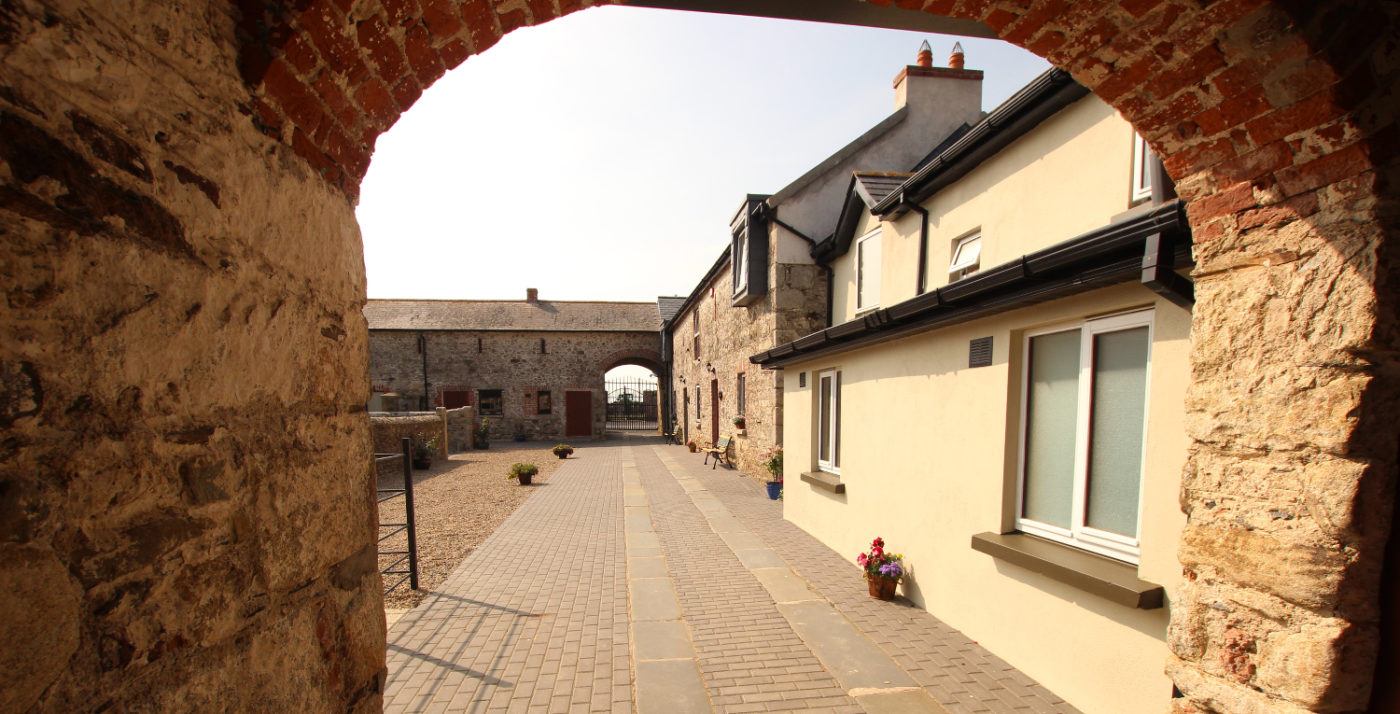 © Rosegarland Estate
Book >>here<<
Wilton Castle has four suites which are available as self-catering or on a bed & breakfast basis. Decorated and furnished with a timeless appeal, each suite has its own kitchen and sitting room with a working fireplace. Named after four families who have resided at Wilton over the years, the Butler Suite, Furlong suite, Alcock Suite and the Thornhill Suite are finished to a very high standard with delicate wallpaper, dark wooden floorboards and heritage colours throughout.
The Thornhill Suite is also on the first floor and is a three bedroom apartment, one bedroom en-suite. Perfect for family or group holidays

The Alcock Suite, on the ground floor is a two bedroom apartment with doors leading out onto the terrace and one bedroom en-suite.

The Furlong Suite is a one bedroom apartment also on the ground floor has a beautiful wet room with an original exposed stone wall feature.

The Butler Suite is on the first floor and is a one bedroom apartment which lends itself to a bridal suite with luxury furnishings and a bathroom in the castle's tower.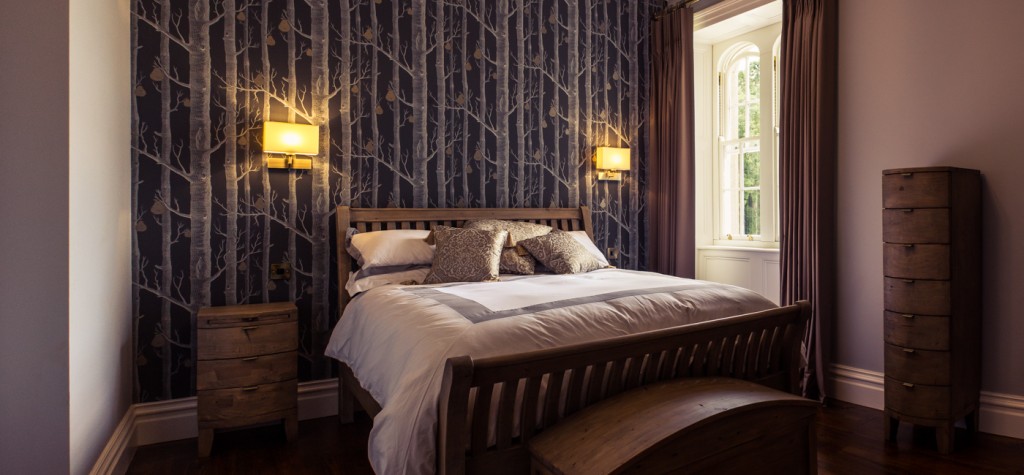 © Wilton Castle
View more >>here<<
Ideal location for a quiet, relaxing break or active family holiday this autumn, this traditional style, cosy, detached cottage on the unspoilt, picturesque Hook Peninsula in the sunny south east of Ireland and furnished to a very high standard.
Three bedrooms: Ground floor Super King Size bed, en-suite. Upstairs, one has one double and single bed and the other double bed. Separate Bathroom & Shower upstairs. Sleeps 6/7 adults. A travel cot, two stair-gates and high-chair are available at no extra charge. Bright and airy open-plan lounge/dining area with double glazed, south-facing conservatory opening onto private furnished decking, fully enclosed making it safe for toddlers or a small dog.
Living area bathed in sunlight to provide natural heat with storage/electric heaters and open fire to supplement. Fully equipped (dishwasher, washer/dryer, SatelliteTV/DVD etc). Bedlinen and towels provided.
On-site facilities include tennis court, five-a-side astro-turf pitch, children's playground and communal BBQ. Less than 5 minutes walk from the beautiful secluded Sandeel Bay beach, with 14 other beaches within a very short drive.
The Hook Peninsula is steeped in history and is renowned for its unspoiled and unique landscape, it's watersports activities, and of course the historic Hook Lighthouse, as well as many castles, abbeys and places of interest. Various outdoor activities can be organised locally.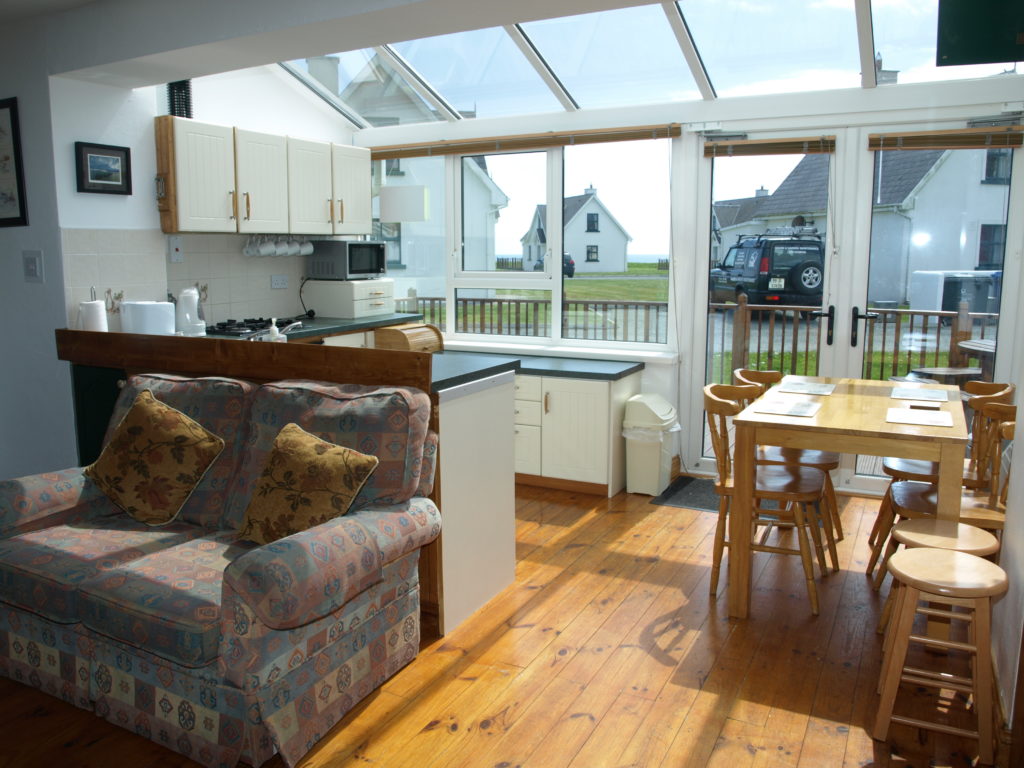 © Sandeel Bay Cottages
Fairways
Call 0873912592 to find out more or see more >>here<<
Fairways is a beautiful 3 bed cottage, ideally set in the heart of St. Helen's Bay Golf Resort which is the perfect chance to fit a golf trip for the guys in this autumn. With both the golf house and stunning beach (which has been awarded the Green Coast Award) within 90 yards of the property. The accommodation layout of the home consists of a master bedroom with a newly renovated en suite, 2 large twin rooms, bathroom and a very spacious kitchen/living area which has the added bonus of a lovely sea view.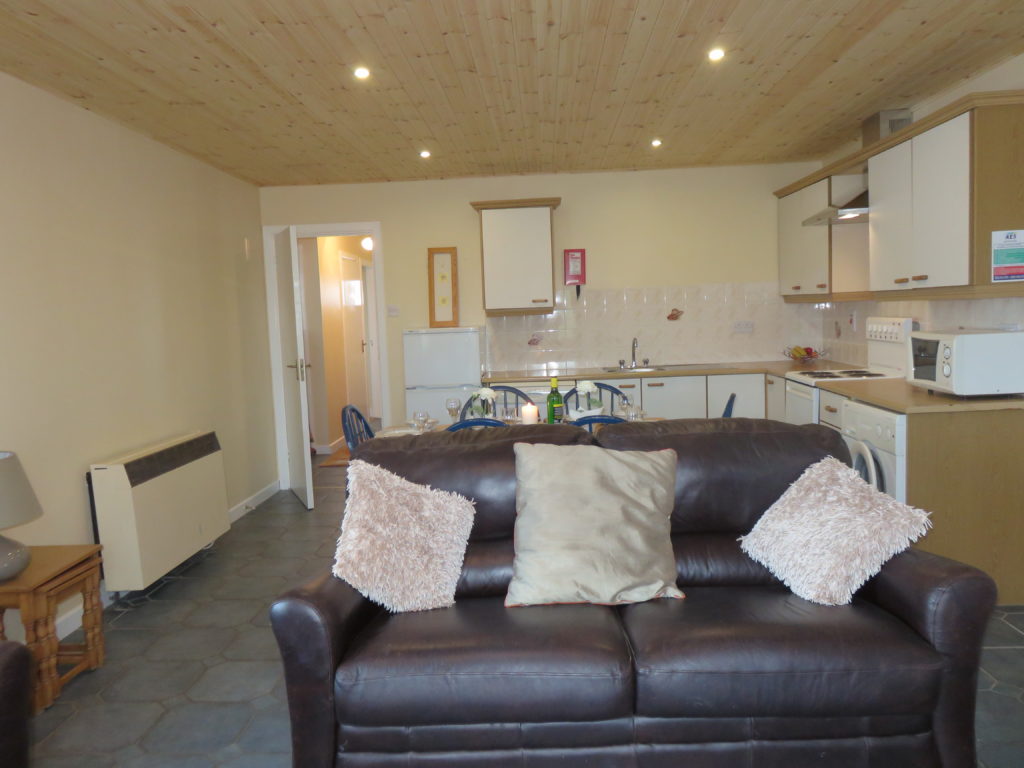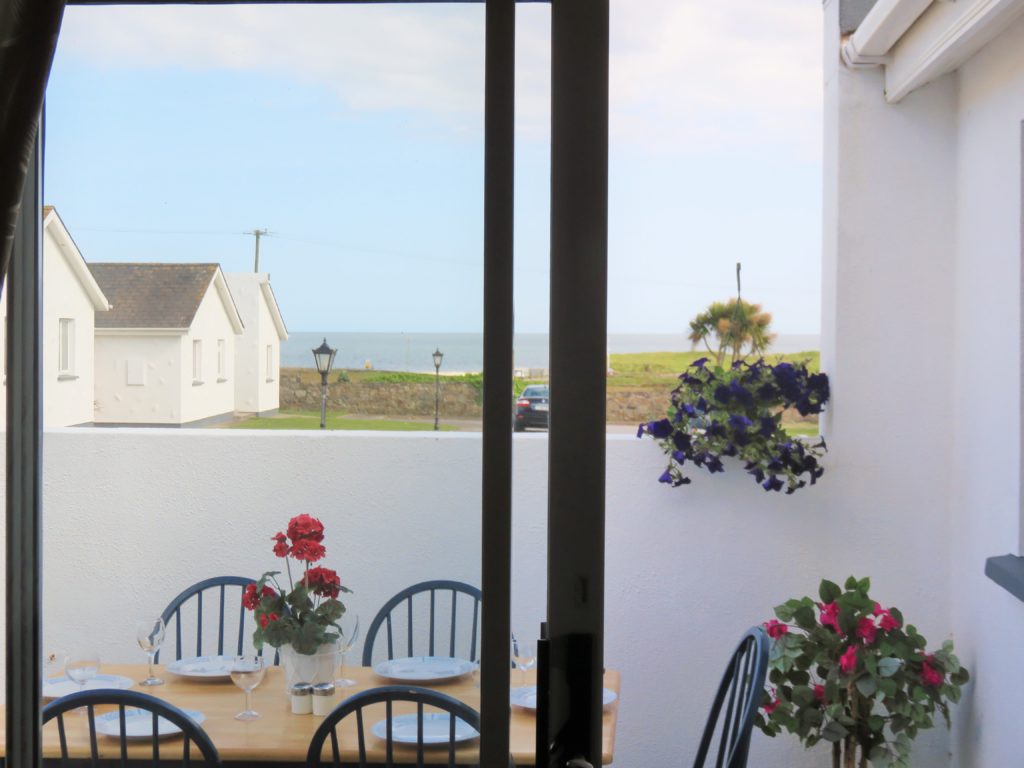 © Fairways
Book >>here<<
A super holiday bungalow within a gated development that sleeps six (in three seperate bedrooms) set just minutes from Helens Bay golf resort and a long sandy beach (7 min walk away). Open fire in the living room with satellite TV/video. House features a large sun-room with cane furniture which catches sun from early morning and opens out to a sheltered south-facing patio. Sun-room is the room guests are drawn to where you can relax and read a book as the room absorbs heat from the available sun. Some guests have loved its wealth of light and spent their holiday painting and sketching.
Sun chairs are provided for relaxing on the patio as is a picnic table. All accommodation is on the ground floor. Plenty of shared green area with kids playground, tennis courts, basketball and 18 hole championship golf course all on site giving our visitors to Wexford the ideal place to staycation this autumn.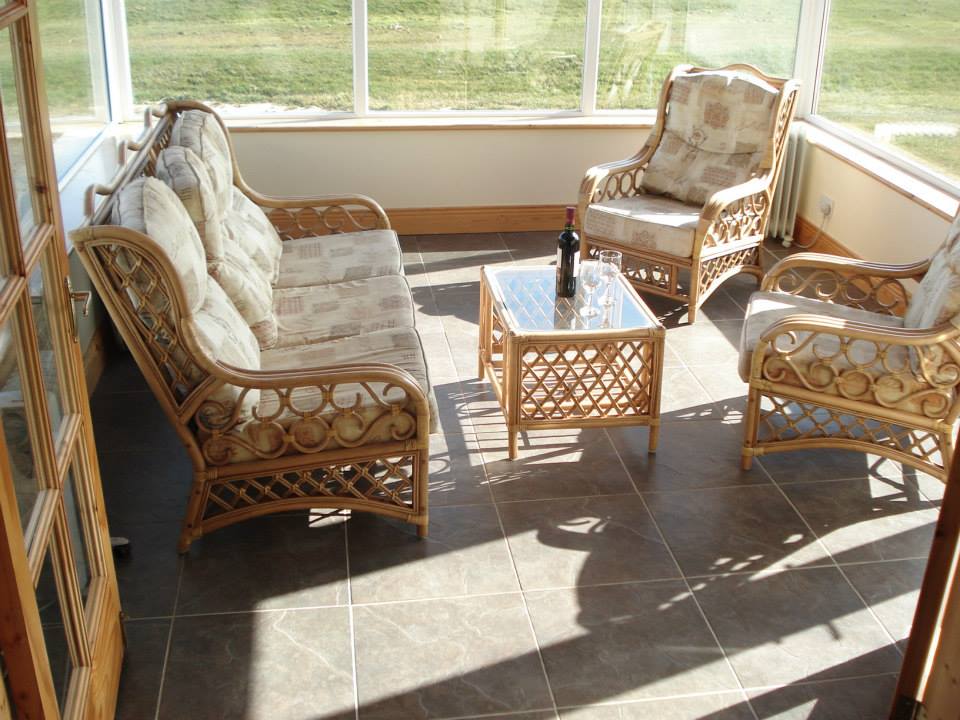 © St Helen's Beach Holiday House
Book >>here<<
Seaview is a lovely, bright cottage-style holiday home with stunning ocean views. The house is situated just yards from beautiful golden beaches and in the heart of the ever popular St Helens Bay Resort – a mere 100 meters from the 1st Tee.
Wonderful wildlife abounds – watch out for seals, or dolphins, more commonly seen in the surrounding fields are, horses, cows, sheep and donkeys. Plenty of interesting bird life too including some local herons!  It's the perfect location to get out and about for an autumnal walk as you step on crunchy leaves and wrap up cosy to take in all of the rustic colours blanketed across Wexford. The ever changing seascapes with many ships passing en – route to Rosslare port can be viewed from the comfort of the sunroom or deck. Sunrises and sunsets are often stunningly colourful and sea reflections enhance their beauty.
The Resort incorporates an 18 hole championship *golf course, children's playground, football pitches, tennis and basketball courts and has direct access to miles of wonderful beaches. Great walkways and an *the equestrian centre nearby makes the resort a very popular holiday destination for families, friends, societies and couples alike.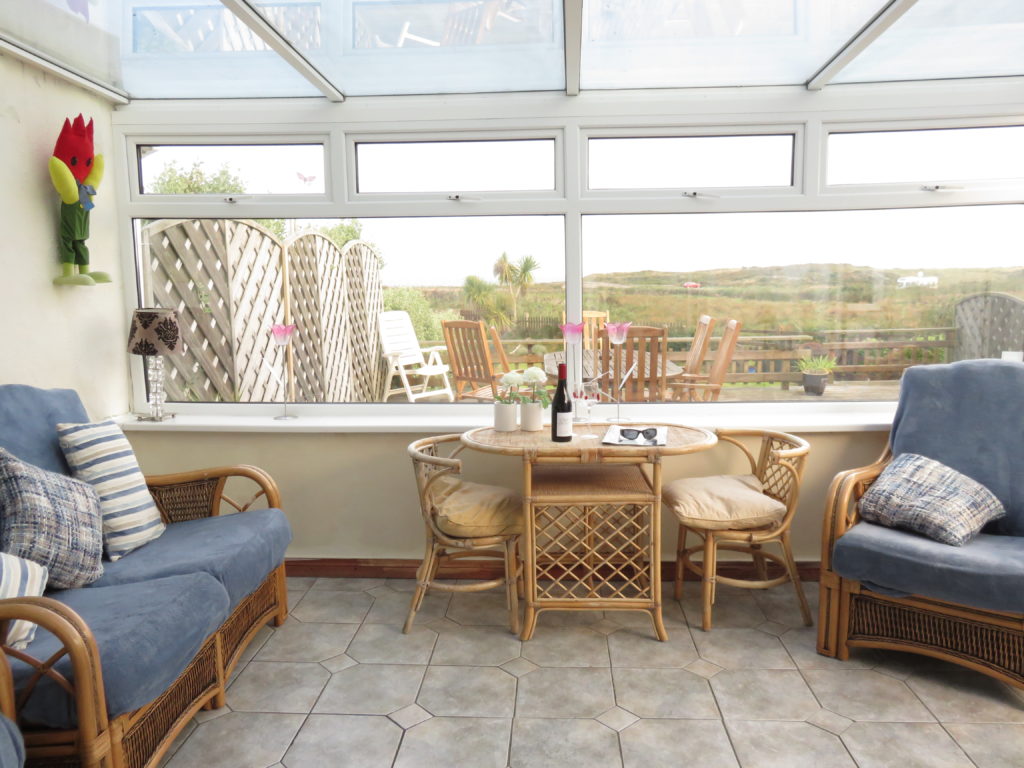 © Seaview Cottage
Email graquinn@gmail.com or +353 (0)87 2114255 or see more >>here<<
Detached stone cottage situated beside working farm on a quiet country road, within walking distance of Grange beach with fine sea views of Bannow bay and the Saltee Islands. The village of Fethard-on-Sea is about 2km away for nearest pub, restaurant and shop. The Hook peninsula has numerous beaches, ideal for swimming and snorkelling deep sea angling and bird watching. It might be a bit breezy and cool this autumn so be sure to wrap up and bring plenty of layers to one of Wexford's lovely beaches.
Inside: Well furnished and equipped with kitchen/sitting/dining room with wood burning stove, electric shower and W.C. and two bedrooms, one with a double and one with a set of bunks and a single. Oil fired central heating. Washing machine, Microwave, Freezer Television (Free to Air). Garden with picnic table. No pets or smoking please.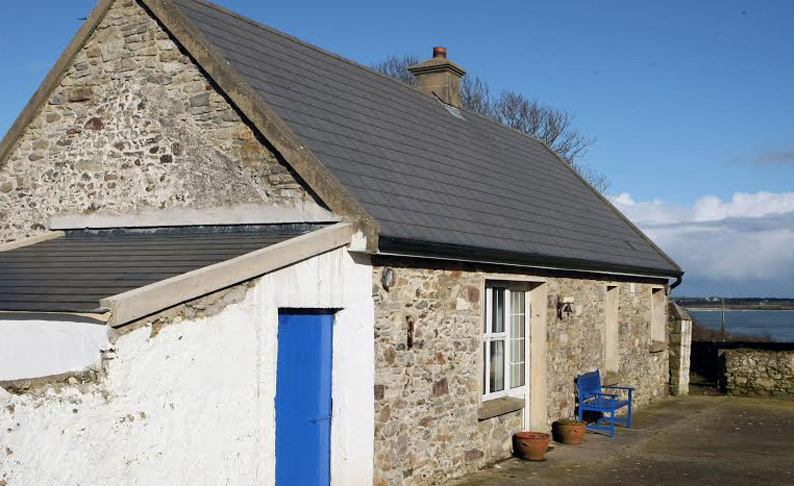 © hookpeninsula.com
Book >>here<<
Originally built in the 1800's, Dairlylane Cottage is steeped with heritage and history. It was derelict when the owners decided to renovate and renew the North Wexford home.
Dairylane cottage is a beautiful self-catering accommodation nestled on a quiet lane at the foot of Mount Leinster conveniently located between Bunclody & Kiltealy. It has gorgeous views and greenery around it and it would be the perfect base for your staycation in County Wexford, with lots of beautiful places to explore at the doorstep. Get out and about as you get lost in nature this autumn, as we always say – Wexford is #BestForTrails!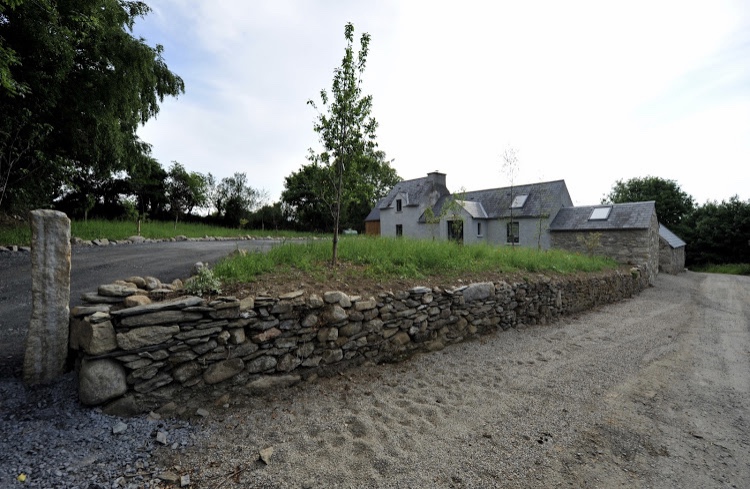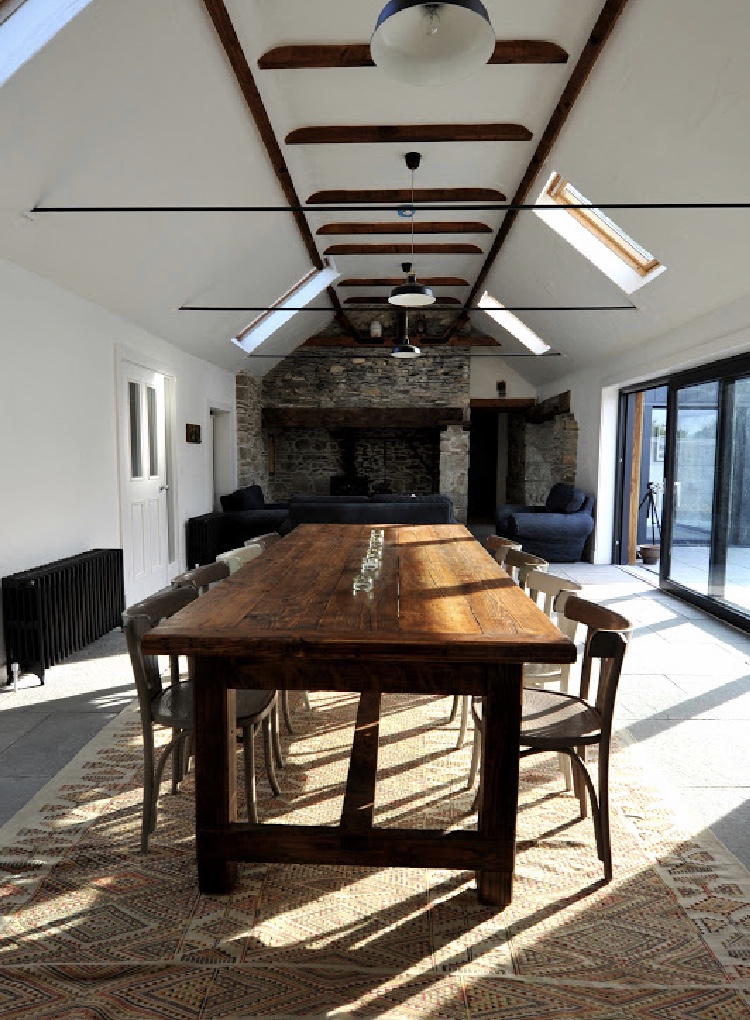 © Dairylane cottage
Book >>here<< or call on 0539130124 or email info@morriscastlestrand.com
Morriscastle Strand Touring, Glamping and Mobile home Holiday Park is located directly beside the blue flag beach of Morriscastle and one of the best spots to make #WexfordMemories. It is a multi award-winning holiday park offering the traditional summer seaside family holiday experience. With modern facilities and numerous activities and events throughout the peak season, Morriscastle is a family holiday park with your family in mind!
Inside the Pods they've designed the space to work for both families and couples with sleeping accommodation for a family unit of 2 adults and 3 children. In the back they've a full size double bed with a sleeper style single bunk up top, a bathroom with a toilet and wash hand basin and a wardrobe. Up front there is a double sofa bed & mini kitchen. In each of the Pods@Morriscastle, they provide a kettle, mini fridge, microwave, delph and cutlery. You do need to bring your own sheets, duvets/sleeping bags and pillows, tea-towels and towels. The Pods have great sea views and are the perfect place to unwind and listen to the sound of the waves.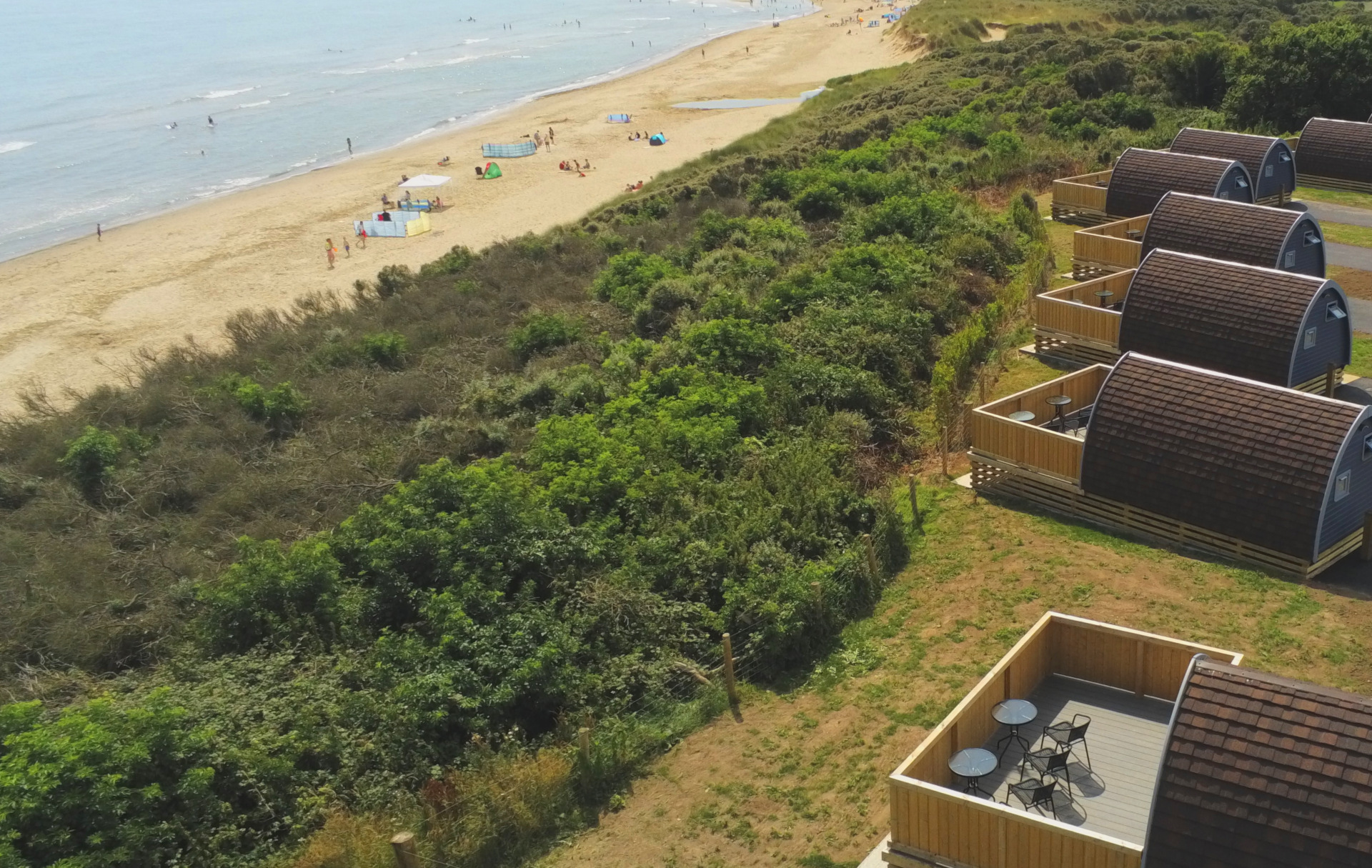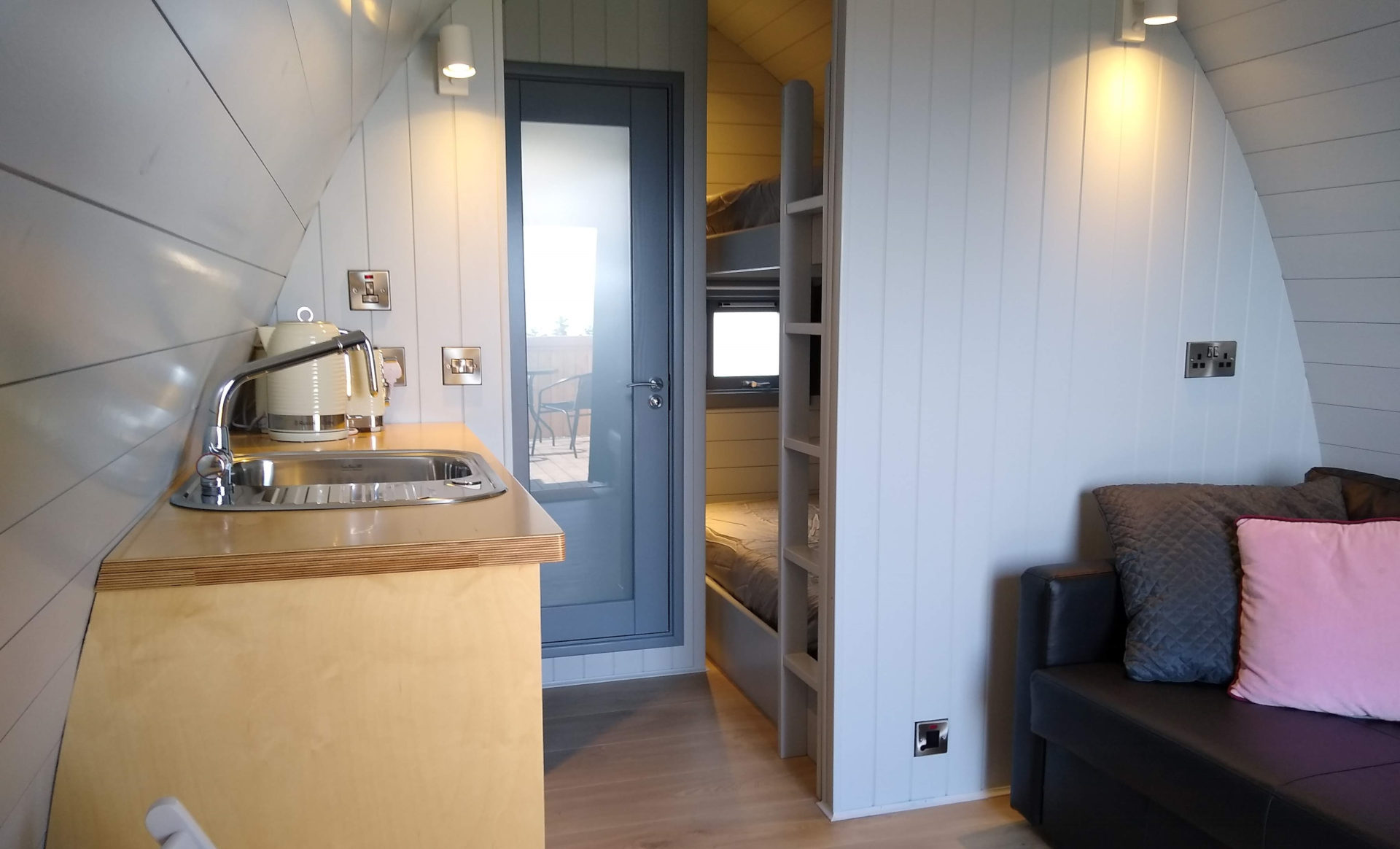 © Morriscastle Strand Glamping, Touring and Mobile Home Park
Book >>here<<
There are two glamping cabins on site by the playground in our park and are available for booking with a minimum two night stay. Each cabin sleeps up to five people and facilities include; a kitchenette with counter-top fridge, microwave, kettle etc. The outside decking area has a small gas barbeque and seating.  There's a WC in each of the cabins so with your own toilet and hand basin your stay is more comfortable than ever.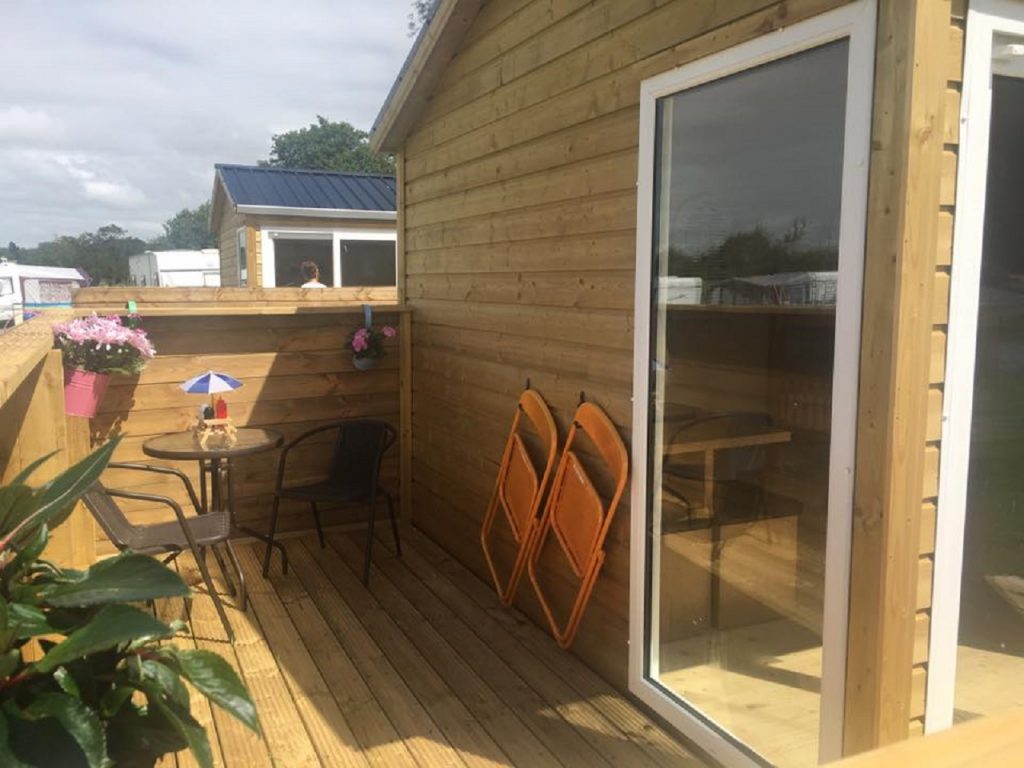 © Duncannon Glamping Cabins
Book >>here<<
The IOAC is a superbly kept campsite. It is 3 minutes from the ferry terminal at Rosslare making it ideal for overnight stops to or from the ferry. It is 15 mins from Wexford Town where you are spoiled for choice with restaurants, pubs and shops and only 2 hours from Dublin. This park is ideally situated to explore the beauty of the local coastline and Wexford's famous golden beaches and is in close proximity to a bar, restaurant and takeaway in the village of Tagoat.
It has 70 camping pitches and 14 hardstands all with access to power. There is also a bespoke Glamping Village with each of our heated Glamping tents boasting beds, duvets, fresh clean sheets and power points. Facilities include modern sanitation (including disabled showers and bathrooms), onsite shop with covered coffee dock and laundry. BBQs are permitted. As part of the campus it also has a designated Scout and Guide Campsite which is full of facilities including toilets and showers with a pot wash area and campfire.
Not only do they cater for all of your camping needs, but they also have their very own Outdoor Adventure Centre! Activities include High Ropes, Battlezone Archery, Airsoft, Archery and Kayaking or Raft building on a purpose-built Activity Lake.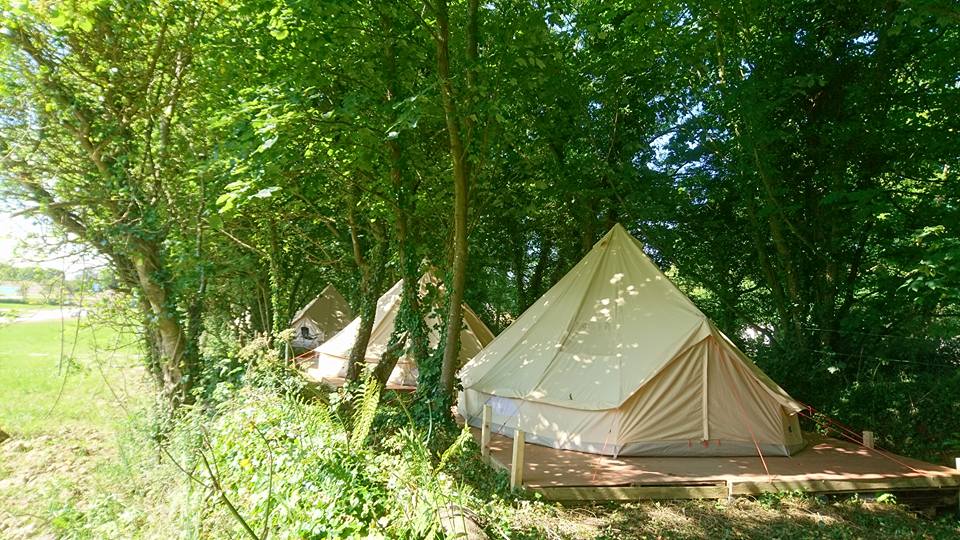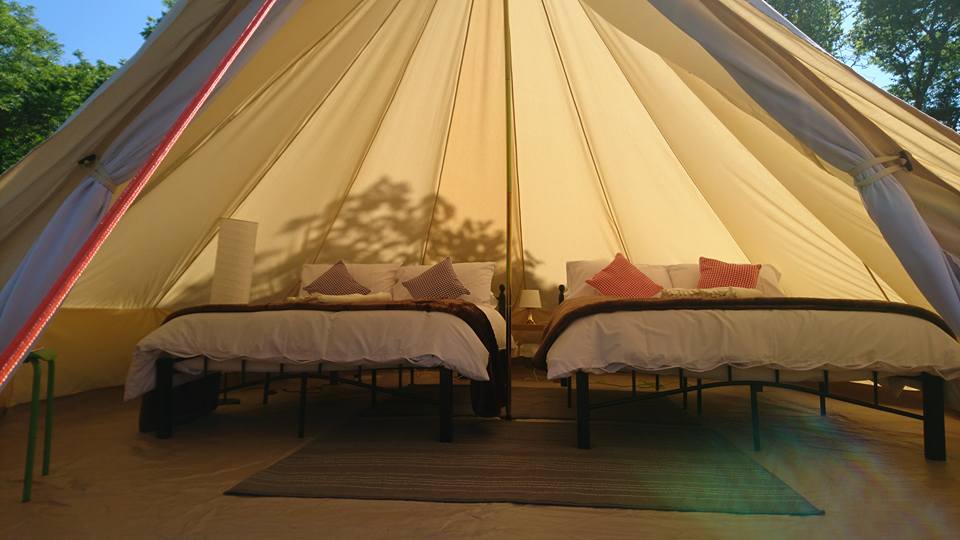 © IOAC (International Outdoor Adventure Centre)
Book >>here<<
A spectacular location as a base for touring the Sunny South East. It is open all year round and only 20km from Rosslare Europort, 1 km from Wexford Town and 4km from the National Routes, N11 & N25.
It is within 15 km of Wexford's Blue Flag Beaches as well as areas of heritage and natural beauty.It has spectacular views of Wexford town and Wexford Estuary, with views as far as Rosslare and Raven Point.
The site is well laid out and maintained to three star standards. It offers hardstanding, electric and water points, as well as areas for tents. It is a well equipped campers kitchen with gas hob, fridge, freezer, electric kettle and cooking utensils. Laundry onsite with washing machines and drier. The campers kitchen is adjacent to the recreation hall where campers can relax and dine in comfort. Private disabled shower and WC facilities.
Free WiFi is available throughout the park. You are welcome to avail of discounted admission prices to our swimming pool & gym. While staying in Ferrybank Caravan Park you can stroll across Wexford Bridge and you are in the heart of Wexford town.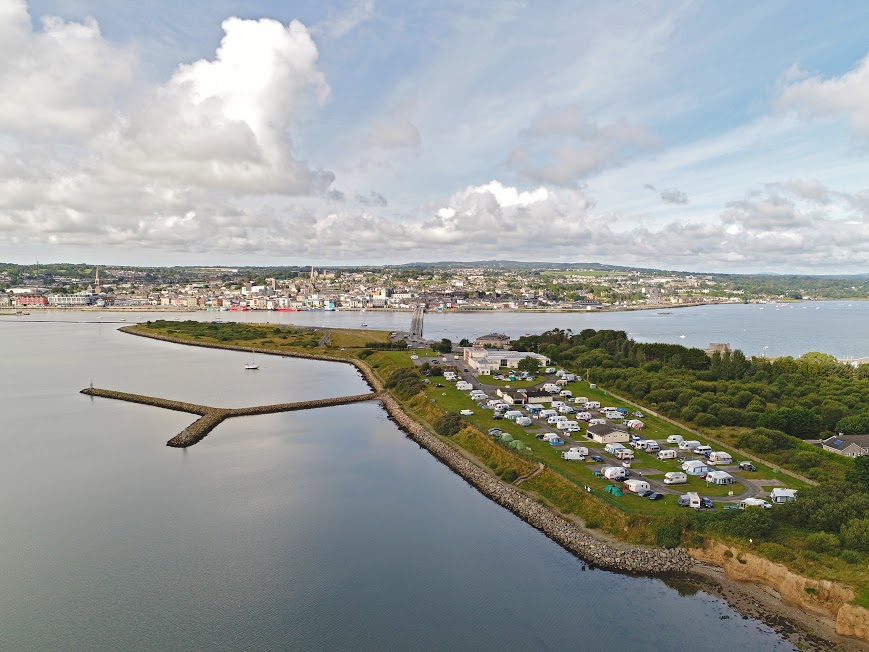 © Ferrybank Caravan and Camping Park
Book >>here<<
Ocean Island Caravan Park is set in the heart of the Hook Peninsula in Co Wexford. An area best known for its historic significance and its numerous beautiful sandy beaches with fishing and swimming.
Set in a tranquil rural setting our mobile home park is the ideal place for your next relaxing mobile home or camping break during autumn. Ocean Island Caravan Park operates to exacting standards of safety and comfort to all those who want a restful holiday away from the noise and bustle of busy roads it offers seclusion and relaxation. Having had over 30 years experience looking after the guests they feel they know exactly what the guests are looking for in their family holiday, that is why the customers have become friendly faces to them and many come back year after year.
Campers and tourers can enjoy a safe haven in their sheltered camping area, whilst a variety of mobile homes are available for sale or for hire.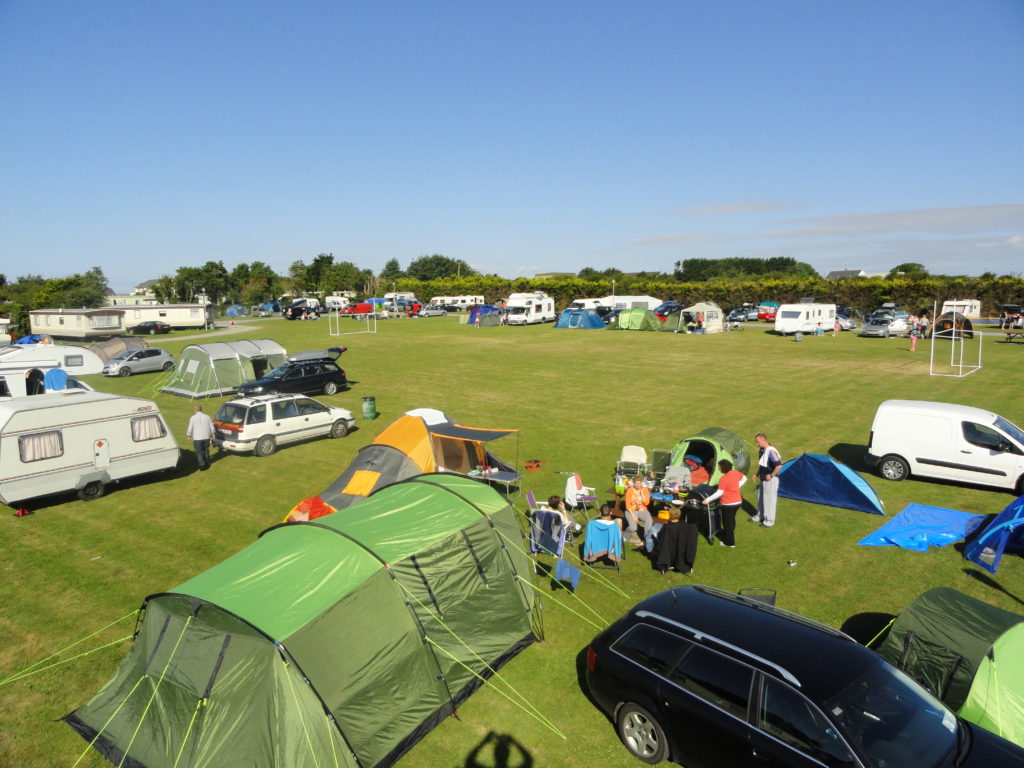 © Ocean Island Caravan Park
Book >>here<<
The Trading Post camper park is a family owned 4 star park set in rural Wexford. They have been welcoming visitors to Wexford for almost 20 years offering a 10% discount for two or more nights on arrival or departure from Ireland.
Located on the R741 just 14km from Wexford, 35km Rosslare, an ideal location for visiting Wexford's many attractions including Wells House just (10 min) or beautiful Curracloe beach (10 min).
 For walking enthusiasts there is a number of local trails starting from the park including Ireland's longest Geocache trail, wandering through an area steeped in 1798 history. We all know Wexford is #BestForTrails and especially during these beautifully crisp autumn months. There is facilities for disabled, a beautiful modern shower block, level hardstands for caravans or motorhomes and lots of grass for tents. The Trading Post service station and Café have all you will need for your visit.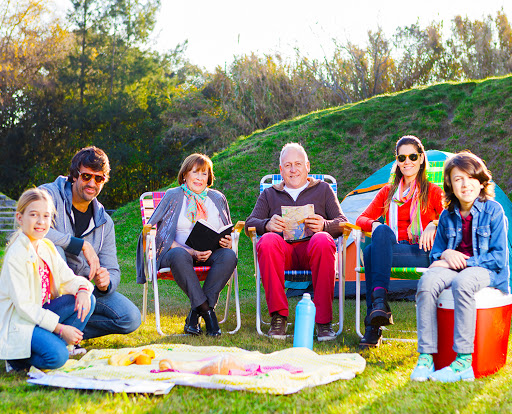 Make #WexfordMemories this autumn as you explore County Wexford and all that it has to offer – even when it rains, because let's be frank…
It may be the sunny south east, but it still rains in Ireland!
It's time for an unforgettable Autumn! Spend your autumn staycation discovering #IrelandsAncientEast and discover Wexford and everything our county has to offer.
All of that along with making unforgettable #WexfordMemories with loved ones!
Note: All prices listed are subject to availability and align with each establishment's website directly from today 1/9/2021.
Always remember to book direct for the best rates.