Self-Catering Accommodation for Your Holiday to Wexford
There are times when the idea of sharing a hotel room with small kids can be daunting. Hotel rooms may also be impractical if you are travelling as part of a group. Self-catering options offer a lot of advantages in situations like these.
Self-catering accommodation offers the feeling of a home away from home. It has all of the homely comforts you're used to, as well as the freedom to come and go as you please which is suitable for families and groups with flexible itineraries. The additional space a self-catering house or apartment can give you is always a bonus if you are travelling with family or a group. It gives everyone more breathing space than a hotel room. 
Most self-catering houses or apartments have fully-equipped kitchens with all the appliances you may need. It allows you to cook whatever you like whenever you like, so you can still have a hearty family meal without having to leave the comfort of the house or apartment. This is very advantageous for those who do not want to eat out in restaurants during every day of their stay. It also means that you can enjoy a lie-in rather than rush down to the hotel's breakfast buffet! You can cut down on your costs by preparing a picnic to bring with you when you're out and about.
Most hotels allow guests in their self-catering accommodation the access to many of their on-site facilities such as the bar, restaurant, leisure centre and kids club activities. Take a look below at some of the self-catering accommodation options on offer across County Wexford:
Kelly's has one self-catering house, Leinster Lodge, located directly across the road from the Hotel.
Leinster Lodge offers 6 luxurious shower ensuite bedrooms, all renovated to a nautical beach theme complete with TV, telephone and safe.
Leinster Lodge caters for a minimum of 8 adults and a maximum of 13 guests.
For more information visit: Leinster Lodge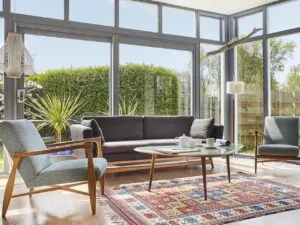 The newly renovated Brambles is a four-bed self-catering unit on the hotel grounds, it sleeps up to 8 and has a private terrace for outdoor dining.
Guests can use the hotel facilities including leisure centre and playground. 
For more information visit: Brambles self-catering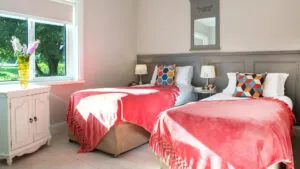 Recently renovated Duck Lodge is a luxurious contemporary two-bedroom cottage with minibars, open-plan kitchen and living area with open fire, multi-channel TV and Wi-Fi.
Room service menus from Marlfield House and The Duck Restaurant are offered your comfort and pleasure.
A fantastic way for friends or family to enjoy Marlfield, its grounds and restaurants and the surrounding area.
For more information visit: Duck Lodge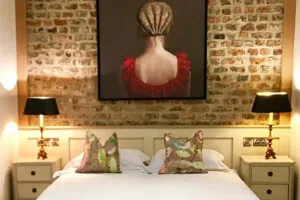 Talbot Suites at Stonebridge are 69 self-catering apartments ideal for luxury family holiday breaks, couples getaways executive stays or season getaways.
It features a mixture of one, two and three-bedroom apartments over 4 floors in the town centre location.
With a choice of sea views over the stunning River Slaney or internal courtyard views. Guests can use Talbot Leisure Centre.
For more information visit: Talbot Suites at Stonebridge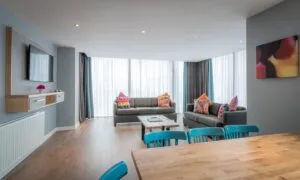 Refurbished in 2015 – Upton Court's tastefully decorated, spacious, Fáilte Ireland approved 4-Star holiday cottages are just minutes from Morriscastle beach.
The Cottages are tastefully decorated and very comfortably designed to suit all your needs to make your stay a 'home from home'.
Situated on the site of the hotel, they offer children's entertainment three nights a week during the summer.
Visit: Upton Court Cottages for more information.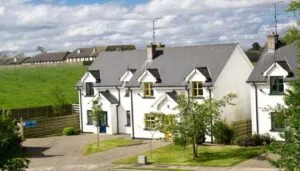 If you are travelling as a family, a group or even a solo traveller that loves their freedom, why not look at self-catering accommodation for your visit to Wexford? It has all the benefits of staying at a hotel but with more space, more flexibility and it is more budget-friendly.