The Great Saltee Island off Wexford is the summer residence to gannets, guillemots and gulls galore and the cute and cartoonish, chubby and clumsy puffins that come ashore to lay and hatch a single egg.  It is such a joy and buzz to get to view them up close – but not too close – in the wild.
I have long suspected that puffins and kingfisher birds do not actually exist.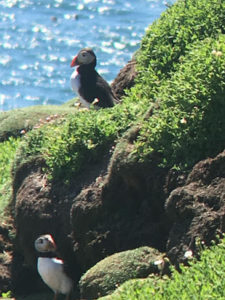 If I heard one more story of how I should have been here yesterday to see a kingfisher perched on the banks of a sheltered and secret spot on the River Barrow, I was sure to crack up. Award-winning photos of the elusive and expert turquoise feathered fisherman were more of an irritation than any reassurance.
Likewise, after years of promises-to-self to sort out the mystery of the seafaring puffin, this week I finally got to put the bucket list quest to see puffins during their short sojourn onshore, to the test.
Did the cute, chubby and clumsy cartoon-like puffin only exist as motifs on cushions, plates, thimbles and salt cellars, or do they really exist? Bobbing about out there in the wild Atlantic Ocean all winter long to come ashore and risking all just for the summer months to find a crag or burrow in some escarpment in which to lay and hatch a solitary egg before disappearing again to take their chances on the unforgiving brine rather than endure an hour more than necessary of landlubbers, however well-intentioned, with our cameras and binoculars.
There are a number of places in Ireland in which to observe the puffin when it comes onshore to breed between March and September, usually on sea stacks and cliff faces mainly along the west coast – the Skelligs and Puffin Island off the Kerry coast are renowned as are the Cliffs Of Moher in Clare, where the local Doolin2Aran Ferries sport the puffin image as their logo – are well-established summer residences for the pairing puffins, which mate for life, according to the textbooks.
Our own in-house expert Ricky Whelan of BirdWatch Ireland steered us towards the Great Saltee Island in Wexford for our family-friendly expedition. It was an inspired choice and an excursion that could not have gone any better. I was like an awestruck child with my first close-up-and-personal encounter with the intriguing puffins and am still on a buzz from the experience.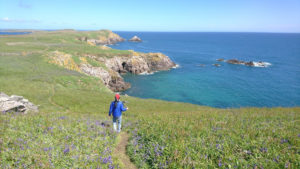 There are gulls, guillemots and gannets galore on the Great Saltee, but there are also pucks of puffins to view to your heart's content. We did so on a gloriously sunny Sunday without a cloud in the sky as Wexford lived up to its reputation on the sunny south-east, and we filled out boots.
In addition to its breeding seabirds, the Island has other breeding species such as oystercatcher, meadow pipits, skylarks and even pheasant. There is also a resident pair of ravens. Seals can be seen year-round also and there is an abundance of rabbits.
The Great Saltee is not the only bird watcher's paradise in Wexford as many other parts of the county are also for the birds. Other good birding sites are Lady's Island, Tacumshane Lake, The Slobs (Wexford Wildfowl Reserve) and Cahore Point. 
Our Lady's Island supports breeding common, arctic and sandwich terns as well as black-headed gulls. It's a great site for wintering waterbirds. Whilst Tacumshane Lake is a wetland site ideal for spotting scarce passage waders and rare vagrants. It's one of the best-known sites in Ireland for its bird assemblages and rarities. The area around Cahore gives good birdwatching options with occasional rarities showing up in the area, plenty of shorebirds and waterbirds in the nearby marshes. The Wexford Slobs is the host site of wintering geese species including the Greenland white-fronted goose and light-bellied Brent goose. The slobs are best visited in the winter.
Puffin populations are under threat, the reasons cited are poor recruitment of young due to lack of prey fish species caused by the shifting availability at adult foraging areas. Chicks, therefore, are not surviving to fledge so the overall population is in decline due to the lack of fish, caused by overfishing and climate change.
All the more reason for bird watching enthusiasts, expert and amateur, to ensure that they do not encroach, cause harm or disturbance to the breeding birds.
It is important also to note that the Great Saltee is a private island with public access at the discretion of the owner, via a local ferry company. There are zero facilities on the island, so vital to come prepared and properly equipped for the weather, with water and provisions. There is no jetty, so disembarking is a wet landing, with transfer by dinghy onto the rocky and seaweed slippery shoreline. Departure is from the harbour in Kilmore Quay, a village well worth a visit in its own right.
For this trip, we based ourselves in the centrally located Ferrybank Campsite in Wexford Town. The all-year-round campsite which is well managed as part of the Wexford Swimming Pool and Leisure Centre complex, is so convenient, safe, beside a leisure centre and small playground, overlooking the Slaney estuary and coastline.
Nearby is the smashing Riverbank House Hotel, where the staff were outstanding and we used it as a group breakfast rendezvous before heading off for the day. Just across the bridge are plenty of offerings and options among the vibrant Wexford hostelries including the Crown Bar and the Centenary Stores whether you're looking for food, refreshments or to catch some sport on TV, as we did for the European Rugby Cup Final to cheer on Leinster. The Yard restaurant was also a hive of activity, looked inviting and interesting, duly noted for the next time we are down.
No review of this fabulous trip would be complete without a mention of The Little Saltee Chipper in Kilmore Quay. The queue is out the door and the waiting time up to an hour, but well worth it for their delicious servings of haddock, monkfish and prawns and a killer portion of tasty chips from an extensive sit-down or take away menu. Worth going to Kilmore Quay on its own. Kilmore Quay has a designated campsite for touring caravans and campervans. Visit the Kilmore Quay Campsite's website for more information.
You could sit all day at the Great Saltee and watch the puffins, not least for their hilarious belly-flop landings as they much prefer to be at sea.
Credit: John Whelan (vanhalla.ie)