RECONNECT in Wexford
Wexford is a place where you can reconnect. With yourself, with nature and with ancient stories, along the Wexford-Pembrokeshire Pilgrim Way.
The ancient stories that link Ireland and Wales have been the inspiration for a new walking route that celebrates the  connection of these  Celtic lands.
The Wexford-Pembrokeshire Pilgrim Way is an ode to St David, patron saint of Wales and St Aidan of Ferns, Wexford. Now, you can follow in their footsteps. Hop on the ferry and cross the Irish Sea from Pembrokeshire to Wexford for a short break or to experience the whole route.
Wexford is a place to linger. Full of bold characters and friendly people. Ancient landscapes and tranquil walks. Spiritual places and holy wells. Bursting with vibrant culture and fascinating history, It's a place where the past and present meet in a wonderful melting pot of old and new.
Discover the sights and locations along the route by foot, car or bus.
Pilgrim Route Highlights in Wexford
Let your journey begin in tiny but mighty Ferns, the Ancient Capital of Leinster. Easily accessible from Gorey and Enniscorthy where there is excellent accommodation and places to eat to sustain your body as well as spirit. Ferns is the ancient capital of Leinster with key links to Wales through the Norman Invasion of Ireland and St Aidan who founded his monastery here on his return from Pembrokeshire. Visit Ferns Castle, Ferns Mediaeval Experience, St Edan's Cathedral and "Do The Little Things" living bee sculpture in the cathedral cemetery.
Another must see is the Tulach a'tSolais monument atop of Oulart Hill. This modern version of a pre-Christian passage tomb dramatically and poignantly commemorates the 1798 Rebellion. The stunning walk up Oulart hill and many more around the county, including Forth Mountain can be found on the Wexford Walking Trails website.
There are three magical storytelling houses along the route, which are uniquely Irish. If you time it right you'll meet the locals and be treated to music, stories, barmbrack and a roaring fire!
Secret spiritual places and holy-wells are an important feature of this journey and can be easily visited on foot, by bike or car. Mogue's Well in Ferns and St David's Well at Oilgate and are both special places where people still go to make wishes and leave offerings and prayers. Here, custom dictates you fill a small water bottle and carry it to St David's in Wales. Visit Raphael's Healing Garden in Oilgate and Our Lady's Island near Rosslare if you want to find peaceful sanctuary, connection with nature and stories of pagan and Christian significance.
For a spot of history, grandeur and a good lunch, Johnstown Castle is definitely worth a visit. Here you will find a Gothic-Revival Castle, the Irish Agricultural Museum and extensive and spectacular landscaped gardens. Links to Wales go back to the Norman invasion.
Another fascinating place to visit is the Irish National Heritage Park at Ferrycarrig. This outdoor museum covers 35 acres and 9,000 years of Irish History starting in the Stone Age! Look carefully and you should find an "Ogham" stone covered in the oldest form of Celtic writing. These stones are also seen all over Ireland as well as in West Wales showing the ancient connections between these two nations.
Guided walks are on offer now for sections of the route that allow you insight into the places and people as well as time for reflection and connection. For more information on this and in general, please visit wexfordpembrokeshirepilgrimway.org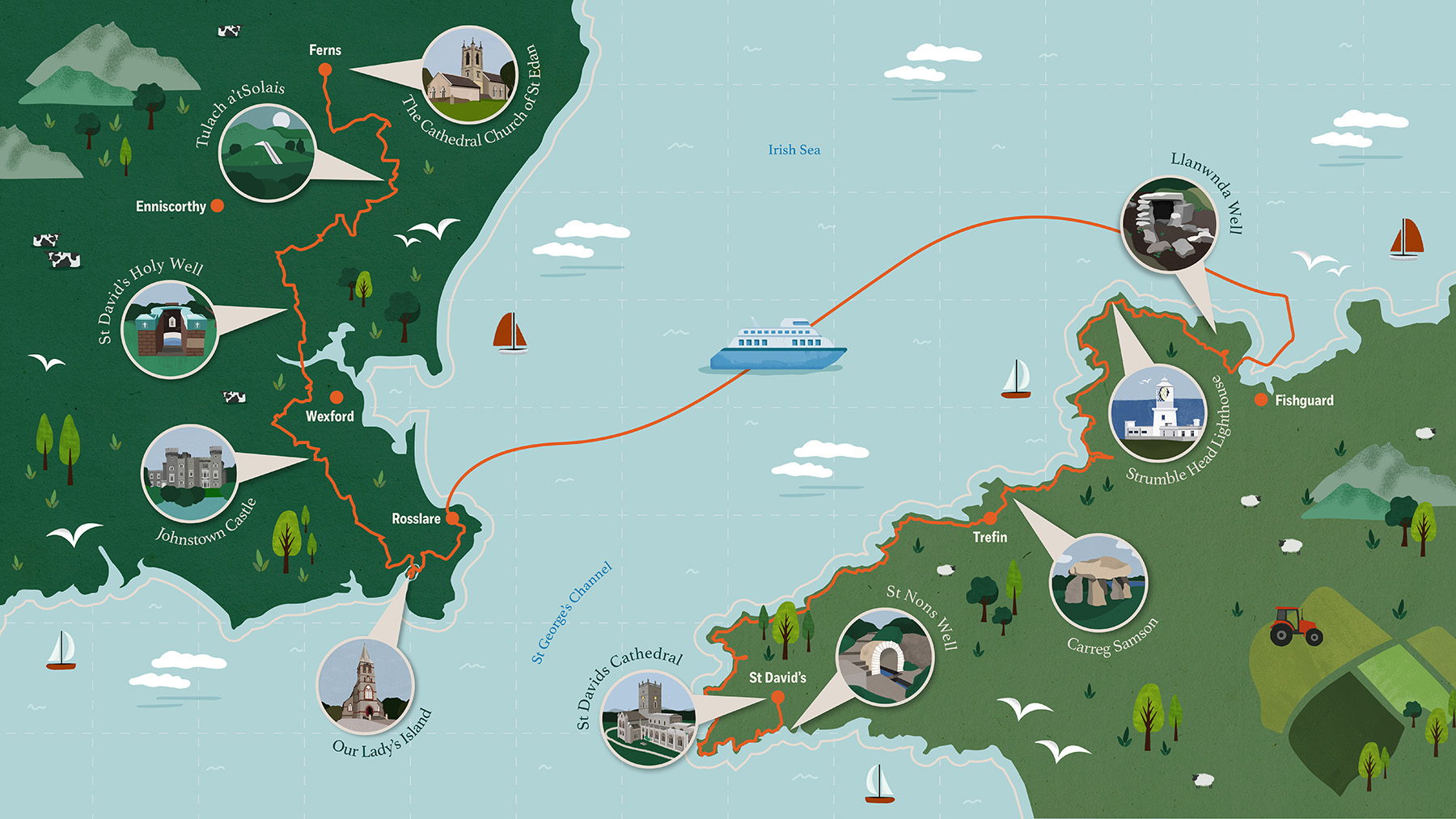 Disclaimer: This is a route in development and is currently going through the Sport Ireland accreditation process. Although some sections of the route are on existing accredited Wexford Walking Trails (Ferns Village, Oulart Hill, Three Rocks Trail and Carne to Rosslare), all other parts of Wexford-Pembrokeshire Pilgrim Way route have yet to be accredited. Accordingly, Wexford County Council and its route development partners do not accept responsibility and are not liable for any loss, damage or injury which may arise and all users and participants should take all necessary care to satisfy themselves of the suitability and safety of the route. 
Story of the Bees
Many stories reveal the friendship shared between St David and his pupil and protégé St Aidan. This is why the Wexford-Pembrokeshire Pilgrim Way takes walkers from St. Mary's Abbey, Ferns in County Wexford to St Davids in Pembrokeshire.
When Aidan visited Wales as a student of St David, he looked after the beehives in David's monastery.  When he returned to Ireland the bees followed him. Three times he tried to take them back to David's monastery and three times they followed him back to the boat. When David saw the bees for the third time, he knew that Aidan and the bees had a special relationship so he let Aidan take the bees back to Ireland, forever establishing a link between St. Davids and Ferns, through a love for bees and honey.
Explore Wexford