This #TravelTuesday, we have prepared a list of exciting 'al fresco' dining options in County Wexford for your next date, get together with your friends or family, or simply enjoying a delicious meal while solo travelling. Because let's face it, something happens to Irish people when the sun shines – we suddenly become drawn to smartly laid tables basking in the sun!
It's probably because we seldom get the opportunity for Al Fresco dining with our inclement weather, so when we can, we beat an 'orderly' path to the nearest restaurant with outdoor seating. Visit Wexford has picked the County's top places to eat outdoors, and while eating outdoors for safety during this time is advised, we consciously laid out a list that situates on beautiful grounds, with delightful surroundings. Each spot is fantastic come rain or shine, but there's something about dining outdoors in Wexford by the coast that feels extra special.
#TuesdayTip: Do not forget to prebook and reserve your table directly with the restaurant before your visit and book sooner than later, as lots of places get booked out pretty quick. And while visiting County Wexford, make sure to check out the top 10 tips to stay safe when visiting and remember to #TakeAStepBack when visiting us this year.
Discover Wexford's very own Al Fresco Dining:
1.  The Duck Terrace Restaurant at Marlfield House.
The Duck at Marlfield House offers a relaxed dining experience, in tranquil and charming surroundings. Enjoy a meal on the terrace, overlooking the kitchen gardens and blooming rose bushes. The skilled chefs use fresh, local ingredients to create modern fusion, Italian-style cooking. Open daily for lunch and dinner during summer. Visit www.marlfieldhouse.com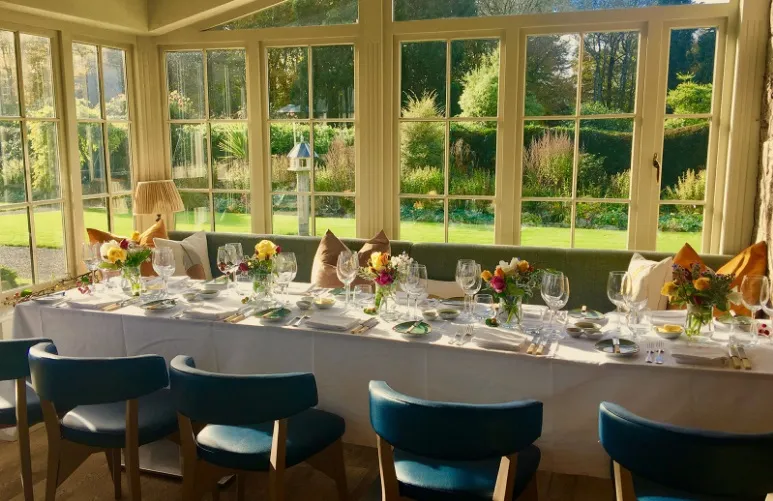 2.  The Lobster Pot
Sitting outside The Lobster Pot, at Carnesore Point in Co Wexford, chowing down on one of their special seafood platters is one of the greatest pleasures of life. This dinky old world pub has long been the destination of the rich and famous in search of their fishy fix. During the Summer they have tables outside the front, so it's one for all seafood lovers! Visit: lobsterpotwexford.com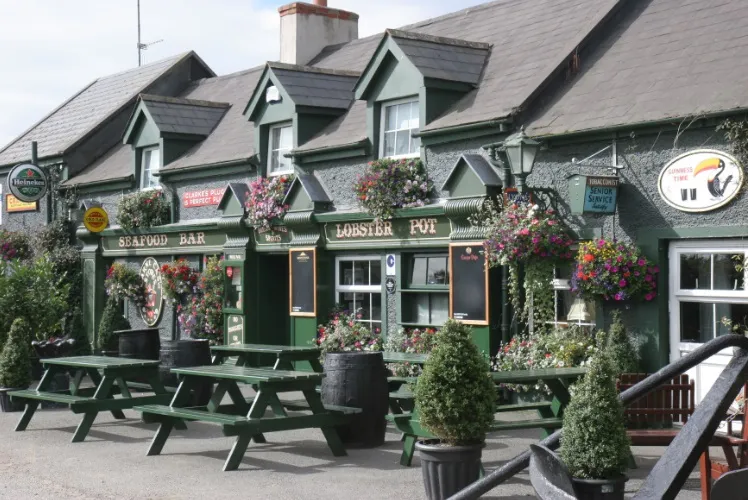 3.  Ivy Room, Kelly's Hotel, Rosslare
The Ivy Room is the ideal setting for a meal with the family overlooking the hotel's exquisite gardens. Dine on the terrace and take in the breath-taking views the location has to offer. The Ivy Room offers an array of light healthy meal options from the buffet in relaxing surrounds, not only that this is one great place where kids are always welcome! Visit: www.kellys.ie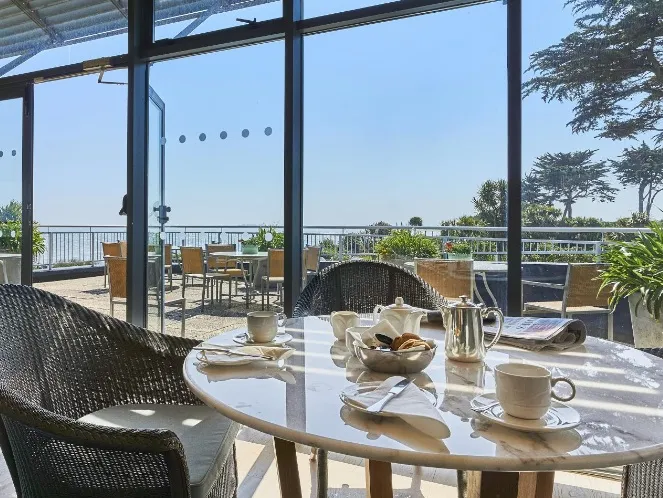 4.  The Strand Cahore
The Strand Cahore is in a unique position overlooking the safe swimming beach and pier at Cahore Point with sweeping views over the sea to Wicklow Head. Aileen and Patrick Hanley, proprietors of The Strand Cahore are dedicated to bringing the best flavours to the plate and so have scoured the country for great tasting ingredients. Their oven-baked pizza's made and cooked freshly on the premises are delicious, this coupled with watching the waves is an afternoon delight!! Visit: www.thestrandcahore.ie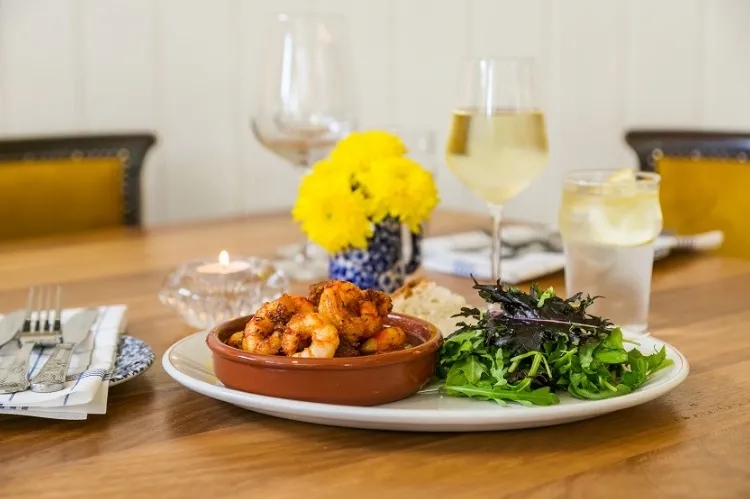 5.  Greenacres Bistro
Combine a love of the Art with fine dining, then Greenacres is a must-visit! Relaxed dining in the unique atmosphere of Greenacres Bistro, with the spacious art galleries with contemporary Irish art and sculpture, makes this truly special. Greenacres features a fresh food hall and delicatessen, restaurant, art gallery and a world-class wine cellar, making it a truly unique dining experience. Visit: www.greenacres.ie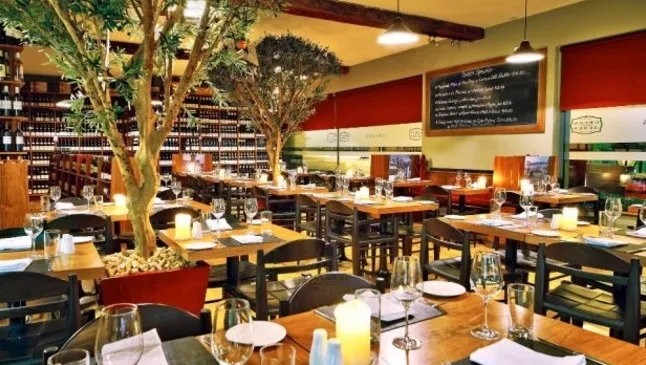 Other great spots in Wexford that offers outdoor dining include:
Renowned for its extensive menu and especially their selection of seafood landed locally in Kilmore Quay, Mary Barry's is one not to be missed for Al Fresco dining in the South of Wexford. Visit: www.marybarrys.ie
The Wilds is an award-winning café, home & lifestyle store located in a landmark period building in the heritage town of Enniscorthy, Co. Wexford. Between its lavishly simplistic interior, and locally-sourced lifestyle shop, to outdoor dining, The Wilds is beautifully atmospheric to enjoy breakfast or brunch. Visit; https://www.facebook.com/thewildsireland/
Boasting a traditional reed thatched roof and outstanding views of the course with Mount Leinster in the background, the Clubhouse is home to the well-appointed bar and restaurant, with outdoor seating. Visit: http://www.bunclodygfc.ie/bunclody-golf-club/clubhouse/
Situated in Wexford Town, The Crown Bar renovated and opened in July 2015 and was was inspired by a European cosmopolitan culture complementing the old world charm of the bar, complete with an outdoor area for casual dining Visit: www.crownbar.ie
The Dry Dock Bar at the Ferrycarrig Hotel offers a fabulous outdoor deck area overlooking the Slaney Estuary. Visit: https://www.ferrycarrighotel.ie/Bar_Menu-ferrycarrig.html
Kehoe's Pub in Kilmore Quay serves local fresh seafood and has an extensive menu to suit all tastes. While visiting, take time to peruse their complimentary guide to a fascinating collection of nautical artefacts. Visit: https://www.discoverireland.ie/Activities-Adventure/kehoes-pub-and-parlour/80798
Impresso Café in Enniscorthy serves high quality barista coffee, frappes, smoothies & a range of breakfast, lunch & sweet treats 'with a smile' and the added bonus of outdoor seating. Visit: https://www.impresso.ie/
Located on the edge of New Ross town, Mannions is a fantastic casual dining experience in a buzzy atmospheric Gastro Pub. They place a huge emphasis on using local, sustainable& organicproduce. Visit: www.mannionspub.ie
There's something there for every type of diner, and no doubt that the sunny south-east will bring some sun to allow al fresco dining to be enjoyed by everyone visiting Wexford this year while Ireland #FeelsBigger.