For this week's #TravelTuesday, we have compiled a list of our top 10 tips to help you get through your stay in County Wexford in the safest way possible. Making a break for it in Ireland this year is a great way of taking advantage to explore what our own Emerald Isle has to offer, but most importantly, we must remember that we are still battling through a pandemic and it's significant to respect, take care and stay safe during this time for both ourselves and others. 
#TravelTuesday Tips to get you through your staycation in Wexford, safely:
1. Maintain Social Distancing
Distance yourself at least 2 metres (6 feet) away from other people
Please ensure social distancing in all instances is still maintained throughout your stay in the sunny south-east. The HSE and Department of Health suggest that a 2-metre guideline is vital while ensuring close contact is avoided. It's important to remember that all members of the public must socially distance, whether each individual claims to be healthy or potentially infected or not. So remember to #TakeAStepBack when visiting us this year.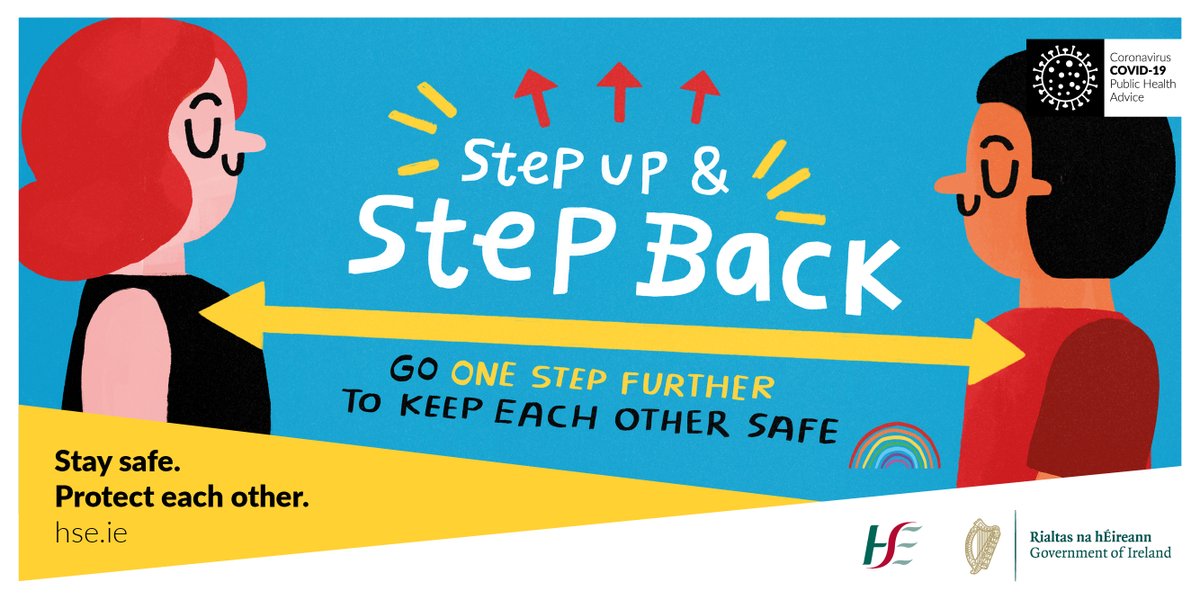 2. Keep washing your hands
Protect yourself and others and clean your hands regularly
Ensure that you wash your hands on a very regular basis throughout your stay in County Wexford. Moving from place to place will spread the virus rapidly if hand hygiene is not maintained fashionably. Use soap and water, or hand sanitizer in quick instances, when you move from place to place in Wexford, when you eat or handle food, and when you blow your nose, sneeze or cough. To guarantee your hands are being washed efficiently, wash them for at least 20 seconds when you have touched surfaces or other amenities that require a thorough wash. So remember to wash and go, as clean hands stop the spread of COVID-19.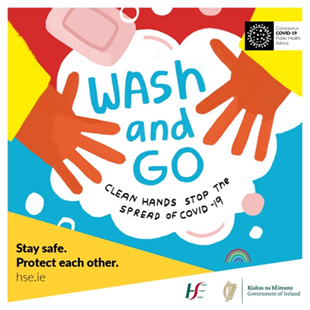 3. Cover mouth and nose while sneezing
Practice good cough and sneeze hygiene by using your elbow or a tissue
When coughing or sneezing, make sure that adequate hygiene is in place to avoid the spread of the virus and its germs. The spread of the virus can be very easily spread by coughing, sneezing or blowing your nose, which is why you should always cover your mouth and nose with a tissue when you cough or sneeze and then dispose of the tissue after use. If you do not have a tissue at hand, it is best to cough or sneeze into your elbow, as advised by the HSE. Never cough or sneeze into your hands. Afterwards, it is vital to wash or sanitize your hands thoroughly to ensure any germs that didn't get caught are killed instantly. 
4. Pack Multiple Face Masks – They are now mandatory!
Cover up and stay safe. Wearing a face mask helps to protect one another.
From yesterday, Monday 10th August, face coverings were made mandatory to wear in shops, shopping centres and other indoor environments like libraries, cinemas, and public transport. Those under the age of 13, or who have difficulty wearing face masks are asked not to wear them. If you refuse to wear a face-covering during your stay in Wexford and you are eligible to wear one, you will be fined and refused entry. Always clean your hands before and after wearing your face covering. In line with HSE recommendations, always remember about masking for a friend, as wearing a face covering helps us to protect each other.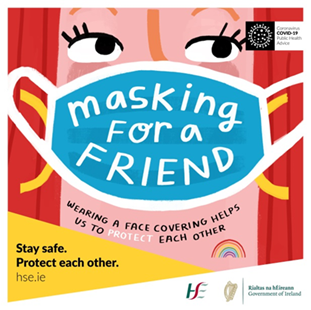 5. Use contactless payment 
Make contactless payment a priority
To avoid the handling and passing of cash, it is advised that contactless card payment be used on your trip to Wexford this year. From your stay, attractions, and eateries, every task requires money and while each of us do our best to avoid the passing of germs, one step we can take to avoid the mishandling of the virus is to make a conscious move to contactless card payment. It is quick, convenient and safer. 
6. Download and use the COVID Tracker App
Stay up to date on the COVID Tracker app and familiarise yourself with the symptoms
As part of the HSE's contact tracing operation, the COVID Tracker App is an essential tool in today's everyday life to stay in the nick of what is going on. The app alerts you on what to do to protect yourself and others from the virus, alerts people if they've been in close contact with someone who has tested positive for coronavirus, and lastly alerts other app users that you were in close contact with if you test positive for coronavirus. Before your visit to Wexford, ensure you have the tracker app installed, as the more people that download and use the app, the more it will aid contact tracing. As recommended by the HSE, use the COVID Tracker app to protect yourself and people around you.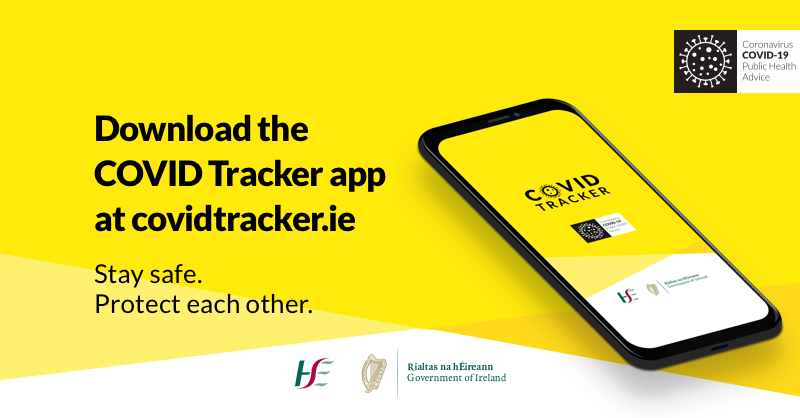 7. Look out for Fáilte Ireland Green Tick
Visit, explore and support Irish businesses that have enabled the Fáilte Ireland Green Tick
Each business in Ireland is advised to send their employees on training required to complete the COVID-19 Fáilte Ireland Infection Prevention Control for Tourism Businesses Course which was compiled and assessed by Fáilte Ireland. The aim of the programme is to ensure that businesses in Ireland, as well as their employees and customers, are maintaining a safe environment for one another. It means that tourism and hospitality businesses are operating in line with current Government public health advice, along with safety and cleaning protocols in place.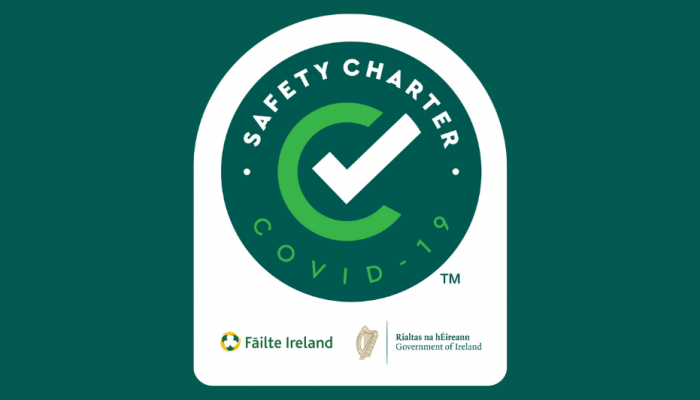 8. Avoid Crowded Places 
Keep away from overly crowded popular attractions and tourist spots in Wexford
Avoid crowded places as much as possible during your stay in Wexford this year. The HSE has issued a statement that the more time spent in close contact or overly populated spaces, the easier it is to contract the risk of spreading and getting the virus. While it is inconvenient according to your plans, it is advised that you leave a location if social distancing becomes difficult. If it is an essential part of your stay, please keep your time to a limit in that location. It is said that coronavirus appears to linger in the air in crowded places or spaces that lack ventilation, which increases the spread of the virus, which is why we advise that those travelling to Wexford, should avoid visiting areas and attractions with crowded spaces.
9. Explore the Outdoors
Being outdoors is safer than being indoors
Where it is possible, it is advised that outdoor activities are a lot safer to enjoy. Luckily, Wexford has an abundance of outdoor activities and spots to enjoy across the sunny south-east. From its culturally historic buildings, castles and gardens, to an array of fun farms and variety of tracks and trails, to the countless hidden beaches and breathtaking views, there is no place like Wexford for an adventure. If it's not possible in some circumstances, ensure that spaces are big and social distancing is easy to maintain. Like mentioned earlier, try avoiding places with crowded spaces. The outdoors can certainly be enjoyed, as long as 2-metre social distancing can still be maintained. While Wexford's popular beaches like Curracloe and Duncannon can become busy, there is still 250 km of beach in Wexford to enjoy, or why not discover our hidden beaches like Baginbun, Carnivan or Booley Bay? Plan your adventure on VisitWexford.ie and explore the sunny south-east's cycling trails, hikes, water activities and much more.
Check out our blog post on the best walking trails in County Wexford >>here<<, they all offer plenty of space for social distancing.
10. Book in Advance 
The convenience of pre-booking is practical and efficient for clean and safety measures in place
To ensure that businesses in the food, tourism and hospitality industry can stay on top of cleanliness, hygiene and safety procedures, it is significant that visitors pre-book for accommodation, meals and attractions upon arriving in Wexford for their staycation. Planning in advance, as well as checking in with businesses online and on social media, will ensure that visitors are not disappointed if they're turned away during their stay, but also protect everyone against the spread of COVID-19. 
We have prepared a list of Stay and Spend itineraries in line with the government staycation subsidy not only to help you save money, but also to help you plan your stay in County Wexford, especially now when everything needs to be reserved ahead of time, which you can read more about  >>here<<. 
Plan your stay in Wexford this year on VisitWexford.ie
Remember, if you do find you're getting COVID-19 symptoms, please make the decision to stay at home and help fight the spread of this virus. Wexford will always be on the doorstep and remain a beautiful place to visit and explore, but for the safety of yourself, Wexford and Ireland, please stay at home if you are feeling in any way unwell. 
For more information on how to stay safe during this time, please visit HSE.ie or Gov.ie
Featured photo credit: Celtic Routes