All year round festivals in County Wexford
You're sure to find a County Wexford Festival for you as all ages and interests are catered for from Food, Music, Culture, and Arts.
The festival will host Plein air paint-outs throughout the month of August, now known as Art in a MONTH OF SUNDAYS.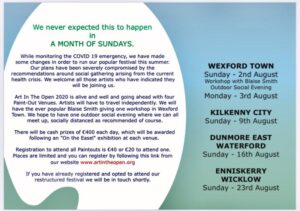 The festival will kick off with paint-outs in Wexford town on 2nd & 3rd August during the day & finish with an 'on the easel' exhibition at Wexford Crescent each evening where the public can view & have the opportunity to purchase the beautiful work created each day around Wexford.
The festival continues on Kilkenny, Enniskerry and Dunmore East.
To register, go to our website or alternatively come along on the August Bank Holiday & enjoy our mini-festival  
The Wexford Harvest Festival is for all the family, young and not so young, this festival will celebrate everything related to Wexford and its bounty and provide a great family day out!
Calling all foodies, adventurers, festival fans and serious fun lovers!
The Harvest Festival will take place on the extensive IOAC campus at Tagoat Village, just outside Rosslare Harbour and 15 minutes from Wexford Town.
This great event has the full support of Wexford County Council, Fáilte Ireland, Wexford Food family, and Taste Wexford. With partners like these on board, you know it will be a quality day out!
For further details visit their 'Facebook page' or contact by phone on 053-9189022 or email at info@ioac.ie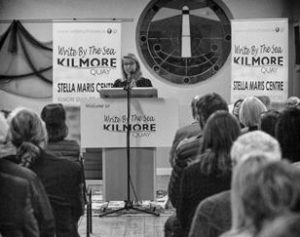 Celebrating its 5th year, Write by the Sea takes place in the stunning setting of Kilmore Quay.
Festival attendees in 2020 can look forward to a line up of well- known, popular writers of Irish literature alongside internationally renowned authors. During the weekend, enjoy interviews, talks, readings and a variety of workshops on different genres of writing. There will be storytelling in a number of venues within the village in the evening.
Please keep an eye on the website, www.writebythesea.ie for full details of the festival programme and see the details on how to enter our writing competition which offers the winners an opportunity to read their work during the weekend along with great prizes. Be sure also to check out the exhibition hosted by some of Ireland's acclaimed artists during the festival each year.
Set in the beautiful surroundings of the Paradiso Spiegeltent, the Festival has a unique and enticing atmosphere, blending the Olde Worlde feel of the Spiegeltent's with the best in popular entertainment.

The 2020 Festival will run for 18 days and nights and the eclectic programme of events will feature contemporary music, comedy, burlesque and more.
Confirmed gigs:
Jack L's 27 Club: Thursday 15th
Smokie: Friday 16th
Neil Delamere: Saturday 17th
Hudson Taylor: Friday 23rd 

Set in a real-life castle, this exciting and interactive Christmas experience truly is so much more than just a Santa visit.
Enniscorthy Castle is transformed inside and out for the festive season with each room and chamber decorated with its own unique theme. Explore the castle and interact, play, sing and dance with all the friendly Disney characters and friends on this experiential tour, guided by one of Santa's elves.
Ascend the castle until you reach Mrs Claus' shop where all the kids and adults alike will receive some tasty treats while they wait for the much anticipated private visit to Santa Claus. Here you can play with the elves, post your Santa letter or simply relax and watch the movie.
Finally, step inside Santa's grotto and meet and chat with Santa and his elves, take a group photo with the Magic Selfie Mirror and find out if you've made the nice list and receive an early gift from Santa.