It's that time of the year again, yes you heard it right – it's Black Friday! This year, Black Friday lands on the 25th of November and is the biggest event on the shopping calendar, so keep your eyes peeled for the best black Friday deals around Wexford. From hotel breaks, shopping deals, experience offers and more, gift someone with an experience or treat yourself this Black Friday. 
Black Friday Shopping in County Wexford
This Black Friday, be sure to support local by shopping local. Wexford is known for its excellent shopping towns right across the county. With everything from independent boutiques and stores to fantastic cafes and restaurants to refuel during a shopping spree, you'll be spoiled for choice. The towns are beautifully decorated during the festive season, so you are sure to be filled with festive cheer while exploring the stores. Support local vendors this Black Friday and plan a shopping trip to County Wexford to shop 'til you drop!
Gorey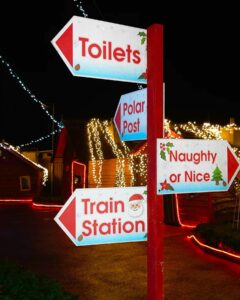 Gorey is a fabulous shopping town in the north of the county. Browse the variety of shops along the town's Main Street which is home to a variety of fashion boutiques and a host of food options. There's lots to discover in Gorey such as art galleries, hobby stores, indoor markets and a shopping centre – plenty to make for a busy day of shopping!
While you're in Gorey, why not stop by some of the many Christmas events taking place? The Santa Train Experience at the Amber Springs Hotel or the Magical Christmas Experience at Kia Ora Mini Farm are running from the end of November up to the end of December near Gorey.
Enniscorthy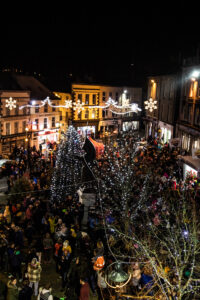 Many of Enniscorthy's independent stores and boutiques are conveniently located in or nearby the town's Market Square. Peruse the shops for homewares, clothing, footwear, toys and more in the locally-owned shops in the town.
Enniscorthy is also a central location when it comes to Christmas experiences and events in Wexford. The Christmas Experience at The Village at Wheelocks kick off early during the festive season in the town. It's the perfect spot just outside town to fall in love with Christmas cheer in a winter wonderland, farm style! 
New Ross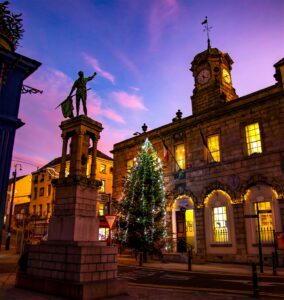 New Ross provides a scenic destination for a shopping day as many of the local stores are located up the side streets from the quayside, along the River Barrow which is home to the Dunbrody Famine Ship (keep an eye out for the Christmas lights adorning the ship!). Stroll along the shopping streets, popping into the many wonderful local cafes along the way and enjoying the wonderful wall art through the town.
After a long day of shopping, rest up your feet and relax by the fire at the Brandon House Hotel to enjoy the live music. Check out our event guide below for any upcoming events in New Ross.
Wexford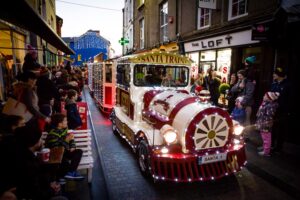 Wexford town comes alive from Black Friday to Christmas as the streets buzz with shoppers. You can walk right along Wexford's North and South Main Street to take in the array of local shops. Find hidden gems of clothing boutiques, homeware stores, book shops and even sweet shops that the little ones will love!
Once you've ticked everything off of your shopping list, head down to the quay to explore the Wexford Winterland festivities. Wexford Arts Centre also run a number of Christmas events, from shows to workshops!
Click here to check out our full event guide over the festive season in County Wexford.
Black Friday Hotel Deals in Wexford
Book >>HERE<<
Black Friday Sale: 25% Room Sale 
Enjoy a whopping 25% off our luxurious accommodation here in Enniscorthy with full use of our leisure facilities and treatment rooms during your stay. Available for a limited time only!
Riverside Park Hotel is offering 25% off all their rooms booked during their Black Friday sale. 25% off dates selected until May 2023.
Book >>HERE<<
Black Friday Sale: Extra €20 Treacy's Cash Voucher*
We have both midweek and weekend packages to give you the flexibility to enjoy a break away from it all at a time that suits you.
If you buy today and as an add on for Black Friday:
– We are extending the period of stay from the usual January and February and adding March.
– We are also adding an extra €20 Treacy's Cash voucher* to each Gift of Choice voucher or to any monetary voucher purchased over €100*
Gift of Choice – Midweek
Enjoy two nights in our standard rooms with full Irish breakfast for two people in any of the Treacys Group Hotels for a midweek stay.
Gift of Choice – Weekend
Guests can enjoy two nights in our standard rooms with full Irish breakfast for two people for a weekend stay in any of the Treacys Group Hotels in Ennis, Enniscorthy, Waterford and Shannon for a weekend stay.
Note: Valid for stays January to March 2022. Outside these dates, the monetary value can be used.
Book >>HERE<<
Black Friday Sale: Save another €10, £10 or 10% (varies by hotel) per night
Whether a midweek adventure or a weekend getaway, treat yourself to Black Friday savings at Maldron Hotel, Wexford. It's the perfect time to book a winter escape and rediscover the magic of Christmas this festive season! 
Save another €10, £10 or 10% (varies by hotel) per night with Make It Maldron. Be sure to book before midnight Monday 28th November 2022. Available for stays arriving from 25th November 2022 to 31st March 2023 for hotels in Great Britain and Northern Ireland.
Buy >>HERE<<
Available from Monday 21st to Tuesday 29th November, Amber Springs Hotel are gifting you on all voucher purchases for Black Friday. Buy any voucher from €50 – €249 and receive and extra 10%. Or buy any voucher from €250 and above and receive and extra 15%. More than just a gift, it's an experience!
Buy >>HERE<<
Ashdown Park Hotel are honouring their biggest Black Friday sale yet. Buy a voucher between the worth of €50 – €200 and receive 10% off or a voucher between €250 – €1000 and receive 15% off. This offer is available from Friday 25th November until Midnight on Monday 28th November.
Other Black Friday offers to look out for…
Watch this space! Keep an eye out on all our Wexford hotels for the best Black Friday offers to kickstart your Christmas shopping. Gift an experience and give loved ones the best present imaginable when they visit Wexford on you! Or, why not treat yourself?! Take advantage of Wexford's Black Friday and Cyber Weekend offers and deals and book yourself a break in our corner of Ireland's Ancient East. 
A list of hotels to keep an eye out on:
Support local and shop the best Black Friday deals in County Wexford this Cyber Weekend!
Wish you were here.
Note: All prices listed are subject to availability and are taken from the hotel's website, as of today 18/10/2022 and all offers are subject to availability and each property's Terms & Conditions. Please remember to book directly via the hotel's website or phone call for the best rates.