All year round festivals in County Wexford
You're sure to find a County Wexford Festival for you as all ages and interests are catered for from Food, Music, Culture, and Arts.
The biggest family-friendly Food and Music Festival in the South East is returning for the August Bank Holiday Weekend.
You can expect
a brand-new, impressive schedule of chefs, producers and special guests in the FREE Food Marquee
an impressive Artisan Food Market with over 80 of the best local and artisan vendors
a superlative International Line-up of Rock 'n' Roll artists for our FREE outdoor gigs
a jam-packed program of food and drink workshops, events and classes
lots of fun and FREE activities, events, and workshops in the Kids Marquee or spend some time at the Kid's Play Zones or Ferris Wheel. 
And once the little ones are all tired out, the adults can enjoy some of the exclusive Food & Drink Fringe Events that will be happening across the town. 
There's something on offer for all ages, tastes, and budgets at Rockin' Food Festival so save the date and start planning your trip to Enniscorthy, Co. Wexford this August Bank Holiday Weekend 2020. A weekend you don't want to miss.
Save the date and make sure you get down to Enniscorthy for another rockin' year of Summer festival fun.
CrownFest, Ireland's best tribute band music festival, is taking place on August 1st & 2nd 2020.
Presented by The Crown Bar & Crown Live, CrownFest 20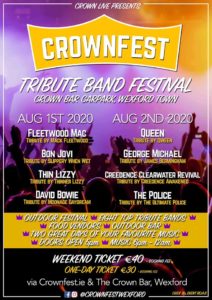 20 will showcase the best national and international Tribute acts, covering songs from some of the greatest bands in history. Get ready to sing along and rock out to your favourite tunes of the 70's, 80's, and 90's! You will hear some of the best musicians and performers on the scene today while celebrating the music of your favourite bands with Hit after Hit!​
The festival will take place in the carpark of the Crown Bar in Wexford Town – an outdoor venue with all Tribute bands performances held on the CrownFest mainstage. The festival will feature some fantastic vendors and an outdoor bar. Please come join us and celebrate 70's, 80's, & 90's music over the weekend of August 1st & 2nd 2020. We've got all your favourite music covered!​
The Wexford Harvest Festival is for all the family, young and not so young, this festival will celebrate everything related to Wexford and its bounty and provide a great family day out!
Calling all foodies, adventurers, festival fans and serious fun lovers!
The Harvest Festival will take place on the extensive IOAC campus at Tagoat Village, just outside Rosslare Harbour and 15 minutes from Wexford Town.
This great event has the full support of Wexford County Council, Fáilte Ireland, Wexford Food family, and Taste Wexford. With partners like these on board, you know it will be a quality day out!
For further details visit their 'Facebook page' or contact by phone on 053-9189022 or email at info@ioac.ie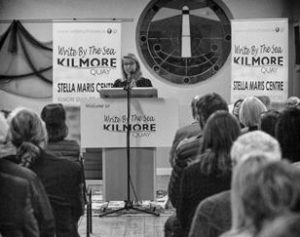 Celebrating its 5th year, Write by the Sea takes place in the stunning setting of Kilmore Quay.
Festival attendees in 2020 can look forward to a line up of well- known, popular writers of Irish literature alongside internationally renowned authors. During the weekend, enjoy interviews, talks, readings and a variety of workshops on different genres of writing. There will be storytelling in a number of venues within the village in the evening.
Please keep an eye on the website, www.writebythesea.ie for full details of the festival programme as the line up for 2020 is unveiled and see the details on how to enter our writing competition which offers the winners an opportunity to read their work during the weekend along with great prizes. Be sure also to check out the exhibition hosted by some of Ireland's acclaimed artists during the festival each year.
Set in the beautiful surroundings of the Paradiso Spiegeltent, the Festival has a unique and enticing atmosphere, blending the Olde Worlde feel of the Spiegeltent's with the best in popular entertainment.

The 2020 Festival will run for 18 days and nights and the eclectic programme of events will feature contemporary music, comedy, burlesque and more.
Highlights from the previous 5 years include The Coronas, John Bishop, Sinead O'Connor, Jools Holland, Squeeze, Bell X1, The Boomtown Rats, Paul Young, The Riptide Movement, Brendan Grace, Christy Moore, Tommy Tiernan, Imelda May, Mick Flannery, Jason Byrne, Damien Dempsey, Jack L, Donovan, Paul Brady, Albert Hammond, Dylan Moran.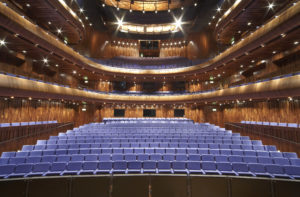 Incoming Artistic Director Rosetta Cucchi announces 2020 programme inspired by William Shakespeare and the launch of the Wexford Factory Academy for young Irish singers.
For the first time, in a major new development, the Festival will be themed. Inspired by William Shakespeare, each of the three main evening productions in the National Opera House will be based directly or indirectly on the life and work of this great poet and playwright.
Each of the three main evening productions in the National Opera House will be based directly or indirectly on the life and work of this great poet and playwright: Ein Wintermärchen by Karl Goldmark, Le Songe d'une nuit d'été by Ambroise Thomas and Edmea by Alfredo Catalani
Pocket Operas / Opera Beag
The previously titled Short Works programme is being reimagined as a new series of daytime operas, called Pocket Operas / Opera Beag, which will be performed in different venues in Wexford town, including both the O'Reilly and Jerome Hynes theatres in the National Opera House as well as the Wexford Arts Centre.
These Pocket Operas will continue the Shakespearian theme and act as an important showcase for young Irish and international Festival artists. 
For the complete 2020 programme click here

Set in a real-life castle, this exciting and interactive Christmas experience truly is so much more than just a Santa visit.
Enniscorthy Castle is transformed inside and out for the festive season with each room and chamber decorated with its own unique theme. Explore the castle and interact, play, sing and dance with all the friendly Disney characters and friends on this experiential tour, guided by one of Santa's elves.
Ascend the castle until you reach Mrs Claus' shop where all the kids and adults alike will receive some tasty treats while they wait for the much anticipated private visit to Santa Claus. Here you can play with the elves, post your Santa letter or simply relax and watch the movie.
Finally, step inside Santa's grotto and meet and chat with Santa and his elves, take a group photo with the Magic Selfie Mirror and find out if you've made the nice list and receive an early gift from Santa.