Spending Halloween in County Wexford this year?
While 2020 has already been full of goblins and ghouls, it shouldn't put a stop to the excitement and celebration of Halloween on our Emerald Isle. The abundance of joy County Wexford can bring to those seeking fun and festivity during Halloween is next to none, and in this blog post you will learn all about what County Wexford has to offer this spooky season.
For this week's #TravelTuesday blog post, we have Lorraine O'Dwyer of Gallivanting Tours to guide us through her reasons why one should visit Wexford throughout the Halloween period. Lorraine is an extraordinaire in touring and story-telling, and while she knows every corner in County Wexford, along with it's nooks n' crannies, stories, whimsical wonders, and all things adventure, she is also proven to be very passionate about our heritage here in the sunny south-east.
Our #TravelTuesday tip: Plan well ahead this year and make sure you get ahead of all festivities. Due to limited spaces among our attractions and establishments in County Wexford, we advise that all of our visitors pre-book to help our local business' induce their social distancing measures. Read more about the safety guidelines that County Wexford must maintain in the Top 10 Safety Tips Wexford Guide. Make sure to look out for the Fáilte Ireland Safety Charter green tick. Make a break in the sunny south-east this spooky season for some tricks n' treats.
Lorraine's #TravelTuesday tip: Take a gory Gorey Halloween walk with the Witch of Wexford! Join me for a special wander through the streets of Gorey this Halloween and hear chilling tales from the town's eerie past. Don't forget your comfortable shoes and gather as dusk falls over the town for this unique tour that is sure to send shivers down your spine. For more information, visit the Gorey Halloween Walk. 
Lorraine O'Dwyer from Gallivanting Tours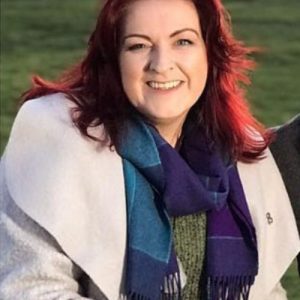 Hello hello and Samhain blessings to you all.
I might be best known for my tours and storytelling but I also happen to be one of the many Pagans living here in Wexford and Halloween or Samhain is a very special time for us.
Samhain has been celebrated on this island for literally thousands of years. It's one of the oldest food festivals in the world. A time when our ancestors gathered the last of the fruits and nuts and had a final celebration before locking themselves away for a long dark winter ahead. This was also thought to be a Thin Time, a time that your ancestors might return for a visit so you really should have something nice by the door in case a ghoul or two comes knocking.
So with our ancient culture in mind, let's look at some things you can do in Wexford for a really fun Family Samhain Celebration:
Pumpkins, Fruits and Berries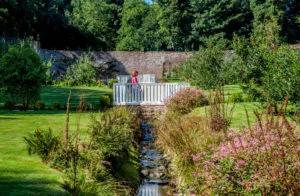 Who hasn't ended up with a face full of water trying to take a bite out of an apple in a basin? Well this year, why not visit an apple farm in County Wexford and make sure your apples are really tasty. Grown-ups might enjoy a visit to Colclough Walled Garden to pick up some heritage apples. Each bite contains a cacophony of flavours and in a time of honouring ancestors, how better than by tasting the foods they ate.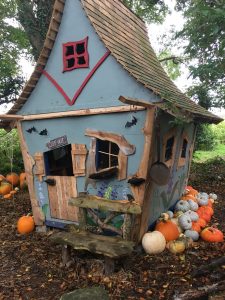 Kids will love a visit to The Village at Wheelocks' berry farm, with a large pumpkin patch on the grounds you can pick your favourite one to take home and carve, plus you'll find plenty of wild blackberries growing on their forest walk. You'll have your basket full in no time – just look out for spooks hiding in the trees.
Ballycross Apple Farm will take you out on a tractor ride to their pumpkin patch to pick the biggest one you can find and you can take a wander through the woodland to find the Witches Village tucked away amongst the trees. Back at the base, they'll have plenty more gourds and squashes to choose from.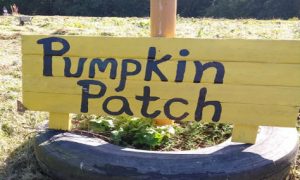 Wexford Lavender Farm has a fun pumpkin picking day planned with some hidden surprises along the way!  Enjoy some fresh air and meet some wicked witches as you select your pumpkin to bring home and carve.  This is a ticketed event with tickets available at the Wexford Lavender Farm. 
Join Wexford Lavender Farm in October to pick your own pumpkin and enjoy Autumn at the farm. Pre-book your ticket online to secure a space; unfortunately Wexford Lavender Farm cannot accommodate walk-ins.
Springmount Garden Centre has a definite Halloween theme with staff members partaking in the A Very Gorey Halloween Fancy Dress Competition over the Halloween weekend. Their cafe will feature some ghoulishly good food so be sure to pop in! There's also a spooktacular photo opportunity throughout the week for your little devils visiting Springmount Garden Centre! 
Look out on Springmount Garden Centre's socials for more detail on upcoming events.
Check them out on Facebook or Instagram. 
Get a good scare!
Winter doesn't hold the same fears it once did, but a good scare can still be fun.
Halloween Spook-tacular at Johnstown Castle!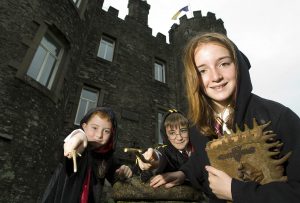 Johnstown Castle is doing Spooky Castle Tours which are perfect for smaller spooks. Their spook-tacular family tour, led by some of their good ghosts like Sir John Esmonde, will take their visitors through the dungeons and up into the gothic, ghoulish castle!
The Spook-tacular Tour of the Castle should be pre-booked online to avoid disappointment. The tour takes approximately one hour and the ticket includes entry to the Estate and the Irish Agricultural Museum. Ticket holders must arrive at least fifteen minutes before their booked tour to allow time to check-in at the Visitor Centre and to walk up to the Castle. Due to demand, it will not be possible to facilitate ticket holders who arrive late for their booked slot. 
Any children under the age of 18 must be accompanied at all times by at least one adult. Suitability for children over 5 years is left to the parents' or guardians' discretion. Dressing in costume is highly recommended. The Spook-tacular Tour operates every day from Saturday 24th of October until Saturday 31st of October inclusive and I think it's one not to be missed for those looking for a spook!
Keep up to date on all of Johnstown Castle's Events. 
Scooby Doo Halloween Mystery Train at the Amber Springs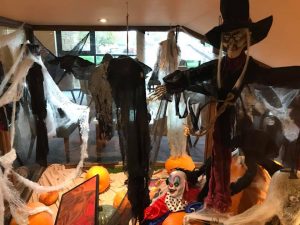 Amber Springs Hotel will be dusting off their broomsticks again this year for their Monster Mash Event and Spooky Train, ideal for the little ones. You might even get a jump or two out of the older siblings!
Trains run from the 24th October to the 1st November for the Halloween Train at the Amber Springs. Dust off your broomsticks and join in on the Scooby Doo Halloween Mystery event at the Amber Springs Hotel. There has been suspicious activity in the Amber Village….. someone has been spooking all of the guests and they need to find out who! Amber Springs train driver who is a resident of the the Amber Village has kindly offered to drive us to the village but before we go, we've got to warm up for the hunt!
Head off on the train to the village and find your own Halloween mini house with clues and find the goodie bags in your house. Once you've got all the clues, try and figure out the mystery. But wait, is anyone missing?  Tell team Scooby where to search and see can they find the villain and bring him back to reveal their identity. The Halloween Trains at the Amber Springs are suitable for young children to tweens. 
Keep up to date on all of the Amber Springs Hotel events on their website. 
The BIG Drive Inn Gorey – Halloween Special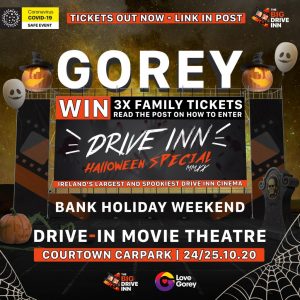 For something a little more unusual, you could head to Courtown for the Love Gorey Drive-Thru Movie Spectacular. Social distancing at its most comfortable. Starting early with kids films, the movies get scarier as the evening skies darken. As I mentioned, the event takes place in Courtown Carpark, Gorey (Y25 PD92) and tickets are priced per car which is €24.50 + Booking Fee. 
You can find more on the event >>HERE<<
Hook Lighthouse or Loftus Hall
If you're not into movie scares and more so interested in the real thing, another special one to County Wexford is Hook Lighthouse, which will be hosting lots of Spooky tours, suitable for all ages across the Bank Holiday weekend and in that 800-year-old tower, the atmosphere can get pretty electric, especially in bad weather.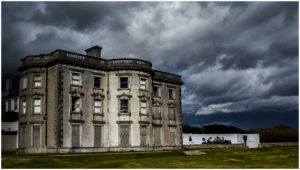 Just down the road, Loftus Hall is running their last ever Halloween Lockdown tours. These infamously scary tours will end for good this year as Ireland's most Haunted House is currently on the market, so don't miss out! 
You can find more on the Hook Lighthouse event >>HERE<< and the Loftus Hall event >>HERE<<
Seal Rescue Ireland For the Kids: Creatures of the Deep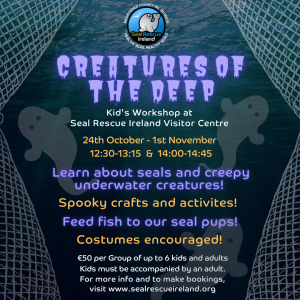 Seal Rescue Ireland are holding workshops in which activities include an interactive presentation on seals and other creatures of the deep, marine themed crafts and games, tour, chance to feed the seal pups and discounted adoption of a seal of your choice. Costumes are encouraged!! Event runs from Friday 24 Oct. to Sunday 1 Nov. with two time slots per day (12:30 PM & 2 PM) which runs for over 45mins per workshop.
Age range: 2 yr – 9 yr (must be accompanied by parent/ guardian throughout)
Pre-booking is essential
Look out for upcoming events >>HERE<<
Seal Rescue Ireland For the Older Ones: SRI After Dark Tour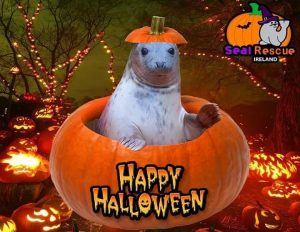 Seal Rescue Ireland are also holding an extended night tour of the centre to the eerie songs of the seals, interactive presentation about SRI's work with additional stories focused on Irish folklore, help feed the seals and provide enrichment to see how active they are at night, discounted adoptions. Event runs from Friday 23 Oct. to Sunday 1 Nov. which is held at 6:30PM and runs for a total of 1.5hrs.
Age range: 12+ (Under 18s must be accompanied by parent/ guardian throughout)
Pre-booking is essential
Look out for upcoming events >>HERE<<
For those of you looking for something a little more cultural: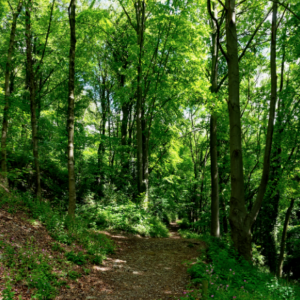 Come Gallivanting with me as we take a walk around Courtown Woods, exploring the roots of the ancient Celtic celebration of Samhain or summers end. Discover how our pagan ancestors worshipped, their close affinity to their ancestors and the woodlands, which tree was known as the Death Tree, and why were our ancestors so afraid of Vampires! Find out how their fears of this "Thin Time" evolved into the modern celebration of Halloween.
However, if you fancy a walk alone, where better to visit than Our Lady's Island and Carnsore Point. In times past, Druids held rituals making blood sacrifices to ensure the sun returned and female Druids hunted for teenage boys to fertilise the earth! A much more peaceful place now, holding magic in the air, especially near dusk.
Raven Point Wood Walking Trail, a sandy forest running along Curracloe Beach, is another great spot for a Samhain walk. While it can seem very eery coming into winter, time your walk to finish at dusk and you'll find yourself surrounded by hundreds of roosting crows, their black wings darkening the skies even further and their caws and cries conjuring up images of battle queens and banshees!
And finally, come Gallivanting with me
As dusk gathers, we'll wander the streets of Gorey to hear 8 chilling tales from the past!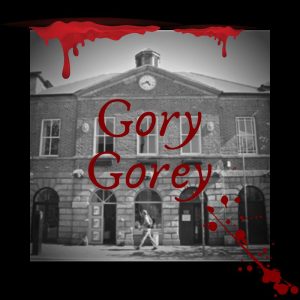 Gallivant with me as we take a walk around Gory Gorey this Halloween! I will be running my walking tours all through the weekend with special kids walks during the day and adult-only ones at night. As we wander around the narrow darkened streets by lantern light, you'll hear 8 different ghoulish tales from Irish and local folklore!
Hear the tales of the infamous villains of 1798, the Hunter Gowan and his notorious and torturous crew! The legend of Dearg Due, Ireland's own Vampire and the Dulahan, the Headless Horseman that terrified travellers to Gorey in days gone by. Discover the dark secret behind St Michael's Church and the reason why Rowan Trees grow nearby! You'll never look at Gorey the same way!
Friday 30th & Saturday 31st October 2020
3:30 pm Tour – Kids tour (ages 7 to 12). Anyone in fancy dress gets a treat!
€8 per child. Adults are free.
Disclaimer: The above tales contain a lot of blood, gore and supernatural stuff so please feel free to contact me via phone to check suitability for your little ones!
At dusk, the tales get eerier and more gruesome and so are not suitable for children!
6 pm Tour – Suitable for over 12s and Adults.
€15 per person.
8 pm Tour – Adults only.
€15 per person.
Dogs are welcome to come along on all the tours for free.
The Best Hotel Packages to Visit Wexford at Halloween
Amber Springs Hotel and Spa
'Tots Minication Package' – 2 Nights B&B with €50 Dining Credit – Children Share Free (Room p/person from €203.50)
Travel North of Wexford and indulge in a family stay in the 4-star Amber Springs Hotel and Spa. This family package includes:
2 Nights accommodation for two adults and two children (0 – 3 years)
Full Irish Breakfast each morning
€50.00 Dining credit to use in any one of the four dining outlets at Amber Springs
Amber Park (Gokarts, mini golf, pet farm, playground, pirate ship and football pitch)
Indoor Play zone, equipped with jungle gym, ball pool and games
Complimentary access to the exclusive Amber Leisure Club
Complimentary car parking on site
Check out the packages Amber Springs Hotel and Spa have to offer >> here<<
Clayton Whites Hotel Wexford
'Midterm Family Package': 3 Nights B&B (Room p/night from €152)
Make a break for it in the heart of Wexford Town this Autumn and be central to all spooky and festive activities.
This package includes:
3 Nights accommodation in the luxurious Clayton Whites Hotel Wexford Bed
Breakfast each morning
Complimentary access to Club Vitae with a 20 m pool and a kids pool
Sign up to Click on Clayton to receive a further reduction of €10 per night off your stay.
Learn more at the Clayton Whites Hotel offers >> here <<
Treacys Hotel Enniscorthy
'Spooktacular Halloween Family Package' – 2, 3, 4 or 5 Nights B&B (Packages priced from just €269 p/family)
Take a break with family this Autumn and visit the historic town of Enniscorthy, in the heart of County Wexford.
This package that runs between the 26th and the 30th of October includes:
Full Irish Breakfast each morning
Complimentary use of The Waterfront Pool & Leisure Centre
Morning & evening Mini T's Kids Club Sessions
Kids evening meal included during Mini T's Kids Club Sessions
Halloween 'Spooky Adventure' on Enniscorthy Castle
Family visit to Wells House & Gardens for extra spooky fun Nightly entertainment
Check out the packages Treacy's Hotel Enniscorthy have to offer >> here<<
Ashdown Park Hotel
'Ghoulish Getaway' (Family room from €265 p/night)
The Family package includes:
Family pack and Adventure Map on arrival
One family evening meal in our award-winning Rowan Tree Restaurant
Entry to 1 attraction to choose – Wells House, Johnstown Castle Gardens, Kia Ora Mini Farm, National Heritage Park, Lavender Farm
Kids Club on school holidays
Full complimentary use of our leisure facilities
Family Rooms have one double bed and two single beds
Check out the packages Ashdown Park Hotel have to offer >> here<<
Brandon House Hotel Halloween
"Midterm Madness" for €288
The package includes:
3 nights B&B with
Full Irish Breakfast
Access to the swimming pool
Choose an Activity Pass to one of the following Attractions The Dunbrody Famine Ship The Irish National Heritage Park Secret Valley Wildlife Park & Zoo Waterford Medieval Museum or Bishop's Palace
Kids Activities
Check out the packages the Brandon House Hotel have to offer >> here<<
And that's it for this week's #TravelTuesday blog featuring Lorraine O'Dwyer from Gallivanting Tours. After covering all the tricks n' treats County Wexford has to give this Halloween period, we hope that all that visit our Model County this year take care, stay safe and enjoy the fun of Halloween. 
Plan your Halloween adventure at VisitWexford.ie