County Wexford has so many amazing attractions to visit and an abundance of activities to keep you entertained during your stay. Some of the most popular places being Hook Lighthouse, Irish National Heritage Park, Well's House and the Dunbrody Famine Ship. However, there are some less well known things you can get up to that are off the beaten track but all the more fun.
The Strand Cahore
Cahore is a small fishing village dominated by a pier overlooking the sea. A stunning location favoured by tourists, local fishermen and wildlife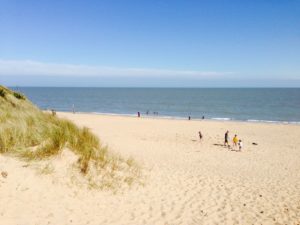 enthusiasts. You can stroll along the coastline, go for a dip in the shallow sheltered area between the beach and the pier, or spend some time fishing for crabs. 
The Strand Cahore is a stunning bar restaurant  in a unique position overlooking the safe swimming beach and pier. Enjoy a drink or seasonal meal while enjoying the sweeping views over the sea to Wicklow Head. Best of all? Its pet friendly so your four legged friend can join in on the fun too.
The tall sand dunes in Cahore are areas of special conservation as there are a variety of plants growing here that have not been recorded anywhere else in Ireland.
Dunbrody Abbey & Yew Hedge Maze
One of Ireland's finest examples of a Cistercian Monastery is Dunbrody Abbey. Those who are lucky enough to have discovered the abbey and Yew Hedge Maze in Dunbrody, Wexford describe the scene as breathtaking. Founded in 1170 by Herve de Montmorency (CORR) under the instructions of his uncle, Strongbow, this location is steeped in history and culture. Next to the Abbey is Dunbrody Castle which features an elaborate garden. The show stopping piece has to be the intricate Maze made up of 1,500 yew trees. Think you can make it through the maze?
Kilmore Quay
Kilmore Quay is a stunning location and ideal for a stroll along the coast. Based in the quaint fishing village of Kilmore, be sure to take in the views of the rugged coastline, sea life and thatch roof cottages. This spot is a favourite among anglers and families alike and you even take a day trip to the Saltee Islands by ferry if you're a lover of nature and wildlife. During your visit to Kilmore be sure to sample some of the amazing Wexford seafood on offer. You can be guaranteed that the catch of the day was swimming in the sea that morning – you can't get fresher.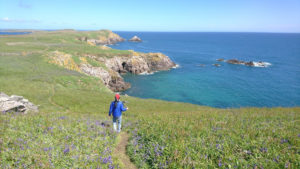 Kiltealy Community Park
This new facility is an excellent showpiece for the local community. The children of Kiltealy were largely involved in the design of the park which features slides, climbing frames, sculptures and other park equipment. Families are welcome to spend some time here while enjoying the stunning backdrop of the Blackstairs Mountains.
Traditional Skills Workshops 
The Irish National Heritage Park is a popular attraction in county Wexford. The outdoor museum brings thousands of visitors back in time to explore over 9,000 years of Irish Ancient history. However, many of the fabulous traditional skills workshops on offer are unexplored and what better way to relive ancient history than getting hands on and trying the lifestyle for yourself.
Some of the amazing workshops you can try your hand on are Mounted Combat Classes, Celtic Carving, Stone Cobbling, Foraging Workshops, Axe Throwing, Rabbit pelt Tanning and so much more.
Ferns Castle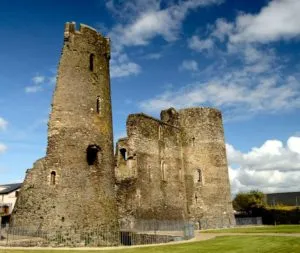 This 13th Century Castle originally had 4 large towers, 2 of which remain and visitors have access to a guided tour of the most complete tour. Explore the stunning features which include a chapel, steep stairs and arrow loops. If the weather is good you can even visit the Castle roof.
You can also discover the gorgeous tapestries on display which were made locally and are steeped in Ferns' ancient history.
The Doll's House 
This unique and eye catching Victorian establishment is a well loved and iconic protected structure in county Wexford. The exterior of the house still looks as it would have in 1936 and features many of its original features such as the windows, 2 fireplaces, timber floorboards and winding stairs. This is a stunning, quaint location where people love to just linger and look at the Doll's House.
Irish Agricultural Museum
County Wexford is known as the Model County for our rich agricultural heritage as it sets the agricultural scene for Ireland. Learn all about the fascinating industry at the Irish Agricultural Museum. We recommend visiting on a weekday to ensure beating the crowds, skipping the queues and a more intimate venture into the museum, garden and tearoom at Johnstown Castle Estate. Explore the insightful exhibitions on equestrian, ploughing, farming, machinery, culinary, rural life and the Great Irish Famine. Gain a compelling and holistic view of the Irish history of agricultural life, from working the land, to running the household. After your self-guided tour, reflect on your knew found knowledge with refreshments by the wood burning stove in the Peacock Tea Room.
Kilmokea Gardens
A stunning and colourful garden located near the more popular JFK Arboretum.  The grounds once belonged to a former church rectory and is now divided into sections. Formal, Agricultural and Parkland. The sections include lakes, archaeological areas of interest and even an Italian pavilion. Kilmokea House is a tranquil, historical setting next to the lovely gardens and serves as an alternative style accommodation for those who wish to spend more time there.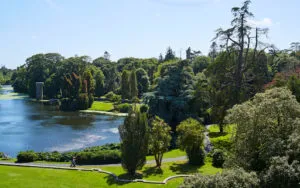 Wexford boasts a variety of diverse landscapes from sandy beaches and steep mountains to lush green meadows and forests. You can choose from a variety of way marked trails and routes to discover and explore all of which are steeped in our rich culture and heritage.
Gallivanting Food & Heritage Tours
If anybody knows county Wexford off the back of their hand it has to be Lorraine O' Dwyer of Gallivanting Tours. Lorraine is a local tour guide and storyteller and offers a fantastic range of heritage and food tours. Her comfortable bus the 'Karen Ann' will take you through the county roads that only the locals know about on an immersive and intimate tour.
Discover some of Wexford's hidden gems and find yourself lost in the heritage as Lorraine draws you deeper into our ancient east history.
Taste Wexford
If you are a food lover and want to discover Wexford through its world class, local food and drink culture, then delve deeper than the restaurants and cafes and book a Taste Wexford experience.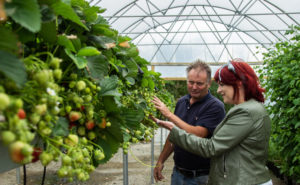 Visit local food producing farms where you will meet the farmers/producers and hear their origin stories. Each tour showcases a unique and authentic side of county Wexford's diverse culinary scene. From Ireland's oldest original functioning watermill, organic farming and famous Wexford fruit farms to local smokehouses, speciality food stores, bakeries, cafes galore where you can sample the finest of seasonal Wexford fare.
If you do not want to commit to a full day tour, you can book an individual experience such as jam making, strawberry picking or chocolate truffle making. You will be pleasantly surprised by the high quality food on offer when you go straight to the producer/farmer.
Trad Music Sessions
One of the most underrated ways of experiencing Wexford's authentic music culture is by attending a local trad session often hosted in a country pub. Everyone is welcome to attend and join. Most sessions start at around 9:30 pm or whenever a few musicians have gathered.
Carrick on Bannow – "Colfer's" – Thursday
Duncannon – "Bob Roche's" – Saturday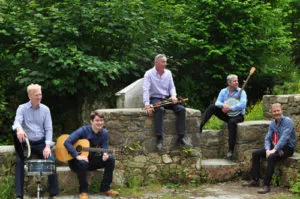 Enniscorthy – "Rackard's" – Wednesday
Gorey – "Arthur Quinn's" – Monday
New Ross – "Mannion's" – Friday
Wexford Town 
"Centenary Stores" – Wednesday and Sunday morning and noon
"Mooney's" – Wednesday
"O'Faolain's" – Monday and Sunday afternoon
"Sky and the Ground" – Sunday to Thursday
The Crown, Wexford, also host a diverse variety of live music acts from tribute bands to trad sessions and you can check out there upcoming events here.