We have always known that County Wexford is the best place for holidaying in Ireland, but now
In a recent poll by the Irish sustainable backpack company SunDrift, County Wexford has been named among the 3 top spots for staycation tourist destinations once the restrictions are lifted along with Galway and Kerry.
According to the survey, 90% of people said they intended to travel once lockdown comes to an end.
Hotels, hostels, camping sites, and B&B's are allowed to reopen for business from June 29. Most of the Wexford accommodation businesses will be welcoming back to all of those who choose Wexford as their staycation destination.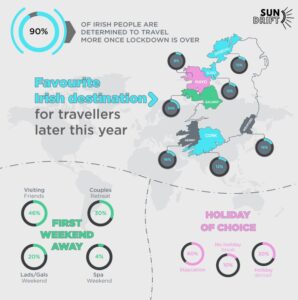 Visiting friends is cited as the most popular option for the first weekend away, followed by a well-deserved couple retreat after the lockdown and homeschooling the kids.
Fiona Parfrey, Founder of SunDrift, said "Having been confined for the past couple of months it's clear from our survey that the Irish public has every intention of getting outdoors, exploring and making new memories as soon as the opportunity arises.
"We may have been grounded this summer but it seems Irish travelers have every intention of taking flight once things return to normal," she added.
Why is County Wexford a top choice for staycations 2020? 
We get the best weather in Ireland, so many stunning beaches like Curracloe, we are known as the model county for food fresh strawberries, ice-cream and local beer, explore the great outdoors with cycling, paddle boarding and diving. So grab your sunglasses, sun cream, bucket and spade and maybe a jacket (just in case it is Ireland after all) but book early as Wexford is the best place to be this summer. 
Safety, open spaces, lovely outdoors attractions and how easy is to get here are the keys for Wexford being the best spot for your family staycation holidays.
This December, enjoy a Christmas staycation in Wexford and take advantage of some of the great Christmas events that are taking place while you explore some of the great restaurants and cafés dotted around County Wexford.