Top Places to Grab an Ice Cream in Wexford 
The Classic 99 Ice Cream is Ireland's favourite Summer treat, even though it's no longer 99 cent as the name suggests! Enjoying a 99 ice cream in Wexford, is simply a summer holiday staple. 
What Is a 99?
A 99 consists of a crispy wafer cone, soft serve vanilla ice cream and topped with a Cadbury's Flake. Did you know that Cadbury's produced this chocolate bar for the specific purpose of the 99 Ice Cream? Many people opt for the traditional 99 with the original 3 components as mentioned. However, if you're feeling adventurous most shops, parlours, and ice-cream vans offer a variety of flavoured syrups, sprinkles and, if you're lucky,  a second flake!
Local's Favourite Ice Cream in Wexford
We've talked to the local people and frequent visitors of Wexford to uncover where exactly they think THE BEST ice cream in Wexford can found. Whether it's the creaminess of the ice cream, size of the cone, selection of toppings, or the overall deliciousness, these listed locations have ranked among the best ice cream in Wexford. 
A genuine favourite among locals is Henry Hayes in Campile in New Ross. The 99s have been described by many as "unbeatable", simply delicious and well worth the drive down. Who doesn't love a road trip that ends with ice cream?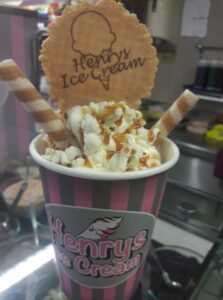 Izmoo in Rossland Strand, Wexford, is another firm favourite ranking highly on the list. Homemade Italian gelato that comes in a variety of classic and unique flavours from Cookies & Cream, Biscoff, Unicorn and even Tayto. Yes, TAYTO! You can create your ideal combo in a cup or a cone, choose your flavour and your toppings and enjoy with stunning beach views just footsteps away.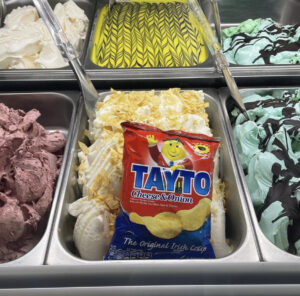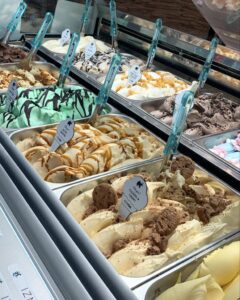 Lick'd Ice Cream Parlour at Kilmore Quay, in Wexford is a fantastic parlour that serves homemade, Wexford ice cream. The award winning parlour also offers gluten-free and dairy-free options so nobody has to miss out on enjoying this delightful treat. Lick'd always have some sumptuous summer specials on the go.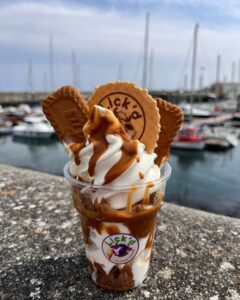 If homemade ice cream with a little luxury is more your style then Scúp Gelato is a must try. Their gelato is made with the best of Irish milk which makes it super smooth and creamy. They also make really refreshing sorbets using locally sourced products and seasonal fruit. Check them out on Wexford Quay!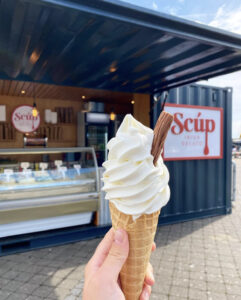 Also among the ranks with multiple mentions is Brooks Supermarket in Riverchapel, Gorey and Steemers' in Bunclody.  Steamers' serve delicious 99s all year round, no matter the weather. There's no rules when it comes to grabbing an ice cream in Wexford, we're the Sunny South East after all. Steemers' are famous for their festive Green 99 Cone available during St. Patrick's Day celebrations. If you're in Enniscorthy town, Malocca's is the place to be for a delicious creamy 99!
Some other honourable mentions for some of the creamiest ice cream in Wexford include:
Gala on 'The Duffry', Enniscorthy
Gala Express, Courtown Harbour
Londis, Our Lady's Island
Centra, Ballinaboola
Greene's Supermarket, Clonroche
Lawlor's, Morriscastle
As you can see from our list, there's no shortage of delicious ice cream in Wexford. Each of the mentioned locations will offer a variety of flavours, toppings, syrups and sizes. One factor remains constant, no matter what you do, no summer trip to Wexford is complete without a 99!
Wexford. Soak it all in.
Plan your summer holiday at Visitwexford.ie