Even the happiest of city dwellers need to escape the hustle and bustle of urban life to walk among natural beauty from time to time. A visit to one of Wexford's many gardens is a great way to get outdoors and indulge the senses, and Spring is the best time to visit, for it's this time of year that sees an explosion of colour and with it, an abundance of wildlife come out of their hiding places. So whether you have a green thumb or simply enjoy a beautiful walk, here's a list of our favourite green gems around Wexford!

Open all year round, the restored Georgian Walled Garden at Tintern Abbey, Hook Peninsula, will revive your natural senses. Restored to its former layout of the early 19th century, using stone gathered from the surrounding fields, bricks which were hand made using local estuarine mud and lime which was made in a lime kiln at the battlement bridge, the gardens evoke a great sense of history. Though still a work in progress, the main features of this 2.5-acre garden include curved corners, two intramural structures on the dividing brick wall which splits the garden into two sections, east and west. On any day, here you'll find a lot to see in a small space, plenty of room for children to run free, a small café to enjoy a coffee after your walk and volunteer staff with immense knowledge of plant varieties, as well as fruits and vegetables available for a small donation.
Kilmokea County Manor & Gardens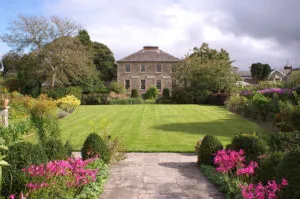 As well as being a beautiful heritage garden of 7 acres, Kilmokea is one of the most historic sites in the South East, and a small Viking settlement and a Norman motte & bailey depict its historical influence. The walled garden is also home to Ireland's one-of-a-kind Tree Fairy Village. The 'Myrtle Wood' storybook truly comes to life with the characters of the book sitting in the trees and in log piles, waiting to be discovered by thousands of Fairy Hunters. A large fruit and vegetable garden that's open to the public complements a host of winding paths that provide an exciting display of exotic plants. The Garden Café, The Kilmokea Irish Pottery, Arts and Crafts shop and the tea rooms provide plenty of things to see and do on a long afternoon spent here.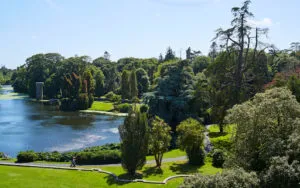 The spectacular and ornamental gardens that adorn Johnstown Castle estate are a popular destination for walks, picnics and family fun and offer free admission from March through to October. Take a leisurely walk around two lakes, to spot ducks, swans and peacocks, and over 200 variety of trees and shrubs amongst its many pathways, before indulging in a delicious range of cakes, pastries and desserts in the Peacock Tea Room. With so much lush scenery on display, Johnstown Castle Gardens is a wonderful refuge for those seeking sanctuary from the stress of modern life.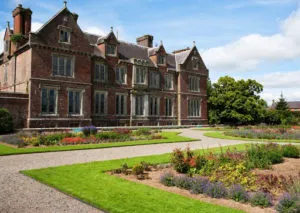 At Wells House & Gardens, you don't just see, you do! There's a calendar bursting with events year-round such as guided walks, wellness classes, an Easter egg hunt and a Teddy Bear's Picnic. Little ones will enjoy exploring the magic of the Fairy Trail, whilst the estate features two woodland walks; the Lady Frances Woodland Walk and the Mogue's Walk, both containing hidden treasures in a verdant landscape of mature plants and trees. The stunning Victorian terraced gardens boast a unique collection of plants that are a must-see for gardening enthusiasts.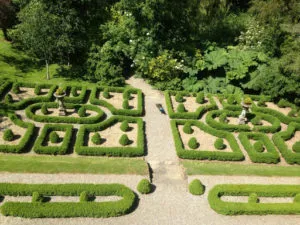 An oasis of tranquillity, Marlfield House is a 4-star, multi-award-winning luxury boutique country house hotel, surrounded by manicured gardens and long recognised as one of the most celebrated country house hotels in Ireland. Together the garden and grounds extend to some 40 acres of woodlands, meandering paths, an extensive garden of herbs, vegetables and fruits and beautiful lawns and formal gardens. The lake and wildfowl reserve form a completely separate garden to the front of the hotel and the island, reached by a wooden bridge and features beautiful specimen of shrubs and trees.