County Wexford is known as the Sunny South East of Ireland, and for good reason. Nestled in the cornerstone of Ireland's Ancient East, Wexford clocks up the most hours of sunshine than any other county in all of Ireland, we really are the best for Sun.
County Wexford is a popular holiday destination for families, groups of friends, couples and even solo travelers – the abundance of natural amenities and dynamic landscapes mean there's no shortage of activities to enjoy or attractions to discover. Whether you're traveling from across the sea or planning a staycation in Ireland, you simply can't go wrong with all that Wexford has to offer. You can count on Wexford to be best for Sun and best for fun.
What to Do
From luscious, sandy beaches and scenic coastlines to medieval market towns and breathtaking mountain ranges, there's something for all ages and interests. 
Water sports is just one of the exhilarating ways you can enjoy your stay in Wexford. There are plenty of stunning locations where people of all ages can get their toes wet as they try kayaking, fishing or surfing to name a few. And if you prefer to take it easy,  you can take a stroll, sunbathe or build sandcastles on one of our spectacular beaches.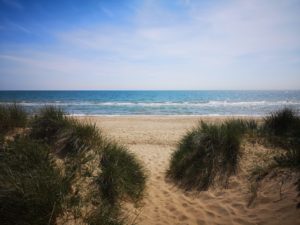 Escape to the outdoors and visit some of the gorgeous gardens or parks such as JFK Memorial Park and Arboretum, Wells House and Gardens or Kilmokea Manor – a perfect day to spend alone or with all of the family. We recommend bringing a picnic to enjoy while soaking in the sun and the gorgeous blooming gardens around you. 
Spend a few hours exploring some of Wexford's favorite summertime attractions like Hook Lighthouse (the world's second-oldest operating lighthouse), The National Heritage Park, or the Dunbrody Famine Ship. Summer is the ideal time to tour Enniscorthy Castle so you can finish up with a visit to the roof and catch sight of Vinegar Hill and the River Slaney.  Not only are you in for a day of fun but you're guaranteed to learn a few things too.
Thanks to our dynamic landscapes, Wexford is the ideal spot for walking and cycling. Take it easy with a simple cycle or grab your outdoor boots and take a hike up the Blackstairs Mountains or Mt. Leinster for a panoramic view of the Model county.  There's such a variety of scenic routes to choose with something for all ages and fitness levels.  You can check out our recommended routes here for more details. 
Wexford is a vivacious county with a calendar of events and festivals taking place throughout the summer season. Whether you enjoy music, food, heritage, crafting, or simply a great night's entertainment, there's an event with your name on it. You can see our full event calendar here. 
Wexford is not only the perfect family holiday destination, if you're in need of a post-lockdown weekend with your friends, a solo R&R trip, or a romantic getaway, Wexford should be at the top of your list. Wexford is home to some world-class golf courses, spa escapes, and alternative dining experiences to ensure you can plan that much-needed summer trip.  
What to Eat
Wexford has a vibrant food scene in general and is renowned particularly for our meat, dairy, and seafood. There are a number of fantastic restaurants, cafes and traditional pubs across the county where you can sample our local fare with outdoor dining options. Although, the most popular snacks we love to indulge in during the great weather HAS to be a classic 99 ice cream cone or fresh fish and chips after a day spent on the beach.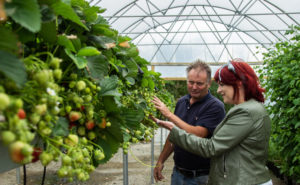 You know its Summer in Wexford when you see the roadside huts appear selling fresh Wexford strawberries. It really isn't a Summer trip to Wexford if you don't try Wexford strawberries – they're arguably the best in the world and all thanks to our sunny climate. You can even take a trip to a strawberry farm during the summer months where you will see the strawberry tunnels where the fruit is grown, meet the farmer and hear his story and finish off your tour by picking your own strawberries to take home. Visit our Taste Wexford section to see what culinary tours and events are happening during your summer trip to Wexford.
Where to Stay
Wexford has a variety of 5 and 4-star hotels, family-oriented hotels and self-catering accommodation options to choose from or if you're feeling full of adventure why not sleep under the stars and check out some of the camping sites dotted around the county.
Check out some of our more detailed blogs and tourist guides below so you can start planning your summer trip to Wexford.