County Wexford is home to Ireland's most haunted house so there's never a shortage of ghoulish events and activities as Halloween approaches. There's something for all the family both young and old as well as a range of adult only scares if you're brave enough to try.
Halloween Haunts at Wells House & Gardens
26th October – 31st October
Wells House & Gardens are renowned for their seasonal, family events and Halloween is no exception.
This Halloween, Wells House are hosting a range of Dare to Scare tours throughout the estate house and gardens. Choose from the family friendly tour or if you're brave enough, take on the Adult tour for an extra fright.
The ghouls and ghosts of Wells House awaken after another year's slumber and in their restlessness, have taken over the estate!
Make sure to join us during this far from hallowed time for tours, roars and spooks galore – this year you'll survive we're nearly sure!
Halloween at Enniscorthy Castle
October 27th & 28th
Take a trip through Irish history and meet some of the ghastly ghosts unique to Irish myths and legends. Then, learn how to write your own ghost story with Irish Times Best Selling Author Caroline Busher. The castle itself ives off an eery feel perfect for this time of year.
This Halloween workshop is suitable for 8-12 year olds. Other workshops on the day include 'Mask Painting' & 'Halloween Craft Painting'.
Irish National Heritage Park Halloween Events
Halloween Chocolate Making
28th October
A fun chocolate making workshop for kids. Children get to create their own Halloween themed goodies which include marshmallow bats, spooky spiders and chocolate apples.
Children will have a selection of toppings to use like marshmallows, rice crispies, sprinkles and coconut.
Price: €15 per child (to include all materials)
The class will be running from 3pm to 4.30pm.
Age group: 4 to 12 years
Broom Making Workshop
29th October
Make your own witch's broom using natural materials.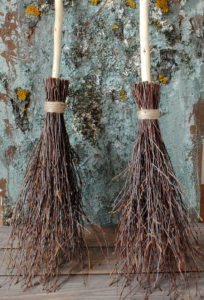 Price: €15 per child (to include all materials)
The class will be running from 11am to 12.30pm
Age group: 5 to 10 years
Children's Halloween Mosaic
30th October
Make your very own Halloween scene using seeds, beads, pebbles and paper.
Price: €15 per child (to include all materials)
The class will be running from 10am to 1pm
Age group: 5 to 12 years
Pre-Booking on all the above events is essential so make sure and secure your space on the spooktastic workshops at www.irishheritage.ie/product-category/events/childrens-classes/
Jackula
29th October – Presentation Centre, Enniscorthy
As seen on RTE and TV3, this Halloween themed magic show, performed by Jeff Keough, is the perfect event for all of the family. 
Join Jackula on a spooktacular quest to to step out of his older brother's shadow and become the world's first fun vampire. Laugh as Jackula makes his pet ghost dance. Gasp as Jackula balances five glasses of water on his face. Smile as children help him perform spellbinding tricks.
Loftus Hall
Although this famous Wexford attraction is open all year round, what better time to visit Ireland's most haunted house than at Halloween.
Prepare yourself for the interactive guide around the abandoned mansion where you will told of the grim and troubled history of "The Legend of Loftus Hall". Experience exactly what happened that famous night as you re-enact the card game. We recommend brushing up on your knowledge of this legend before your visit to build a spooky anticipation.
The Hall also offers After Dark Tours and Lockdowns for those who are brave enough to enter the mansion past witching- hour. Check them out at www.loftushallafterdark.com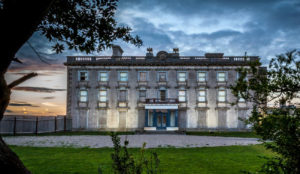 Halloween Train at Amber Springs
Visit the Amber Springs during their Monster Mash event this Halloween.
The family friendly Spooky Train runs from 20th October to the 4th November while the spookier  Horror Train runs from 7pm 20th October to Halloween Night (12 years +).
The village comes alive with visits from Frankenstein, skeletons and ghoulish creatures, we recommend all children to come in their scariest Halloween costume to blend in with the monsters. Be entertained by the creepy monsters and performers and enjoy some yummy Halloween treats too.