Looking for a festive and merry Christmas to remember?
Then stick with us and take in all that County Wexford has to offer to give you and your loved ones joyful and happy Christmas memories
It's that time of the year again, where we pull out our best Christmas jumpers, stress over gift ideas and dream of all the festive food that will be indulged over the holiday season. With Christmas just around the corner and Jack Frost nipping at our noses, it's undoubtedly the year to take advantage and look forward to the Christmas spirit with all things festive happening in our wonderful hotels and attractions here in County Wexford.
While most Santa Claus experiences across our Emerald Isle will be different this year, we cannot let the festive season pass without festive family experiences to enjoy. That is why this year, our local attractions and their elves here in the South East are working their hardest to pull out all the stops and make Christmas 2020 another one to remember.
This week's #TravelTuesday tip: Make the most of the festive season and choose the Santa experience that's suitable for all the family in the Model County this December. Create excitement, get into the Christmas spirit and grab a hot chocolate and some sweet treats to indulge in as you and your loved ones feel holly and jolly. 
So, if you're looking to plan the perfectly festive Christmas or Santa Clause experience in Ireland's Ancient East this winter, look no further, as we have just the right set of options for you.
1. Santa Train Experience at the Amber Springs Hotel & Spa, Gorey
Book your stay at Amber Springs Hotel & Spa  >>HERE<<
For residents at the Amber Springs Hotel & Spa only (for now, keep up to date >>here<<), the Santa Train Experience is one not to be missed! The experience starts off with a drive-thru on the Amber Springs train route, leading your family to stop by and see the Amber Springs Snow Princess and elves preparing Santa's sleigh for Christmas Eve, followed by a route dazzled by glistening lights and glimmering trees led by your elf guide to Amber Christmas Village.
At the village, as you stop your car and step outside to explore the village in your own family pod to ensure safety precautions are maintained. With a walk around the magical village, indulging in all the festive treats, you'll come to see all the elves working to help Santa, and eventually be invited to meet Santa! After the half hour visit to the village, your elf guide will take you back to your car, popping your treats in the boot and sending you on your way to have a very magical Christmas.
The experience will see a number of Santa Train trips leave the village per day, starting the 1st of December until the 23rd, with s sensory train departing on the 5th of December. Priced at €10 per adult and €16 per child, the experience is enjoyable for all of the family. 
Check out more about the wonderful Santa Experience  >>HERE<<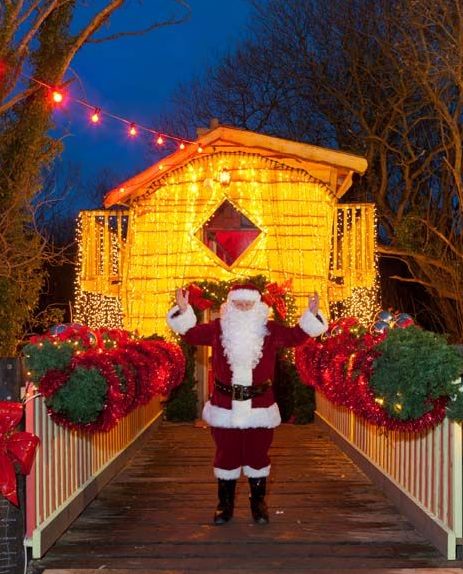 2. Santa Drive-Thru Experience at The Village at Wheelocks
BOOKED OUT
Escape to the Wexford countryside visit to see Santa Claus at The Village at Wheelocks. This drive-thru experience from the safety of your own car is bound be an unforgettable Christmas memory. Take yourself and your family on a magical journey to The Village at Wheelocks and receive a warm welcome from the village's enchanting elves from your own car. Take a look at Mrs. Claus in her happy place, baking sweet treats and homemade goods for her very own Santa Claus as he prepares to set off across the globe in the coming weeks. 
Watch Santa's elves keeping themselves jolly and busy in their exquisite elf workshop while you safely wait for the introduction to Santa Claus. As Santa checks his nice list, he will give visitors a gift and send you on your way to visit the live crib at The Village at Wheelocks where you can meet the shepherd and his livestock.
The Village at Wheelocks' magical Santa Drive-Thru Experience will last approximately 20 minutes. Afterwards, stop by the cafe for some takeaway food and drinks and browse through the Christmas village. Priced at €10 for parents and €15 for the aspiring elves, this experience is another promising Christmas spirit between the 4th of December to the 23rd.
Check out more about the magical Christmas experience  >>HERE<<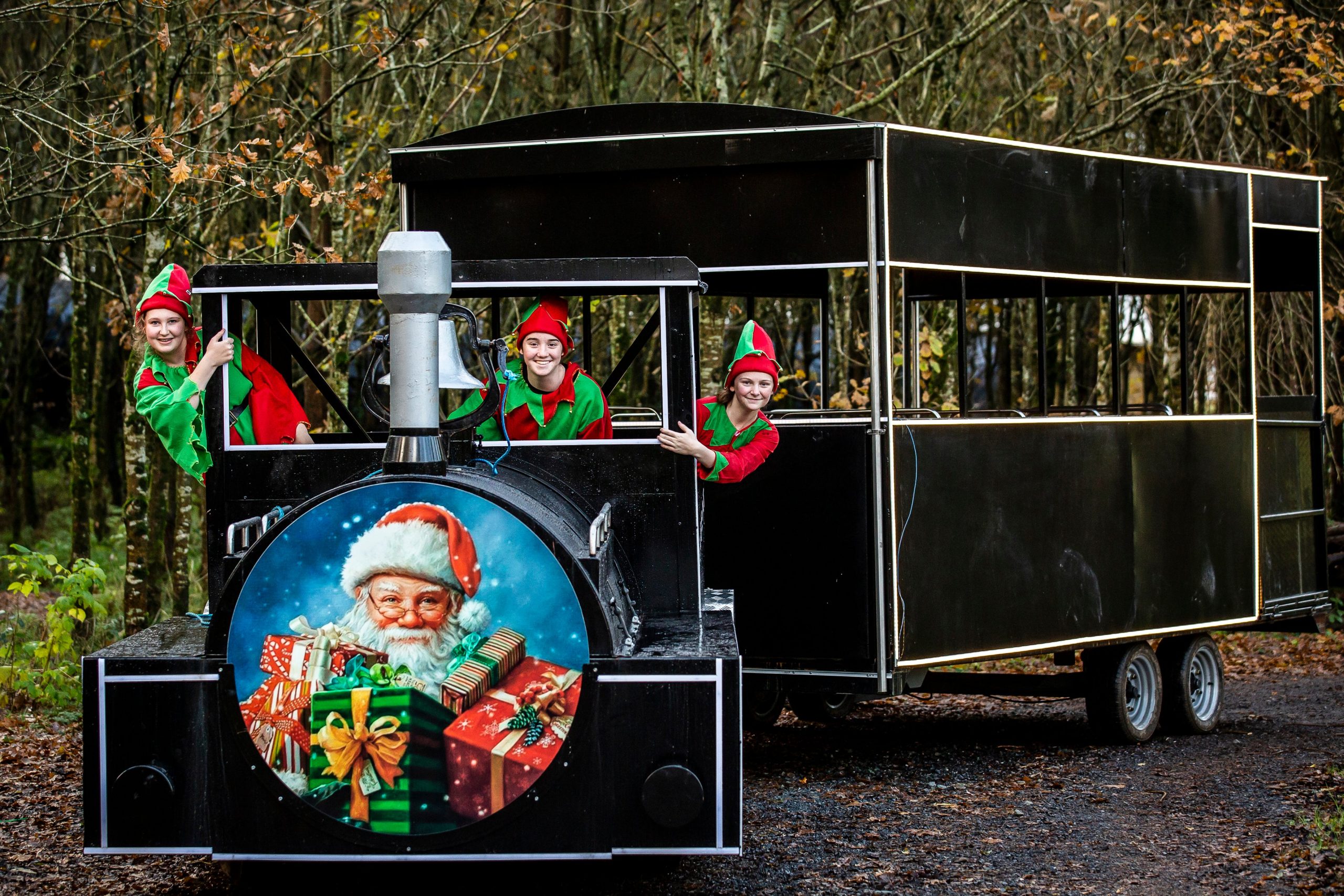 To wrap up this magical Santa Experience, book an overnight stay in:
Treacys Hotel Wexford in Enniscorthy
Book >>HERE<<
Santa's Sleepover  –  1 Night B & B, (From €149 per family)
This 'Santa's Sleepover' package includes:
Overnight accommodation 

Full Irish breakfast in 'The Restaurant' at Treacys Hotel Enniscorthy

Tickets to The Village at Wheelocks' Drive-Thru Christmas Experience

Mini T's Kids Club morning & evening sessions

Kids evening meal included in the evening sessions

Treats at the Elves' Sweet Shop & a Christmas letter making kit

Complimentary use of the leisure facilities including pool and gym

Complimentary WiFi & Parking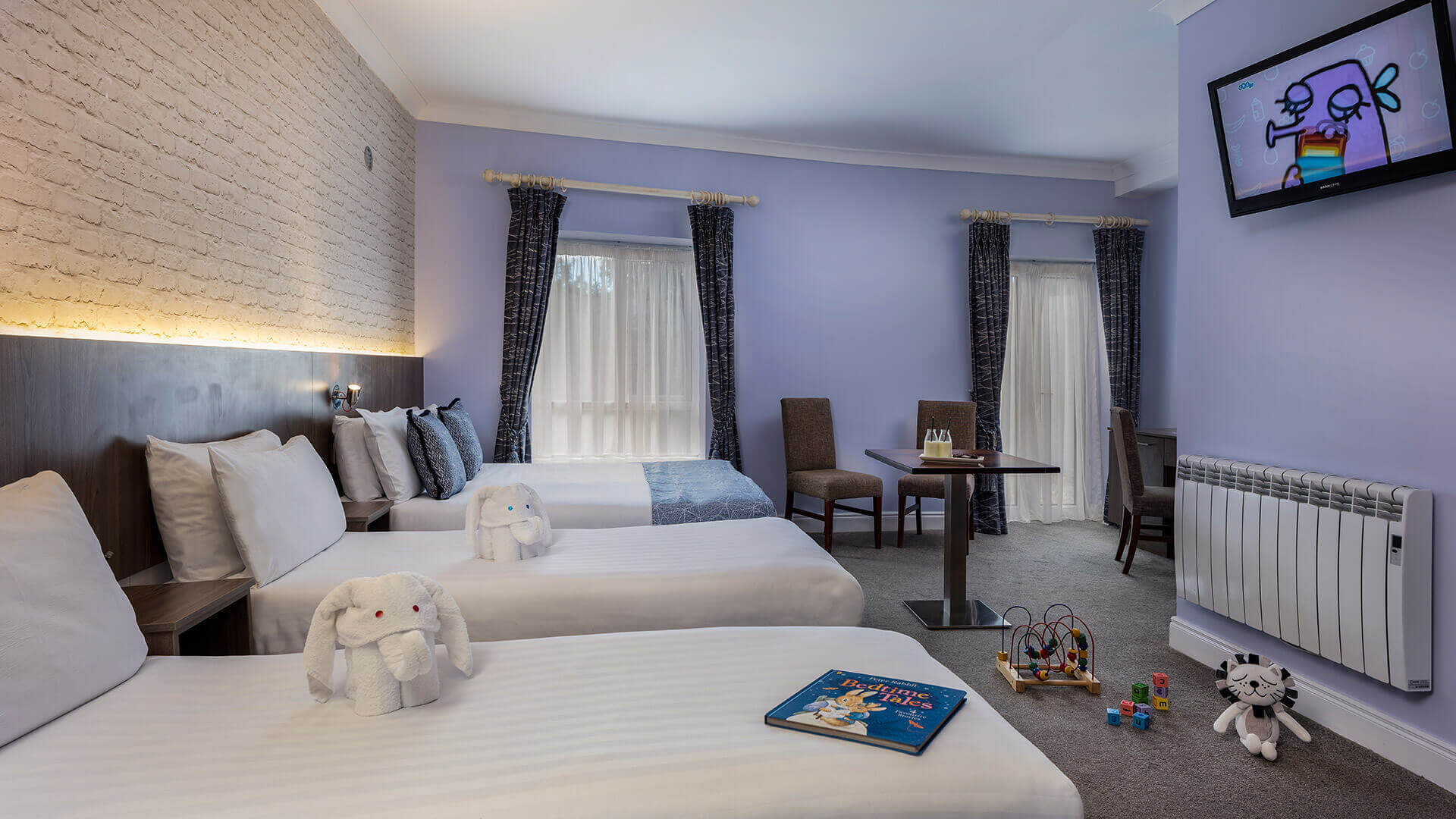 3. Magical Christmas Experience at Kia Ora Farm, Gorey
Phone 086-0836715 or 086-8788424 to book.
Santa Claus is delighted to announce his return to the Wexford Winter Wonderland that is Kia Ora Mini Farm. Visit the animals, see Santa's cosy home and watch in amazement of our enchanting musical light show.
From start to finish, a festive Christmas visit to Santa at Kia Ora Farm in Wexford is full of sparkle and will include:
-Thousands of Twinkling Lights
-Live Stable of Bethlehem
-Illuminated Light Show
-Feed the Reindeer and other animals
-Visit Santa's Bedroom, Kitchen, Workshop and Post Office
-Visit Santa who will listen to Christmas Wishes before directing all good children to the Giant Present Room to pick their own toy with our Happy Elf
Dates: Thursday 3rd – Wed 23rd Dec. 
Admission:
Booking in advance is required. Masks will be mandatory when visiting Santa this Christmas or indoors at the farm. Our coffee shop will offer takeaway drinks and treats and our gift shop will offer lots of choices.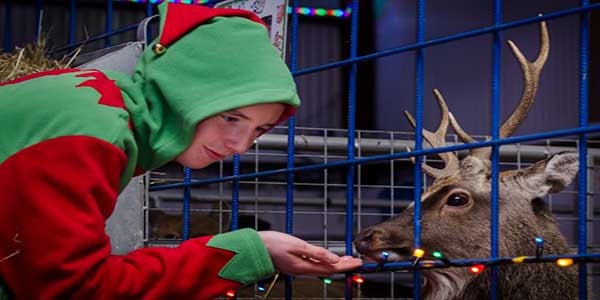 4. Santa North Pole Experience at Home: Wexford Winterland
Book >>HERE<<
Enjoy a virtual visit from Santa Claus from the comfort of your own magical wonderland at home this Christmas. Santa has made every effort to get up to speed with modern technology – with the help of his little helpers and Mrs. Claus of course – in order to deliver a Zoom call to you and your loved ones. With a sprinkle of magic and plenty of Christmas spirit, Santa and his elves look forward to using this sort of 'magic portal' called Zoom, and with a little bit of elf-communication he'll be able to get in contact with you to thankfully save Christmas!
Mrs. Claus recently informed Santa that it was difficult for the boys and girls to travel this year, and he knew he had to do something! Because there is no internet in the North Pole he asked the most talented of elves to create magic portal lines that will allow him to call each one of you directly at your home this Christmas season. This means you can chat to Santa with your whole family no matter where they are in the world.
So pick a time that suits and make a day of it! Gather around to chat to Santa in the comfort of your home, while Christmas lights are twinkling and hot chocolates are in hand. In the days before the meeting, each child will receive a special Christmas Envelope sent directly from the North Pole Post Office to their home. Inside each envelope will be an official "Nice List 2020" certificate, with your child's name on it and signed by Santa and Mrs. Claus. It will also include a pouch of Mrs. Claus' special reindeer food to put outside on Christmas Eve! 
Each Zoom call will also be recorded and sent to you afterwards via email so you can rewatch the magic of meeting Santa at home all over again. This virtual experience is priced at €17 for the first child and €10.00 for every child thereafter. 
Check out more about the Santa North Pole Experience at Home  >>HERE<<.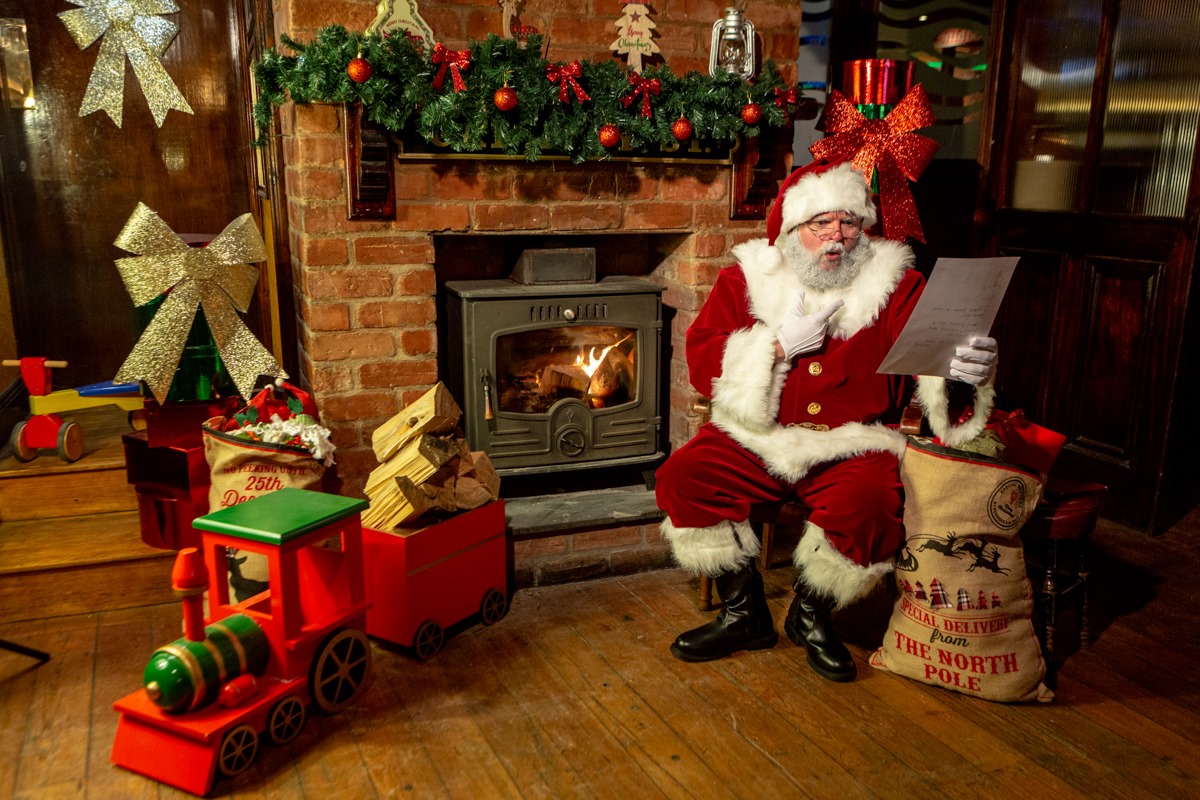 5. Christmas Magic at Riverside Park Hotel and Leisure Centre in Enniscorthy
Call 053 – 9237800 to book, or book online >>HERE<<
Make your Christmas a truly magical one this year with the Riverside Park Hotel Santa Sleepover packages.
The 'Santa Sleepover' packages include:
A festive stay in one of the spacious family rooms

On arrival, the little VIPs will receive a keepsake Christmas mug and chocolate treat
Enter into the beautifully decorated lobby where the little elves will be waiting to welcome you to the Christmas Magic experience
Each family bubble will be escorted to Mrs Claus sitting room and the elves kitchen by your own elf where Mrs Claus will read a little Christmas story, every child will receive a very special homemade treat baked by Mrs Claus herself
Your elf will then bring your family bubble along to see Father Christmas himself, along the way you will be in for a few surprises and be aware to keep an eye out for the Naughty elf
A social distanced Santa will be waiting to see all the little boys and girls with a very special gift for everyone on his nice list along with a keepsake photo. The Christmas Magic experience will take approximately 15 mins
During your stay there will be lots of little surprises and adventures for our little VIPs, Elf Door Scavenger Hunt, Letter from Santa, colouring competitions and a Christmas word search that will keep everyone entertained and in the Christmas spirit
Your safety is our main priority here at the Riverside Park Hotel.
Due to social distance regulations, there are limited spaces with each family bubble and at tables in our restaurant.
Please call our reservations team who are here and waiting to book you in for your Christmas Magic Experience. 053-9237800
Available to Wexford residents only under Level 3 restrictions until 18th of December. Please do not book if you reside outside of Wexford as your booking will not be accepted. Some more availability for this Saturday and Sunday (12th & 13th of December) has opened up.
Available to people outside the county from 18th December. Extra slots have been added from the 18th – 23rd December for guests outside the county. Call 053-9237800 to book.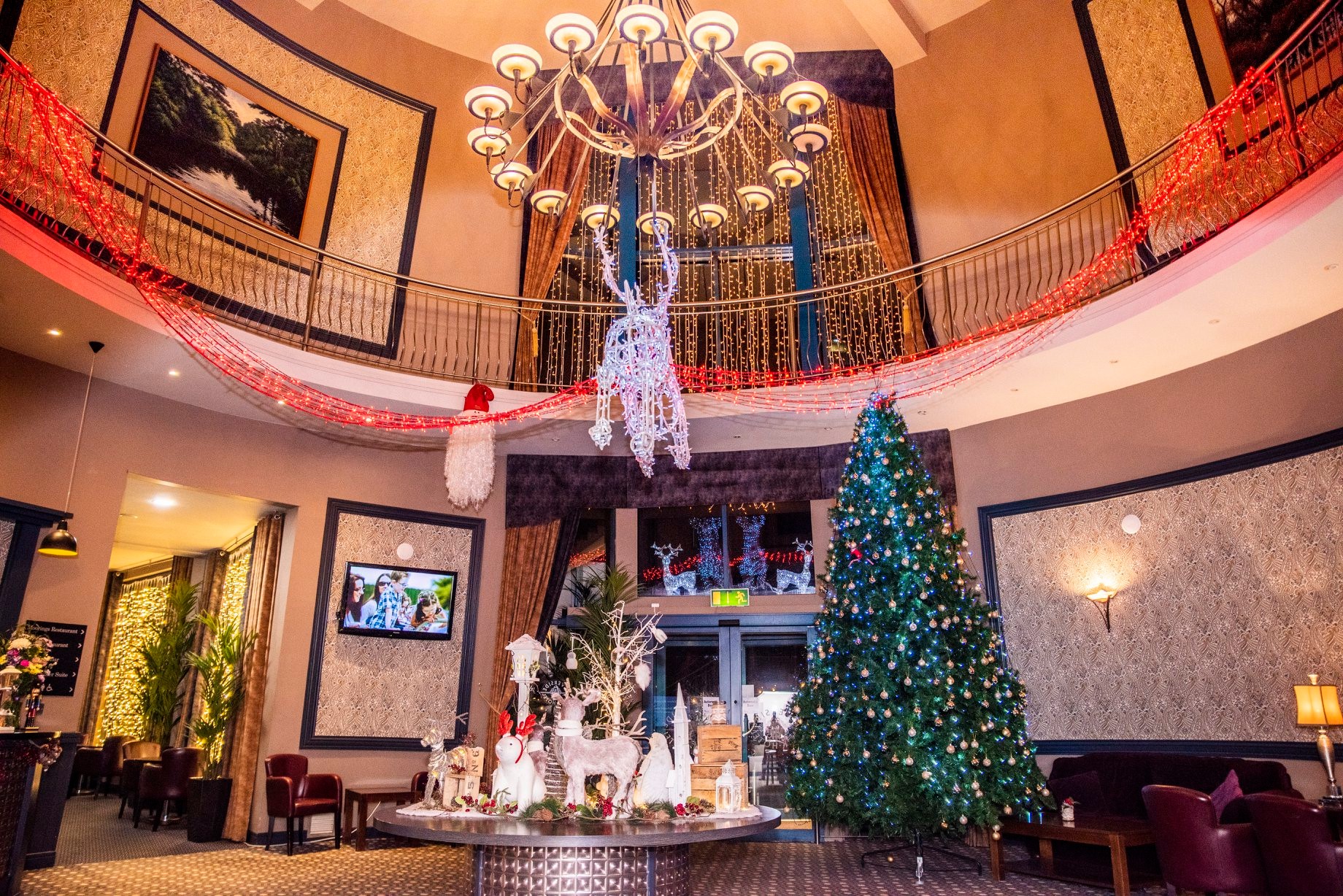 Note: All prices listed are subject to availability and are executed from the hotels direct website, as of today 16/11/2020. Please remember to book directly via the hotel's website or phone call for the best rates. 
So, to wrap up this #TravelTuesday blog post exploring the opportunities and experiences that County Wexford has to offer this Christmas season for all the family, we hope you and your loved ones can find something suitable in order to make this Christmas, one to remember!
Get ready for Santa and book now your Christmas Experience in County Wexford now!
On one last note, while we encourage you to enjoy your festivities in the south-east, it is also important to remain mindful of the safety of yourself and others. You can check out our post which enlists all safety precautions that should be taken when out and about in County Wexford >>HERE<<
Please note that all events are subject to new recommendations to be announced in the following weeks.