Header image: Niall Reck
For the past few months, Visit Wexford has conducted a series of guest blogs featuring members of the tourism and hospitality industry in Wexford, as well as bloggers and photographers that promote our county so perfectly. This series gives them every opportunity to share their insider knowledge on a variety of topics to help you plan your perfect visit to Wexford.
This week as part of the series, we've invited web designer and owner of Graphedia.com, Niall Reck, to talk to us about his favourite places to take his three gorgeous wolfhounds for a run. From the scenic town, fresh beach air and a calf crusher trail as Niall says himself, the sunny south east has it all when it comes to running in Wexford. 
Our #TravelTuesday Tip: Always make sure to plan your route in advance, especially if you're taking the dogs to ensure the location is dog-friendly. We'd also recommend being organised like Niall mentioned with poo bags, water for yourself and your pooches and perhaps a carry all bag to do so. Lastly, we want to ensure you enjoy your time as you adventure through the wilds of Wexford while getting that exercise in!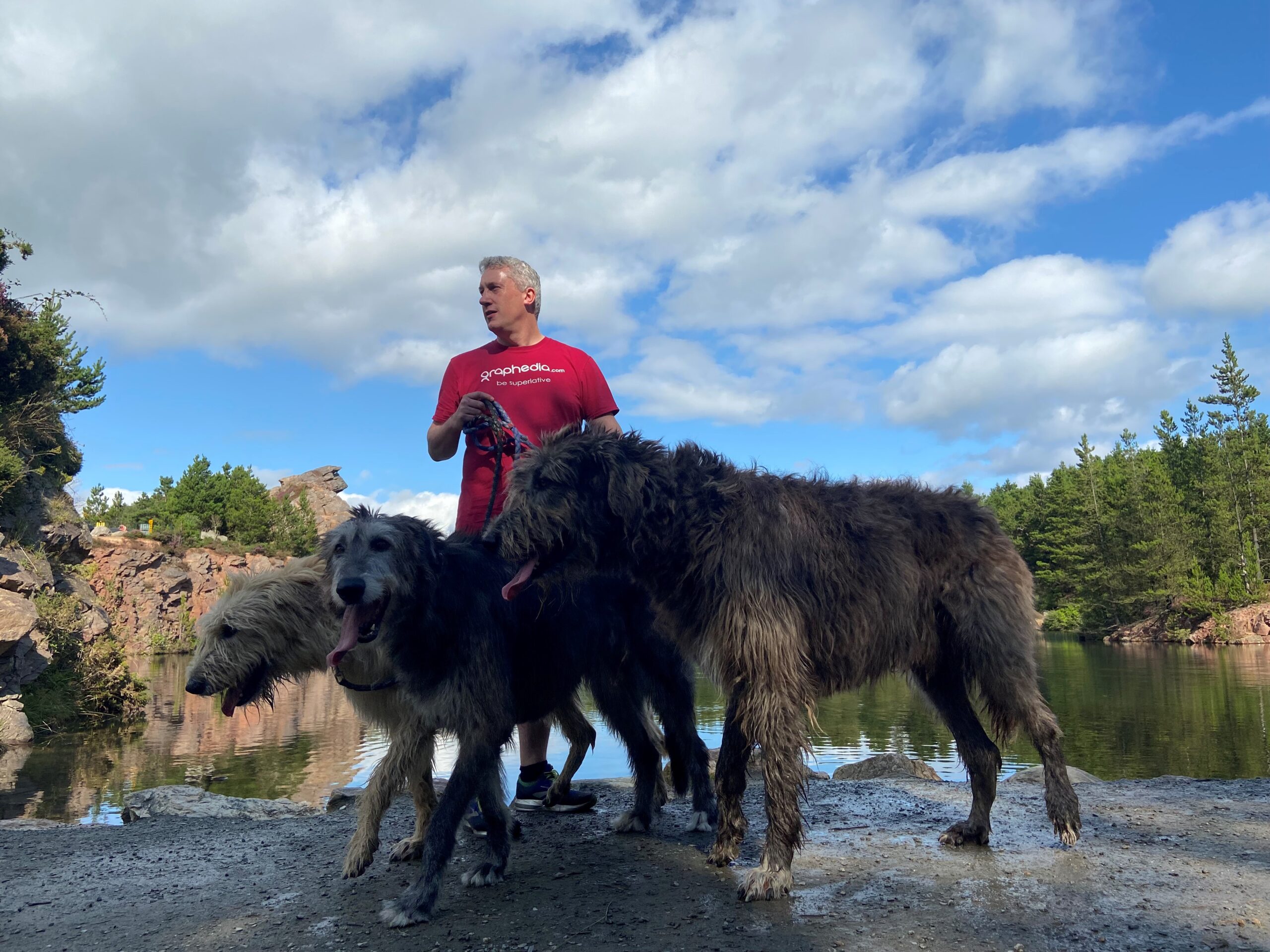 'Running with the Wolfpack'
As a keen leisure runner and local business owner of Graphedia.com, I always find that it's so important to get out and about and make time to get a good run in. I normally always run with my dogs, 3 Irish Wolfhounds, hence the title 'Running with the Wolfpack.' I would consider myself as a leisure runner, mainly hitting runs of 10k max, but I try to mix it up with hills and scenic views. 
Here are three of my favourite dog-friendly routes I'd recommend:
Route 1: Wexford Town
Beautiful flat run, taking in the gorgeous sites of the Wexford Quay front
Start & Finish: Ferrycarrig Hotel
Distance: from 6 to 10k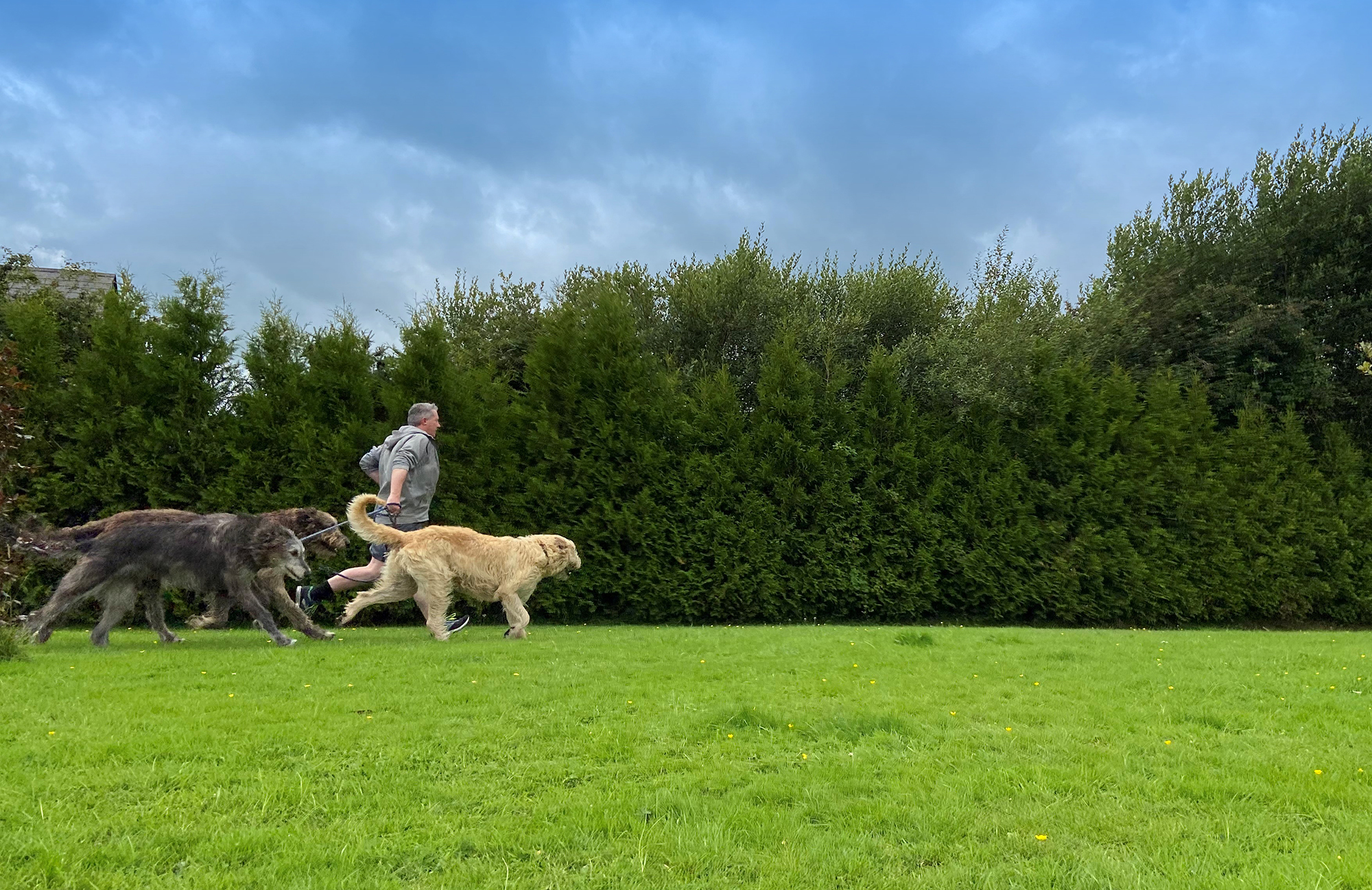 Start from Ferrycarrig hotel, take a left at the entrance of the hotel and run towards Ferrycarrig bridge taking a left after the bridge. Follow the flat run path all the way into town as you run beside the railway line and river all the way into town.  As you get to the Arc cinema it will become a little busier with pedestrians. Staying on the footpath heading towards Wexford Bridge, cross the bridge at the traffic lights and you are on Wexford's beautiful quay front. 
There's plenty of room here, beautiful views of the river, the mussel boats and people just out and about. Continuing on this flat route all the way down to the Talbot Hotel, stay in the quay front car park until it runs out. If you look to your left you'll see Curracloe and Ravens Forest in the distance across the water.  When you reach the end of the car park then turn back, and run back in towards Ferrycarrig.
This is a lovely flat run with gorgeous views of the river Slaney along the way. There's also plenty of bins on the quay front and if you want to add more to this run, when you get to the bridge, run up and over it to the other side and back over. It's a small hill which can be refreshing if there's a breeze from the river.
Route 2: Ravens Forest (Curracloe Beach)
Another stunning scenic run no matter what the weather. Flat if you like, or adventurous
Start and Finish: Culleton's Gap (White Gap) car park
Distance: from 5 – 10 k
Note: There's only one waste disposal unit at the start of this route, but there's also a tap for fresh water if you need it
Gravel path and beach (flat)
Through the forest and then the beach (lots of humps and bumps)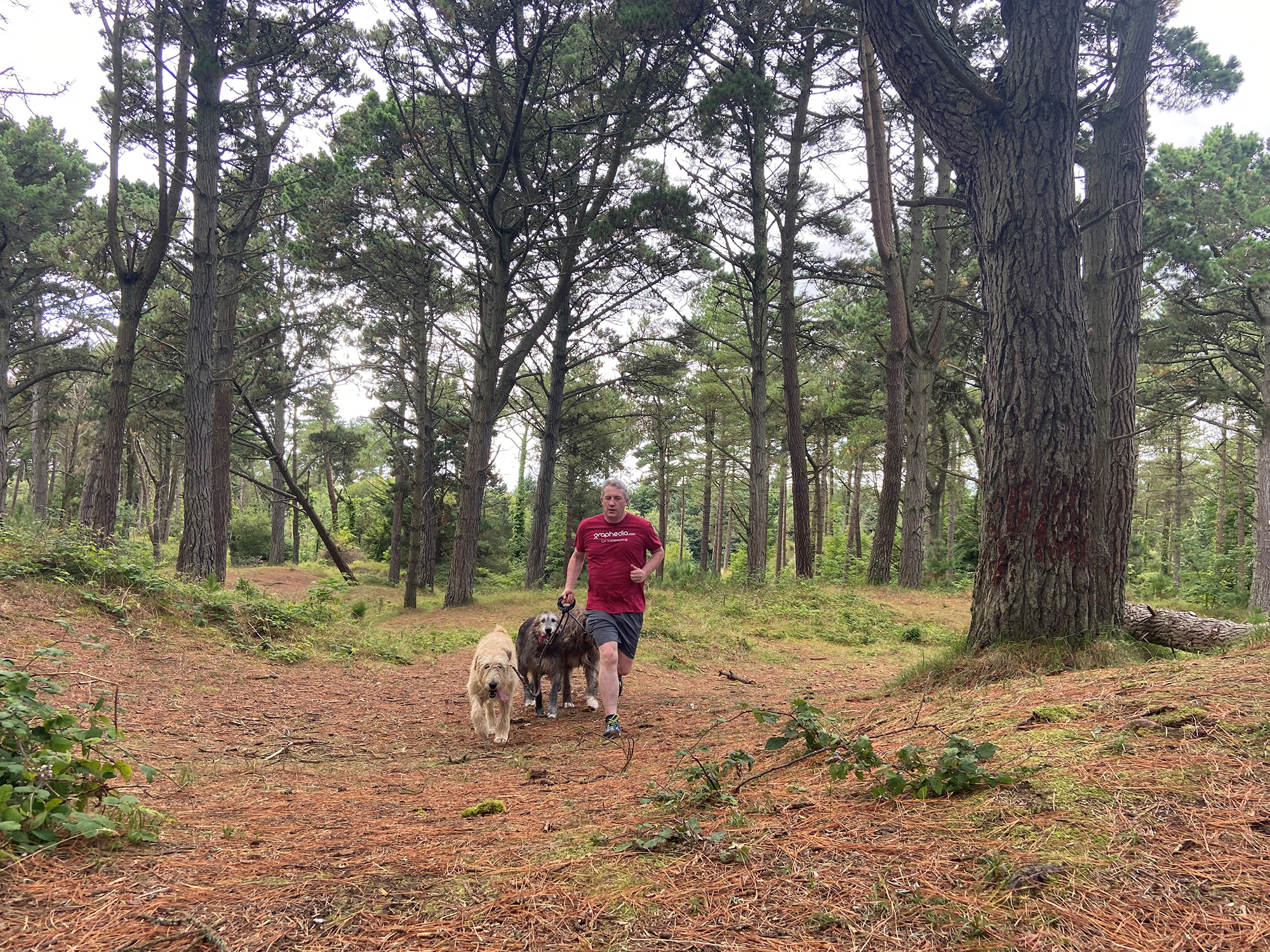 This is a great run start in the forest with many markers on the route to turn left, making this run a 2k, 4k, 6k, 8k or do the full loop 10k.
Start off your run in the forest and head straight onto a lovely flat gravel path way with plenty of twist and turns. You'll be surrounded by the gorgeous trees and greens of Ravens forest, breathing in the lovely forest air.  When you reach the end of the forest you can take a left to the beach or continue on straight (left is 8k). By going straight ahead, you're adding on another 2k, but when you reach the end you have a stunning view of Wexford town and the entire harbour. All left hand turns on the route bring you directly back onto the beach. This is generally a less travelled route so enjoy the quietness of it. Turn left here to turn back towards the beach but this far down you might even get to see the hundreds of seals out on the sandbanks enjoying the sun.
When you get to the beach down here you will feel like you are on a tropical island – it's just absolutely stunning down here.  Once on Curracloe beach, run back towards the start and enjoy the sea breeze, smell of the sea air and listen to the crashing waves.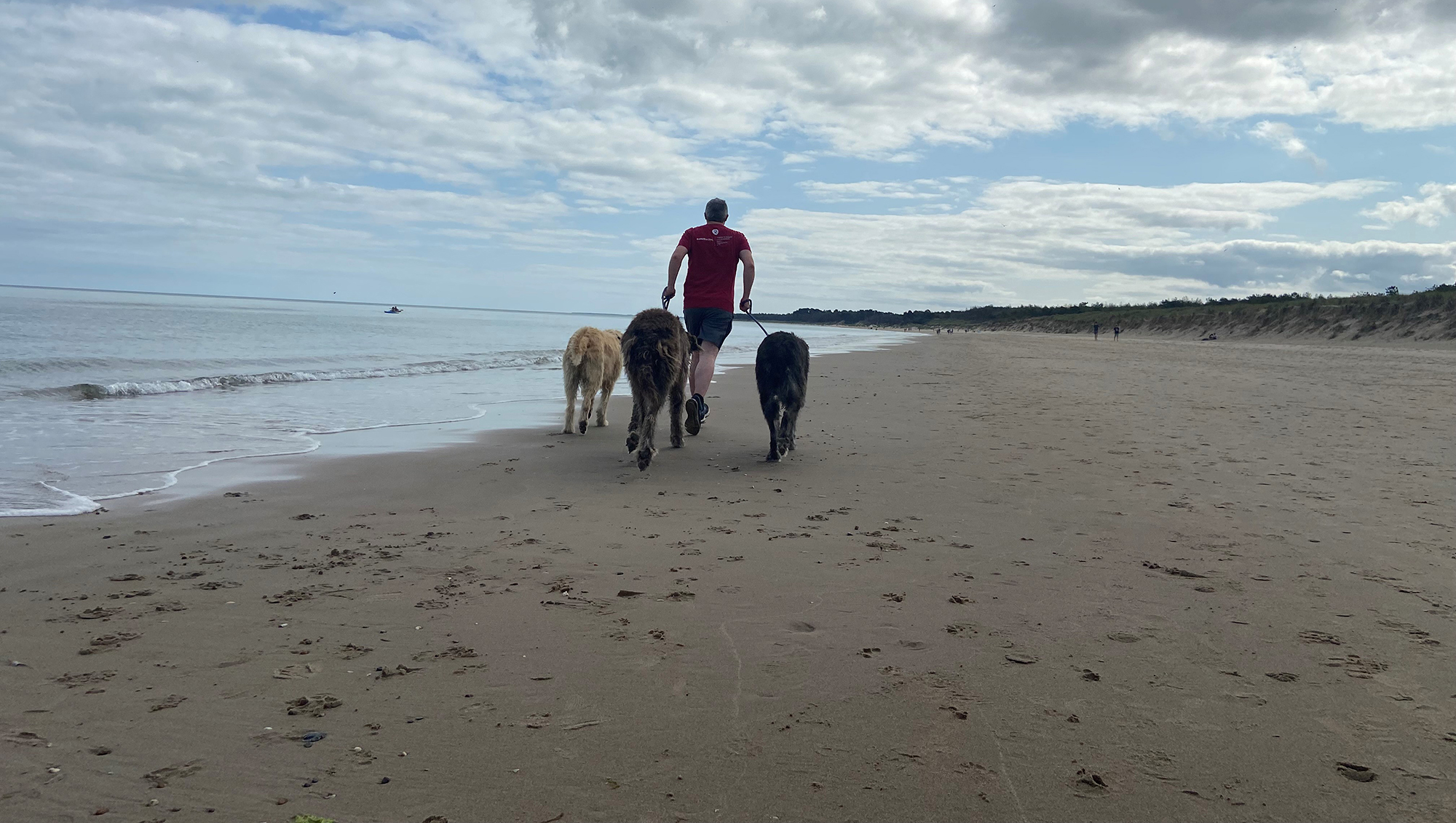 You can run on the hard sand no problem, at this point I personally would take off the runners and run in the water on the way back in, it is a sandy coastline. This run will open your senses so enjoy, whether it summer, spring, autumn or winter, I can't recommend this one enough. My only tip is just to be mindful of the tides. You will know when you reach the end as the trees will run out on your left and you will see an entrance back to the carpark.
There is an adventurous part to this run if you like
As you start the run in the forest, take the first left and half way up here you'll see a small path on your right that brings you right in the middle of the trees. This route is a forest bed so no flat paths, with plenty of bumps and hills, but the further you run into the forest the more magical it becomes. The path is small but you can follow it as it changes form pine needled covered floor to sandy dunes. When you reach the end, turn left onto the beach like above.
This run through the forest is a real treat, you will discover all sorts of secret areas. But not for the weak ankles.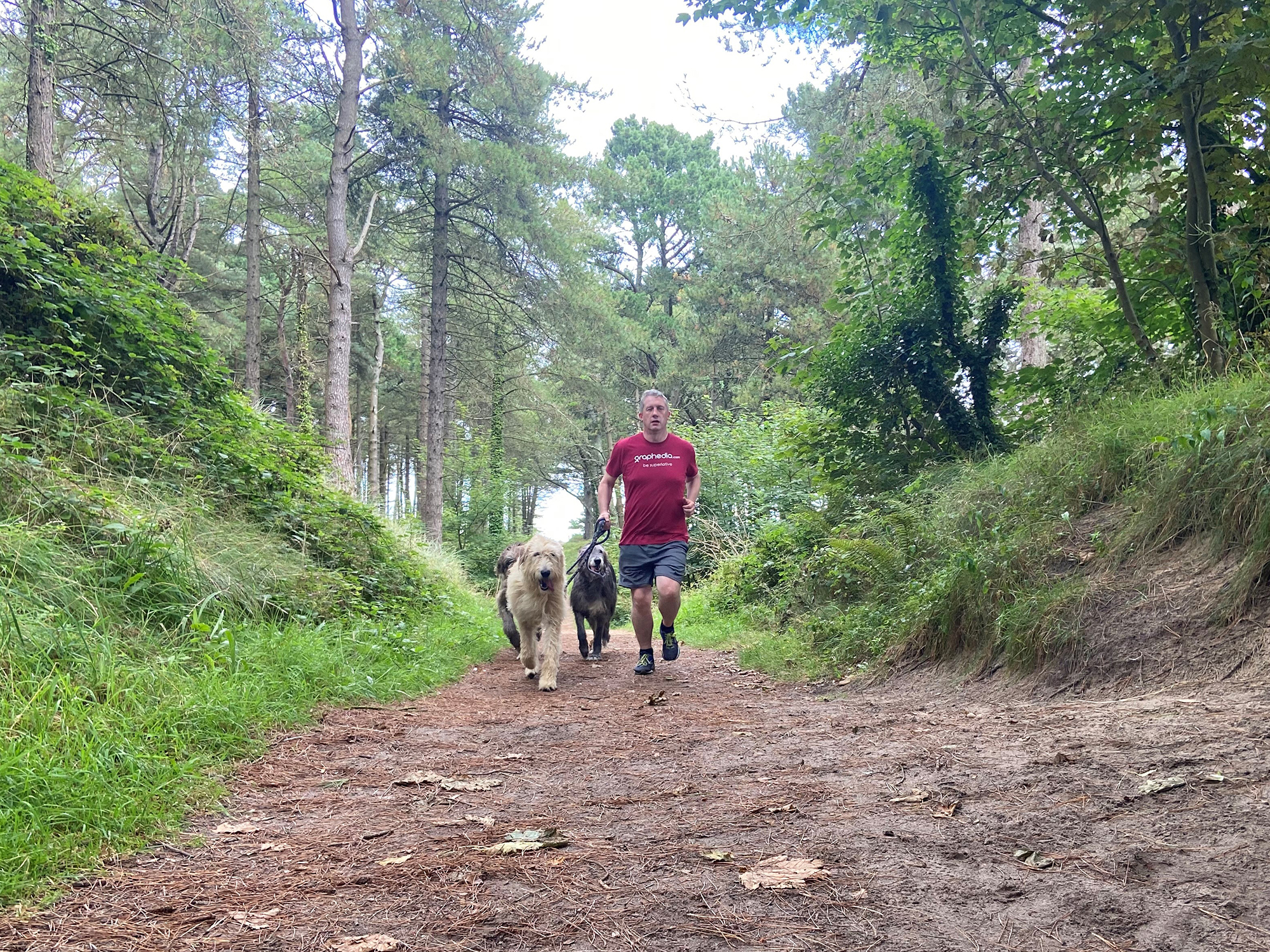 Route 3: Three Rocks Trail (The Challenge)
Old country roads and stunning views of green fields, Wexford Harbour, and a hidden lake
Start & Finish: Newbay House Hotel
Distance: 10k – 13k
Note: There's only one waste disposal unit in the middle of this route
Three Rocks (all hills, calf crusher)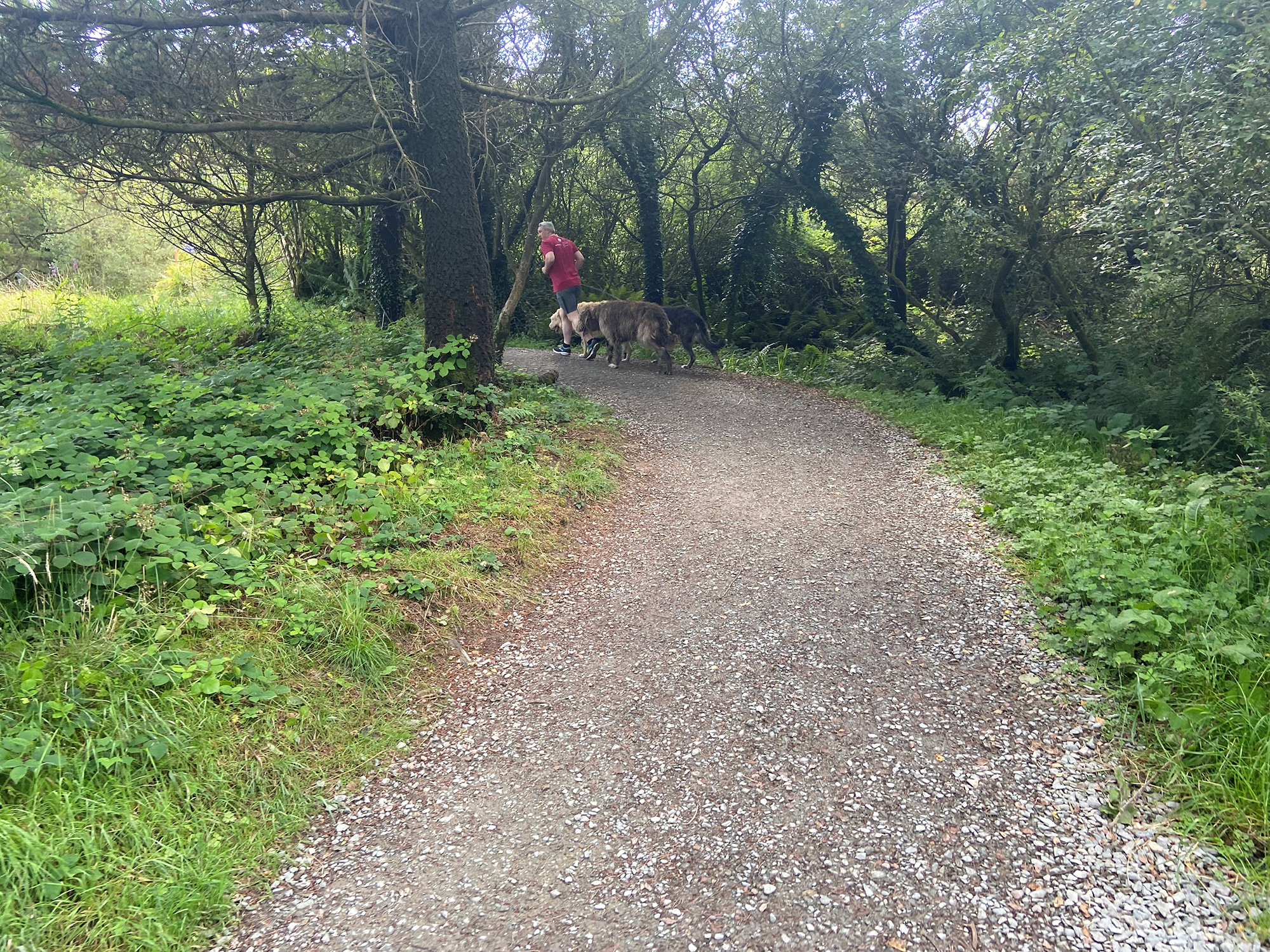 This is one of the routes I take if I really want to blow off some steam and make the legs hurt. It's a real stamina and calf builder. Start at Newbay House Hotel taking a right at entrance and run to the fork in road. Take the right here downhill and then starts your ascent into a lovely hill for about 3k. This is a lovely track and you will notice the reservoir on your left and the cows in the field on your right, as Maisy and Daisy watch you.
Just when you think there is no end to this hill, the gradient changes to 45 degrees for a spell, but after that it will level out a bit with small gradient to the top of this hill.  When you get to the top you will now start to see signs for the Three Rocks Trail. Take the first left turn and continue on this route which will bring you to 2 options. 
First option, continue left and start your decent down the other side of the reservoir. 
Second option is take the right run on this road called Matts Lane. Either routes will bring you back the same way, however the second option has more hills but a stunning view of Carrigfoyle lake and surroundings.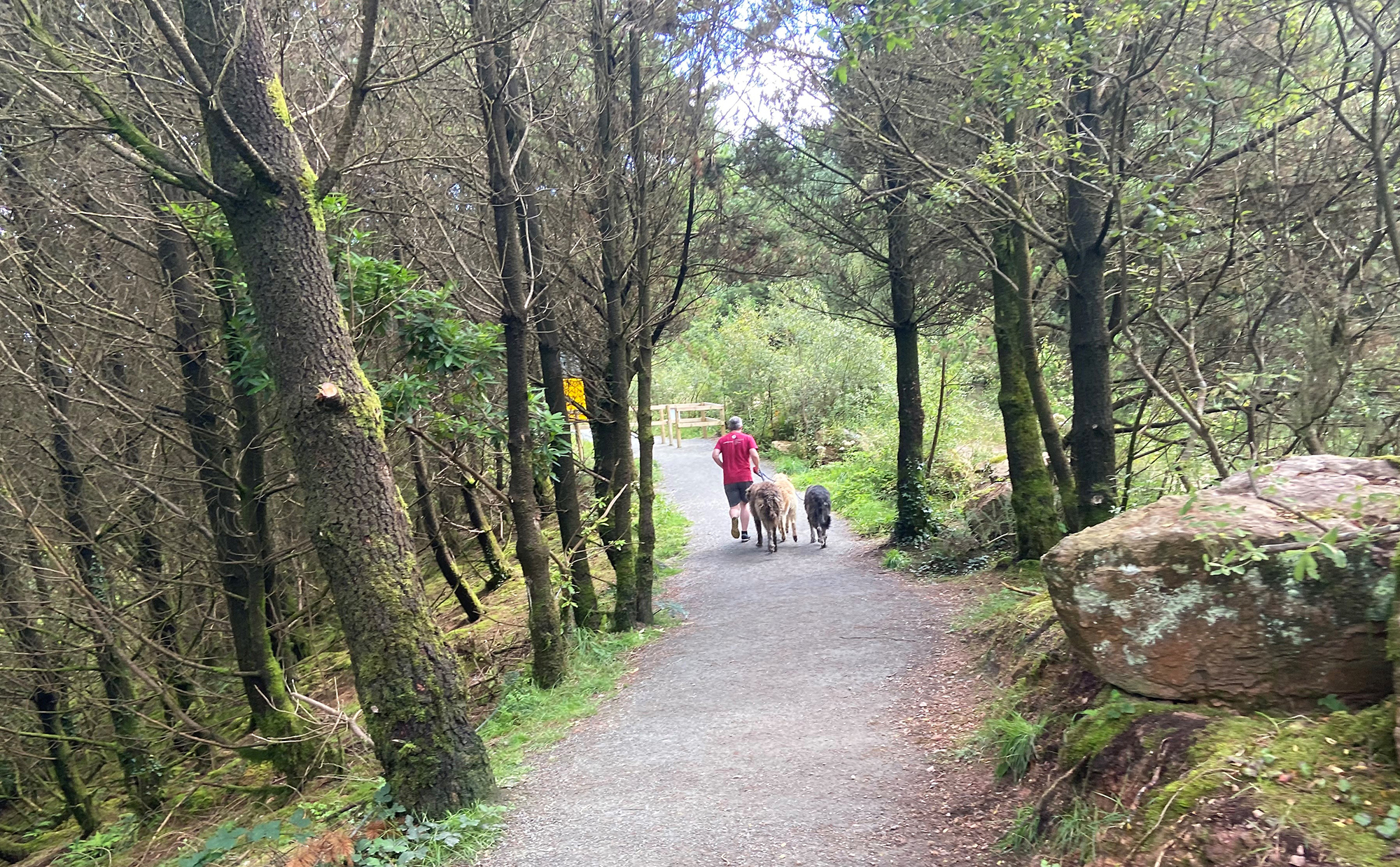 Continuing with second option, continue running up this hill with a lovely private country lane until you get to the barrier for cars not to enter. Continue forward onto thegravel path as you're not on the Carrigfoyle Three Rocks Trail yet. There's a slight hill all the way up to the carpark entrance and if you want to add a few extra kms here, take a right in here and follow the purple path around the reservoir (note this purple route is a run in itself, but when you go down into this area you'll feel like you are in the Mountains of Canada, an absolute must see as it's just gorgeous).
You'll finish back at the carpark from here and continue up the gravel path with a slight gradient all the way up to the top of the hill and entrance to the quarry area (Carrigfoyle Rock will be on your right). This is now the half way marker and it gets a lot easier from here on in.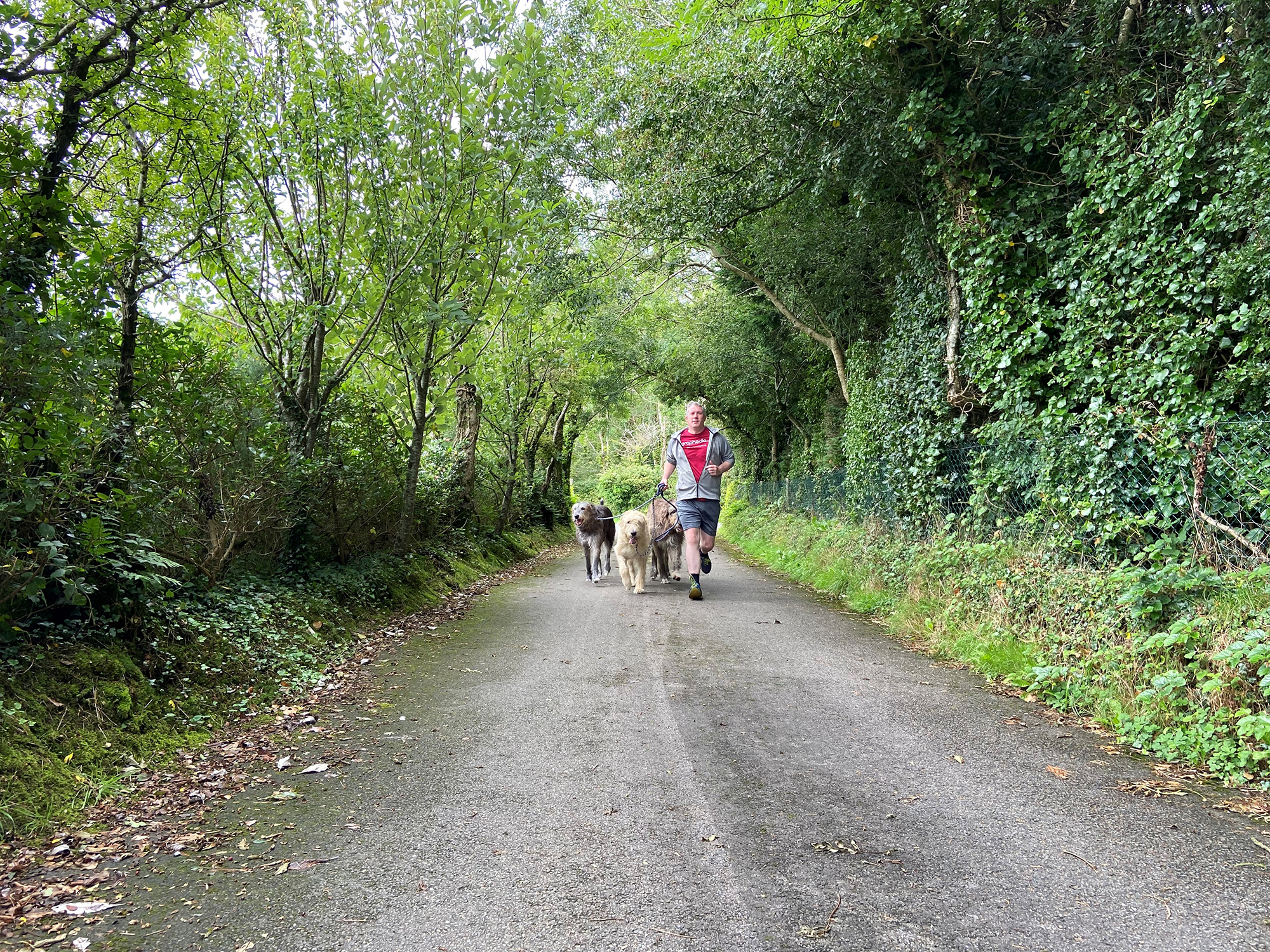 From here turn left onto road and you have a nice steady decent back to the start. On this road on a fine day you'll be treated with the view of Rosslare harbour and all the green fields around it – breathtaking!  Continue down this road and take the first left, heading downhill with a stunning view of Wexford town and harbour. 3 km down you'll start to see the reservoir on your left. Keep going and the road levels out, bringing you back to Newbay House Hotel.
This is tough route, but views are stunning and your legs will thank you later. There no parking around Newbay (unless you are staying there), so if you are driving, it's probably best to start a bit further down the route at the reservoir power station or at the quarry (Carrigfoyle Rock) with plenty of parking. This would be the half way mark of the run above which is down side, starting on the hill down and finishing on the calf crushing hill back.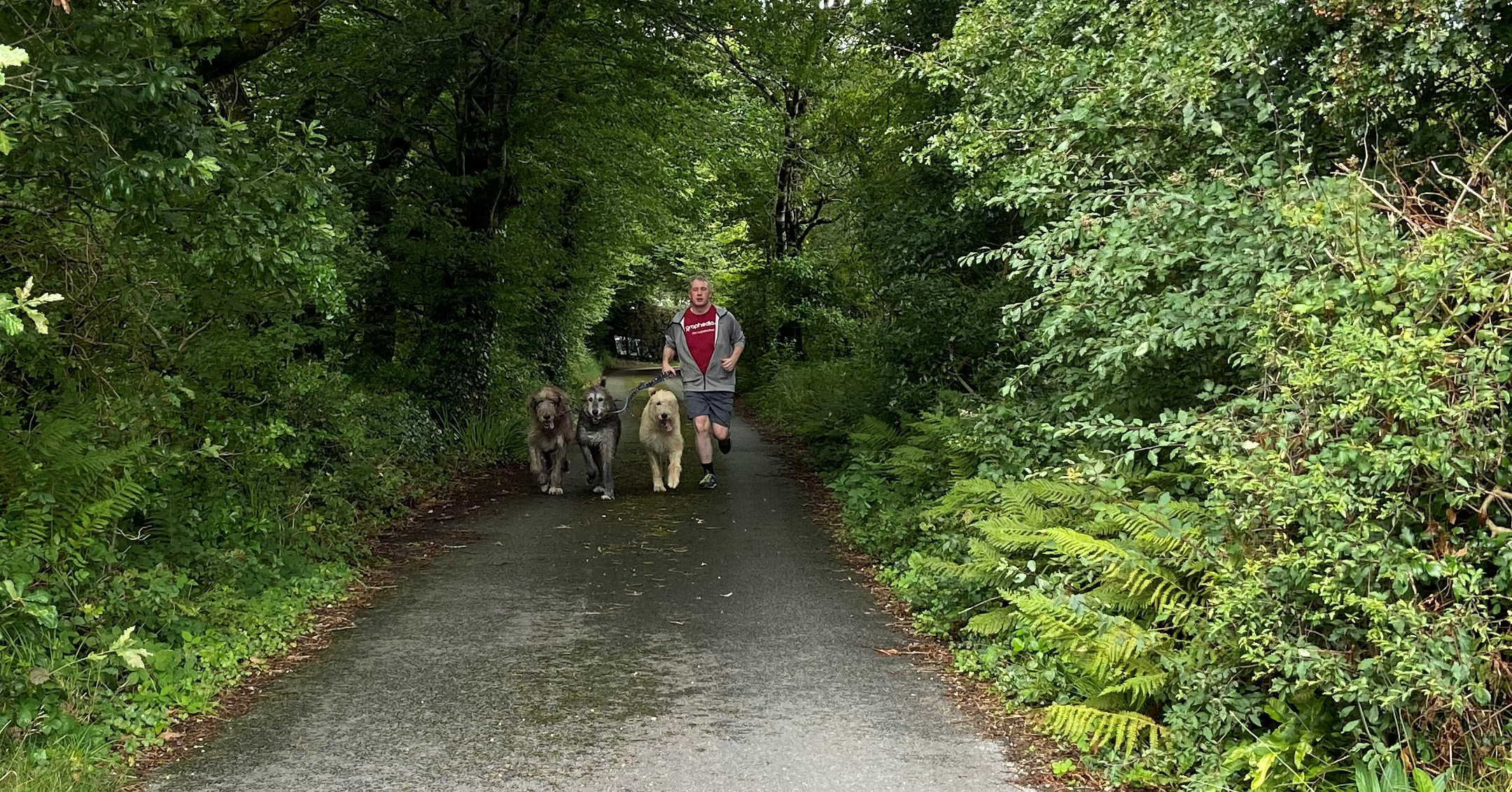 If you enjoyed these routes, I do have a few others I enjoy running with the dogs. If you're interested, get in touch with Visit Wexford and we can discuss more of what Wexford has in terms of running around the county!
My Top Tips
Take dog bags to respect our lovely surfaces here in County Wexford
Bring a hold all bag. Bins are far and few between so a small backpack that can hold everything from water to snacks and dog bags is a good idea. If you have your doggies with you, it's also nice to bring some water for them too.
If you are running with your dog, as tempting and as good as your dog may be, please run with a lead, there are always little dogs that jump out or people that are afraid of dogs on the beach or any of the routes.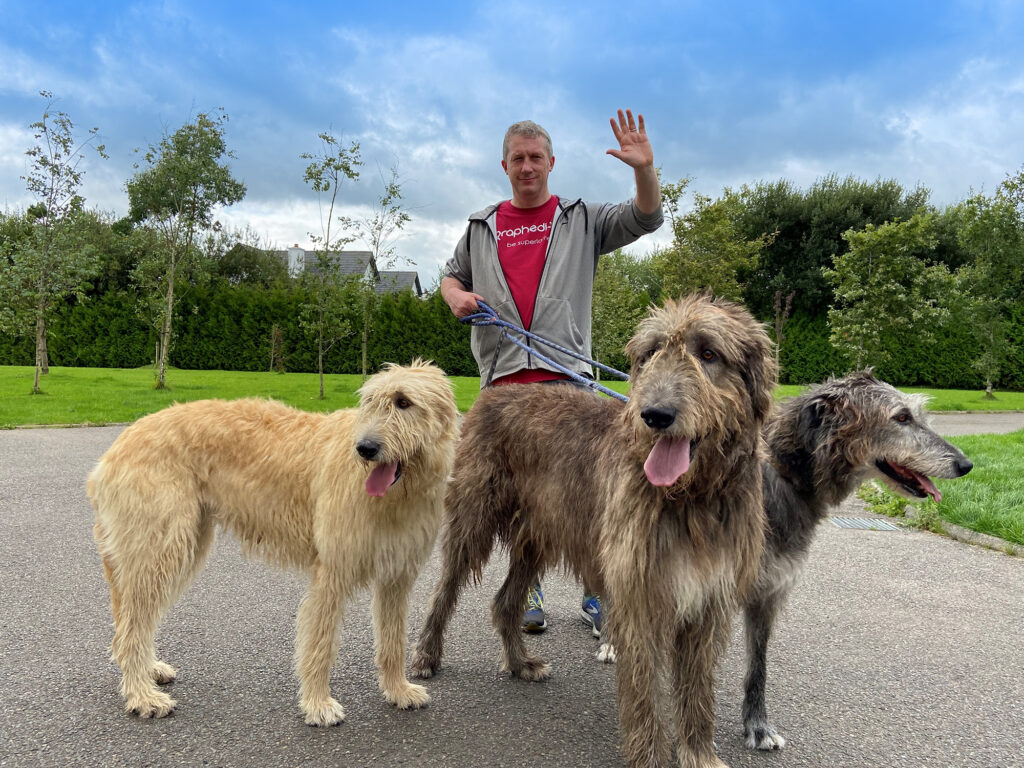 Thank you to Niall (and of course his three beautiful wolfhounds) for taking part in our guest blog series and providing such a detailed and fantastic insight into our stunning sunny south east as the perfect spot to take your dogs and enjoy leisure and exercise as you holiday in Wexford. For more on trails in Wexford whether for a leisurely walk or a scenic run click >>here<<
Check out more of what you can see and do during your time in Wexford >>here<<
Plan your adventure at VisitWexford.ie
#BestForSun #BestForFun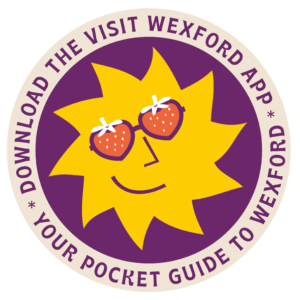 Download the Visit Wexford App on Apple and Android devices for inspiration