REBELLION 225
2023 MARKS THE 225TH ANNIVERSARY OF THE 1798 REBELLION
This historic, cultural and civic celebration of Ireland's history and heritage will be brought to life at a series of events
across Wexford this summer under the banner of Rebellion 225.
The historic insurrection launched by the United Irishmen aimed at overthrowing the Kingdom of Ireland, severing the connection with Great Britain and establishing an Irish Republic based on the principles of the French Revolution, saw a series of key standoffs and battles take place across Wexford in 1798. The significant dates for the 2023 commemoration events are from the 26th of May to the 21st of June. During this key time in 1798, pivotal battles took place at Oulart Hill, the Three Rocks, Wexford, New Ross, Carrigbyrne and Vinegar Hill in Wexford.
Locals and visitors are invited to join a series of public events which will be taking place all across Wexford to mark the 225th anniversary.

A commemoration of the Battles of 1798 will be on offer through historical guided walks, tours and public talks hosted by the National 1798 Rebellion Centre at the 225th Anniversary Summer School. These events will take place at a variety of venues in Enniscorthy from May 26th to May 28th.
On June 9th 'The Ideals of Revolution: Liberté, Égalité, Fraternité – how the French Revolution impacted the Irish Rebellion' talk will be hosted at the Presentation Arts Centre, Enniscorthy.
On Rebellion Day on June 18th, a re-enactment of the Battle for Enniscorthy Bridge will take place along with a Rebel Camp Showcase at The 1798 National Rebellion Centre. Events will culminate in the 'Longest Day Commemoration' which will take place to mark the 1798 battle at Vinegar Hill. Rebellion 225 is being hosted by Wexford County Council working closely with the 1798 National Rebellion Centre and the local communities across Wexford.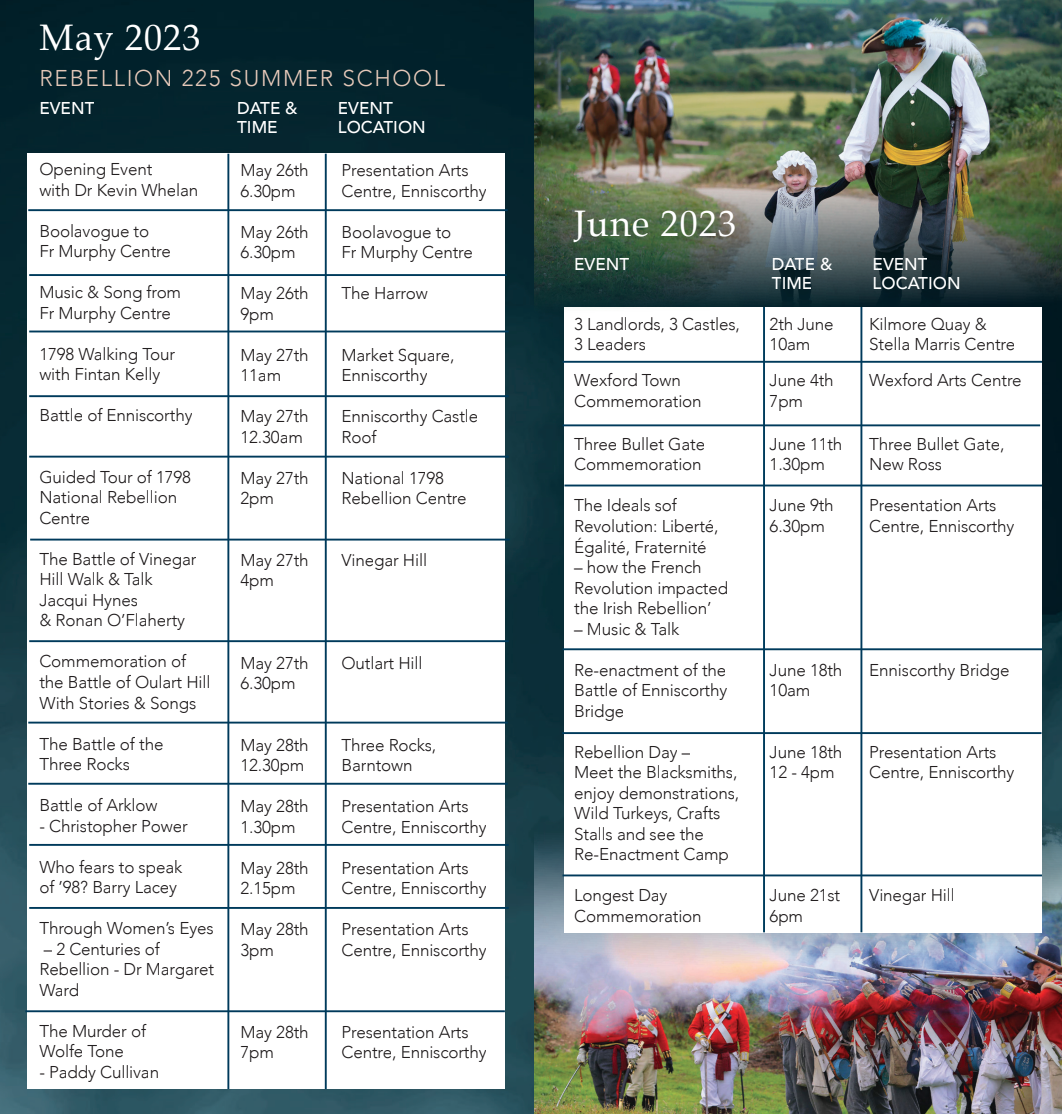 Plan your visit to Rebellion 225 now and join us in celebrating the 225th anniversary of the 1798 Rebellion!
Follow all the action on
Facebook – Instagram – Twitter 
#Rebellion225