Gorey's Yellow Belly Comedy Festival
6th October – 21st October 2023
Enjoy untold nights of comedy with your favourite comedians in Gorey this October
Celebrating comedy culture in Gorey, the Gorey Yellowbelly Comedy Festival organised in conjunction with Love Gorey is run over 3 weekends in 5 venues and promises a whole lot of fun. Don't miss out on this one-of-a-kind comedy event in North Wexford. Grab your tickets now and get ready to laugh until your sides ache! Buy your tickets here now (limited availability).
See the list of acts each weekend below:
Bernard O'Shea & Fiona Frawley 
Get ready for a rib-tickling evening of laughter as Bernard O'Shea and Fiona Frawley, two hilarious comedy powerhouses, join forces for an unforgettable night of comedy! 
When: 6th October
Where: The 64 Lounge
Learn more here.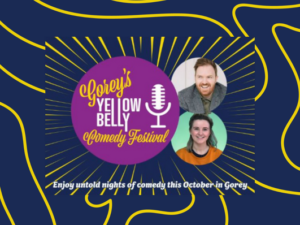 Deirdre O'Kane, Plus Special Guest
Deirdre O'Kane, a renowned Irish comedian, master of wit and humor. With her sharp observational skills and quick-witted delivery, she effortlessly finds laughter in everyday life. Whether sharing hilarious anecdotes or poking fun at society's quirks, Deirdre's performances are a delightful blend of relatability and comedic brilliance that leave audiences roaring with laughter.
When: 7th October
Where: Gorey Little Theatre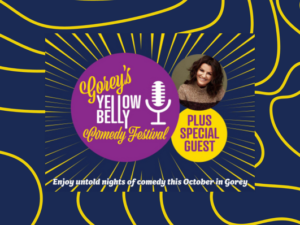 Fred Cooke & Colm O'Regan
Join us for an unforgettable evening of hilarious anecdotes, witty observations, and side-splitting jokes that will leave you in stitches. Fred Cooke's eccentric charm and infectious energy, coupled with Colm O'Regan's razor-sharp wit and clever storytelling, guarantee an unforgettable comedy experience. 
When: 13th October
Where: Breens Bar
Learn more here.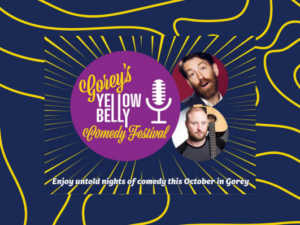 Eric Lalor and Karl Spain
Get ready for an uproarious evening as two comedy powerhouses, Eric Lawlor and Karl Spain, take the stage. Experience a night filled with side-splitting jokes, witty anecdotes, and unforgettable performances.
When: 14th October
Where: Loch Garman Arms
Learn more here.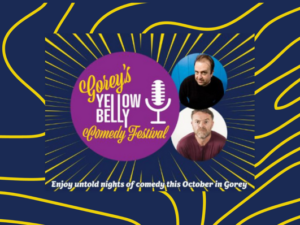 MC Neil Delamere, Emma Doran, Colin Murphy 
Featuring the hilarious MC Neil Delamere, along with a side-splitting double bill performance by Emma Doran and Colin Murphy. Delivering their unique brand of humor and wit. From Neil Delamere's sharp observations to Emma Doran's relatable anecdotes and Colin Murphy's clever storytelling, this Gala Night promises an unforgettable evening filled with non-stop laughter. 
When: 21st October
Where: Ashdown Park Hotel
Learn more here.
Feel the spirit of Wexford – a place of spirit and story.
Book your autumn escape at VisitWexford.ie