FETHARD-ON –SEA, IRELANDS 'SUNNIEST CORNER' WHAT TO DO, EAT AND WHERE TO STAY!
Located on the Hook Peninsula in Ireland's 'sunniest corner', Fethard-on- Sea is a small and beautiful coastal village on the Hook Peninsula. The village has some lovely pubs and restaurants serving fresh seafood; some incredible family activities and magnificent beaches. This is a special village that will take you back in time and its endless charm will stay with visitors forever!
Here, Visit Wexford recommends some of the best places to visit, stay and eat in Ireland's sunniest corner!
Where to Visit?
Hook Lighthouse is the oldest operational lighthouse in the world. The visitor centre at Hook Lighthouse, one of the premier visitor attractions in the South East, offers guided tours of the lighthouse tower. For more information visit hookheritage.ie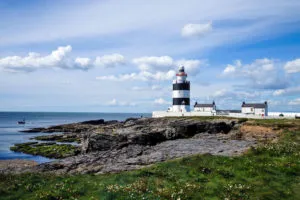 Hook Head Adventures
This authentic eco-adventure tourism company will bring you the perfect mix of excitement, local stories you'll hardly believe and high levels of adventure and stunning scenery! Their adventure activities are a unique and truly unforgettable way to experience Hook Head. Activities include: Sea Cave Kayaking Experience, Sea Kayaking Mini Tour, Sunset Kayaking Experience, Self-Guided Bike Tour (Bike Rental), Stand Up Paddle Boarding, Coasteering Adventures and a Mountain Explorer Experience. They will take you off the beaten track and show you the secret locations that will make your experience a truly memorable one. Visit: hookheadadventures.ie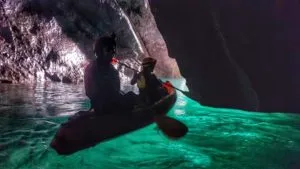 Visit Loftus Hall and take a tour of 'Ireland's most haunted house' to learn its dark and troubled history. Let the tour guides take you through the ground floor on a 45-minute interactive tour where they will relate the grim and often gruesome history of Loftus Hall including its notorious visitor. Full details of opening times and availability and online booking can be found on their website: loftushall.ie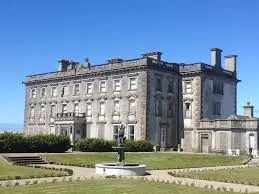 Duncannon Fort is undoubtedly one of Ireland's most historical jewels; a well-preserved fortress strategically perched on the Hook Peninsula, with a history of over 450 years of intriguing and awe-inspiring stories dating back to its 16th century origin. Built to defend the deep-sea Waterford Estuary against Spain's invasion of England, its architecture was designed to defend against gunpowder, with low, wide castles and deep moats to dissipate the force of the cannon, whilst ships can't pass by without coming into range. Visitors can drink in the calm views of boats passing under the Fort's nose, and when they've absorbed all the views they can take, the impressive guided tours really bring the history of Duncannon Fort to life. Visit: duncannonfort.ie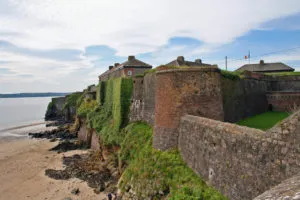 The Hook Peninsula has numerous beaches, ideal for swimming and snorkeling deep sea angling and bird watching. Among the many beautiful, unspoiled beaches in Fethard is Grange Beach! As a result of the beach not being well sheltered from the wind, this is the prime location for many watersports like surfing and windsurfing. Grange Beach has received the Green Coast Award for 2017.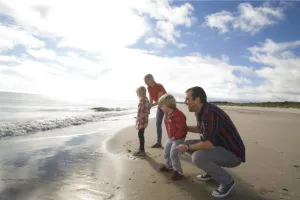 Where to Eat?
The Lodge Café at Baginbun Lodge
A cosy little area to sit and relax with friends to enjoy a bite to eat or even a coffee and a tasty dessert. It is open from Friday till Sunday from 10am till 4pm, so no need to worry about booking a late breakfast as it will be served all day. The café serves a mix of healthy, local, seasonal and organic foods. Visit: baginbunlodge.ie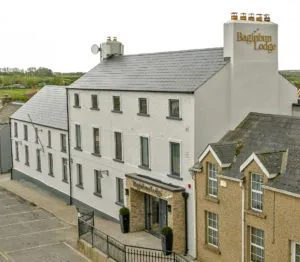 The Wheelhouse Cafe
Fethard provides freshly made sandwiches, paninis, salads and soup. Stop in for lunch or an afternoon sweet treat with their range of delicious cakes, buns, scones and great coffee. If you are out for a day's finishing, stop by to check out their large range of fishing tackle in the adjoining shop. Visit their Facebook page.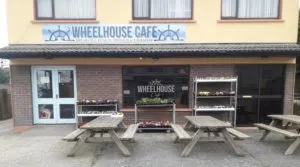 Where to stay?
A detached stone cottage situated beside a working farm on a quiet country road, within walking distance of Grange Beach with fine sea views of Bannow bay and the Saltee Islands. The village of Fethard-on-Sea is about 2km away from the nearest pub, restaurant and shop. Visit: Sea Bass Cottage.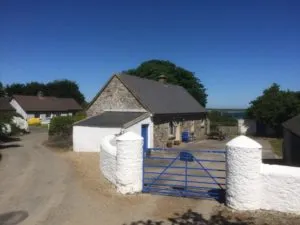 Featuring a tennis court, Hookless Holiday Homes offer wonderful self-catering accommodation in Fethard on Sea.
Each unit features a fully equipped kitchen with a dishwasher, a fireplace, a seating area with a sofa, a flat-screen TV, a washing machine, and a private bathroom with a bath or shower. The holiday park offers a sun terrace for that late evening relaxing. A children's playground can be found at Hookless Holiday Homes, along with a garden. Visit: hooklessholidayhomes.ie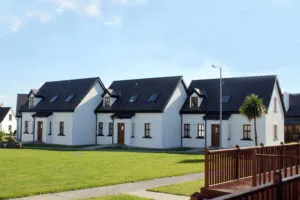 Boasting a garden, Coast Kilmore Quay Boutique Hotel is set in Kilmore Quay and has the added bonus of a bar and a terrace.  All en suite rooms come complete with a patio and have a large screen TV and an outdoor seating area. Coast has a stylish bar and bistro area serving the best of local produce from the farms and sea around Kilmore Quay. The ideal spot for a family occasion, dinner for two, or Sunday lunch with the family! Visit: coastkilmorequay.com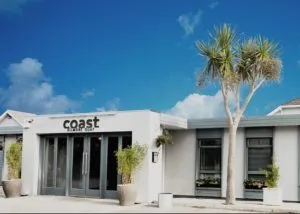 Baginbun Lodge
Situated in the heart of the beautiful Hook Peninsula in Fethard on Sea, County Wexford, Baginbun Lodge is a 12-bedroom lodge finished to the finest standards. Priding themselves on very personal service to all their guests, serving complimentary teas and coffees throughout the guest's visit whilst providing as much information as they require about the area. At the Baginbun Lodge, they like to go the extra mile to meet guests needs and aim to exceed expectations. Visit: baginbunlodge.ie