A Gory Gorey Halloween Walk with Gallivanting Tours
Join me for a very special Gory Gorey Walk this Halloween!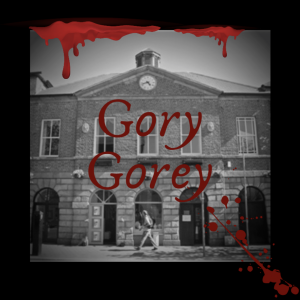 As dusk gathers, we'll wander the streets of Gorey to hear 8 chilling tales from the past!
Come gallivanting with me as we take a walk around Gory Gorey this Halloween! I will be running my walking tours all through the weekend with special kids walks during the day and adult-only ones at night. As we wander around the narrow darkened streets by lantern light, you'll hear 8 different ghoulish tales from Irish and local folklore!
Hear the tales of the infamous villains of 1798, the Hunter Gowan and his notorious and torturous crew! The legend of Dearg Due, Ireland's own Vampire and the Dulahan, the Headless Horseman that terrified travellers to Gorey in days gone by. Discover the dark secret behind St Michael's Church and the reason why Rowan Trees grow nearby! You'll never look at Gorey the same way!
Friday 30th & Saturday 31st October 2020
3:30 pm Tour – Kids tour (ages 7 to 12). Anyone in fancy dress gets a treat!
€8 per child. Adults are free.
Disclaimer: The above tales contain a lot of blood, gore and supernatural stuff so please feel free to contact me via phone to check suitability for your little ones!
At dusk, the tales get eerier and more gruesome and so are not suitable for children!
6 pm Tour – Suitable for over 12s and Adults.
€15 per person.
8 pm Tour – Adults only.
€15 per person.
Dogs are welcome to come along on all the tours for free.
For further information or to book your tour, click here.
To check what's on in Wexford in Halloween, read our Blog 'Why you should visit Wexford this Halloween'
GET IN
Touch