The hum of the potter's wheel, the click of the weaver's shuttle, hammer blows to the anvil and the calm of needlework – all these are the sounds of Wexford's craftsmen and craftswomen at work in the Wexford Craft Trail.
Across this historic county in the towns, villages and down country lanes, you will find the studios of today's practitioners of traditional crafts. Wexford Craft Trail embraces much of the fine workmanship to be found countywide.
Share our creative vision, make your own rich discovery of the authentic handcrafts to be found in the area, whilst enjoying the natural beauty and national heritage sites of County Wexford.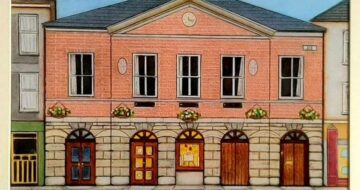 Gorey Visitor Centre
Situated on Goreys bustling Main Street is the Gorey Visitor Centre. Part Tourism Office, part Craft & Design Boutique. Registered as a retail partner with the Design & Craft Council of Ireland, inside you will find a multitude of gifts, souvenirs and bespoke craft items.  From locally made soaps and beauty products to beautifully painted […]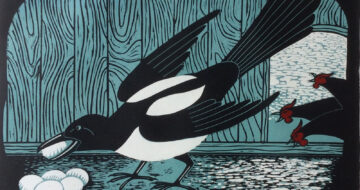 Rebecca Homfray Printmaker
Taking much of her inspiration from the natural world Rebecca works with a variety of materials and techniques to produce fine art prints by hand in limited editions. Rebecca also prints on fabric producing a range of goods including cushions and tea towels. Opening Hours: Visitors welcome but please call in advance Products can be […]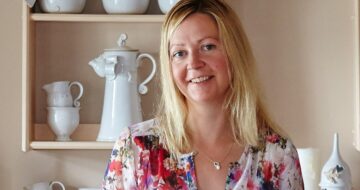 Mairead Stafford Artist
Ceramics and contemporary art inspired by land, the sky and the fun things for the soul. Her workshop and shop is set in a charming old stone mill, with a café adjacent and her shop is brimming full of beautiful ideas for you and your loved ones. Her paintings and stargazer sculptures capture colour, movement […]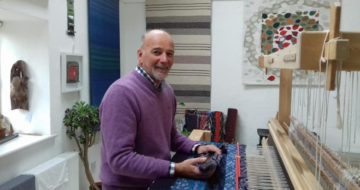 Terry The Weaver
Terry Dunne designs and makes hand woven tapestries, floor rugs and textile art pieces. His materials are as diverse as wool, cotton, linen, silk, pine needles, driftwood and willow. Inspiration for his work comes from the natural world, including the changing colours through a season and textural studies of the landscape. Pieces made to order. […]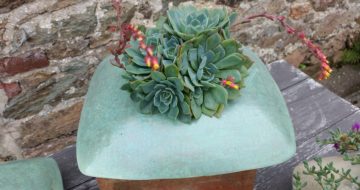 The Potter's Yard
Situated on The Norman Way, The Potter's Yard is home to Patricia Howard Pottery. Here the traditional and timeless craft of pottery is still taught and practiced as it was eight centuries ago by William Marshal's monks . By arrangement, we offer pop-up, one-day, and residential workshops. We also sell our distinctive pots and tableware […]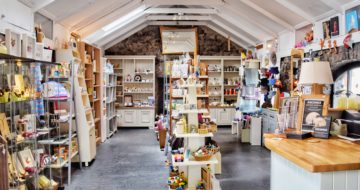 Forge Craft and Design Centre
The Forge Craft +Design Centre Baldwinstown, Co. Wexford Once a real working forge, dating back as far as the 1700s, The Award Winning Forge Craft +Design Centre is home to Bramble Crafts. Padraic Parle makes hand-crafted kitchens, home furniture and other unique pieces in wood. Padraic is the sixth  generation to work from this historic […]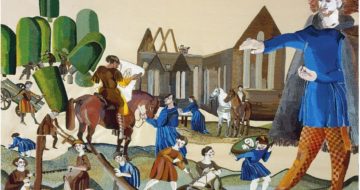 Ros Tapestry
PLEASE NOTE: The Ros Tapestry is currently on loan to the OPW in Kilkenny Castle. Our gallery at the Quay in New Ross is closed at present. It is anticipated that the Ros Tapestry will return to New Ross in 2023 when the planned Norman Museum opens at the Quay in New Ross. Queries may […]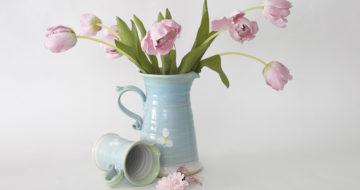 Paul Maloney Art and Ceramics Studio
Paul Maloney Art and Ceramics studios are easily found on the outskirts of Wexford Town. We make hand thrown ceramics for the heart of the home or for serving friends at the table with well-crafted mugs, jugs and bowls to complement any occasion. Visitors are welcome to have a look around the workshop to see […]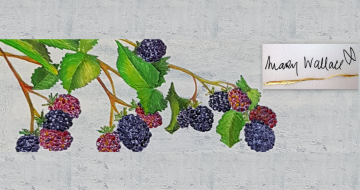 Mary Wallace Visual Artist
Mary Wallace is an artist with a unique individual approach to art. She finds beauty in imperfection, extraordinary in the everyday, complexity in simple things. Her creative style is immediate, vibrant and contemporary. Use of colour suspended in beeswax, paired with pure gold, makes for an opulent visual experience. "Working with gold leaf is […]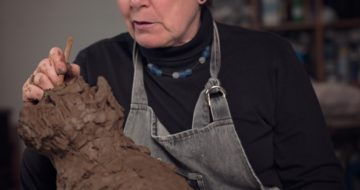 Gilly Thomas Sculpture Gallery
Gilly Thomas Sculpture is located next to Gilly's studio/workshop in beautiful, south County Wexford. You will find her Gallery two miles from Ballinaboola on the L4023 which is the road from the N25 to the JFK Arboretum – drop in on your way there. Gilly is a figurative sculptor creating pieces for the country home […]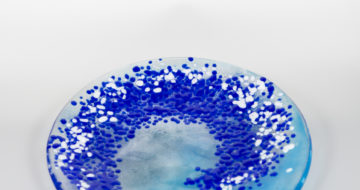 Blue Egg Gallery
The Blue Egg Gallery, in the centre of Wexford town, exhibits and sells contemporary craft work by Irish and international makers. Here, the owner, Mary Gallagher, organises four or five group exhibitions annually where she brings together work by artists working in clay, glass, textiles, wood, willow and metal. In addition the gallery stocks an […]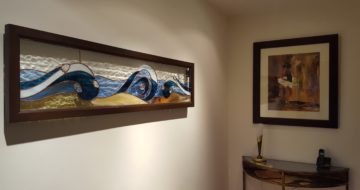 Bianca Divito Glass Artist
A beautiful collection of handcrafted "Forever" glass and crystal gifts created by RHS Chelsea, award winning artist, Bianca Divito, are available for her charming studio at The Old Schoolhouse in Coolgreany. Bianca welcomes special glass commissions for a variety of architectural and domestic settings and offers occasional stained glass courses to glass enthusiasts from her professional […]