Self Catering Wexford
There are times when the idea of sharing a hotel room with small kids can be daunting and having your own kitchen and the freedom to cook when and what you please seems much more appealing and the self-catering accommodation is the best option for your holiday in Wexford.
Also, the additional space a self-catering house or apartment can give you is always a bonus if you are travelling with family or a group. Top this with getting to use the facilities of a hotel, whether it's their restaurant, the leisure centre or kids club – then you are all set!
Find your perfect self-catering accommodation
Visit Wexford
#BestForFun #BestForSun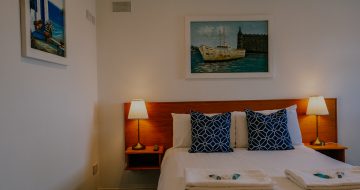 The Wooden House Hotel and Apartments
The Wooden House Hotel & Apartments was acquired by Canbe Hospitality in 2019 and given a thorough refurbishment, retaining its bright, open atmosphere and unique features, while upgrading accommodation and facilities throughout. And we haven't just concentrated on raising standards and refreshing décor, we're putting just as much care and attention into the welcome, the […]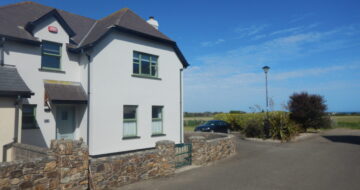 Echo Beach Holiday Home
An idyllic seaside location for a memorable family holiday. Echo Beach is situated in a quite cul-de-sac surrounded by open fields on the edge of the beautiful Kilmore Quay Village.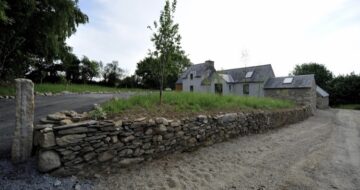 Dairylane Cottage
Dairylane cottage is a beautiful newly renovated self-catering accommodation nestled on a quiet lane at the foot of mount Leinster conveniently located between Bunclody & Kiltealy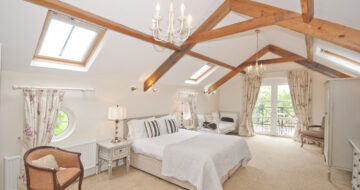 The Belfry at Old Boley
The Belfry at Old Boley is set in a secluded corner of the courtyard, it evokes a feeling of old-fashioned calm and harmony, a haven of peace so rarely found in today's busy world. Originally built as a Granary it has been successfully converted into a unique self-catering unit utilizing many salvaged materials including reclaimed […]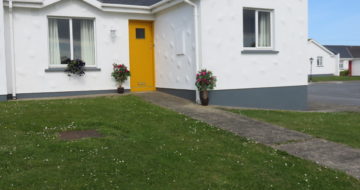 Fairways
Fairways is a beautiful 3 bed cottage, ideally set in the heart of St. Helen's Bay Golf Resort. With both the golf house and stunning beach (which has been awarded the Green Coast Award) within 90 yards of the property. The accommodation layout of the home consists of a master bedroom with a newly renovated […]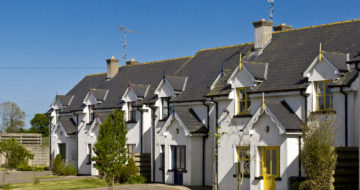 Upton Court Holiday Cottages
At Upton Court we have 15 x 4* Fáilte Ireland rated holiday cottages. Each holiday cottage has three bedrooms and three bathrooms (including one downstairs bedroom and bathroom) and sleeps up to seven people comfortably. With all kitchen necessities such as oven, hob, fridge-freezer, microwave & washing machines to hand, these cosy holiday cottages certainly are a home from home. Alternatively, […]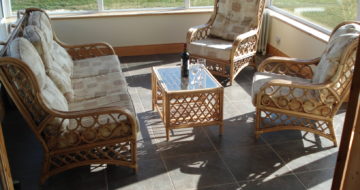 St Helen's Beach Holiday House
A super holiday bungalow within a gated development that sleeps six (in three seperate bedrooms) set just minutes from Helens Bay golf resort and a long sandy beach (7 min walk away). Open fire in living room with satellite TV/video. House features large sun-room with cane furniture which catches sun from early morning and opens out to a […]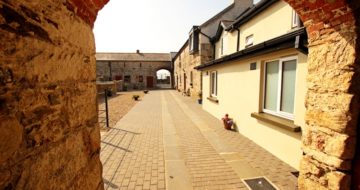 Rosegarland Estate
Rosegarland  Estate is a secluded 650 acre country estate which is uniquely unspoilt and untouched by time. Four luxury 4* Failte Ireland approved self-catering mews houses are located in converted stone cut farm buildings in a picturesque court yard.  Old world Victorian charm has been combined with modern day luxury.  Ideal for family holidays or […]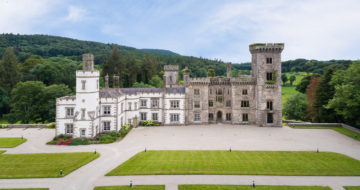 Wilton Castle
Wilton Castle – Self-Catering Accommodation & Wedding Venue Elegant and imposing, Wilton Castle is a 19th century castellated residence set on the banks of the Boro River, specializing in wedding receptions and self-catering accommodation. The castle is comprised of four luxurious self-contained suites: • The DeDene Suite – 3 master bedrooms, luxurious sitting room, full kitchen. • The […]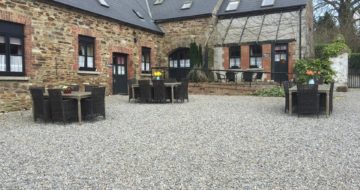 The Old Deanery Estate and Cottages
The Old Deanery Cottages are located on the ground of The Old Deanery Estate dated 1735. We offer a private venue for group bookings from 15 – 27 guests. All accommodation is self catering in 6 courtyard cottages and groups have access to the function room, courtyard and gardens. Our enchanting cottages recapture the charm of […]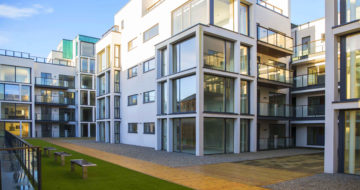 Talbot Suites at Stonebridge
Talbot Suites at Stonebridge Talbot Suites at Stonebridge features 73 luxury apartments ideal for luxury holiday breaks or executive stays located on just over two acres in the centre of Wexford Town. Guests will have direct access to complimentary private secure parking and complimentary access to the Talbot Quay Leisure Centre. Guests will also have […]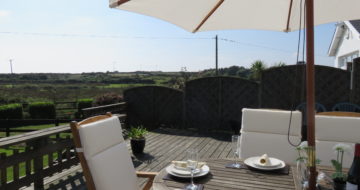 Seaview Cottage
SeaView Cottage St Helen's Bay, Kilrane, Rosslare, Co. Wexford Luxury vacation cottage in a glorious sea view setting. This enchanting cottage-style home overlooks the quaint St Helen's Harbour and is just yards away from the beautiful golden beach and the ever popular St Helen's Bay Golf Club. The Cottage itself: In this stylish home you […]