Wexford is cloaked in stories and legends of Ireland's Viking and Norman past, and its rolling countryside is dotted with castles and gardens that are begging to be explored, for a magical and memorable experience. Whilst the architecture and battlements present an understanding into the country's past, their surrounding gardens also offer interesting insights into history, geology and climate, revealing many layers the further you explore. With so many cultural and historical sites to choose from, you might not have time to see them all, so here's our pick of the best, for inspiration.
Day 1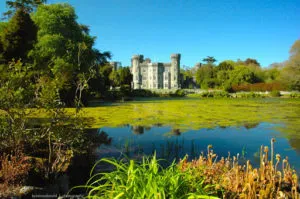 Ferns, the old capital of the Kingdom of Leinster, which was unfortunately mostly destroyed by fire following several Viking-led raids, is a great starting point. The Norman-built Ferns Castle which dominates the old town was built by the Greatest Knight, William Marshall. Climb to the top of the three storey tower for spectacular views of the surrounding countryside, or learn all about its turbulent history in the adjacent visitor centre.
Enniscorthy Castle is just a short drive away. Originally built in the 13th century, during the time of the Anglo-Norman invasion of Ireland, this castle has been home to Norman knights, English armies, Irish rebels and prisoners. A medieval atmosphere lingers amongst its stone walls and turrets and its turbulent history is evident from the rare art on the dungeon walls. Once again you can enjoy self-guided tours, panoramic views from the battlements on the castle roof, and on the ground floor, an exhibition about 'Enniscorthy Industries.'
From here, drive south to Wexford Town to visit Johnstown Castle and Gardens, where you can enjoy lunch in the Peacock Tea Rooms, and easily fill the rest of your day wandering the castle estate, taking in its gothic towers, and courtyard, the Victorian walled garden and the lush grounds and lake that adorn its land. The castle itself is a gem of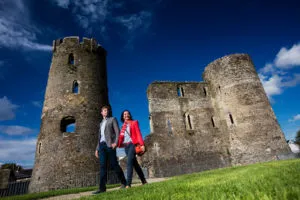 gothic architecture and will be open to the public for the first time this year. If time allows, the Irish Agricultural Museum on-site is also well worth a visit, which contains over 19 different exhibitions and displays one of the most comprehensive depictions of farming and rural life in Ireland.
Check in to the nearby Killiane Castle Country House & Farm, a family run guesthouse from the 17th century where guests are welcome to explore the Castle and enjoy the great view from the top of the tower, go for a ramble on the farm, walk through the old beech grove or even see the cows being milked!
That evening, continue your cultural exploration and take in a show at the National Opera House in Wexford town.  Dine at La Cote, overlooking Wexford's famous Mussel Trawlers. La Côte is a contemporary seafood restaurant owned and run by Michelin-trained chef Paul Hynes and his wife Edwina, offering Irish seafood with a modern European influence.
Day 2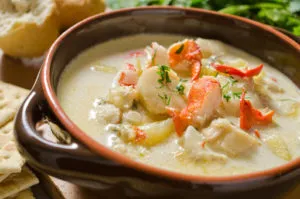 After a lazy morning, enjoy a  bowl of Market Fish Chowder in The Yard in Wexford Town, a smart eatery with an outdoor dining space, offering Modern European cuisine with a local twist, before making your way to the Hook Peninsula to visit Tintern Abbey, one of Ireland's greatest examples of a Cistercian abbey. The monastic ruins form an evocative piece of Irish history. Visitors can view the remains of the nave, chancel, tower, chapel and cloister or participate in a 45-minute guided tour.
The restored, Georgian Colclough Walled Garden at Tintern Abbey will revive your natural senses. Using stone gathered from the surrounding fields, bricks which were hand made using local estuarine mud and lime which was made in a lime kiln at the battlement bridge, the gardens evoke a great sense of history. You'll find a lot to see in a small space, a small café to enjoy a coffee after your walk.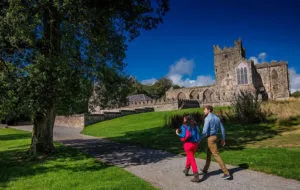 If you have time, continue to the far side of the peninsula to  Ballyhack Castle, with its 5 storey 15th century tower house that's open to the public in July and August. And just a short drive away, Kilmokea Country Manor & Gardens, which is a beautiful heritage garden of 7 acres in one of the most historical sites in the South East. A small Viking settlement and a Norman Motte & Baily depict its historical influence, whilst the garden is also home to Ireland's one-of-a-kind Tree Fairy Village, The Garden Café and Kilmokea Irish Pottery, Arts and Crafts shop providing plenty of things to see and do.
Back to Rosslare, dinner can be enjoyed in Green Acres, a modern bistro with art gallery, before checking into The Clayton Whites Hotel which is within walking distance, where you can enjoy a morning in their state-of-the-art leisure facilities including 20-metre swimming pool, sauna, steam room and jacuzzi, to complete your two days cultural stay in Wexford