Campsites To Suit Your Stay in County Wexford
There is only one thing better that sleeping under the stars … and that is sleeping under the stars in County Wexford, the cornerstone of Ireland's Ancient East. Wexford has an array of great campsites which are well-equipped for even the most novice of campers.
Camping is becoming a popular choice for holidaying across Ireland and it is easy to see why. In Wexford, we are blessed with lush woodlands, golden sandy beaches and scenic landscapes and the best way to get closer to all this beautiful nature is through a camping trip. There's a lot of advantages that come with choosing camping for your holiday.
It is a very cost-effective way of holidaying as many campsites are inexpensive to stay in and equipped with all of the facilities that you may need during your stay. Some campsites even have restaurants and shops either on-site or nearby so you don't have to go far for a meal or to stock up on essentials.
Camping holidays are great for keeping fit and healthy as there are plenty of outdoor activities to enjoy. Take part in hiking, cycling, swimming or just a stroll along the beach and take a picnic with you for a hearty bite to eat. Fresh air and sunshine are great for your health, so soak up the Sunny South East as you stretch your legs on one of the many breathtaking walking trails around the county as you endeavour on a camping trip this year.
If you're looking for something different, camping offers a unique holidaying experience. Whether you're glamping, caravanning or staying in a tent, a camping holiday is sure to be one you won't forget. You will feel rejuvenated and relaxed from being closer to the great outdoors. Camping holidays are great for everyone – from families and friend groups, to couples and solo backpackers. Whatever the weather throws our way, camping is always a fun activity that creates fond memories.
Take a look below at some of the campsites that Wexford has to offer: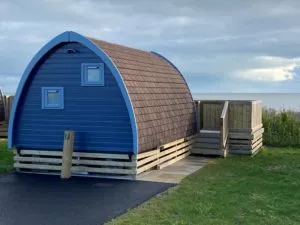 Morriscastle Strand
Morriscastle Strand is a large campsite near Kilmuckridge that offers pitches for caravans, campervans and motorhomes, as well as catering for private mobile home owners and new  glamping pods nestled beside the beautiful sandy dunes of Morriscastle Strand. The family-run campsite is situated beside a blue flag beach. It has a playground for kids, two tennis courts, a small basketball court, a volleyball net and a new astro turf football pitch which are all available to use if you are staying at the campsite. In July and August, and on bank holidays, there is a full schedule of football and sandcastle competitions, surfing and fishing lessons, and teddy-bear picnics, among other activities.
The park boasts a large reception building with a shop selling freshly-made scones, croissants and rolls every morning. Children and adults alike will be delighted with the ice cream parlour, which has a large selection of tasty treats. Also in the reception building is a tasty takeaway, which serves food made from locally-sourced produce. 
Facilities include: 16amp electricity point, fresh water tap, grey water drainage, night light and grass space for awnings at each pitch, showers, laundry facilities, hairdryers, indoor campers rooms with tables, chairs, microwaves, fridges and freezers, pet-friendly.
Visit: morriscastlestrand.com
Ferrybank Caravan and Camping Park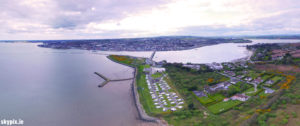 This beautiful camping park overlooks Wexford Harbour and is located in Tincone, which is only a mere 5 minute walk from bustling Wexford Town where there are many visitor attractions. This well-serviced park which is on 4 hectares is only 20km from Rosslare Port.  Children will be delighted to know that there is a playground and recreation room on site. This is sure to keep them entertained as they meet new friends.
Facilities include: secure parking, showers, laundry, campers kitchen, swimming pool, gym, electricity points and WIFI. The site and it's facilities are wheelchair accessible equipped with wheelchair accessible toilets.
Visit: wexfordswimmingpool.ie/caravan/ 
Ocean Island Caravan Park
"Oh I do like to be beside the seaside…" Well, no where better than this beautiful caravan park which is near Fethard-on-Sea, which has miles and miles of sandy beaches. Ideal for families that love their water sports and swimming, as well as people that have a keen interest in angling. A short walk away in the village of Fethard-on-Sea, there are some lovely local pubs which have plenty of entertainment.  This caravan and camping site is on the Hook Peninsula which is steeped in history. Why not visit the impressive Hook Lighthouse or take a tour through Loftus Hall, one of Ireland's most haunted destinations.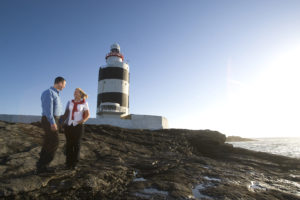 Facilities include: a children's play area, gaming room with pool tables and table tennis, parking, laundry facilities, showers, electricity points and mains water.
Visit: oceanislandmobilehomes.com 
International Outdoor Adventure Centre 
This well equipped campsite is located in Tagoat, which is 3 minutes from Rosslare and 15 minutes from vibrant Wexford Town.  For holiday makers this campsite is ideal for spending time on the local coastline and splendid golden beaches.  The quaint town of Tagoat has a lovely bar, takeaway and restaurant, all within a few minutes walk.  There are 70 camping pitches and 14 hardstands which all have access to electricity. The Outdoor Adventure Centre includes Archery, Kayaking, Rafting and the High Ropes.   The children will be delighted to know that there is a Kids Camp during the summer months (booking essential). 
Facilities include: showers, wash up area, laundry facilities, shop with coffee dock and campfire.  For a little bit of luxury, the Glamping Village offers heated tents with comfy beds, duvets, linen and access to power.
Visit: ioac.ie
Duncannon Holiday Park
This long established, family-run caravan and camping site located beside the beach on the Hook Peninsula. Situated in a stunning part of County Wexford in Ireland's Ancient East. Duncannon Park, in the backdrop of Hook Head, is just minutes from Duncannon village. Duncannon Holiday Park have both caravan and camping facilities and a private mobile home site and open March to October. The Reception room at Duncannon Holiday Park is open until 10pm during peak season.
Located on the Hook Peninsula you can find canoeing, windsurfing, snorkelling, scuba-diving, fishing, swimming or just relaxing in the sun, there is always a sheltered cove just waiting for you. 
Duncannon and The Hook Peninsula also boast a number of festivals during the summer months so you can always be sure that there will be plenty to keep you entertained.
Facilities include: a small shop with drinks and ice creams, a games room, launderette and an on-site playground.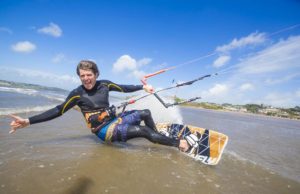 Visit: duncannonholidaypark.com 
Other campsites across county Wexford include Curracloe Holiday Park, The Trading Post and Carne Beach Camping.
So if you're heading down to Ireland's Sunny South East for a camping trip, check out these great campsites. If you're booking during the summer season, book early as they are popular and fill up quickly.
So, what are you waiting for? 
Plan your next adventure ahead at VisitWexford.ie
#BestForSun #BestForFun
Don't forget to tag @VisitWexford and hashtag #VisitWexford in your social media posts!