When asked the question, "What is County Wexford famous for?" what comes to mind? Some will say it's the sandy beaches, others will contend it's our rich heritage, but for many people, it's Wexford strawberries.
Wexford and strawberries are synonymous. Nobody can argue that Wexford strawberries have a flavour and quality that surpass all other Irish regions. So what makes Wexford strawberries number one? Wexford is known as the Sunny South East. The mild climate paired with our shale soils makes for optimal strawberry growing conditions. Let's rewind to where the industry began.
HISTORY
The Wexford strawberry industry surprisingly did not actually develop until 1939. Up until then, strawberries were imported from Britain and Holland. As a result of World War 2, all imports from overseas were ceased. The Irish had no option but to cultivate their own strawberries.
Wexford began growing strawberries with less than 3 hectares and the season typically lasted 3 weeks in July. Nowadays, thanks to polytunnels, temperature control technology and generations of experience, the Wexford strawberry season lasts from May to October. Wexford strawberries have become so popular that we even have an entire festival dedicated to the fruit. The Enniscorthy Strawberry Festival takes place annually in June and is a fun-filled weekend of music, heritage and of course, strawberries.
PRODUCERS
Wexford is home to a number of strawberry farms and seasoned producers. Many strawberry farmers grow their fruit to sell from roadside huts which typically appear the May bank holiday weekend. During the summer months, you will find them dotted all across the county and further afield. Other producers have much larger scale operations to produce enough strawberries to meet the demand of supermarkets, their multiple roadside huts and to sell directly from their farms too.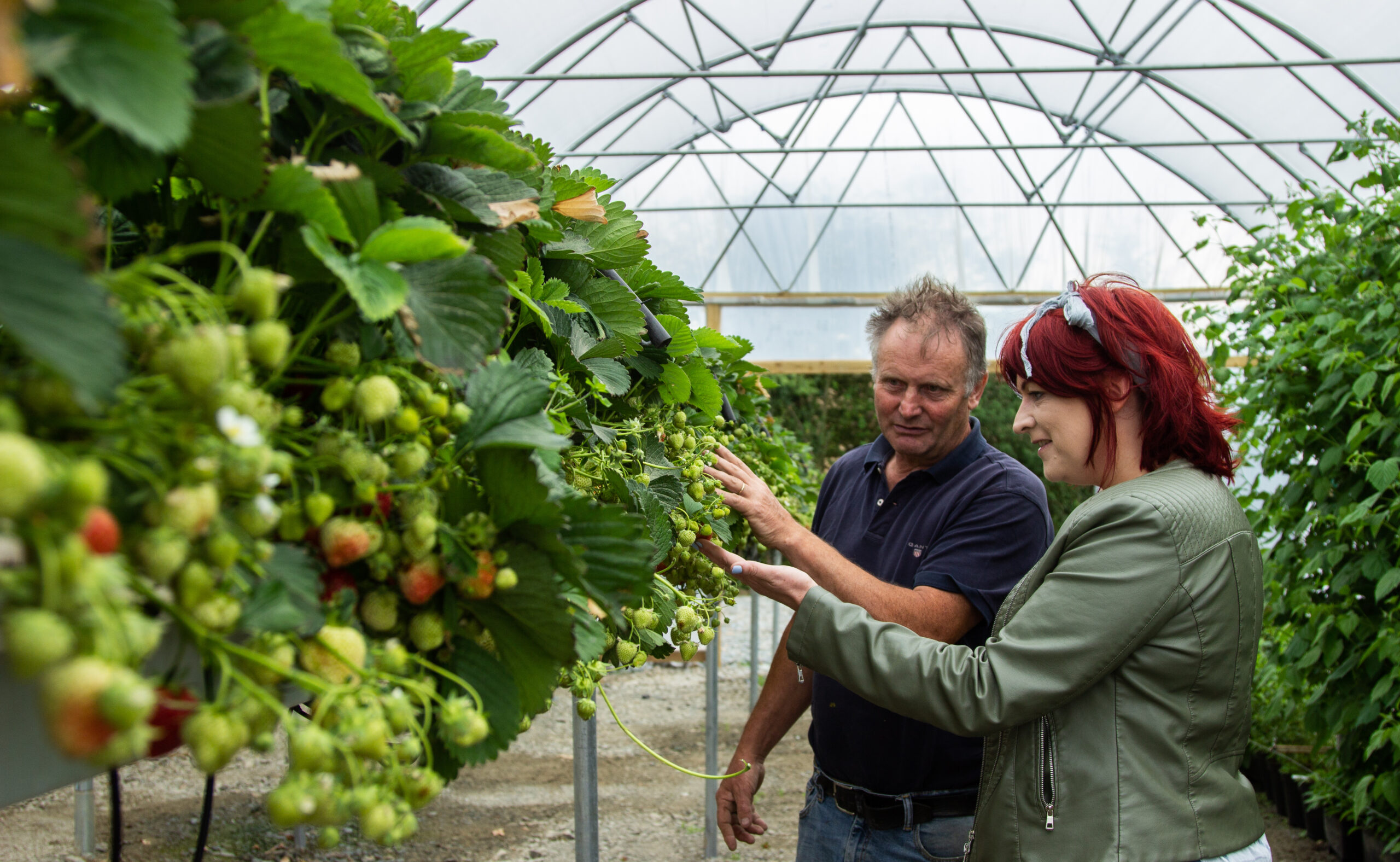 Wheelocks Fruit Farm
Some of Wexford's largest strawberry producers include;
These producers have seen many changes over the last number of decades in terms of consumer demands. More and more people are shopping locally and are interested in where their food comes from. Traceability and sustainability have become major factors in the purchasing decision of modern-day consumers.
Have you ever wondered how Wexford strawberries are grown to taste so good? Thankfully the above revelation has lead to many of the local Wexford producers opening their farm gates to the public. Tourists and locals alike are not just welcomed but encouraged to visit these fruit farms. During the farm tour, you the visitor have the opportunity to walk through the strawberry tunnels, meet the farmer as he/she talks about the growing process and even pick your own strawberries to take home. You can find full details and dates on these farm tours here.
HOW TO ENJOY WEXFORD STRAWBERRIES
If you have never experienced the taste of Wexford strawberries we absolutely recommend enjoying them on their own. That way you can truly appreciate their quality and flavour. Be warned though, many people have been known to eat an entire punnet in one sitting.
Below are some other of our favourite ways to enjoy Wexford strawberries:
Wexford Strawberries and Whipped Cream (if you have a sweet tooth sprinkle a small spoon of sugar over your berries)

Ice Cream with Wexford Strawberries (a classic summer dessert)

Fresh Wexford Strawberry Pavlova or Meringue/Roulade

Wexford Strawberry Cheesecake

A Jackford Gin (Wexford made) and Wexford Strawberry Cocktail
And not to worry if you're berries are starting to go bad, there's no need to waste them in this day and age. Chuck them in a pot with some sugar and make a delicious Wexford Strawberry Jam.