Header photo: Eimear Redmond – IG:millfarmfoulksmills & FB: Mill Farm Cottages
With another summer Bank Holiday coming up, we thought what better way to help you guide your way through the Sunny South East than with an itinerary outlining where you could eat, drink and play ahead of your stay!
This #TravelTuesday we have highlighted some new, current and favourites among Wexford's food, drink and attraction spots, so stay tuned and plan your trip with VisitWexford.ie.
This #TravelTuesday Tip: A good plan is a good trip and that's why we suggest you plan ahead at VisitWexford.ie. Lastly, make it a priority to pre-book every plan you make to ensure there's availability and to ensure that the business is prepared upon arrival.
Day 1: Saturday – Make it an Adventure in the South 
Arrive in the Sunny South East early to make the most of your stay and find yourself heading to breakfast in one of the many food establishments offering outdoor dining, before heading off to explore the heritage instilled in the beautiful Tintern Abbey. Travel further south to enjoy a day of adventure with The Irish Experience around Hook Peninsula. Dry off and take the whole trip around the peninsula to Hook Lighthouse.
After anchoring the morning with fun in the sun, it's time to line your stomach and while you're south, we suggest hitting the road to Kilmore Quay to indulge in the beautiful fresh fish that boast place on every menu in the village. If you're looking for something quick, tasty and convenient we suggest ordering a takeaway from The Little Saltee which is full of fish options, but if you're looking for a really fishy experience, make a booking with Mary Barry's Seafood Restaurant and lick your lips with choice!
Continue the adventure and take the boat over to sightsee from the Saltees, an island where our resident puffins are home to, just off Kilmore Quay. Kilmore Quay is a picture-perfect village on the edge of the Sunny South East boasting its stunning coastline that stretches all the way to Cullenstown Strand, as well as the fishing harbour, beautiful walkways, mouthwatering food establishments and a panoramic view of the Celtic Sea. Finish your day off with an ice cream from Lick'd Ice-cream Parlour and head back to get some sleep before another fun-packed day in County Wexford!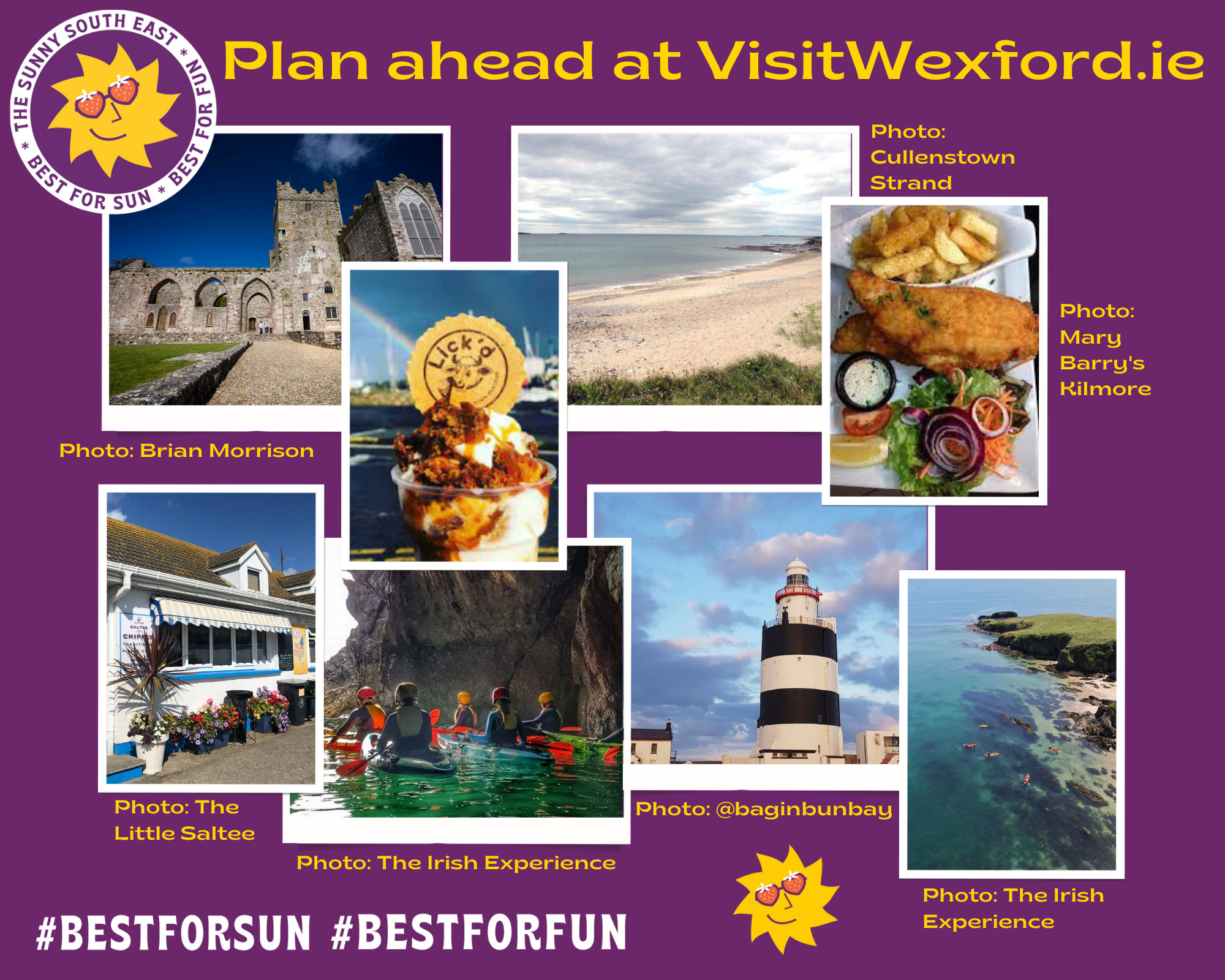 Day 2: Sunday – Explore Wexford's History
Head for breakfast in The Wilds Café in Enniscorthy Town if you're into a seasonal breakfast brunch that incorporates local producers, or head to one of Enniscorthy's many food vans if you're interested in a quick coffee to go before heading off for a day of interesting and eye-opening insight into the history and heritage of Enniscorthy and it's surrounding areas.
From Enniscorthy Castle, The National 1798 Centre, and Vinegar Hill to Oulart Hill if you're interested in a full breakdown of the happenings through time, it's definitely worth taking the day to do. While in Enniscorthy, a worthy trip to The Presentation Arts Centre to explore the many beautiful exhibitions on display including current exhibition Chrysalis, which has received recognition from RTÉ for its stunning array, is a must-do! Then come lunchtime or late afternoon, line your stomach with a light bite at The Village at Wheelocks or simply divulge in ice cream or waffle doused in Wexford's famous strawberries. 
End the day on a high with a walk on Curracloe or Ballineskar beach, home to shoot location for the famous film, Saving Private Ryan, as the sun sets over the waters of the Sunny South East. You can read more about what our local Wexford County Council Tourism Development Officer Billy Byrne had to say on the beautiful beaches in Wexford here.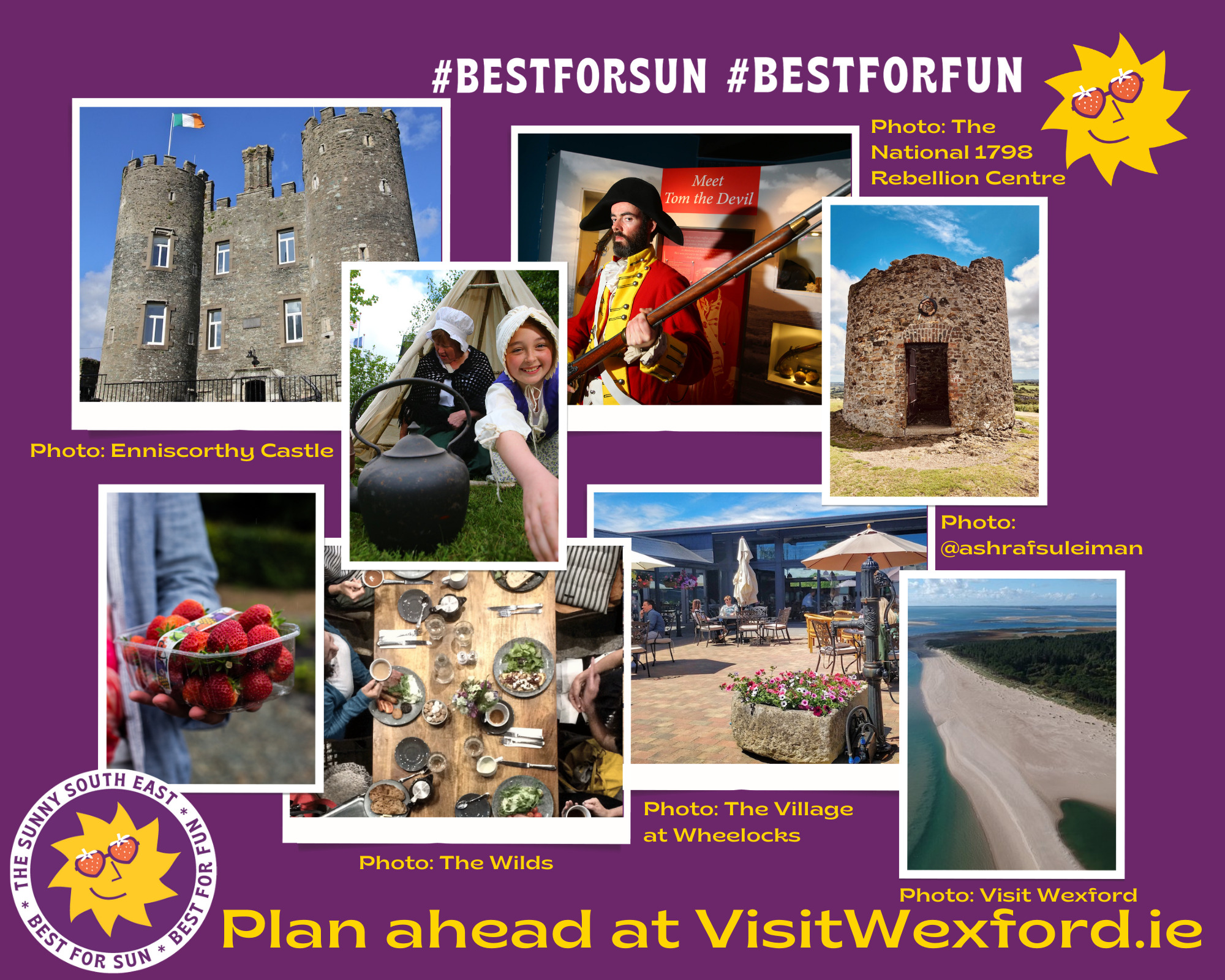 Day 3: Monday – Take it North for Family Fun
Whether you've booked in for bed & breakfast or looking for breakfast on the go, line your stomach and be ready for a fun-packed day up North of Wexford. Check our full directory of food establishments here. Start the day with a walk on the ever so beautiful Morriscastle beach for a morning walk before taking a very short journey to Wells House & Gardens, just 25 minutes from Enniscorthy and an establishment filled with fun-packed things to do. From the Meerkat Animal Experience to the Exotic Animal Experience and the many other activities and adventures to get up to onsite, you're sure to come out of the grounds with an exhilarating day to talk about! Learn more about the Meerkat and Exotic Animal Experience here, with so many other offerings to explore along the way.
Then on to Seal Rescue Ireland for an afternoon of wholesome as you experience unique opportunities with adorable seal pups rescued for rehabilitation. The 'Seal Feed & Enrichment' Experience gives you every chance to help heal the seals and give them another step closer to being released back into their natural habitat. Read more about the 'Seal Feed & Enrichment' Experience here.
After kindly spending a day helping out at the rescue, reward yourself with a nice lunch in Gorey with options like Eco Pizzeria, Katie Daly's Bar & Restaurant or The Hungry Bear and then head off to Wexford Lavender Farm to finish the trip. New to the beautiful lavender farm based just outside Gorey is their maze. After woodland walks and enjoying the scent of fresh lavender why not give this new activity a go and see who in your group can find the exit quickest!

So, what are you waiting for? 
Plan your August Bank Holiday at VisitWexford.ie.
#BestForSun #BestForFun
We would love to know if you have followed our proposed itinerary.
Let us know by tagging @VisitWexford #VisitWexford in your social media posts!