Introducing the Official Visit Wexford App
Your pocket guide to County Wexford
#KeepDiscovering this summer and make it your mission to #VisitWexford
Visit Wexford has just launched the brand new app jam-packed with useful information for tourists visiting Wexford. The handy pocket guide to Wexford has everything visitors to the county need for a fantastic trip to the Sunny South East.
In addition to today's #TravelTuesday, we had to dedicate another #TravelTuesday blog introducing the all-new Visit Wexford App, giving visitors the chance to plan their stay or visit to Wexford in the most hassle-free, fun way possible. Downloading the app will give users a quick, convenient and easy chance to plan their holiday with the click of a button.
This week's #TravelTuesday tip: Plan your stay in the Sunny South East with every detail planned and scheduled down to a T. Find where you're destined to spend your time in Wexford, book it in with the establishment whether it's an attraction, hotel, food or drink and don't forget to also follow Visit Wexford on social media @visitwexford across Facebook, Instagram, Twitter and TikTok!
The Visit Wexford App will give visitors the opportunity to explore nearby places to eat and drink, stay, see and do as well as book into any local attractions they may have had on their must-see list for a lifetime. The all-new app will give visitors an insight into what you can get up to when you visit County Wexford with just a few clicks. 
The app gives visitors the opportunity to explore:
Directories for things to see and do, places to stay, establishments to eat, beaches to explore and much more

Listings and contact information for tourism and hospitality businesses in Wexford

A selection of top blogs from VisitWexford.ie

A weather widget for the counties weather forecast 

A gallery of images from around beautiful county Wexford

With push notifications about nearby attractions, coupons and more exclusive offers for app users
The app can be downloaded for free on Apple and Android devices via the App Store and Google Play Store.
To explore our Visit Wexford App:
Download the 'Visit Wexford' app in the App Store on either Apple or Android 

Sign in using your email address

if you wish to hear more about Visit Wexford, or otherwise use the

skip

option

Navigate through the Attractions, Gallery, Blogs and much more  

Fall in love with Wexford as you discover the beautiful Sunny South East
Your trip to Wexford made easier by Visit Wexford!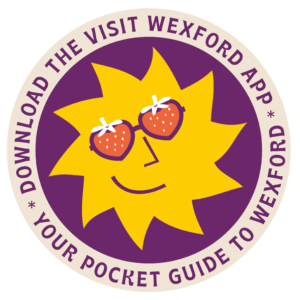 Download our new Visit Wexford App now!
Download on an Apple device >HERE<
Download on an Android device >HERE<
Plan ahead at VisitWexford.ie
#BestForSun #BestForFun