Shops in Wexford Town For Christmas
County Wexford is a wonderland of shopping streets, experiences and accommodation choices during the festive months
Give the gift of Wexford this Christmas!
It's the most wonderful time of the year, yes that's right, it's Christmas! Have you got your Christmas shopping done yet? If not, don't panic, we've got you covered. From boutiques to shops on the high street, local producers and Christmas markets, Wexford has it all when it comes to how you shop locally this Christmas. Indulge and embrace the magic of Christmas Shopping in Wexford. Be sure to shop and support our local Wexford food producers, makers and crafters this Christmas by researching before you buy. There's something in Wexford for everyone – and if not, what about a gift voucher for our Wexford hotels, restaurants and experiences? 
Wexford's Makers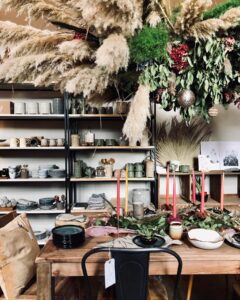 For fans of craft, shop local at The Wilds, Enniscorthy who passionately source Ireland and Wexford's best fine jewellery, candles and clothing available in the adjoining shop off the café where they also use the best of Wexford's fresh local food produce. Another lifestyle shop, café and restaurant that focuses its ethics on local and Irish produce is Westgate Design, Wexford. Moving onto independent businesses, Handcrafted Gifts and Creations in Gorey are the perfect place to purchase a special Christmas gift for those that love pottery, wreaths and all things delicate. Robert O'Connor's Woodturning Studio is another great place to source some beautiful local homemade gifts for someone this festive season or maybe you might know someone that might like to try their hand at woodturning in the new year with classes available. For something quirky, give someone the look of Wexford and look no further than the online shop at Taste Wexford which has used Irish only suppliers and producers in the making of their range of beautiful Taste Wexford merch. Taste Wexford is a sub-brand of Visit Wexford CLG.
For History Lovers
If you are shopping for a history lover, now is the time to get them that voucher for a Wexford experience with history on every corner of the county from the Irish National Heritage Park or Dunbrody Famine Ship Experience to Enniscorthy Castle and the 1798 National Rebellion Centre. Or, if it's a tangible gift you're looking to gift, for someone who likes to be organised heading into the new year, why not pick them up the calendar from 'The Irish Dresser and Folklore.' Shop the calendar here.
Chocolate Addicts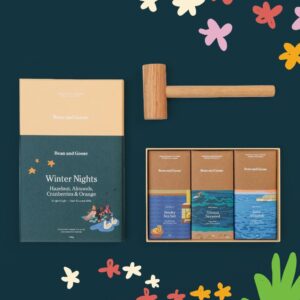 We all know a chocolate addict and when it comes to local produce in Wexford, chocolate is where it's at with chocolatiers such as Zaeire and Bean And Goose on the market. Take a visit to Zaeire Artisian Chocolates in the village of Bridgetown and indulge in the goodness of chocolate as you spoil loved ones this Christmas or, check out Bean And Goose's online store with a wide range of Christmas gift boxes, sharing slabs and chocolate bundles or even treat a loved one to a chocolate subscription – now that's more like it!
Supporting Local
In a wonderful display of community spirit and gratitude, Kenny Goodison is once again demonstrating the power of supporting local causes. This year, he has chosen to allocate the proceeds from his 2024 calendars and Christmas cards to benefit three deserving local charities. The first recipient, the Wexford Society for the Prevention of Cruelty to Animals (WSPCA), reflects his commitment to the well-being of animals. Additionally, by supporting Wexford's Able-Disabled Club, Goodison emphasizes inclusivity and empowerment for individuals with disabilities. The third beneficiary, the Order of Malta Ireland Ambulance Corps Wexford Unit, underscores his recognition of the vital role played by health and emergency services in the community. Shop the calendar and Christmas cards here.
Local Producer Hampers
In the market to treat someone special to a hamper of Wexford's favourite producers and makers? Look no further than some of Wexford's artisan shops and cafés with a wide variety of locally produced food, crafts, and more with a hamper to fulfill every need. Keep an eye on stunning hampers available at Greenacres, Franks Place 1860 and other lovely Wexford lifestyle shops across our county. A hamper would be a great Christmas present for someone this festive season to give someone that taste of home.
Fan of a Gift Voucher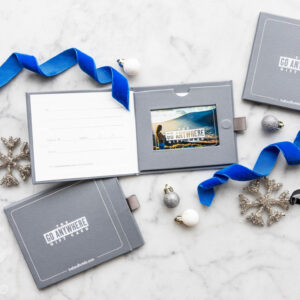 Thinking of some sort of gift card for the person who has it all? Then it goes without saying to support our local businesses, producers, hotels, restaurants and more by gifting your loved ones an experience in Wexford to endeavor in the New Year. Alternatively, what about an IrelandHotels.com Go Anywhere Gift Card? The gift card enables the recipient of your gift to redeem their card in a number of Wexford's hotels and guesthouses. Check out where it can be used in Wexford here. It also doesn't expire for 5 years – how smart?!
Buy the gift card here today and gift a loved one an experience in Wexford this Christmas!
Check out our wonderful towns across Wexford that may make the perfect base for you to shop local this Christmas:
Gorey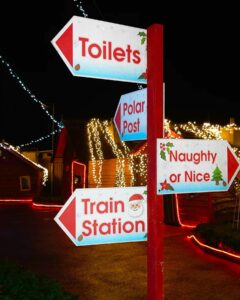 Gorey is a fabulous shopping town in the north of the county. Browse the variety of shops along the town's Main Street which is home to a variety of fashion boutiques and a host of food options. There are lots to discover in Gorey such as art galleries, hobby stores, indoor markets, and a shopping center – plenty to make for a busy day of shopping!
While you're in Gorey, why not stop by some of the many Christmas events taking place? The Santa Train Experience at the Amber Springs Hotel, or a Magical Christmas Experience at Kia Ora Mini Farm which are all running from the end of November up to the end of December near Gorey. This year, Gorey's Christmas lights will be switched on on Saturday 26th of November with plenty of festive fun and a certain big man in town…
Enniscorthy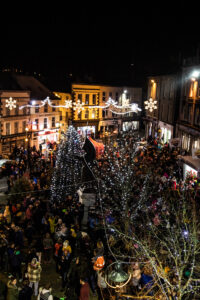 Many of Enniscorthy's independent stores and boutiques are conveniently located in or nearby the town's Market Square. Peruse the shops for homewares, clothing, footwear, toys, and more in the locally-owned shops in the town.
Enniscorthy is also a popular choice when it comes to Christmas experiences and events. Santa's Enchanted Castle at Enniscorthy Castle and the Christmas Experience at The Village at Wheelocks kick off early in the festive season in the town. And it wouldn't be Christmas without a panto! Get in the festive spirit with Little Red Riding Hood's Christmas Adventure at the Presentation Arts Centre.
New Ross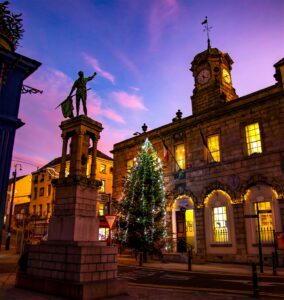 New Ross provides a scenic destination for a shopping day as many of the local stores are located up the side streets from the quayside, along the River Barrow which is home to the Dunbrody Famine Ship (keep an eye out for the Christmas lights adorning the ship!). Stroll along the shopping streets, popping into the many wonderful local cafes along the way and enjoying the wonderful wall art through the town.
After a long day of shopping, rest up your feet and relax by the fire at the Brandon House Hotel to enjoy the live music. Check out our event guide below for any upcoming events in New Ross.
Wexford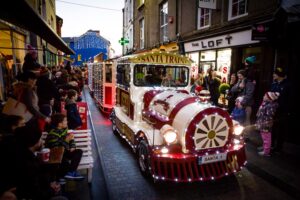 Wexford town comes alive at Christmas as the streets buzz with shoppers. You can walk right along Wexford's North and South Main Street to take in the array of local shops. Find hidden gems of clothing boutiques, homeware stores, book shops, and even sweet shops that the little ones will love!
Once you've ticked everything off of your shopping list, head down to the quay to explore the Wexford Winterland festivities. Or why not support small at the weekly Christmas market on the Bullring in Wexford town. Wexford Arts Centre also runs a number of Christmas events, from shows, workshops and so much more. Keep an eye out for upcoming details.
Be sure to follow our towns and villages tourism pages across social media for more inspiration to help shop local this Christmas.
Follow Love Gorey, Shop Enniscorthy, Visit Kilmore Quay, Visit New Ross and more to learn more about Wexford's best spots to visit, stay and eat as well as its local producers, great retailers and must-dos when in Wexford!
There may be someone in your life that you just don't know what to get this Christmas and by shopping local, you may find that perfectly unique gift for that special someone while also supporting local and buying Irish!
So, what are you waiting for?
Find Your Joy in Wexford this Christmas
Support Local Businesses this Christmas!