Header image credit: Kilmore Quay by Eamonn P Fitzgerald
Remember last year's May Bank Holiday weather?
Here in the Sunny South East, temperatures soared and the sun shone all over the county. So if you are looking for somewhere to spend the May Bank Holiday weekend, Wexford is the place to be! We've created a 3-day mini itinerary so you don't miss the top spots in County Wexford. Our top tip is to plan and book ahead where possible and make the most of every corner of Wexford.
Day 1: Go sea swimming and visit one of Wexford's most iconic attractions
Curracloe Beach and Johnstown Castle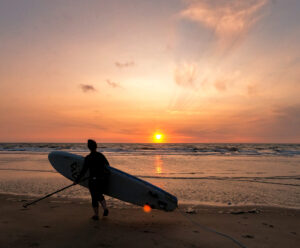 Start the day with a stroll and maybe even a swim at Curracloe Beach. Depending on your other plans, sunrise and sunset swims at Curracloe are hard to beat so it's vital you time it well to make the most of your paddle off the coast of Ireland. If you're a trail blazer, visiting the Raven Point woodland trail is a must-do for adventurers who live in their hiking boots. This 9km loop will take you through the woods and back to the seaside enjoying the solitude of the beach. 
Once hunger calls, be sure to stop into The Reeds Restaurant at Ferrycarrig Hotel to enjoy an outdoor lunch overlooking the stunning Slaney River Estuary. It's prime location in the heart of Wexford allows for easy driving distances between Curracloe beach and Johnstown Castle which is your next stop!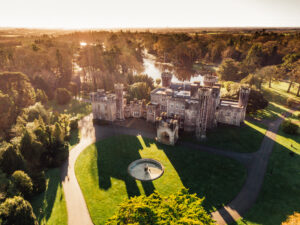 After lunch, a slow drive to Johnstown Castle Estate, Museum and Gardens is a must as you take in pure Wexford countryside. Wander around Johnstown's two lakes and take in the stunning gardens that make the grounds blossom and bloom during the spring and summer months especially. Book a tour inside the 19th-century castle which has recently been restored which includes an adjoining 86-metre original 'servants' tunnel', believed to be the longest in the country. There's so much more to discover. If you're travelling with kids, there's a great playground near the café and it's overall a lovely stop while in the heart of the sunny southeast. 
Day 2: Explore Wexford's famous Hook Peninsula & Surrounds
Hook Peninsula and Kilmore Quay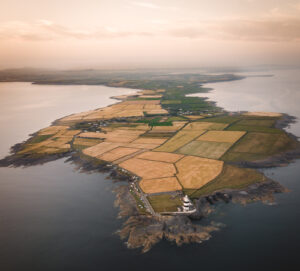 A full day to tour the entire area of Hook Peninsula is vital but since time is of the essence, we're highlighting the top must-visit places:
Hook Lighthouse, of course, is a must on your Wexford bucket list. This 800-year-old lighthouse is the oldest original operating lighthouse in the world and sits at the edge of Hook Head, offering visitors breathtaking views. Book a tour and get the full insight.
Tintern Abbey is another lovely option to visit when in south Wexford, with the beautiful Colclough Gardens onsite giving wonderful views across Bannow Bay. There are stunning walking trails and tea rooms to enjoy in the area too which adds to the experience.
Baginbun Head gives visitors headland shelter from wind and waves while it gives room to a dreamy bay with crystal clear waters which are ever so inviting for those who love sea swimming. It's also one of the most historic places in Ireland, as it was from here that the Norman conquest of Ireland began..interesting!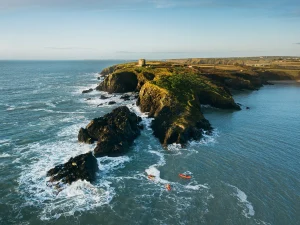 If you're day tripping with an adventure seeker, a must-do down south is a sunset sea kayak experience or stand-up paddleboarding among other fun with The Irish Experience. We won't say anymore, you'll have to take the plunge to see what the fuss is about.
After your trip around the south, take one last detour to Kilmore Quay and enjoy fish & chips at much-loved chipper, The Little Saltee Restaurant & Takeaway. The end the day, spend the evening relaxing with an ice cream by the seaside or take a stroll along the pier and onto the beach where another sea swim may be on the cards if the sunset is in sight.
Day 3: Fall in Love with Beautiful Beaches
Cahore Point to Kilmichael Point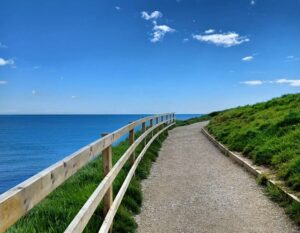 The Cahore Point Walking trail is a 5 km loop that offers sea views, beautiful beaches and a tasty gastro-pub, The Strand Cahore, at the finishing line for a delicious meal. Then, spend the afternoon hopping around the golden sand beaches from Cahore Point to Kilmichael Point, stopping at other beautiful beaches like Kiltennell Beach, Ballymoney Beach or Kilgorman Strand along the way.
If our itinerary is not enough, check out the Visit Wexford What's On Guide to learn more about the events happening across the southeast this Bank Holiday Weekend. From live music to musicals, there's something there for everyone. See what's on here.
#ThisIsThePlace #WexfordMemories
If you've planned your Bank Holiday Weekend around this #TravelTuesday blog,
let us know by tagging @VisitWexford and #VisitWexford in your social media posts!