Self-Catering Holidays On Hotel Grounds
There are times when the idea of sharing a hotel room with small kids can be daunting and having your own kitchen and the freedom to cook when and what you please seems much more appealing and the self-catering accommodation is the best option for your holiday in Wexford.
Also, the additional space a self-catering house or apartment can give you is always a bonus if you are travelling with family or a group. Top this with getting to use the facilities of a hotel, whether it's their restaurant; leisure centre or kids club – then you are all set!
Visit Wexford recommendations for self-catering on hotel grounds in Wexford
Kelly's has one self-catering house, Leinster Lodge, located directly across the road from the Hotel.
Leinster Lodge offers 6 luxurious shower ensuite bedrooms, all renovated to a nautical beach theme complete with TV, telephone and safe.
Leinster Lodge caters for a minimum of 8 adults and a maximum of 13 guests.
For more information visit: Leinster Lodge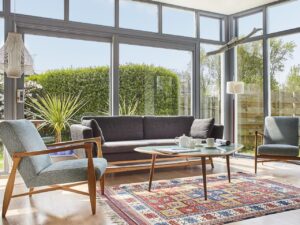 The newly renovated Brambles is a four-bed self-catering unit on the hotel grounds, it sleeps up to 8 and has a private terrace for outdoor dining.
Guests can use the hotel facilities including leisure centre and playground. 
For more information visit: Brambles self-catering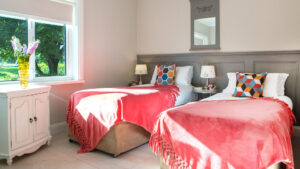 Recently renovated Duck Lodge is a luxurious contemporary two-bedroom cottage with minibars, open-plan kitchen and living area with open fire, multi-channel TV and Wi-Fi.
Room service menus from Marlfield House and The Duck Restaurant are offered your comfort and pleasure.
A fantastic way for friends or family to enjoy Marlfield, its grounds and restaurants and the surrounding area.
For more information visit: Duck Lodge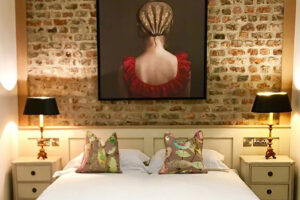 Talbot Suites at Stonebridge are 69 self-catering apartments ideal for luxury family holiday breaks, couples getaways executive stays or season getaways.
It features a mixture of one, two and three-bedroom apartments over 4 floors in the town centre location.
With a choice of sea views over the stunning River Slaney or internal courtyard views. Guests can use Talbot Leisure Centre.
For more information visit: Talbot Suites at Stonebridge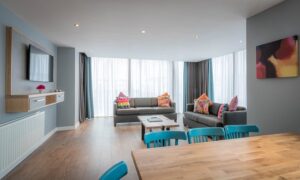 Refurbished in 2015 – Upton Court's tastefully decorated, spacious, Fáilte Ireland approved 4-Star holiday cottages are just minutes from Morriscastle beach.
The Cottages are tastefully decorated and very comfortably designed to suit all your needs to make your stay a 'home from home'.
Situated on the site of the hotel, they offer children's entertainment three nights a week during the summer.
Visit: Upton Court Cottages for more information.