5 Places To Indulge In Afternoon Tea Wexford
To find the best afternoon tea Wexford has on offer, we've put together a list of 5 places where you can find your hidden gem. Afternoon tea is perhaps one of life's greatest little pleasures and certainly one of the most enjoyable. What could be better than an extra meal between Lunch and Supper, where both sweet and savoury treats are consumed?
At Visit Wexford we have put together a list of our favourite places to over indulge in Ireland's greatest past-time – Drinking Tea!
Clayton Whites Hotel
Served daily from 1.00pm – 5.00pm on a classic three-tier stand in the airy, contemporary surroundings of the Red Bean Roastery Coffee Dock, this afternoon tea offers a delightful selection of finger sandwiches, sweet treats and homemade scones with cream and jam. You also have the option of making it an extra special experience by adding a glass of prosecco. Traditional Afternoon Tea €32.50 for 2 people. Visit: https://www.claytonwhiteshotel.com/dining/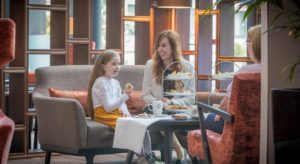 Ashdown Hotel, Gorey
Afternoon Tea has been given a chocolatey twist at The Ashdown Park Hotel. Enjoy incredible, mouth-watering chocolate covered profiteroles, chocolate cup with Baileys chocolate ganache, Belgian chocolate brownies, white chocolate mousse, chocolate macaroons, and chocolate pavlova. Of course, this offer includes a selection of our delicate mini-sandwiches and naturally, Tea! The cost is €36 for 2 people to enjoy some of the best afternoon tea Gorey can offer.
Traditional Afternoon Tea is also served at the Hotel daily between 1pm and 4pm in the Lobby & Upper Mezzanine. Afternoon Tea for 2 people €29 .Booking is essential for both. Prior notice of at least 24-hours is required. Tel: 053 948 0500 Visit: https://www.ashdownparkhotel.com/afternoon-tea-gorey/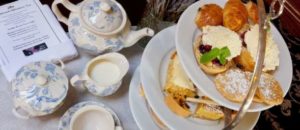 Monart Spa
Enjoy Monart's Afternoon Tea in the magnificent Eileen Gray inspired library, sit by the fire in the drawing room or relax in the light filled conservatory. All while enjoying a selection of handcrafted gourmet sandwiches, spectacular homemade treats and a selection of artisan tea and coffee. Afternoon Tea €25.00 per person. Visit: https://www.monart.ie/dining/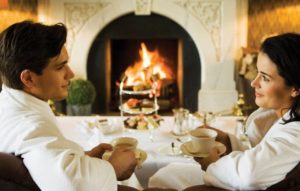 Marlfield House Hotel
The elegant and gracious surroundings of Marlfield House lends itself to relaxing over our delicious Afternoon Tea. Sit back and be pampered with crisp white linen, bone china and gleaming silverware in the surroundings of the Drawing Room, Conservatory or on the Terrace overlooking the Gardens. What is better than a delicious Scone and Tea while relaxing in the gardens in the afternoon. Afternoon Tea €27 per person. Visit: https://www.marlfieldhouse.com/dining/afternoon-tea-wexford/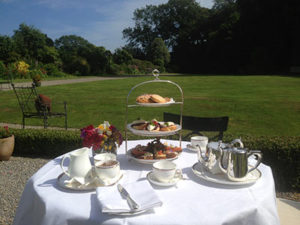 Talbot Hotel
Indulge by booking a Gin or Prosecco Afternoon Tea for just €19.99 per person or treat yourself to our Traditional Afternoon Tea for €14.00 per person. The Talbots Gin/Prosecco Afternoon Tea is available from Monday to Friday in our Gallery from 1-4pm. Saturdays and Sundays in our Oysterlane Restaurant from 1-4pm. Booking in advance is essential. Call: 053 91 22566. Visit: https://www.talbotwexford.ie/afternoon-tea.html